Bapa kepada seorang murid darjah dua mendakwa wajah anaknya telah dicederakan dengan sengaja di bahagian pipi kanan oleh guru ketika berada di sekolah, kelmarin, lapor Sinar Harian.
Dalam kejadian sekitar jam 11 pagi kelmarin, lelaki berusia 32 tahun itu mendakwa anaknya cedera selepas guru lelaki terbabit meletakkan pengasah pensil yang digeser beberapa kali di lantai sehingga besinya panas, sebelum ditekapkan di pipi kanan anak lelakinya itu.
"Semasa kejadian, memang anak saya bermain bersama rakannya dalam kelas ketika guru itu sedang mengajar subjek matematik. Tetapi kenapa guru itu bertindak sedemikian sehingga mencederakan wajah anak saya?
"Laporan polis telah dibuat dan anak saya akan buat pemeriksaan di bahagian pipi yang cedera di Hospital Port Dickson untuk tindakan lanjut," katanya semasa sidang media yang diadakan di Pejabat Adun Port Dickson semalam, yang turut dihadiri oleh Adun Port Dickson, M Ravi.
Bapa mangsa mahu guru lelaki berkenaan tampil bertemu dengannya. Jika tidak, dia akan membawa kes itu ke peringkat yang lebih serius.
"Kalau guru itu tidak mahu berjumpa dengan saya, saya akan membawa perkara ini ke peringkat yang lebih serius, termasuk mengambil tindakan undang-undang," katanya.
Akibat dari perbuatan guru terbabit, pipi kanan anaknya mengalami bengkak dan luka.
Bagaimanapun, difahamkan guru terbabit telahpun memohon maaf kepada ibu bapa murid berkenaan yang disampaikan oleh guru kelas mangsa menggunakan WhatsApp, kepada ibu kanak-kanak itu.
Guru terbabit mengakui bahawa tindakannya melampaui batas dan menjelaskan bahawa dia sebenarnya berniat mahu memberi pengajaran kepada murid berkenaan kerana dia terlebih dahulu menggeser pengasah pensel itu di lantai sebelum diletakkan di tangan rakannya.- the reporter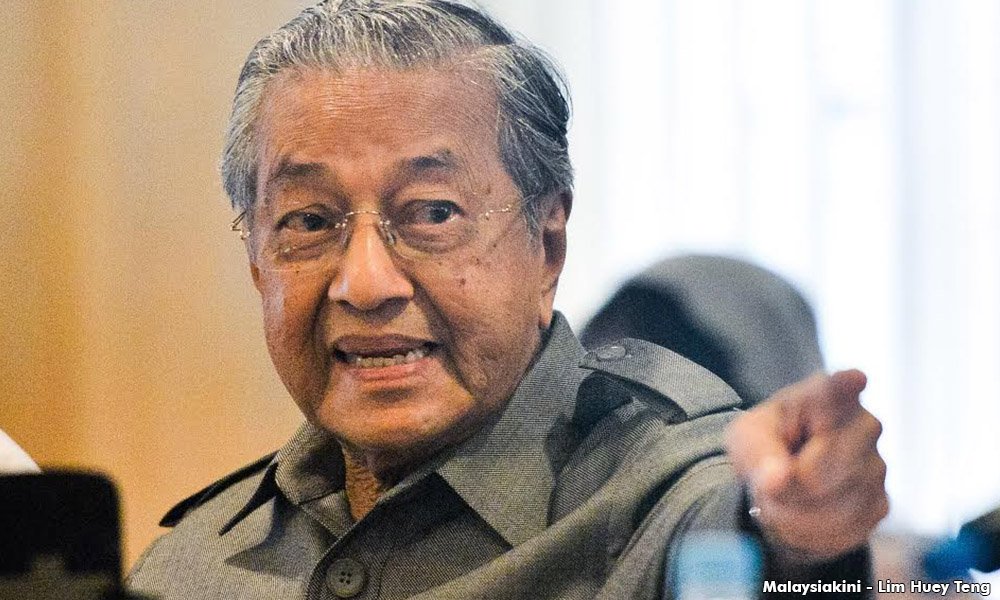 Saya koner baring U untuk jatuhkan Najib
Najib says he did more for Indians
than PM of 'Indian heritage'
Datuk Seri Najib Razak today extolled his efforts towards the development of the Indian community here while taking a veiled swipe at Tun Dr Mahathir Mohamad.
While the prime minister did not mention Dr Mahathir by name, his remarks made reference to the latter's lineage that includes ancestors from Kerala, India on the paternal side.
Najib also stressed that improving the Indian community has consistently been part of his administration's agenda since he took office in 2009. Continue Reading...
MO1 has said that Tun Dr Mahathir is an Indian. I dont know what is the purpose of MO1 proclaiming that Tun Dr Mahathir is an Indian. Is it a crime to be an Indian? If Dr Mahathir is an Indian, it only shows how clever the Indians are. For 22 years, an Indian has been the Prime Minister for the Malays ! !
- Another Indian leads the Opposition - although from inside prison.
- The Tabung Haji chief is an Indian.
- The KSN is an Indian.
- The KSU of the MOF is an Indian.
- The IGP is an Indian.
- That Counter Terrorism fellow is an Indian.
- Chief Thief's own deputy at Khazanah is an Indian.
- The head of the EPU is an Indian.
- Chief Thief's RM9.5 million lawyer is an Indian.
- The Wanita Chief is an Indian.
- Chief Thief's own media boss is a really crooked Indian.
Damned they are all Indians. Ostb is an Indian as well. The good Indian.
What the Chinese, the Indians, the Filipinos and even the Africans find mind boggling is the utter stupidity of so many people who cannot understand the 1MDB scandal.
Moron university professors (Persatuan Professor Kangkung Melayu or something) cannot understand that the IPIC 'arbitration' settlement means they are paying TWO times.
1MDB acknowledge openly and repeatedly that they have already paid RM28 BILLION (US6.5 BILLION) to IPIC. Note : "ALREADY PAID". So they paid the FIRST time.
But IPIC says NO WE DID NOT RECEIVE ANY US6.5 BILLION PAYMENT FROM YOU.
So 1MDB and IPIC went for arbitration. The arbitration has told 1MDB...
"NO IPIC DID NOT RECEIVE ANY PAYMENT FROM YOU.
NOW YOU HAVE TO PAY IPIC US6.5 BILLION (RM28 BILLION).
So this is the SECOND TIME 1MDB IS PAYING.
The Persatuan Profesor Kangkung Melayu cannot understand this simple arbitration announcement. Possibly because it is in English.
Then the numb nuts cannot understand how much is ONE BILLION. They do not even know how many zeros there are in ONE BILLION.
Does a billion have six zeros, seven zeros, eight zeros, nine zeros, 10 zeros or how many? They do not know. They cannot even write the figure for a billion.
So how are they going to understand 10 billion or 45 billion?
So the Chinese are saying "Waa like dis oso got ah?"
The Indians are saying, "Aiyyo, ippidi-muddaal-ah ?"
The Africans are saying "shimo mbaya".
The Filipinos are saying "ay dapat na mali butas".
On the Singapore Court sentencing Yeo Jia Wei to 54 months in jail, it is bringing the kleptocracy closer to the hang rope.
If the SB guys are following me then they will know who I met two nites ago. People are quite adamant that all the crooks who make up the kleptocracy must be brought to justice. Wrongdoers must be charged and sent to jail. Their ill gotten gains must be confiscated. We are looking at many, many crooks who are going to jail. This will include the supporting actors and ball carriers.
To the crooks - too late guys. You have already done the crime. There is no way out now. Those Bank Negara Forex losses happened over 25 years ago and they want to dig it up. Compared to that the 1MDB stealing is current. It is still happening today - as you are reading tis. Apa macam - ada duit untuk bayar itu IPIC arbitration? The first payment (RM4 BILLION ?? - please correct me if I am wrong) is coming up soon.
Back to Yeo Jia Wei, the Singaporeans have "cut a deal" with Yeo on EIGHT other charges. They have jailed him for 54 months over TWO charges only. The rest are being "set aside" because Yeo has agreed to turn witness against JoLo. This is the talk from Singapore.
It will be extremely lame and unbecoming of the Singapore justice system if they do not charge JoLo. They are not lame and neither are they unbecoming. It is just a matter of time. Tick tock tick tock.
Also notice how the Singapore judgement on Tuesday comes soon after the US DOJ filed their THIRD civil suit over this 1MDB theft!
And coming soon to a theatre near you will be the Swiss Attorney General's criminal proceedings over this 1MDB theft. Lets see what type of cheese the Swiss will be serving.
Chief Thief is becoming even more panicky. Imagine, soon he will be the first Chief Thief to have an international arrest warrant issued over his head. Imagine Chief Thief telling the mother, "Mak, hari ni kera jadi lagi famous. Satu dunia setuju nak tangkap kera'. Mother replies, 'Itu lah, dulu lagi mak dah cakap 'jangan suka bergayut dengan monyet itu. Kita kera, dia monyet'.
Lets not digress. Chief Thief's people are at maximum panic. They are going all out to "smear" Tun Dr Mahathir.- ostb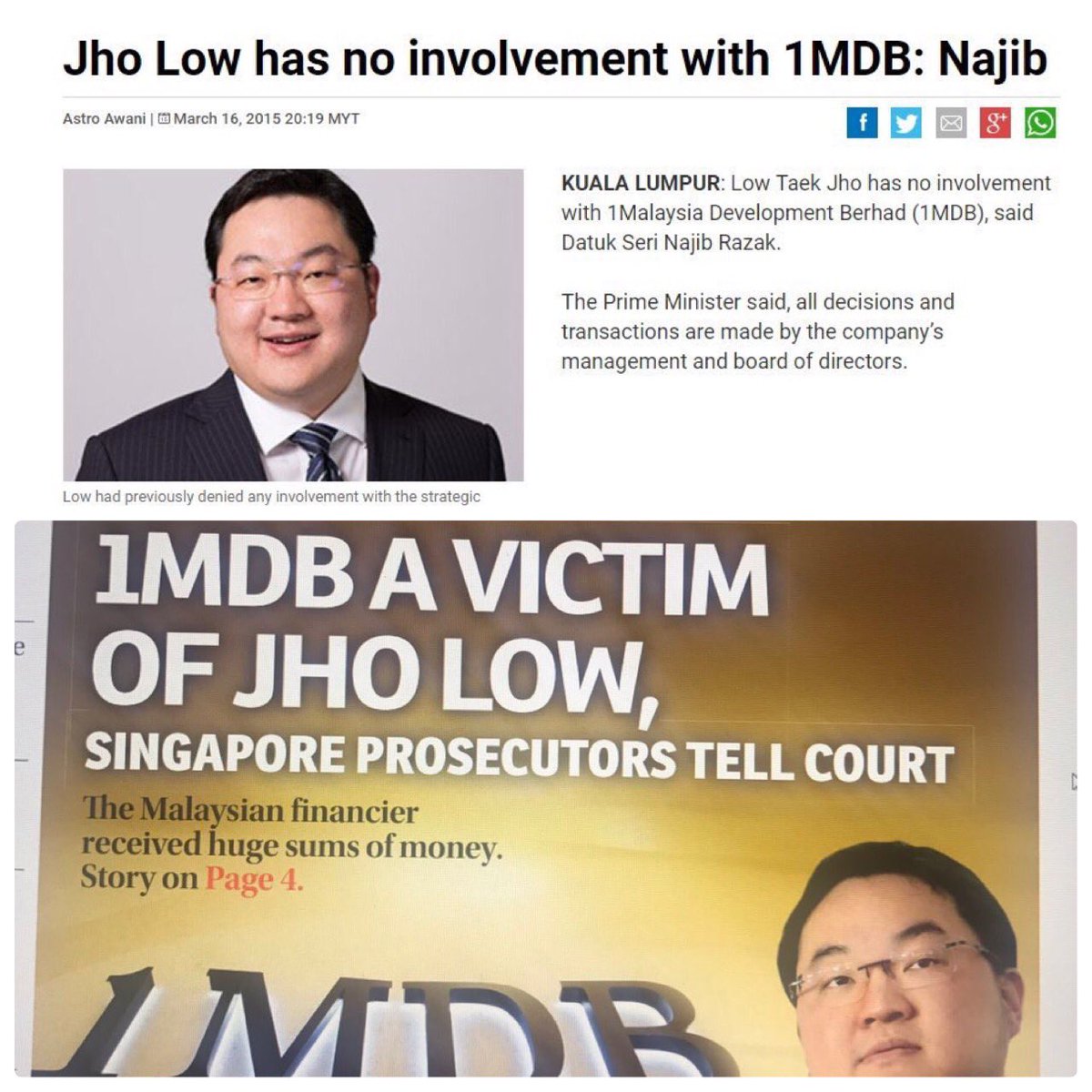 Court acquits Rafizi of insulting UMNO members
cheers.