Perancangan Umno untuk mendapat sokongan penuh pengundi Melayu dengan cara memperdayakan Pas selepas Cina tidak bersama mereka lagi hancur berkecai, dakwa Ahli Parlimen Shah Alam, Khalid Samad.
"Selepas Cina tak sokong BN lagi, Umno cuba mendapatkan undi Melayu sepenuhnya dengan memperdayakan Pas agar menyokong mereka menggunakan RUU Akta 355.
"Tetapi ia hancur berderai apabila Pas berpecah dua, dengan lahirnya Amanah dan Umno juga pecah dua dengan lahirnya Bersatu.
"Benarlah janji Allah, kamu merancang, Allah pun merancang dan Allah adalah sebaik-baik perancang," kata Khalid sambil membacakan sepotong ayat Al Quran.
Khalid berkata demikian ketika memberikan ucapan dalam majlis ceramah anjuran PKR Selayang di Bandar Tasik Puteri, Rawang malam tadi.
Khalid yang menjadi penceramah utama malam tadi berkata, dengan lahirnya Amanah dan Bersatu, beliau yakin pengundi Melayu tidak lagi bersama dengan Umno dan Barisan Nasional tetapi bersama dengan Pakatan Harapan apabila Bersatu bakal menyertainya tidak lama lagi.
"Apabila pengundi Melayu dan Cina bersatu, kita yakin akan dapat kalahkan Umno dan Barisan Nasional (BN) dalam pilihan raya umum akan datang," kata Khalid yang mendapat tepukan dari hadirin dan juga pemimpin Pakatan Harapan yang berada di pentas.
Khalid tidak langsung menyerang Pas dalam ceramahnya melainkan berkata Umno telah berjaya menjinakkan Pas melalui RUU Akta 355 menyebabkan parti itu mesra Umno.
Turut berucap malam itu adalah William Leong,Ahli Parlimen Selayang dan juga L Mankadir Samsi atau lebih dikenali Pak Jabit serta Azman Mokhtar, Ketua Komunikasi PKR Selayang. Turut berucap adalah wakil DAP.
Sebelum berceramah, Khalid mengadakan dialog dengan ahli Amanah tempatan dan bersetuju untuk menubuhkan dua cawangan Amanah di situ tidak lama lagi.- malaysiadateline
Najib,ajak Hadi jadi tetamu
Perhimpunan Agung UMNO...
Setelah tampil sedondon berbaju merah jambu beberapa bulan yang lalu, Najib Razak dan Hadi Awang sekali lagi akan duduk di atas pentas yang sama - kali ini dalam suatu perhimpunan raksasa berkaitan Rohingya pada 4 Disember akan datang nanti.
Sebelum itu, ikatan kemesraan antara UMNO dan Pas yang menghadapi pelbagai cemuhan, turut dirapatkan lagi dengan persetujuan kerajaan memberi lampu hijau kepada Hadi Awang membawa usul Akta 355 bagi tujuan memperkasa kuasa Mahkamah Syariah.
Meskipun usul tersebut sudah dibaca sebanyak dua kali, ia tetap ditangguhkan jua akhirnya. Tetapi, usul itu nyata telah merapatkan lagi hubungan antara mereka.
Dengan itu, bibit-bibit ke arah "perkahwinan" antara UMNO dengan Pas, sama ada secara "sembunyi-sembunyi" atau "terbuka rasmi", nampaknya sukar untuk dielakkan lagi. Baca setersnya...
Parliament rioters freed: The message...
What does it say when a group riots and attacks an elected Member of Parliament in the compound of the august house, gets a remand to be kept for four days and the police frees them all only after one night?
What does it say when police say that they are investigating the group of people, one who is a son of an MP, for rioting, but allow them to walk free without being charged?
What does it say when the august house is defamed and authorities are saying they will do something about - Deputy Home Minister Datuk Nur Jazlan said that he will - and yet they do not seem to be doing anything?
What does it say when the minister in charge of the security of Parliament says that he will check who sponsored the group into the Parliament compound and yet, days after, there is no mention of who the sponsor is?
What does it say when there has yet to be a public apology by the authorities in charge of the Parliament security to MP Khalid Samad for being attacked in a place which was supposed to have top notch security?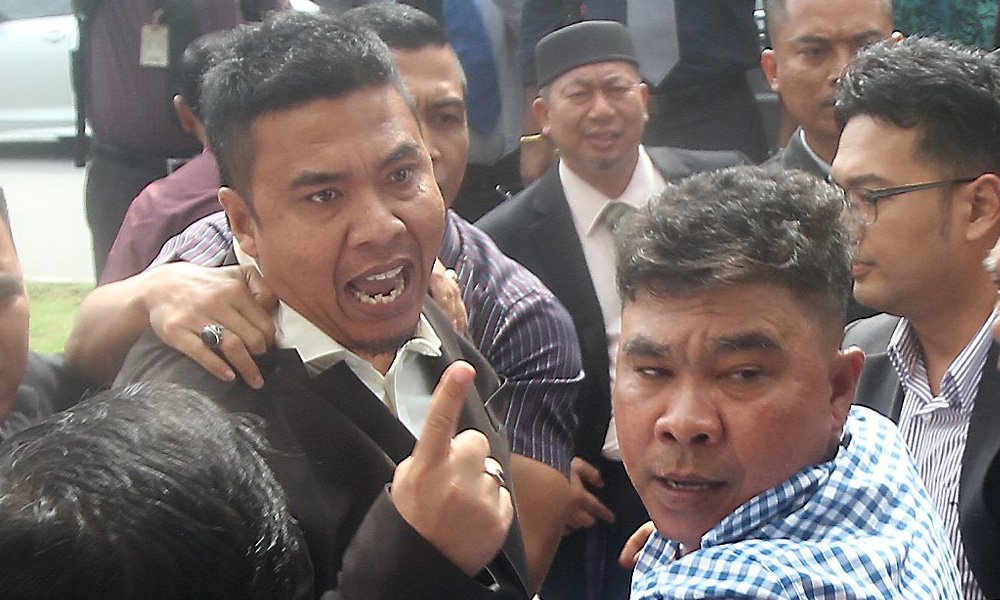 It says much and yet, it says nothing good at all about the way authorities work in this country.
Malaysiakini reported that police have freed eleven individuals detained in connection with the commotion at the Parliament compound last Thursday.
The article reported that according to Oriental Daily, a police official confirmed that the 11 were released on Saturday after spending at night in police custody.

All eleven individuals, comprising eight males and three females, had surrendered to the police on Friday morning. Police managed to obtain a four-day remand order.

On Thursday, a group tried to harass Shah Alam MP Khalid Samad within the Parliament compound.
Only in Malaysia ma...
They claimed to be supporters of Agriculture and Agro-based Industry deputy minister Tajuddin Abdul Rahman.
The supporters were angry at Khalid for using the term "sial" to describe Tajuddin during the height of the "Kok row" in the Dewan Rakyat.
Among the eleven under investigation by the police was Tajuddin's son Faisal.
According to the police, the 11 individuals are being investigated under Section 147 of the Penal Code for rioting, reported Malaysiakini. - Zakiah Koya
Not hudud? Sarawak not buying argument...
Did Deputy Prime Minister Datuk Seri Zahid Hamidi say PAS president Datuk Seri Abdul Hadi Awang's Private Member's Bill to amend the Syariah Court has nothing to do with hudud law? All major news media reported him as saying so in his news conference after meeting Sarawak Chief Minister Tan Sri Adenan Satem in Kuching on Thursday.
If it's nothing to do with hudud, then why did Adenan, MCA president Datuk Seri Liow Tiong Lai, component leaders of the ruling coalition and non-Muslim leaders in the opposition reacted as they did to the Bill? Adenan, in his capacity as the state Barisan Nasional chief, had earlier in the week instructed all state BN MPs, including Muslim lawmakers, to oppose the Bill if it is read for the second time in Parliament.
Liow threatened to resign from the Cabinet if the Bill, which he likened to a blank cheque "which will pave the way for hudud law to be implemented in Malaysia", is passed. The passage of the Bill, in the face of certain defeat, has since been shelved.
By claiming it has nothing to do with hudud, Zahid - without saying it - had just implied that Adenan, Liow and the motley of leaders from smaller BN component parties like Parti Rakyat Sarawak (PRS) Tan Sri Dr James Masing, Sarawak United People's Party (SUPP) Datuk Dr Sim Kui Hian, Parti Bersatu Sabah (PBS) Tan Sri Joseph Pairin Kitingan, Parti Bersatu Rakyat Sabah (PBRS) Tan Sri Joseph Kurup, are incapable of reading a Bill.
Zahid, whom the opposition claimed was in Kuching to persuade Adenan make a u-turn and retract his instruction to BN federal lawmakers, said the Bill was only seeking an elevation of the Syariah Court to be on par with the civil court.
The elevation, he added, is not about dualism and it will not affect non-Muslims. Now Adenan is a lawyer who graduated from a top notch Australian law school. What is it in the wordings of of Hadi's Bill to make him think that it was hudud?
Adenan is certainly no nincompoop even though the wording of the Bill was in Malay. Neither are the others for that matter. Maybe Hadi had grossly underestimated the mental capacity of the "cawat-wearing" federal lawmakers from Sabah and Sarawak when he kept tweaking his Bill time and again.
The Sarawak leaders, as well as those in Sabah, are just not taken in by the PAS president's attempt to sugar coat the Bill to make it palatable and disguise his true intention. Masing, for one, is not buying the Bill to amend the Syariah Courts Act (Criminal Jurisdiction Act 1965) (Act 355).
Even after listening to what Zahid had said, the Sarawak Deputy Chief Minister made it clear his party would not support any Bill that would introduce parallel laws – one for Muslims, the other for non – and one that would steer the country in the direction that would "shake the foundation of the country based on - the Malaysia Agreement 1963".
He said the introduction of any Islamic laws that went against the spirit Sarawak and Sabah had agreed on when agreeing to the formation of the Federation of Malaysia would not get his party's support.
Masing also asked why Hadi was hell bent on wanting the law "knowing that it will create suspicion, uneasiness and anger among non-Muslims". Hadi, to him, belonged to group of leaders who consider religious interests above the interests of the multiracial nation.
A far back in June the learned Muslim Speaker of the Sarawak state legislative assembly had said that if he were the parliament Speaker, he would have dismissed Hadi's Bill as it "flagrantly violates the Federal Constitution".
Datuk Amar Asfia Awang Nasar, a lawyer by training, said the Bill was discriminatory towards Muslims themselves as it breached Article 8 of the Federal Constitution on equality before the law.
Sarawak PKR chief Baru Bian was stark in his warning that anyone who believes that Hadi's hudud Bill will not affect non-Muslims "must be extremely naïve". The hudud Bill, the Ba Kelalan assemblyman said, is against the Federal Constitution and will affect all Malaysians in its application.
"Those people who keep saying it has nothing to do with hudud and that it will not affect non-Muslims are just playing a political game."
In his answer to Hadi's "reminder" to non-Muslims not to behave like (Jakarta Governor) Ahok, "I wish to remind him and all MPs of what is happening in Aceh".
Baru said in April this year, a non-Muslim woman was caned under Syariah law for selling alcohol. Is this how Syariah law is not affecting non-Muslims? he asked.
If anyone needs more convincing, please read the writings of Zaid Ibrahim and Mujahidin Zulkiffli, two Muslim leaders who are against the implementation of Hudud in Malaysia with Mujahiddin laying out on frightening detail how non-Muslims are treated in Islamic countries and says that in history, hudud applies to all. - Laja Lang
cheers.