Orang ramai di Malaysia bakal menyaksikan fenomena Supermoon luar biasa esok bermula pada jam 7.24 malam.
Fenomena Supermoon luar biasa bermula pada 7.24 malam dan dijangka akan penuh pada jam 9.54 malam.
Fenomena supermoon pada kali ini adalah lebih luar biasa dari yang lain disebabkan kedudukan bulan ketika itu adalah di jarak yang paling dekat sejak tahun 1948.
Menurut Agensi Angkasa Negara (ANGKASA), fasa penuh atau purnama akan berlaku pada jam 9.54 malam esok.
"Fenomena Supermoon adalah satu fenomena astronomi di mana Bulan akan berada di kedudukan paling hampir dengan Bumi (perigee) pada jam 07:24 malam dan seterusnya berada pada fasa penuh atau purnama pada jam 09:54 malam.
"Fenomena ini boleh dilihat pada 14 November 2016. Keadaan Bulan di kedudukan perigee ketika fasa purnama ini menyebabkan Bulan kelihatan seolah-olah lebih besar dari keadaan biasa.
Jadi, pastikan semua sudah mempunyai port yang jelas untuk melihat supermoon esok dan bersedia dengan kamera untuk mengambil foto bulan yang cantik. - siakapkeli
How to see the biggest supermoon
A rare supermoon is set to light up skies on 13 and 14 November, as the satellite orbits closer to earth than it has done for 70 years.The full moon is expected to appear at its biggest and brightest since January 1948.
Because the moon orbits the Earth in an oval shape, sometimes it is closer to our planet than at other times.Biggest supermoon of the century set to illuminate the sky
When the moon is closest to Earth it is described by astronomers as being in the perigee stage. When it is further away, this is the moon's apogee.
A perigee stage supermoon appears about 14 per cent bigger and 30 per cent brighter than an apogee full moon.
Known as the Beaver Moon or Frost Moon, this one will be exceptionally large and bring higher than normal tides.
"The full moon of Nov. 14 is not only the closest full moon of 2016 but also the closest full moon to date in the 21st century," Nasa said in a statement, adding the full moon will not come this close to Earth again until 25 November 2034.
What is a supermoon anyway?
A supermoon occurs when you have a combination of two things: a full moon and the moon at perigee – the point in its orbit when it is approaching Earth at its closest. On November 14, this will bring the moon 50,000 kilometres closer to Earth.
So what is the best way to see it?
Try to go somewhere dark, as other lights can diminish the bright appearance of the moon and make it more difficult to see. If you can, leave the city, and view the rare celestial event from the countryside.
Will I need special equipment?
Good news, amateur skywatchers! No fancy gear is required. In fact, a full moon or a supermoon is the worst time to look through a telescope because the moon is too bright. The only equipment you might want with you on November 14 is a decent camera.
What am I looking at?
Keen-eyed observers will be able to pick out lunar landmarks. The maria, the moon's low-lying seas, are the darker patches. Apollo 11's famous landing site is on the easterly edge of the Sea of Tranquility. The Tycho crater and Copernicus crater are the lighter-coloured circles. Remember, too, that we see the moon "upside down" compared to those in the northern hemisphere.
If I miss it, can I see it again?
Sure. If you want to skip an astronomical showstopper on this scale, you can see another one ... on November 25, 2034. But there will be another supermoon next month, albeit not at perigee. December's supermoon will occur on the 14th, when the moon's orbit will place it 360,390 kilometres from Earth – 3837 kilometres further away from us than November's supermoon.
Why is this one so special?
This isn't just any supermoon. This monster will appear up to 14 per cent bigger and 30 per cent brighter than an average full moon when it travels across the night sky on November 14. It's the biggest one is almost 70 years. That's pretty special. This is because the moon is, astronomically speaking, close to Earth at a mere 356,553 kilometres away. It'll be 18 years until it's this close to us again. - independent.co.uk/smh.com.au
UMNO zalimi PAS lebih teruk
PAS dizalimi sewaktu berada dalam gabungan Barisan Nasional (BN) lebih teruk berbanding tekanan DAP semasa dalam Pakatan Rakyat, kata Datuk Iskandar Abdul Samad.
Naib Presiden PAS itu kemudian menyenaraikan beberapa pengalaman hitam pimpinan mereka antaranya ditahan di bawah Akta Keselamatan Dalam Negeri (ISA) dan peristiwa Memali 1985.
Lantas, PAS tak mungkin bergabung dengan Umno lantaran serik dengan kekejaman dan penipuan BN.
"PAS banyak tertipu dengan Umno. Ahli kita mati dalam tragedi Memali. Apabila kita berurusan dengan Umno kita amat berhati-hati kerana sebelum ini banyak ahli PAS ditangkap…macam Datuk Burhanuddin al-Helmy yang mati kesan seksaan dalam tahanan ISA."
Beliau berkata demikian dalam sidang media seusai himpunan Ledakan Suara Rakyat di Taman Medan, hari ini.
Iskandar mengulas tuduhan Pengerusi Parti Pribumi Bersatu Malaysia (PPBM) Tun Dr Mahathir Mohamad yang menggolongkan PAS dalam kumpulan penyokong Perdana Menteri Datuk Seri Najib Razak kerana tidak mahu bersama pakatan pembangkang.
Beliau merujuk kepada cubaan menangkap tokoh agama Ibrahim Mahmud (Ibrahim Libya) di Memali, Kedah yang meragut 14 nyawa termasuk Ibrahim dan berpuluh lagi cedera.
Ketika itu, Dr Mahathir merupakan perdana menteri.
Sementara Burhanuddin al-Helmy pula merupakan bekas presiden PAS yang ditangkap dibawah ISA pada 1965. Dianggap nasionalis radikal dan pemikir Islam, beliau dituduh berkomplot untuk menggulingkan kerajaan.
"Kita lebih berhati-hati dengan Umno lebih daripada parti lain. DAP dan parti lain tidak terkesan banyak dengan kezaliman Umno. PAS paling teruk dizalimi Umno. Parti-parti lain tak kena macam PAS.
"Jadi tuduhan PAS masuk (gabung) Umno tak masuk akal," katanya.
Lebih 1,000 orang hadir menyertai Lasak hari ini bagi menyatakan pandangan terhadap Bajet Persekutuan dan Bajet Selangor bagi tahun 2017.
Mengulas himpunan hari ini, Iskandar berkata isi kandungan ucapan-ucapan sepanjang acara menunjukkan banyak percanggahan antara PAS dan BN.
"Akar umbi kita bangkitkan banyak masalah, antaranya isu Uber dan Grab. Selain itu, isu ketakseragaman kontrak artis, cukai barangan dan perkhidmatan…ini semua dasar kerajaan BN," katanya. - fmt
Mistreatment suffered by PAS at the hands of the DAP was nothing compared to what PAS faced when working with Barisan Nasional (BN), says the party's vice-president Iskandar Abdul Samad.
Listing several examples of the party's bad experience with BN, including detention under the Internal Security Act, he said there was no possibility of PAS forming an alliance with Umno.
"PAS has been cheated by Umno enough times. Our members died in the Memali tragedy. So, we are very careful when dealing with Umno," he said at a press conference after PAS held a rally, Ledakan Suara Rakyat, in Taman Medan here today.
The Memali tragedy took place on 19 Nov 1985, during Dr Mahathir Mohamad's years as premier. Police shot dead 14 people while trying to capture renowned religious scholar Ibrahim Mahmud (Ibrahim Libya) in a siege on his camp in Memali, Kedah.
The 14 dead included Ibrahim and four policemen.
Yesterday, while speaking at Pakatan Harapan's convention, Mahathir had claimed that PAS was secretly supporting Umno president and Prime Minister Najib Razak.
Mahathir alleged that the party's support of Najib was the real reason that PAS refused to join Pakatan in an common front against BN.
Iskandar said today: "We have to be more careful with Umno than with all other parties. DAP and the others were not really affected by Umno's cruelty. PAS had it worst. No one else had it like we did.
"So allegations that PAS are now working with Umno is ridiculous."
More than 1,000 people attended the Lasak gathering today, to express their views about the federal and Selangor budgets for 2017.
Iskandar said speeches made throughout this morning clearly showed the difference between PAS and BN.
"Our grassroot members raised all sorts of issues including the ones affecting Uber and Grab (ride-hailing services), as well as the Goods and Services Tax, which are all BN policies," he added. - fmt
Singapore Police Tracing JoLo now...
Rakyat M'sia punya angkara,Penyangak Besar dari Malaysia,
Skandal kewangan dari Malaysia, Kerajaan Singapura siasat sungguh2...
TETAPI DI MALAYSIA...
Najib Razak 'SUDAH DIBERSIHKAN' oleh Peguam Negara yg dilantik atas nasihat Najib Razak.
Ostb :
Within a flash the first TWO 1MDB related trials are over in Singapore.
1. Yeo Jia Wei : The Yeo Jia Wei trial closed on Friday. Do you notice that their Court did not postpone any of the hearings. Now we await the judgement on that case.
2. Yak Yew Chee : Then surprise, surprise on Friday another 1MDB case, that of Yak Yew Chee also came to a quick conclusion when Yak pleaded guilty - thus becoming the first person to be convicted of a crime in relation to the 1MDB scandal.
The Singapore police are now tracing the whereabouts of Jho Low (JoLo).
I have heard talk that just a few months back the Police force of a certain South East Asian country sent TWO Police officers to meet and interview JoLo in a hotel room in Hong Kong. I wonder which country
Meaning that some people can easily know (or even arrange) the hotel and the room number where JoLo is located and how to contact him.
Maybe they can assist the Singapore Police and Prosecutors track down JoLo ? Or maybe they will not. Whatever happened to ASEAN, friendship, cooperation and all that bullshit?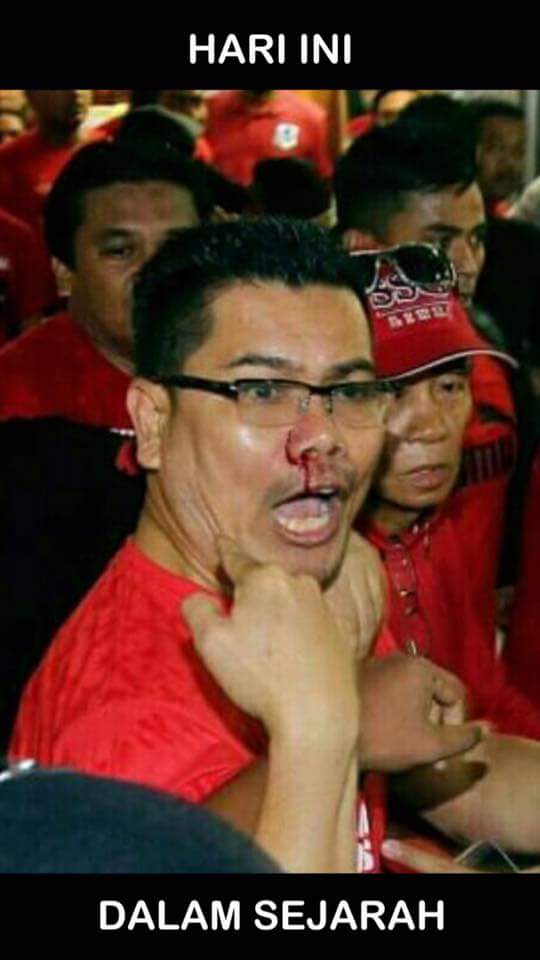 Jamal Tongkoi kena balun...
Story kat
SINI
dan
SINI
TV3¾ kata Jamal Jamban Kebalkah kena tumbuk oleh kumpulan Baju Kuning. Tapi dalam video insiden itu tiada langsung menampakkan peserta baju kuning BERSIH V sebab yang ramai kelihatan ialah geng baju merah bergelut dengan pihak Polis.
Jamal Tongkoi kasi warning polis pula...
cheers.