Rakaman 'Polis tumbuk saya'
dedah sabotaj Jamal terhadap Bersih...
Bagi Ketua Parlimen DAP, Lim Kit Siang keterlibatannya dalam perhimpunan aman Bersih 5 pada Sabtu akan datang tidak bermotifkan peribadi, tetapi hanya untuk memperjuangkan hak rakyat demi sebuah negara demokrasi yang utuh, tanpa mengira bangsa, agama, jantina, usia mahupun politik.
Bagaimanapun, katanya, penganjuran perhimpunan aman dan demokratik itu telah diganggu dengan tindakan provokasi oleh Ketua Samseng Umno, Datuk Jamal Yunos baru-baru ini yang bertujuan untuk mewujudkan rasa takut dan benci di kalangan rakyat.
Beliau memuji usaha portal berita, Malaysiakini yang mendedahkan rakaman gerak perlahan memaparkan aksi ganas Jamal yang dihalang polis daripada menyerang aktivis PKR yang melakukan promosi Bersih 5 di Ampang dua hari lepas.
"Rakaman video itu menunjukkan Jamal menjerit berulang kali, 'polis tumbuk saya'
"Tetapi dia kemudian mendakwa bahawa penyerang itu mempunyai kaitan dengan Ahli Parlimen Ampang Zuraida Kamaruddin dan kemudiannya membuat laporan polis palsu dengan menuduh seseorang yang berbaju Bersih telah melanggarnya.
"Namun, dari rakaman video itu, penyerang yang dikatakan kelihatan memakai (pakaian) biru gelap.
"Ini adalah moral, kualiti dan ciri-ciri provokasi yang cuba (ditunjukkan samseng Umno) untuk mensabotaj Bersih," katanya ketika berucap dalam satu ceramah Bersih dekat sini, semalam.
Kit Siang yang juga merupakan Ahli Parlimen Gelang Patah turut menyeru agar rakyat di negara ini bersatu sebagai satu bangsa untuk perhimpunan Bersih kali ini bagi merubah suasana Malaysia yang lebih demokratik, sekaligus menolak label 'kleptokrasi' ekoran siasatan pihak berkuasa antarabangsa terhadap skandal melibatkan 1MDB.
"(Perdana Menteri) (Datuk Seri) Najib (Razak) telah bertanya bagaimana saya boleh bekerja dengan (Mantan Perdana Menteri) Tun Dr. Mahathir Mohamad walaupun mempunyai perbezaan politik sejak berdekad lamanya.
"Biar saya beritahu Najib, bahawa jika beliau bersedia untuk menyertai gerakan untuk Selamatkan Malaysia, untuk menuntut semula negara demokrasi dan menolak kleptokrasi, saya juga bersedia untuk bekerja bersama-sama dengan beliau walaupun berbeza pendirian politik," ujarnya. – Roketkini.com
PAGE 98 - What Is The Secret
All About Mr.Najib...
Rafizi Ramli MP, to be banged up for asking where 1MDB's money went.
An elected representative of the people has been sentenced to imprisonment for apparently referring to Page 98 of the Auditor General's Report into 1MDB, which the Prime Minister had unconstitutionally declared an official secret.
Sarawak Report has uploaded the entire report already, so what Rafizi Ramli is referring to is known to anyone who cares to look and presumably all Malaysians are now having to get used to pretending they don't know things they do.
Likewise, Malaysians are being threatened for mentioning what the United States Department of Justice has already confirmed, which is that billions of dollars have been stolen from 1MDB of which nearly a billion has been traced into Prime Minister Najib Razak's own accounts.
If this was a lie then the Prime Minister would have sued Sarawak Report into bankruptsy in a British court a long time back, along with the Wall Street Journal and other news organisations which have long since reported the blatant facts.
Intimidation as Policy?
It is the fundamental point of Rafizi Ramli's existence as an opposition MP that he is there to hold the Government to account and question issues of expenditure.
It is the duty of the government to justify those expenses by answering such questions.
That is the system in any sane and proper country governed by the rule of law. Yet, to avoid such basic accountability, Najib has declared the audit into this public company secret (having commissioned it originally with the avowed purpose of putting the public mind at rest by getting to the truth over the running of the fund).
Rafizi had wanted to know why public money allocated to 1MDB, in particular RM288 referred to on Page 98, appears to have gone missing and also why a billion more had been allocated to 1MDB for the relocation of the military bases at Banda Malaysia, when the original deal (providing the land at a rock bottom price) had included an obligation to 1MDB to fund the move?
But, instead of providing a satisfactory answer, as ought surely to be expected, the government decided to go after Rafizi instead, saying that he had gleaned his information from the 'secret' pages of the Auditor General's report – specifically Page 98. Continue Reading...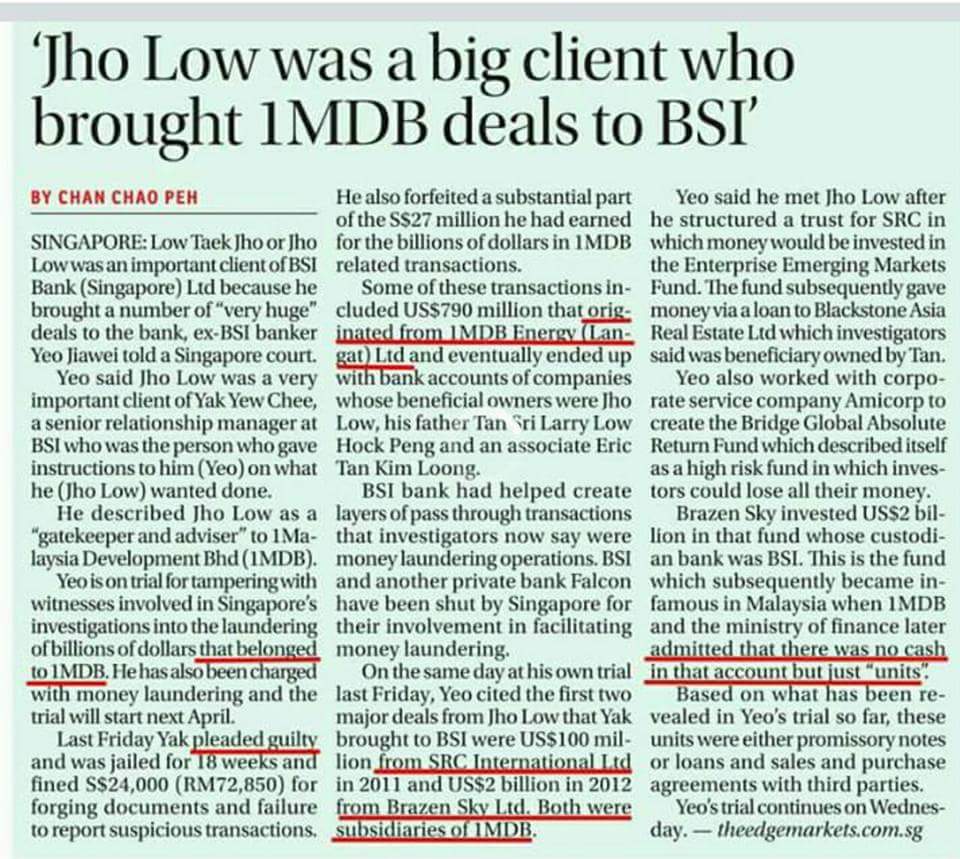 Hangpa boleh percaya cakap si penyamoon ni...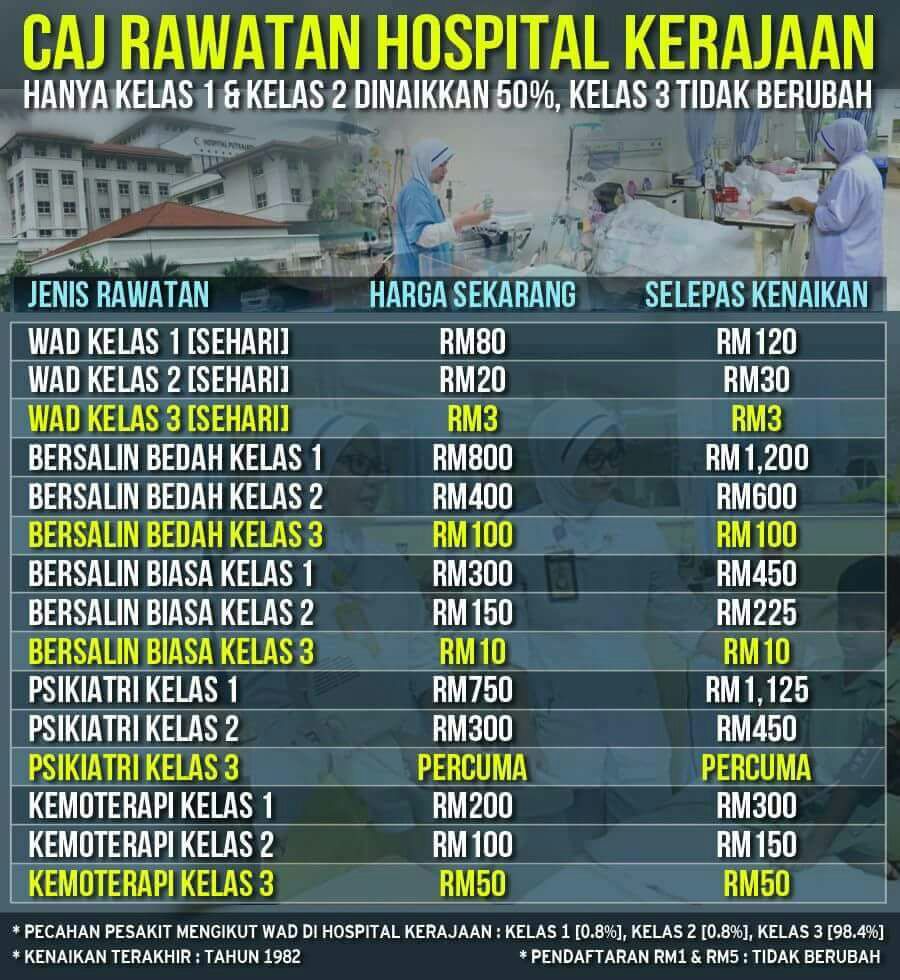 Berikut caj rawatan terkini di Hosp.Kerajaan. Rawatan utk pesakit luar (Rm1),
ubat (percuma) Doktor Pakar (Rm5) & Wad Kelas 3 tidak berubah.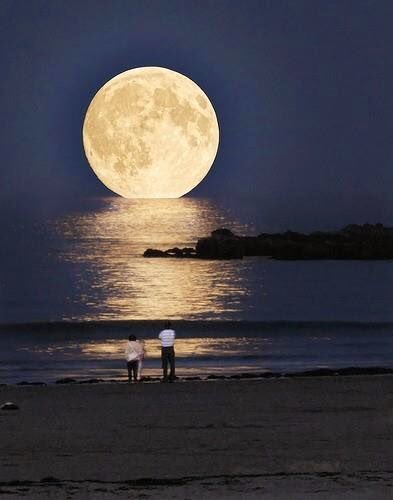 Supermoon...
cheers.