Dr M: Kenapa Anwar tak hentikan 'Projek IC'...
Tun Dr Mahathir Mohamad berkata, golongan yang mempersoalkan mengenai 'Projek IC' sepatutnya bertanya mengenai tindakan Datuk Seri Anwar Ibrahim yang berdiam diri mengenai isu berkenaan itu ketika berada dalam kerajaan.

Bekas perdana menteri Tun Dr Mahathir Mohamad menangkis dakwaan bahawa beliau berbohong ketika memberi keterangan di persidangan suruhanjaya siasatan diraja (RCI) apabila menyatakan bahawa beliau tidak mengetahui mengenai 'Projek IC'.

Katanya, golongan yang mempersoalkan perkara tersebut sepatutnya bertanya mengenai tindakan Datuk Seri Anwar Ibrahim yang berdiam diri mengenai isu berkenaan itu ketika berada dalam kerajaan.

Mahathir tanpa menamakan Anwar berkata "seorang pemimpin Pakatan Rakyat" yang berkhidmat sebagai timbalannya tidak pernah mempersoalkan mengenai 'Projek IC' itu.

Projek berkenaan didakwa sebagai satu rancangan sulit didakwa untuk memberikan kerakyatan kepada pendatang asing beragama Islam di Sabah bagi mengubah demografi pengundi di negeri itu.
Bercakap kepada pemberita selepas satu majlis di Kuala Lumpur hari ini, Mahathir berkata Anwar pastinya telah menghentikan usaha tersebut sekiranya 'Projek IC' benar-benar berlaku ketika beliau menjadi perdana menteri.

"Dia pernah berada dalam kerajaan, dia tahu dasar kerajaan. Jika itu menjadi dasar kerajaan, kenapa dia tidak hentikan?," katanya kepada pemberita selepas menghadiri satu majlis anjuran Dewan Perdagangan dan Industi Jepun Malaysia (Jactim) hari ini.

Ditanya jika beliau merujuk kepada Anwar, Mahathir dengan berjenaka berkata: "Mungkin".

Mahathir dalam keterangannya di persidangan RCI semalam berkata beliau tidak tahu mengenai 'Projek IC' dan menyalahkan pegawai kerajaan kerana mengeluarkan dokuman kerakyatan kepada calon yang tidak layak.-malaysiakini
Mahathir penipu...
KEADILAN Sabah membidas mantan Perdana Menteri, Tun Dr Mahathir Mohamad kerana memberi keterangan palsu pada Suruhanjaya Siasatan Diraja (RCI) berhubung pemberian kad pengenalan kepada pendatang asing di Sabah.

Pengerusinya, Datuk Seri Lajim Ukin menggesa kerajaan Barisan Nasional (BN) agar segera mencari dalang dalam pro

jek IC memandangkan hanya Jabatan Pendaftaran Negara (JPN) yang boleh mengeluarkan kad pengenalan.

"Ini satu penipuan oleh Dr Mahathir. Beliau telah berdusta. Sebelum pilihan Raya Umum ke-13 (PRU 13), beliau mengakui sebanyak
200,000 pendatang asing dari Filipina dan Indonesia yang beragama Islam telah diberikan kerakyatan.

"Semasa menjawab pertanyaan daripada pemimpin Pakatan Rakyat dan beberapa NGO pada satu majlis sebelum PRU 13, Dr Mahathir turut menjelaskan ada dalang di sebalik projek IC tersebut.

"Kerajaan BN lambat bertindak dalam isu ini. Mereka seharusnya menangkap dalang projek ini lebih awal. Projek ini jelas memberi kewarganegaraan kepada warga asing yang belum layak menjadi warganegara," katanya, lapor The Malaysian Insider.
Beliau turut menggesa parti komponen BN Sabah seperti Parti Bersatu Sabah (PBS), United Pasokmomogun Kadazandusun Murut Organisation (UPKO) dan beberapa badan bukan kerajaan (NGO) lain yang menafikan berlakunya projek IC di negeri di bawah bayu itu agar segera membuat laporan polis.

Katanya, projek IC telah mencetuskan pelbagai persoalan seperti nama mereka yang memperoleh kad pengenalan menerusi projek tersebut muncul dalam daftar undi beberapa PRU lepas.

"Sebelum ini, banyak nama yang telah disebut berkait dengan projek IC. Kita harus selesaikan kes ini dengan menangkap mereka seperti bekas Menteri Kemajuan Bandar dan Wilayah, Tan Sri Abdul Aziz Shamsuddin untuk menjalankan siasatan lanjut.

"Kebanjiran pendatang asing di Sabah bukan sahaja memberi kesan buruk kepada negeri itu tetapi nama baik Malaysia secara umumnya.

Perniagaan di negeri Sabah kini banyak dimonopoli pendatang asing ini kerana mereka mampu menawarkan harga dengan lebih murah," katanya dipetik.- f/bk
Mat Salleh - Hanya ketua kerajaan yang dapat memberi arahan sesuatu perkara yang melanggar undang-undang sedia ada. Jadi siapa ketua pada masa itu? Apakah si Anuar?

Ipoh Mali - Anwar pun Tak mampu Hentikan Nafsu Mamak Kutty Mahathir BAILOUT anak dia 2 Billion Pakai Duit Petronas Walapun Anwar Menteri Kewangan.. Mamak Kutty Mahathir Mungkin Nyanyuk atau Cakap mcm Keling Mabuk..Yg jadi Menteri Dalam Negeri adalah mamak Kutty Sendiri.. Sejak Bila Kementerian Kewangan Keluarkan IC, Bagi arahan Pade Polis..?? ni la Perangai Yahudi Mamak Kutty Mahathir..

Zainol Abidin - Makin ketara semakin nyanyuk Che Det.Mana berani DSAI nak hentikan projek Bosnya sendiri.Geng DSAI mendesak nya cabarnya PM pun dah mangamuk Che Det. buat tuduhan bukan-bukan dan pecat DSAI dari umno.Bohong pun tak pa Allah Maha Mengetahui.dan semua orang besar-besar pun tahu.Tanya Haris Salleh sama.

Mikhail Gnoff - Kalau Anwar tahu dan cuba berhentikan projek IC, mungkin Anwar dah dipecat tahun 1994 ... bukan 1998... Mungkin Kes Sodomi pun dipercepatkan

Rizan Hj Ali - Inilah style Tun Mahathir....tidak akan sesekali mengakui itu kesilapan atau kesalahannya, malahan akan cuba mengaitkan kesalahan itu pada org lain pula walhal pada ketika itu siapakah yg memegang jawatan PM yg juga selaku Menteri Dalam Negeri? Apakah sindrom 'Bahlol' serta 'Bangang' para pemimpin UMNO/BN yg suka menyalahkan DSAI akan berterusan lagi selama-lamanya? Hanya Pak Cik Johari sahaja yg mengenali Uncle Manickam!!
Dr M: Why didn't Anwar stop 'Project IC'...
Former prime minister Dr Mahathir Mohamad today deflected claims that he lied under oath about his ignorance of 'Project IC' and urged his critics to instead question Anwar Ibrahim's silence about the matter when he was in government.

Without naming Anwar, Mahathir said "a Pakatan Rakyat leader" who served as his deputy prime minister had never questioned him about 'Project IC', allegedly a clandestine scheme to issue citizenship to Muslim migrants in Sabah to alter the state's voter demographics.

Speaking to reporters after a function in Kuala Lumpur today, Mahathir said that if 'Project IC' really took place during his tenure as prime minister, Anwar could have stopped him.

"He was in the government, he knew the government's policy. If that was the government's policy, why didn't he stop it?" he asked reporters after attending the 30th anniversary luncheon of the Japanese Chambers of Trade and Industry Malaysia (Jactim).

Asked whether he was referring to Anwar, Mahathir jokingly said "maybe".

Mahathir in his testimony before the royal commission of inquiry (RCI) into Sabah's illegal immigrants yesterday said he was not aware of 'Project IC' and that overzealous civil servants were to blame for issuing citizenship documents to those not qualified.
Dr M's aides fingered
In earlier testimonies, two of Mahathir's closest aides - Abdul Aziz Shamsudin and Megat Junid Megat Ayub - were accused by former civil servants having a role in 'Project IC'.

Aziz Shamsudin was accused of hosting several National Registration Department staff at his home in Kuala Lumpur during the early 1990s for the purpose processing citizenship documents.


Former Sabah NRD director Ramli Kamaruddin also testified that Megat Junid, the then deputy home minister, had directed him to process documents that would allow a group of people to vote.

Ramli testified that the instruction came two weeks before the 1994 Sabah state legislative assembly election and was intended to ensure that the party endorsed by the federal government would win.

In turn, Mahathir testified that there was no government policy to grant citizenship for those who were not qualified in Sabah and if it was done, then "government officers" were to blame.- malaysiakini
Dr M must be very worried about what Anwar will tell Sabah RCI on Sept 18...
PKR leaders said they were not surprised to hear that former prime minister Mahathir Mohmad had tried to deflect blame for the notorious Project I.C. onto Opposition Leader Anwar Ibrahim, who is due to take the stand at the Sabah RCI on September 18.
"This is typical of Dr Mahathir A lot of insinuations that amount to nothing. I think he must be very worried about what Anwar has to say and is trying to preempt the fallout," PKR vice president Tian Chua told Malaysia Chronicle.
"But let's be patient and let Anwar clarify it himself when he testifies at the RCI next week."
Worried that Anwar will expose him?
Without naming Anwar, Mahathir said "a Pakatan Rakyat leader" who had served as his deputy prime minister had never questioned him about 'Project IC'.
Mahathir, who had a day ago testified before the Sabah Royal Commission of Inquiry on Illegal, appeared to be a bit more 'sensitive' to criticism than his usual self.
His wholesale denials of not even knowing that there was a Project I.C. "until recently" had drawn hoots of laughter and sarcasm around the country.
Be that as it may, and perhaps to regain some composure, Mahathir today urged his critics to question Anwar's silence over the matter instead.
"He was in the government, he knew the government's policy. If that was the government's policy, why didn't he stop it?" Malaysiakini reported Mahathir as telling reporters on Thursday.
Asked whether he was referring to Anwar, Mahathir jokingly said "maybe".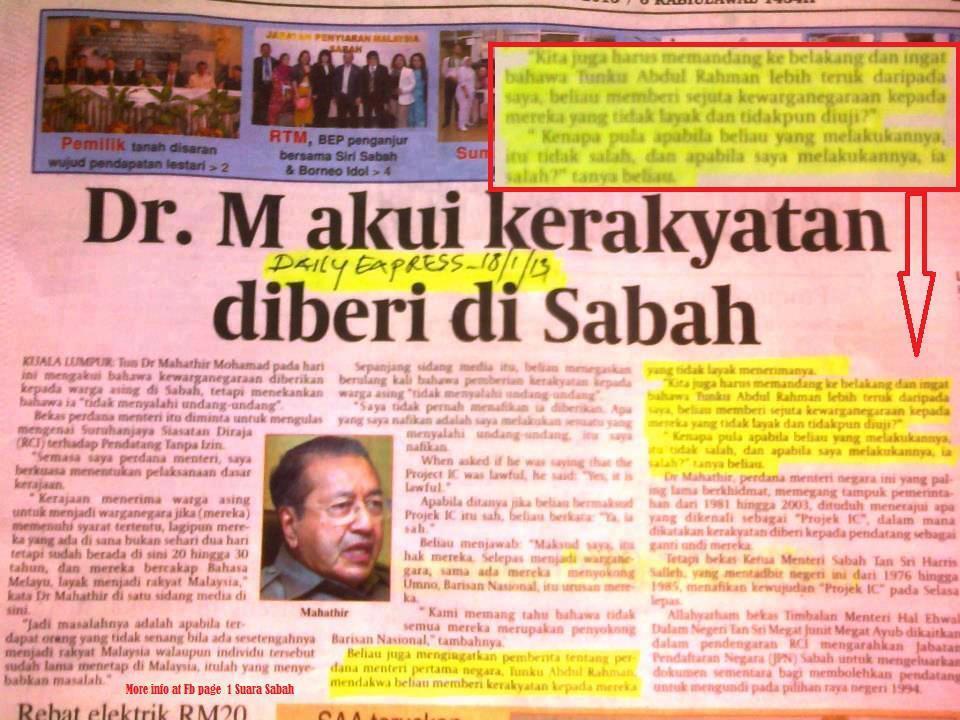 Demographics and votes to cling to power
The Opposition chief has given his statement to RCI investigators who flew down to Kuala Lumpur to meet him last month.
He is due to attend the RCI hearing at the Kota Kinabalu High Court next Wednesday, the 18th.
In his statement to the RCI investigators, Anwar had named 3 people he believed were the culprits behind the scheme, which he has described as being "treasonous".
His lawyer, Latheefa Koya, declined to reveal the names of the 3 culprits identified by Anwar but it is believed the trio are Mahathir, former deputy Home Minister Megat Junid and Mahathir's private secretary Abdul Aziz Shamsudin.
Project I.C. or Project M (M for Mahathir) has been blamed by Sabahans for causing their abject economic and social conditions.
The project was alleged to have been a bid by top Umno leaders to change Sabah's demographics by giving out citizenship to Muslim illegal immigrants so that they would outnumber the mostly Christian locals.
Mahathir and his Umno party have also been accused of using Project I.C. to offer citizenship to undeserving foreigners in exchange for their agreeing to vote for the Umno-BN coalition during elections.-malaysian chronicle
Dalvik - There you have it, a leader who blames subordinate for not pointing out his fault. Please don't divert the attention Dr M, whoever did it, you failed as a leader to realize the change of demographic, and let it continue to change under your reign.

Pemerhati Bebas -
Of course there was no government policy. Not official government policy anyway. If it was, they would have done it in one of the rooms in PMO. Instead it was done at the then PM's closest and aide's (Aziz Shamsudin) house. Don't need to be a rocket scientist to link the dots. Surely his trustest aide wouldn't be doing something treasonous behind the PM's back, would he? And since when can anyone stop Mahathir from doing anything that Mahathir wants to do when Mahathir was in office?
REAL TRUTH - Tun Mahathir Mohammad, you said you were not aware of any Project IC or Project M in Sabah. Now, you are asking why Anwar was silent and did not object to Project IC. Did you not know there is a contradiction. If there ,was no Project IC as you claim, then there is no cause for Anwar to stop it. And by inference you are admitting that you were aware of this massive fraud as as usual you are taking the malaysian Public for a jolly ride.

tholu - Your linking of Anwar in 'Project IC' clearly betrays your claim of ignorance in the Project. What is your intention and point of dragging Anwar into your unconvincing and unbelievable denial of any involvement in the project? If someone is accused of a committing a crime and is queried as to whether or not he did it, he simply has to say, "No. I didn't do it." He won't say "Why don't you ask my brother on his silence on the crime I had been accused of." This simply could only mean one thing - that that someone did indeed commit the crime but is offensive that no one is linking his innocent brother with the crime. Mahathir, your senility is beginning to show.

changeagent - Anwar didn't know abt Project IC because it was Dr M's secret project to win at all costs. This was carried out in somebody's private house and not officially in gov't dept. So Dr M, u r the person responsible.

Mr KJ John - Does it mean then you were lying? Otherwise, why did you way that even Tunku gave 1Million citizenship to Chinese and Indians?
Dua suspek perompak, pada Khamis ditembak mati di persimpangan trafik di sebelah Tesco Hypermarket di Cheng,Melaka


cheers.