Pakatan Harapan needs to take on the race debate or it will lose ground to the combined forces of Umno and PAS, says Prime Minister Dr Mahathir Mohamad.
Speaking at a press conference today, Mahathir defended recent controversial statements by Education Minister Maszlee Malik, and stressed that talking about racial issues did not mean one was being racist.
"He (Maszlee) spoke a little about race, this does not mean he is racist," he said.
"In our party (Bersatu), many people talk about race. Those with Indian heritage will talk about the Indians, the Chinese from DAP will talk about the Chinese, the Malays will talk about the Malays, the Ibans about the Ibans and the Kadazans about the Kadazans.
"But they are all Malaysians, you cannot question their nationality. Race is different."
Mahathir was asked to respond to calls for Maszlee to be removed from his position for defending the cabinet's decision to retain the quota system in the pre-university matriculation programme.
The Pakatan Harapan chairperson also said that the pull of Umno and PAS on Malays has to be countered.
"The problem is if you (want) to win the support of the bumiputera.
"And now it has become important because Umno dan PAS have joined forces and are using race and religion to win support.
"If we do not explain our position on race, I think we will lose in elections," he predicted.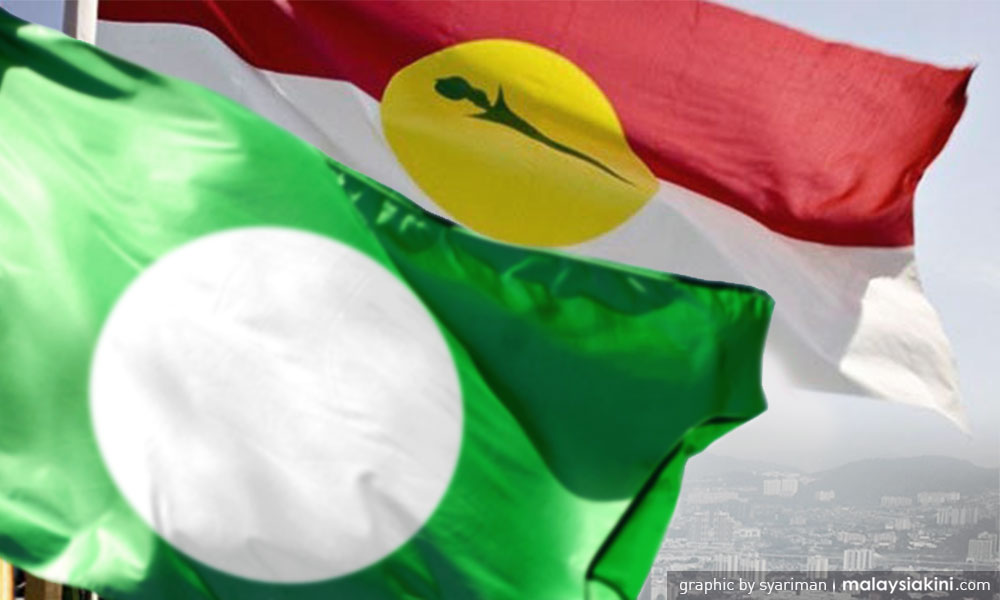 Bersatu EGM on July 20
At today's press conference, held after a Bersatu supreme council meeting, Mahathir announced that his party will hold an extraordinary general meeting on July 20 to amend its constitution.
This is to allow more Bersatu members to attend its annual general meetings.
"We want to ensure that the delegate (system) is fair to all members, we want to give all members a chance to take part, at least at the division level.
"We will also be determining the composition of our divisions (during the EGM)," he said, adding that delegates who attended last year's AGM will be required to attend the July event.
No venue was announced for the EGM.
Mahathir also announced that his party obtained approval to use the name 'Bersatu.' This request was initially denied by the Registrar of Societies under the previous BN administration. - mk
Hard-nosed IGP Abdul Hamid
calls out to 1MDB fugitive Jho Low...
Come back to face justice because you cannot hide forever – that was the message from Malaysia's hard-nosed new police chief to fugitive financier Jho Low, believed to be the mastermind behind the country's multibillion-dollar 1MDB scandal.
Appointed by Prime Minister Mahathir Mohamad earlier this month, Abdul Hamid Bador's comments came amid heightened expectations that efforts would be intensified to complete the investigation and finally deliver justice on the whole notorious affair in coming months.
Abdul Hamid said on Thursday that his force was ready to offer Low, a cherubic Malaysian-born businessman, and his key lieutenants necessary protection if they chose to return home.
"We have laws [in this country], so return. Do not issue statements remotely through lawyers, denying this and that," the national police chief was quoted as saying by the Malaysiakini news website.
Some reports said Low – an acquaintance of deposed prime minister Najib Razak, who is on trial for his role in the 1MDB scandal – is living freely in China. Beijing has said it is cooperating with Malaysia on the case but has no knowledge of Low's current location.
Low is a wanted man in Malaysia, Singapore and in the United States. Through US-based lawyers and publicists, he has repeatedly denied allegations brought against him by Mahathir's government, calling them a political witch hunt. Abdul Hamid said his force was continuing efforts to seek out Low and "his other five or six right-hand men".
"Those who are directly involved, they are still hiding. So I would appeal to them, come back. There is no way, nowhere they can hide," he said.
"If they think they are innocent, prove that in the Malaysian court. I can assure them that the Royal Malaysian Police will not harm them. They can come back. They can engage the best lawyers in the whole world to defend them, it's OK. But I encourage them to come back."
Abdul Hamid said a government bounty for information about Low had so far not resulted in fresh leads, but his officers were aware of the current location of Nik Faisal Ariff Kamil, another Malaysian wanted in relation to the 1MDB investigations.
Nik Faisal was a director at a former subsidiary of 1MDB – a sovereign wealth fund founded by Najib when he came to power in 2009. Abdul Hamid's said Nik Faisal was "in hiding" somewhere in Southeast Asia.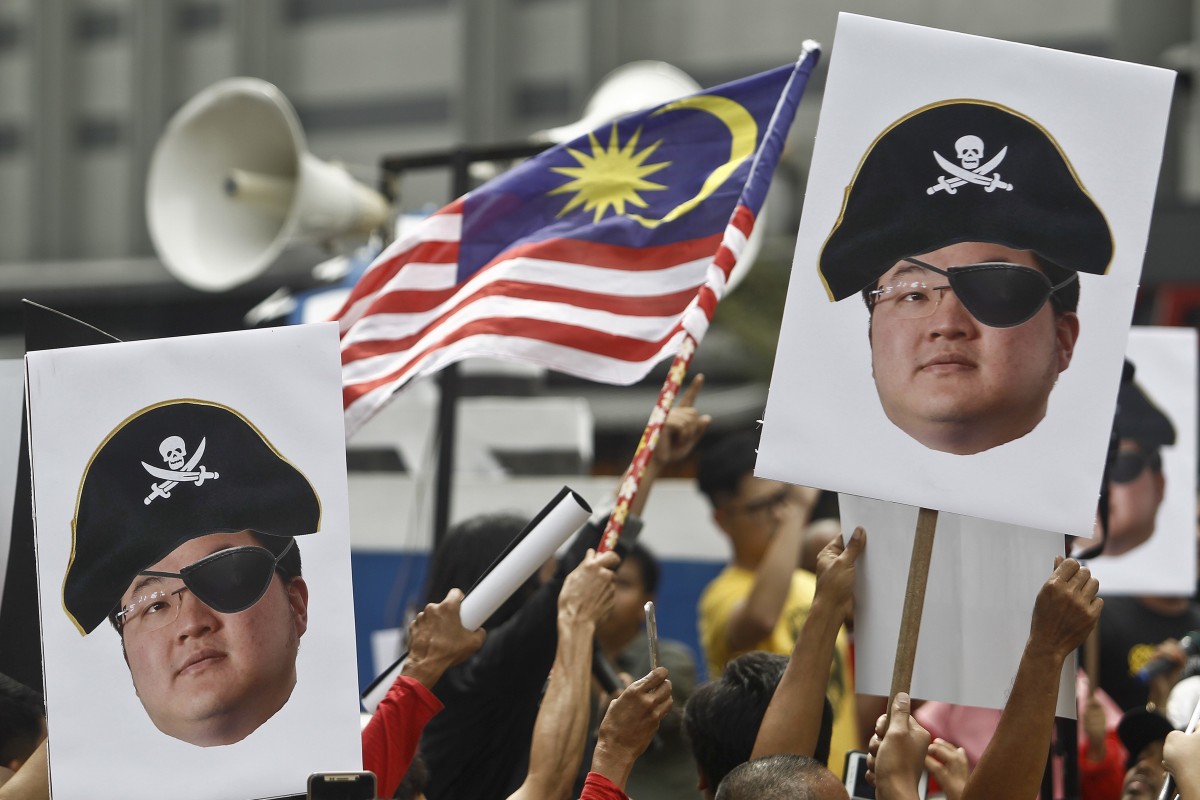 Prosecutors estimate US$4.5 billion was misappropriated from 1MDB between 2009 and 2014. Najib, defeated in last year's election by his 93-year-old one-time mentor Mahathir, is facing 42 criminal charges for his alleged involvement – for which he insists he is innocent. The ex-premier's lawyer has suggested Najib is a "victim of conspiracy" by Low and his associates.
Abdul Hamid took over from Najib-appointee Fuzi Harun, and has quickly gained public favour, with many on social media praising his no-nonsense style. The police chief quickly garnered the support from the force's top brass to establish an independent police complaints and misconduct commission, which his predecessor was against.
In 2015, after getting involved in the investigations into Najib's links to 1MDB, Abdul Hamid was unceremoniously transferred from his position as deputy chief of the Police Special Branch to a defunct administrative department in the then prime minister's office.
As well as move Abdul Hamid, Najib at the time purged his attorney general, deputy anti-corruption agency chief and dissenting cabinet ministers. Mahathir appointed Abdul Hamid as the Special Branch chief soon after his election victory last May. - scmp
Huawei's New OS Hongmeng is 60 Times Faster Than Android
Peneroka Felda tak dapat duit raya, habis menteri PH kena kecam padahal Isa Samad dan Najib Razak dah kenyang makan duit haram.
Warga Felda jangan duduk di kampung dan terima saja apa BN cakap. Baca sikit pasal salah laku projek Eagle High Plantation dan KLVC. Masa zaman siapa salah laku ni jadi? Siapa yang terlibat?
Duit Felda dari RM2.5 billion pada tahun 2011 tinggal hanya RM400 juta pada 2017. Lagi teruk, sebelum PH menang, 9 Mei 2018 punca tunai Felda merudum tingga RM35 juta sahaja. Itu siapa yang sakau semua tu?
Masa BN jaga takkan Najib dan Isa Samad nak cerita berapa banyak dia sakau. Yang orang Felda tahu semua yang elok-elok je tapi realiti sebenarnya?
Bila PH menang, RM6.23 billion pelaburan dibawa masuk Felda. Bila dah ada duit apa yang PH buat pada Felda?
Dah tentulah cuba stabilkan balik. RM2 billion digunakan untuk hapuskan faedah hutang peneroka, RM1 billion lagi digunakan pula untuk Program hasil baharu, RM2.5 billion pula diperuntukkan untuk bantu struktur semula pinjaman Felda, RM250 juta, digunakan untuk siapkan perumahan terbengkalai Gen Baharu Felda, adalah lebihan lagi RM480 juta, Felda guna untuk biayai Pinjaman sara hidup & Pendahuluan hasil bagi tahun 2019.
Dikala Felda baru nak bertatih semula, warga Felda kembali bising ikutkan sangat kata Najib nak duit raya. Tapi tahukah mereka, berapa banyak duit Felda, duit Peneroka yang Najib dah ambik? Lagi nak dengar cakap Najib ke? - The Malaysia Online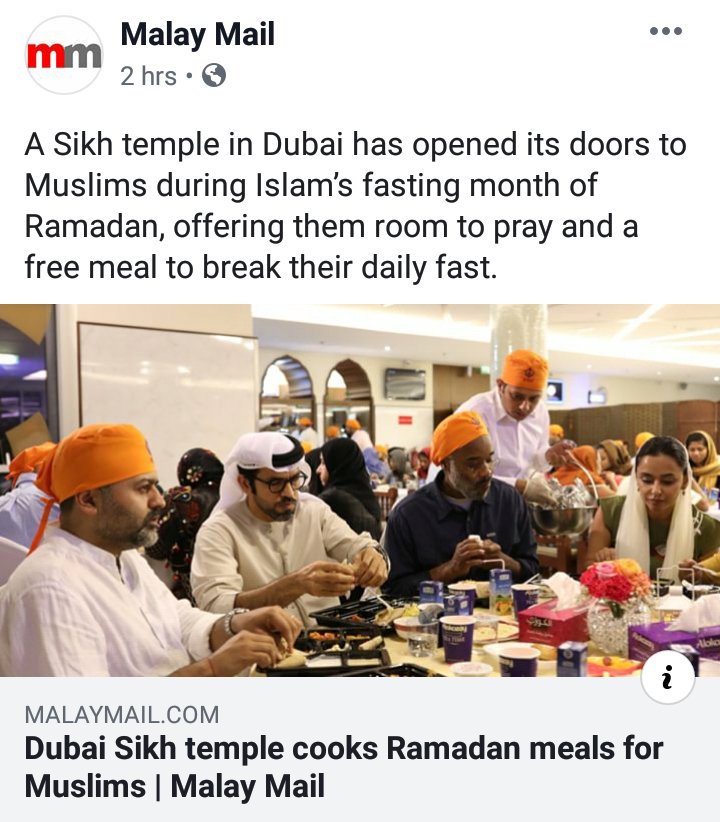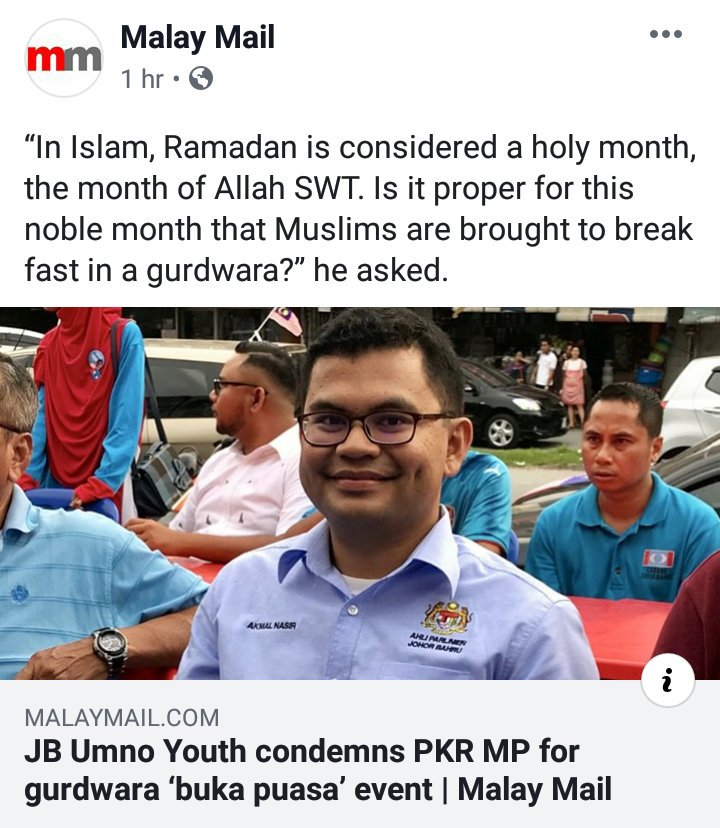 Ajak org bukan Islam berbuka di Masjid x boleh, so umat Islam boleh jer buat iftar Ramadhan di tokong2 Buddha, kuil2 Hindu dan gereja2 Kristian... Barulah org bukan Islam tertarik dgn Islam.??
Ada yg habaq, kalau kat Dubai boleh kenapa kat sini tak boleh.. tu laa, jgn bandingkan kat sana dgn kat sini.. kat sana tak dak lebai yg dok penunggang agama dan kaki hasut.. kat sana tak dak yg sanggup pi bakaq kereta semata2 tak setuju dgn parti ana...
Pasai tu islam tak berkembang kpd non muslim....cuba kita tengok agama kristian..mereka berkembang di kalangan bangsa cina dan india....dan perhatikan pula Ustaz2 kita hanya gagah bertazkirah berdakwah kpd orang melayu yg dah islam sahaja...
Tengok kat New Zealand tu mcm mana org2 bukan islam duk masjid ramai tengok org2 islam sembahyang kalau kat Malaysia mcm agaknye hehe tak tau la mcm mana lebai2 ni akan melompat2 membuat fitnah...
Tp kita ni nk imarahkan masjid. Nk ajak org bukan islam dkt dgn islam.. dekat dgn masjid...
Ketua Agama Islam Malaysia kata apa, apa garis panduan , Mufti perlu memfatwakan kerana tahun depan akan berlaku lagi - f/bk
Hari ini saksi2 bgtau di mahkamah Najib sendiri nasihatkan SRC International dapatkan dana dari KWAP dan Najib luluskan berbilion dalam bentuk pinjaman...

Patutler Najib beriya2 sgt nak duit pencen pesara rakyat RM4 bilion tu. Dah tahu siapa dalang di sebalik tabir skandal SRC RM42 juta tu..Mana mau lari #Bossku!!!...

- f/bk
If he gave the police RM10, and pocketed RM90.
They called this Najibonomics?
RIP Prof Emeritus Tan Sri Dr Khoo Kay Kim
A True Malaysian Patriot...
cheers.