Even prior to Pakatan Harapan's victory in the 14th general election, speculation was rife over Dr Mahathir Mohamad's successor as prime minister. At the time, Anwar Ibrahim was still behind bars awaiting his freedom.
A year has since passed and the rumours continue including from within Harapan component parties. This despite Mahathir's repeated assurance that he will honour an agreement to hand over power to Anwar after two years on office.
In a special interview with the media ahead of Harapan's first anniversary, Mahathir once again shot down speculation on whether Anwar would succeed him and went on further to state that Anwar will be given a free hand as prime minister.
"I have kept to this promise that I will step down and give way to Anwar, that's something quite definite. There is no talk about who is going to be my successor or what is going to be done," said the Harapan chairperson.
"He (Anwar) is not required to follow my instructions or follow what I have done. He is free to do what he thinks is best as prime minister [...]," Mahathir said.
Given that he intends to give Anwar a free rein, Mahathir pointed out he will then have no further say in the country's administration.
"My job is to prepare the country as much as possible so that it can be taken over by my successor," he added.
While Mahathir's return as the country's seventh prime minister last year was met with renewed public support and also a backlash with critics claiming he had changed little since his first 22-year tenure as the country's fourth prime minister.
Having removed Anwar as his deputy prime minister which in turn sparked the reformasi movement, many, including those from within Harapan, remained sceptical of Mahathir's succession plan.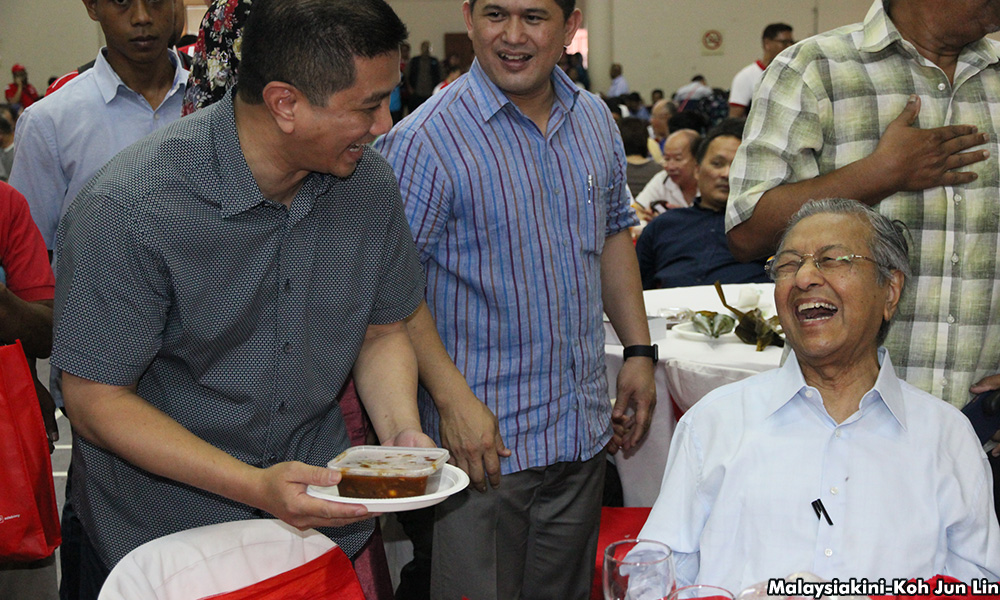 Earlier this year, there were initial rumours of a cabinet reshuffle which would see Economic Affairs Minister Azmin Ali being appointed as deputy prime minister, a move said to be a part of Mahathir's purported plans to thwart Anwar's ascension. The reshuffle never materialised.
Anwar, who on numerous occasions insisted that he was in no rush to succeed Mahathir, at the time brushed off the rumours as an attempt to sow tension among Harapan parties.
After one year in power, Mahathir at the interview held at the Prime Minister's Office on Monday reiterated that he had no plans to reshuffle his cabinet as the performance of its members has been up to par.
Mahathir said the government will uphold the rule of law and provisions of the Federal Constitution as the country's supreme law.
"When we see something that breaches the law, we have to make sure we take corrective action.
"Of course the result may not be welcomed by certain people but the fact is that that is the law, we have to stand by it," he said when quizzed on Putrajaya's ties with the royal institution.
'No tension with Johor sultan'
Mahathir maintained that Putrajaya had no problems with the Malay rulers, including Johor ruler Sultan Ibrahim Sultan Iskandar.
"No, I don't see anything (any problem) because when I went to see him, he drove me to the airport," said Mahathir, this despite his swipe at Johor Crown Prince Tunku Ismail Sultan Ibrahim.
In January, it was reported that Mahathir had an audience with Sultan Ibrahim at the Istana Bukit Serene in Johor Bahru, after which the ruler had personally chauffeured him (above) to the Senai airport in a first-generation Proton Saga.
The latest row between Mahathir and Tunku Ismail was sparked by the latter's comments that much of his father's good deeds were not highlighted. This in wake of a revelation that a plot of federal land earmarked for the Johor Baru-Singapore Rapid Transit System (RTS) was transferred to the ruler. Sultan Ibrahim had since said that he was prepared to surrender the land without cost. - mk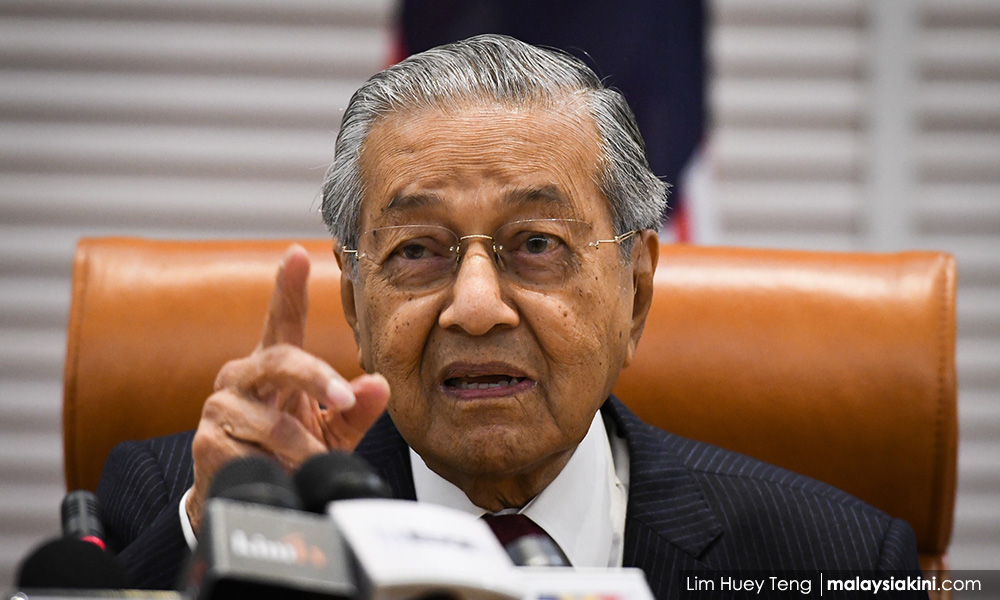 punca sokongan merudum...
Perdana Menteri Dr Mahathir Mohamad mengakui sokongan terhadap kerajaan Pakatan Harapan (PH) merosot kerana ketegasan kerajaan dalam memerangi perbuatan rasuah.
Dr Mahathir berkata terdapat kumpulan tertentu tidak lagi mendapat gaji 'ekstra' daripada pihak tertentu yang mengamalkan korupsi.
"...di sini kita dapati orang ini sekarang ini tak dapat duit kerana gerakan antirasuah ini. Mereka marah kepada kerajaan...dulu boleh dapat, la (sekarang) ni tak boleh dapat.
"Jadi kita dapati sokongan merosot dalam kalangan kumpulan tertentu yang terkenal kerana mereka memang bukan hanya dapat gaji tetapi dapat gaji 'ekstra' daripada punca lain.
"Itulah sebahagian daripada sebabnya kita lihat undi kepada PH merosot," katanya dalam satu temu bual khas sempena setahun pemerintahan PH di Putrajaya.
Golongan kecewa
Dr Mahathir berkata golongan tertentu itu berasa kecewa apabila tidak lagi mendapat pendapatan tambahan setiap bulan hasil penyelewengan mereka.
Ini kerana jika mereka meneruskan perbuatan itu, mereka akan dikenakan tindakan, oleh itu mereka tidak menyokong kerajaan hari ini, katanya.
Perdana menteri berkata perbuatan memberi wang kepada golongan tertentu oleh kerajaan terdahulu juga menyebabkan golongan berkenaan kecewa dengan kerajaan PH.
"Memang kerajaan dahulu mereka beri duit yang banyak kepada macam-macam golongan, nelayan dapat gaji, kalau tak dapat ikan pun dapat gaji RM300 sebulan, bachelors (bujang) dapat RM450, BR1M (Bantuan Rakyat 1Malaysia) lagi, macam-macam orang dapat duit.
"Kalau kita nak amal benda yang semacam ini samalah kita juga korup macam itulah. Nak beli sokongan dengan memberi wang itu rasuah.
"Kita tak boleh buat macam itu dan kita tak ada duit pun nak buat pasal kita tak curi duit," katanya.
Justeru, Dr Mahathir berkata kerajaan PH akan meneruskan usaha untuk mengubah mentaliti masyarakat supaya menolak amalan rasuah walaupun menyedari ia sesuatu yang sukar.
Beliau yakin pada masa depan masyarakat akan faham dan menghargai usaha murni kerajaan itu.
"Memang sukar tetapi kita hendak jadi rakyat berasa normal bagi mereka jika mereka tidak dibantu oleh orang yang berduit ini.
"Lambat-laun mereka mesti tahu bahawa mereka akan mendapat gaji mereka, dan kami akan cuba menambah baik gaji mereka, tetapi selepas beberapa lama nanti rakyat akan mula menghargainya, orang ramai sudah tentu patut menghargainya kerana mereka tidak lagi perlu membayar duit ekstra kepada pegawai-pegawai yang korup," katanya.- Bernama
Alhamdulillah setahun dah kau mampuih...
9 Mei dari Pusat Konvensyen Antarabangsa Putrajaya (PICC),
cheers.