They planned wave of terror
attacks and assassinations...
Malaysian anti-terror police on Monday said they had foiled a wave of large-scale terror attacks and assassinations plotted by an Islamic State "wolf pack" cell during the first week of the Muslim holy month Ramadan.
Four suspects were arrested during a sting operation on suspicion of planning attacks against religious sites and entertainment venues. They had also plotted to kill four high-profile personalities deemed to have insulted Islam or not shown sufficient support for the faith, police said.
A Malaysian, two Rohingya Muslims and an Indonesian were taken into custody between May 5 and 7 in the Klang Valley region of Kuala Lumpur and Terengganu state in the east of the Malay peninsula, according to Inspector General of Police Abdul Hamid Bador. The Rohingya man was a 20-year-old refugee carrying a certification card from the UNHCR, Hamid said.
"This operation was launched after our Special Branch's counterterrorism division detected an Isis wolf pack cell … that planned to assassinate four VIPs and launch large-scale attacks on Christian, Hindu and Buddhist places of worship, as well as entertainment centres in the Klang Valley," Hamid added. He said the men planned to carry out bombings and assassinations to avenge the death of Muhammad Adib, a fireman who died from injuries sustained in a riot at a Hindu temple in Subang Jaya on the outskirts of Kuala Lumpur last year.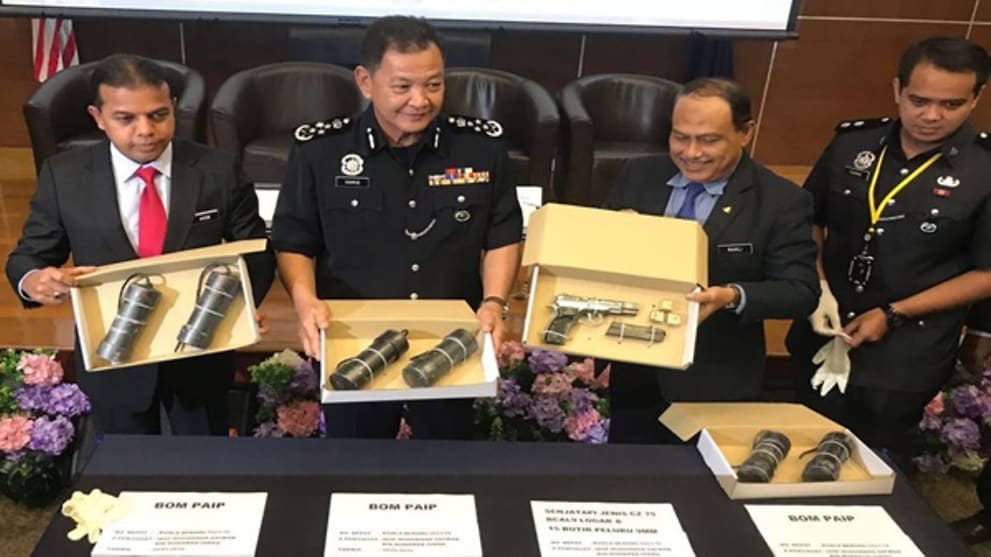 Six improvised explosive devices (IEDs) measuring about 18cm (7 inches) long, a pistol and 15 bullets were seized during the sting operation. Police said they were still hunting three other men involved in planning the attacks – two Malaysians and one Indonesian. The terror plots are the first time local grievances have been exploited by Isis to inspire foreign militants to launch attacks in Malaysia – a development counterterrorism experts called "extremely worrying".
"The involvement of foreigners in a local issue indicates Daesh's capability to exploit foreigners and local issues to advance their ideology," said Ahmad El-Muhammady, a lecturer at the International Islamic University Malaysia, referring to Isis by its Arabic name. "It's a new game in the new Malaysia, which could potentially escalate ... I hate to say this. Isis may capitalise on the perception that Islam is under threat in Malaysia. "Given the rising religious sentiment in Malaysia, the emergence of this kind of group is expected."
The Isis cell was set up in January and its members communicated via WhatsApp, according to Hamid. The mastermind was a 34-year-old Malaysian construction worker apprehended in Terengganu on May 5, he said. "The firearms and six IEDs seized ... are believed to have come from a neighbouring country," the inspector general added. Hamid did not name the source, but weapons previously seized from Isis suspects have come from southern Thailand.
The Rohingya refugee had been planning attacks against Myanmar's embassy in Kuala Lumpur and the country's Rakhine state, where hundreds of thousands of Rohingya have been driven from their homes. He admitted to being a member of insurgent group the Arakan Rohingya Salvation Army, but was working as a waiter before his arrest in Kuala Lumpur on May 7. Another Rohingya suspect, a construction worker aged 25, was taken into custody on the same day at a different location.
The fourth detainee, a 49-year-old Indonesian factory worker, was arrested on May 7. He had plans to travel to Syria to fight alongside jihadists, police said. Experts believed the "wolf pack" cell may not be the only one in Malaysia. "I am more worried about wolf packs going undetected by police. This time we were lucky," said Ahmad, who advises police on tackling radicalisation.
The arrests bring the number of terror attacks foiled by police since 2013 to 25, according to officers. Ahmad said current unease in society over racial and religious issues meant the Malaysian government had to tread carefully. "Craft narratives of unity, harmony and coexistence. Organise more interfaith dialogue," he suggested. "Allocate more financial resources to combat extremism and terrorism by investing in an overall programme to counter and prevent violence." - scmp
Kepala kartel dedak mula gelisah...
Apabila menantu Hadi Awang mendedahkan ada orang Pas makan duit orang Umno dan dinamakan kumpulan "kartel dedak" dengan menyebut kepala Nombor 1 nya bernama Dr Hussam ii ramai orang tertanya tanya nama itu didomankan kepada siapa.
Zaharuddin menyebut secara bayangan. Saya rasa saya tahu siapa kepala nombor satu itu. Ia lebih terang dan jelas bila "menantu bukan menantang" itu membayangkan orang itu licit dan baik dengan pemimpin Umno.
Mungkin semua orang berlum lupa dan pernah melihat pemimpin Pam bukan sahaja berpelukkan dengan pemimpin Umno tetapi mencium tangan pemimpin itu.
Orang inilah yang dinamakan sebagai Dr Hussam II.
Pendedahan ada lima kartel dedak itu mengundang masalah baru yang menjijikkan Pas. Zaharuddin menyambung apa yang didedah oleh Nik Abduh.
Lantaran itulah Setiausaha Agung Pas Takyuddin Hassan tergesa gesa membuat kenyataan semua pemimpin Pas dilarang membuat pendedahan atau membuka masalah parti menerusi media massa.
Kenapa sampai mengetatkan larangan, mungkin dah parah kekohongan dalam Pas.
Perkasam kalau dan dibuka tidak boleh ditutup lagi. Kalaupun ditutup hatta dibuang sekali pun busuknnya tetap melekat dideria bau, hidung. - MSO
Pas mewartakan perintah larangan terhadap ahlinya supaya tidak membawa, membincang dan membahaskan sebarang isu membabitkan urusan parti dalam semua bentuk media, berkuat kuasa serta-merta - Setiausaha Agung Pas, Takiyuddin Hassan
Lebai2 PAS dh bg arahan x boleh bicara hal parti disosmed. Arahan umum. Xjelas. Adakah larangan itu bersifat X BOLEH BUKA PEKONG SENDIRI shj atau mcmana...? Kalau x leh bicara langsung bab parti, puji parti disosmed pun xleh. Ahli sndri nk tulis status "PAS adalah parti terbaik dunia" pun x boleh...
Kalau ahli xboleh bicara ttg parti sendiri dimedia sosial, mcmana pulak walaun2 lembu dia sibuk hal parti org lain...? Boleh pulak ke..?
Kalo boleh, ini undang2 tidak adil....! Parti sendiri xleh open talk, bicarakan parti org boleh pulak..! Ini undang2 khawarij.
Nk buat undang2 utk walaun lembu sendiri pun x adil, lagi nk buat hudud versi PAS...? Jgn kata UMNO, dia sndiri pun x confiden dgn undang2 yg dia cipta tu cukup adil utk umat. Itu sbb UMNO yg jd rakan taawun PAS skg ni, sejak dulu, kini dan selamanya tolak hudud versi rakan dia sndri.
Itu sbb RUU355 tu kejap bentang kejap tangguh....! Dia sndri pun keliru sbnrnya...- f/bk
Zaharudin: Kalau ada cuba simpan bawah karpet, saya lawan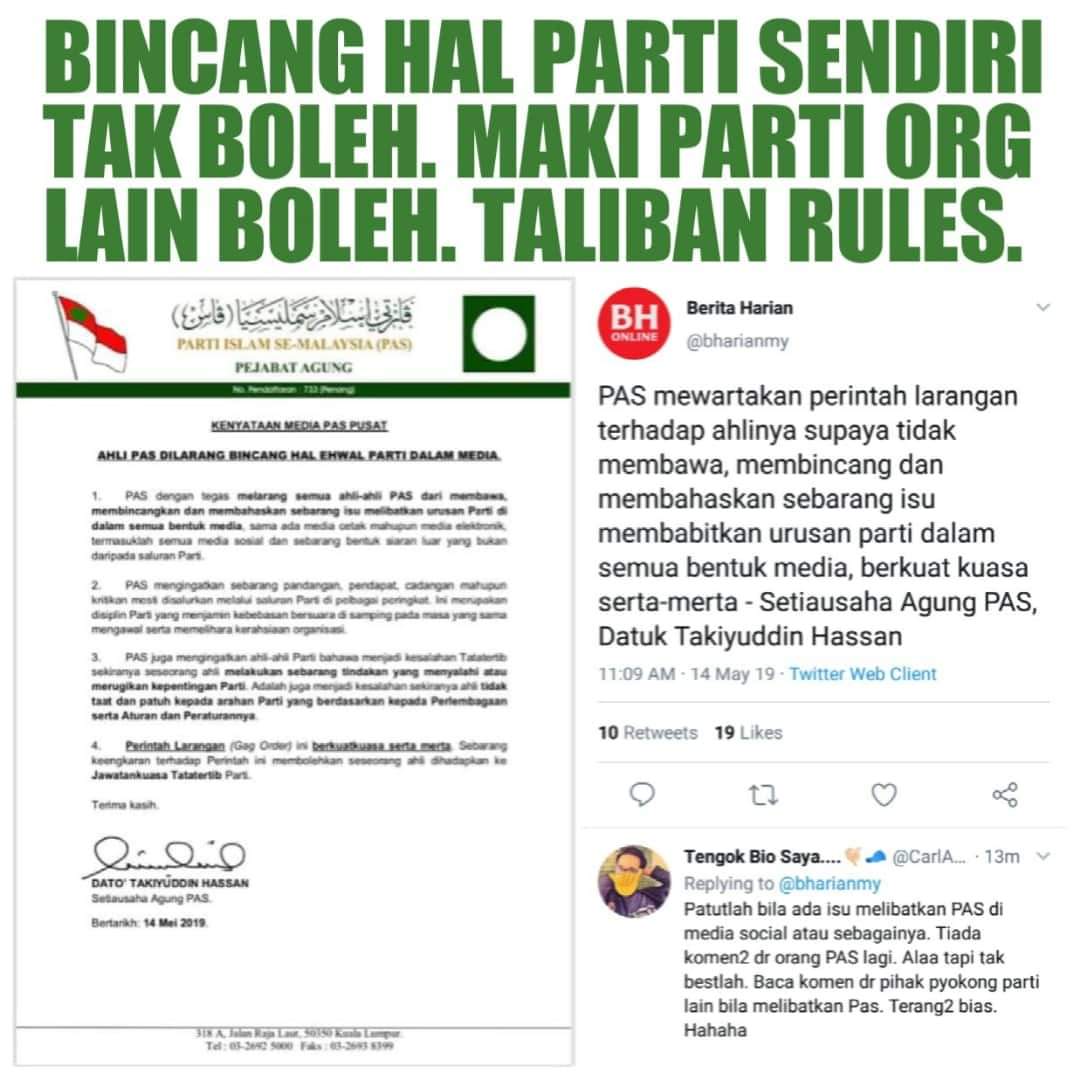 cheers.