Anggota Jawatankuasa Pusat PAS Nik Abduh Nik Abdul Aziz hari ini tampil mengakui rakaman audio yang dikaitkan dengannya sebelum ini.
Dalam kenyataan panjang di Facebook hari ini, Ahli Parlimen Bachok itu berkata penafiannya sebelum ini dibuat selepas pimpinan PAS berkeras agar beliau berbuat demikian.
Nik Abduh juga berkata keputusan untuk menafikan rakaman audio yang tular sekitar Mac tahun lalu itu mendapat restu Presiden PAS Abdul Hadi Awang.
"Apabila saya merujuk kepada beberapa pimpinan parti yang sudah pun memahami isu ini dengan baik, mereka memutuskan agar saya menafikannya.
"Sengit juga saya enggan dan menolak, tetapi mereka berkeras meminta saya menafikannya. Fitnah mesti ditutup, itu hujah mereka.
"Saat itu, bahang PRU14 semakin terasa. Pakatan Harapan (PH) sedang bermaharajalela menyerang PAS dengan pelbagai fitnah sesudah mereka kehilangan punca untuk mencari kecacatan dan kesalahan PAS.
"PH hanya mampu bersenjatakan fitnah, senjata yang terlarang di dalam Islam dan PAS.
"Dalam kesukaran, saya memohon jawaban daripada tuan guru Presiden PAS. Segera Presiden PAS merestukan keputusan agar saya segera menafikannya. Saya akur dan gembira menerima mandat," katanya.
Untuk rekod, Nik Abduh sebelum ini menafikan rakaman audio yang didakwa mengandungi pengakuan penerimaan dana dari Umno itu, dengan beberapa pimpinan PAS turut mendakwa ia bukan suara Nik Abduh.
Bagaimanapun, Setiausaha Agung PAS, Takiyuddin Hassan semalam mengesahkan rakaman audio itu mengandungi suara anggota parlimen Bachok Nik Mohamad Abduh Nik Abdul Aziz.
Isu rakaman audio itu muncul semula selepas kes saman fitnah Abdul Hadi terhadap editor Sarawak Report, Clare Rewcastle-Brown ditarik balik dan diselesaikan di luar mahkamah.
Rakaman audio yang dikaitkan dengan Nik Abduh itu sempat menjadi pertikaian dalam kes saman fitnah berkenaan.
Dalam kenyataan di Facebook hari ini, Nik Abduh memberikan enam "pintu" bagi menjelaskan isu berkenaan.- mk
Pintu-pintu Nik Abduh.
Nik Abduh membuat enam pintu politiknya dalam menjawab dan menjelas berhubung suara pendedahannya mengenai para pemimpin Pas "tankedarah" duit Umno.
Enam pintu itu boleh dinamakan, Pintu satu belawak, pintu dua karut, pintu tiga dusta, pintu empat hipokrit, pintu lima dangkal, pintu enam hantu - hilang punca.
Buka dan masuklah kesemua pintu-pintu yang dibuat dan dibukanya untuk anda tahu tinggi juga ilmu politik matlamat menghalakan cara diamalkannya.
Dengan pintu-pintu itu Nik Abduh mengesahkan Pas parti agama bukan parti Islam. Kesemua pintu itu menjadikan Pas sebuah parti terbuka tanpa lingkungi akhlak dan akalbudi.
Keistimewaan Pas sebagai parti dihormati sudah musnah. - mso
Kalo rakaman tu adalah berkenaan perbincangan akademik, pasai apa tarik balik saman?
Kito hanya bincang cara2 nak ambil duit UMNO...



PAS Central Committee member Nik Mohamad Abduh Nik Abdul Aziz said he had dismissed the audio recording claiming he had received funds from Barisan Nasional before the 14th general election (GE14) to protect the reputation of his party.
Nik Abduh, who is also the MP for Bachok, said the decision was taken after discussing the matter with colleagues in the party to "close" any issue that might be used by the opposition to slander PAS.


I denied voice was mine to protect party, says Nik Abduh...

"(The denial of the audio recording) was part of party discipline.
"It is not a question of my reputation but concerned the party," he said when approached by reporters at the Sultan Ismail Petra Airport in Pengkalan Chepa, after returning from a PAS Central Committee meeting in Kuala Lumpur today.
He said although Islam encouraged its followers to speak the truth, there are certain occasions when a person is allowed to lie.
PAS had yesterday confirmed the voice in the audio was that of Nik Abduh but it wasn't the complete conversation.
PAS secretary-general Takiyuddin Hassan said: "He (Nik Abduh) said it did not show the actual context. It was not just about PAS receiving money from Umno; there were other things.
"In order to understand the context of the audio recording, we have to listen from the first minute until the end. Only then will we understand everything," he said.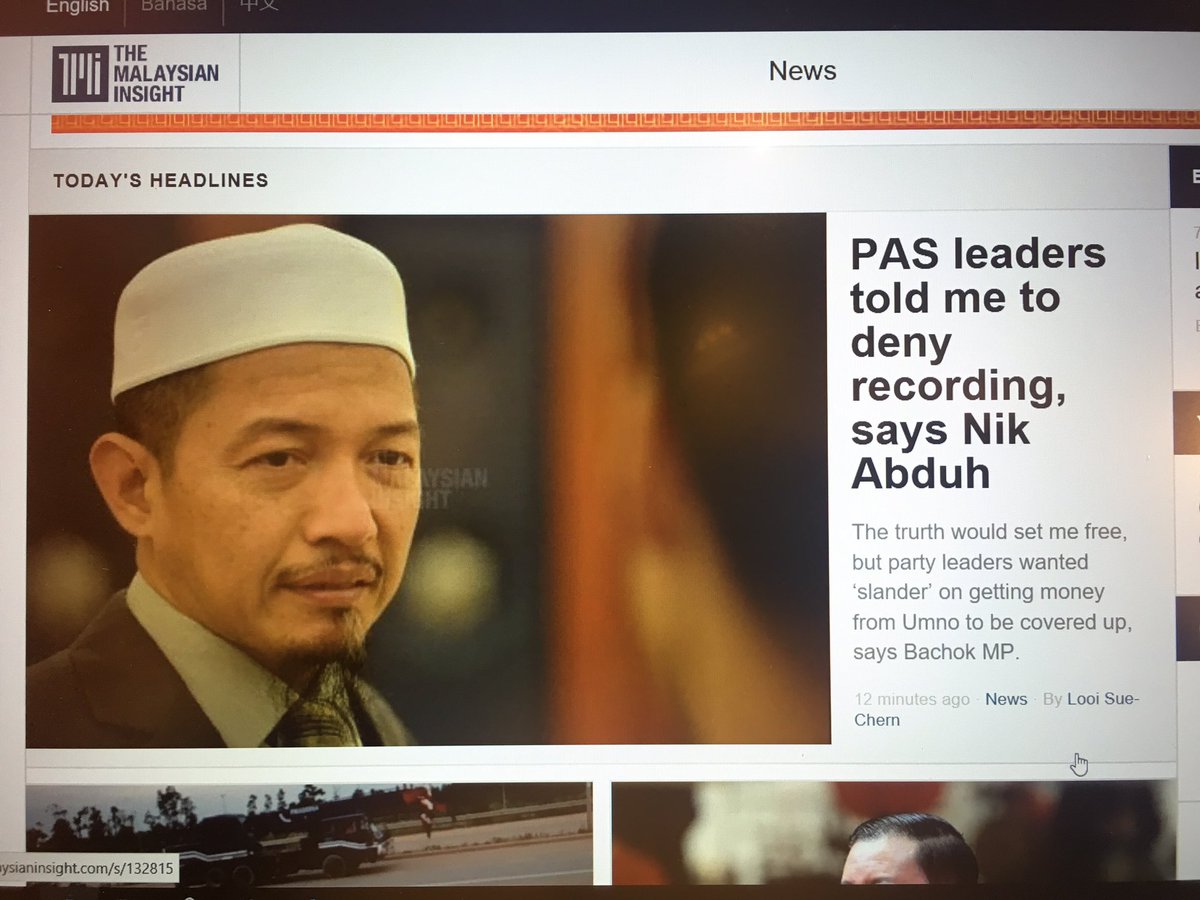 Hadi gave his blessings
Nik Abduh Nik Abdul Aziz revealed that he wanted to come clean on an audio recording of him admitting to PAS receiving funds from Umno, but the Islamist party's leaders felt otherwise since the last general election was around the corner.
Therefore, the PAS central committee member said he relented since the issue was greater than him.
He also disclosed that PAS president Abdul Hadi Awang had given his blessings for a denial to be issued.
"Even though the recording was aimed at ruining my reputation, it was immediately seized by our enemies as soon as it spread to take down PAS.
"When I referred to several party leaders who understood the issue well, they decided that I should deny (the recording). I fiercely refused and objected, but they insisted.
"'Slander must be stopped' was their reason (as) the heat of the 14th general election increased. Pakatan Harapan had been attacking PAS with all sorts of slander.
"Faced with a conundrum, I sought an answer from the PAS president. He immediately consented to the decision that I deny (the recording). I followed, and was happy to receive a mandate," he added in a Facebook post today.
Last year, Nik Abduh had dismissed the recording as "nonsense and slander", which he reiterated to the media after the MACC recorded his statement last week.
Yesterday, PAS secretary-general Takiyuddin Hassan confirmed that it was Nik Abduh's voice in the recording, but said the issue was not portrayed in the proper context.
In the recording, Nik Abduh admits that PAS leaders including himself, his late father Nik Abdul Aziz Nik Mat, and even Hadi had received funds from Umno.
"I met with Hadi, Hadi said it was fortunate for us to get Umno funds, and we can do anything with it, just don't use it for personal gain or to enrich oneself. Use it for Islam, he had said."
He had also said that PAS received RM2 million from Umno with the knowledge of its top leaders to defeat DAP in the 2016 Sarawak state election. - mk/fmt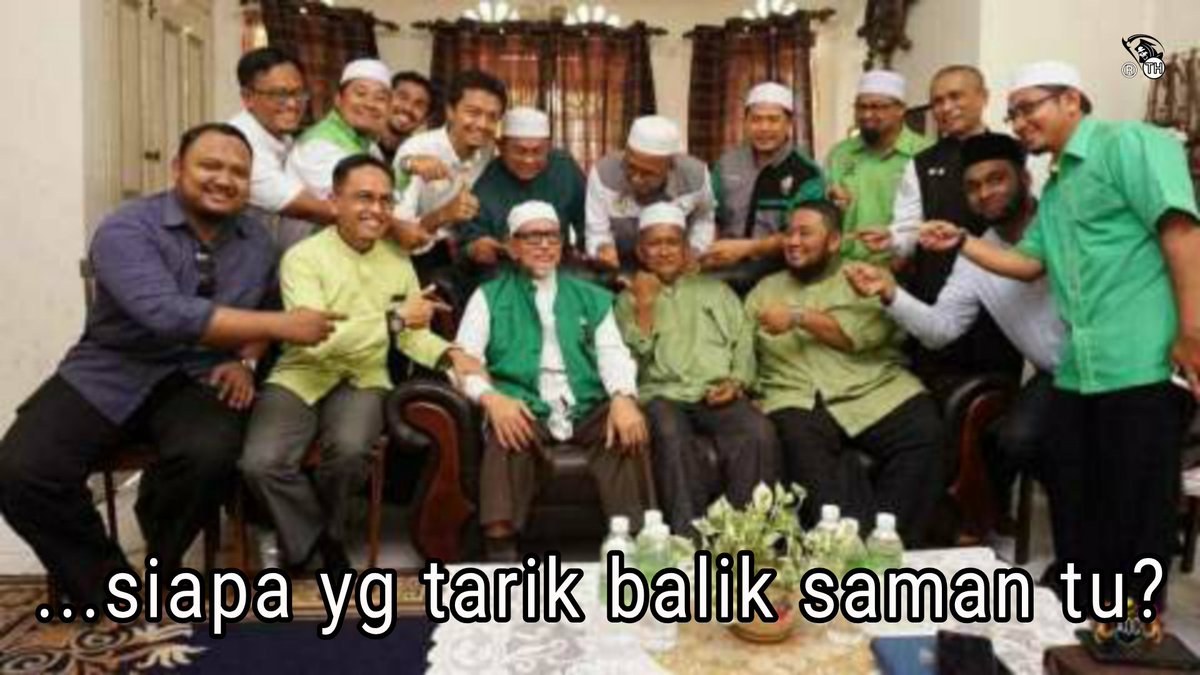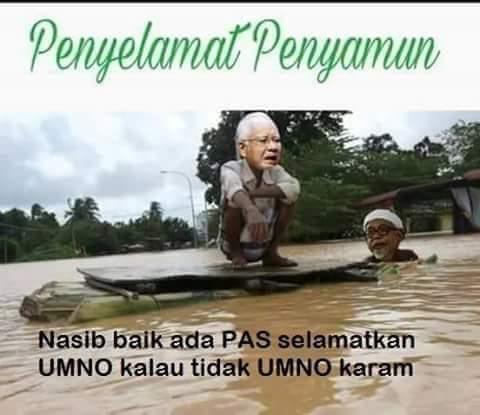 PAS friend ngan UMNO jadi begini...
cheers.