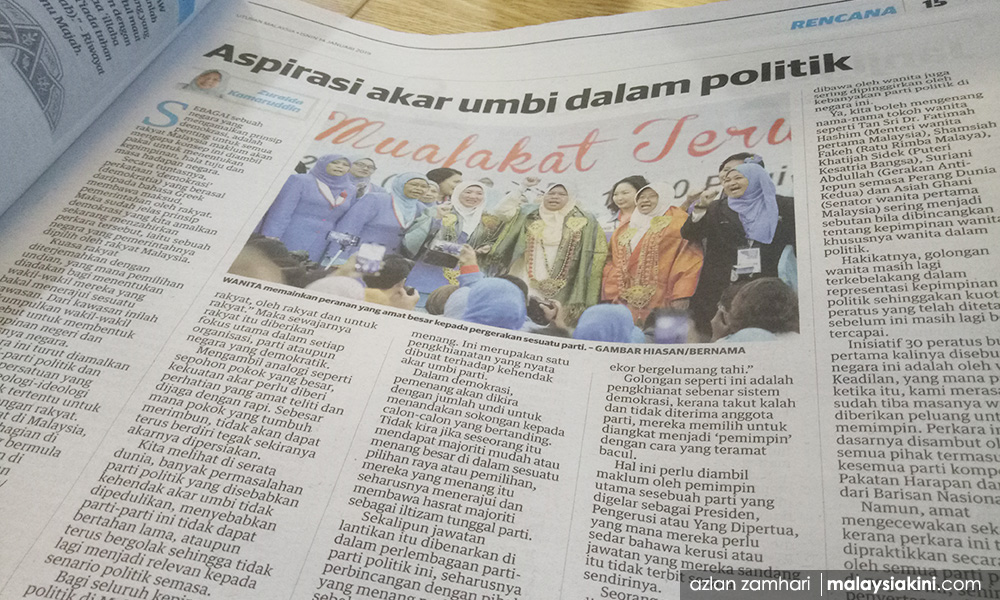 Hari ini di Utusan, Zuraida meluahkan rasa tidak puas hati dan secara terang-terangan menghentam Presiden KEADILAN, Anwar Ibrahim berhubung dengan isu pelantikan.
Zuraida dengan terbuka melabel lantikan-lantikan ini sebagai "pengkhianat", dan melabel Presiden KEADILAN sebagai "diktator" dalam isu ini walaupun tidak menyatakan secara terang (walaupun itulah maksudnya).
Zuraida sebenarnya sedang bercakap di hadapan cermin dan menghidapi penyakit syok sendiri dalam berbicara.
Tanyalah mana-mana pun hatta dalam kem Kartel pun bagaimana beliau sebelum ini semasa memegang jawatan Ketua Wanita Pusat dan Timbalan Pengerusi MPN Selangor: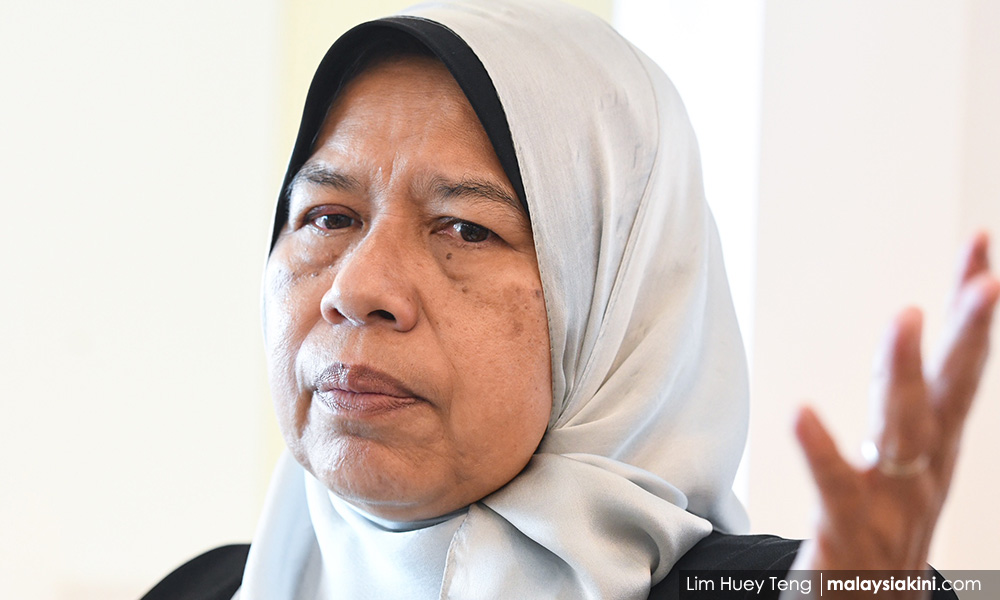 1) Zuraida menyusun orang-orang beliau dalam lantikan politik PBT,

2) Mencantas senarai Ahli Majlis dari cabang yang tidak sehaluan dengannya,

3) Memulaukan cabang yang tidak menyokong beliau di Selangor,
4) Pelantikan-pelantikan dalam sayap Wanita sebelum ini di Pusat dan negeri-negeri yang semuanya kroni-kroni beliau
5) Beliau bulldoze (langgar) meletakkan calon-calon pilihan beliau di kawasan-kawasan Parlimen dan DUN membelakangi cabang.
Jangan berselindung di belakang alasan "mengkhianati akar umbi" walhal beliau lah paling banyak bulldoze akar umbi.
Usahlah bicara soal "diktator" bila mana beliau lah diktator sebenar yang mengatur itu ini dan mencantas sesiapa selama berkuasa menjadi Timbalan Pengerusi MPN Selangor sehingga tidak disenangi oleh kem kartel sesama beliau sendiri.
Zuraida lah sebenarnya yang diktator, pengkhianat dan hipokrit sejati. - f/bk
Inilah sifu si Zuraidah,siang orang PH,petang orang BN
Dah 8 bulan ada Menteri masih terkial-kial...
Selepas lapan bulan kerajaan PH dibentuk dengan kapasiti 26 buah kementerian kita sudah dapat membuat penilaian sejauh mana kemampuan kerajaan PH, khasnya sejauh mana wibawa para anggota kabinetnya.
Dr Mahathir Mohamad sendiri memberi markah antara 40% hingga 60% point sahaja kepada anggota kabinetnya. Memang nampak dan terserlah sangat sejauh mana kemampuan atau pencapaian anggota kabinetnya.
Ada menteri yang masih terkila-kial mencari momentum untuk kementeriannya. Ada yang masih lagi seperti tidak tahu dan memahami keseluruhan tugasannya. Ada menteri yang belum pun memahami apakah agensi di bawah kementeriannya. Masih ada menteri yang tidak tahu apakah fokus untuk kementeriannya.
Mungkin kerana mereka menteri baru tetapi itu tidak dapat dijadikan alasan untuk memaafkannya setelah berkhidmat lebih setengah tahun. Ada juga menteri terjerat dalam kejahilan memahami apakah itu "rule of law" untuk berbuat sesuatu sehinggakan kedudukannya disitu dipertikaikan. Ada menteri yang bersikap inferiority complex, terlalu berwaspada untuk tidak melakukan kesilapan, alhasilnya mereka tidak mempedulikan pencapaiannya.
Ada juga yang tidak mempeduli langsung segala teguran dan nasihat dari partinya sendiri, dan mengangap jawatan itu hak eksklusif yang diberikan perdana menteri kepadanya.
Memerhati segala kelemahan dan ketidak mampuan menteri ini saya percaya apabila Anwar Ibrahim mengambil alih jawatan PM daripada Dr Mahathir kelak beliau akan membuat rombakan besar-besaran. Beliau tidak akan mengekalkan jemaah menteri yang ada sekarang. Apa yang saya tahu ada dua hingga lima kementerian akan bertukar penjawat.
Bukan itu sahaja kouta atau pembahagian jawatan menteri yang diagihkan oleh Dr Mahathir kini juga tidak akan dikekalkan. Ertinya Anwar tidak akan mengakalkan status quo.
Yang saya dapat pastikan dalam penyusunan itu nanti Keadilan akan mendapat kouta menteri yang terbanyak. Dan jika ini terjadi sudah pasti parti-parti Amanah dan Bersatu akan kehilangan kerusi menteri.
Justeru menteri daripada Amanah dan Bersatu khasnya, perlu mempertingkat dan menunjukkan keupayaan masing-masing bagi mengelakkan akan digugur atau nama mereka tiada dalam kabinet Anwar atau mereka akan diganti.- MSO
Malaysian police hunting Jho Low meet Chinese officials to help track him down...
Malaysian police have met Chinese authorities as they intensify their efforts in the hunt for fugitive financier Low Taek Jho, according to state media.
Low, better known as Jho Low, has been cast by US prosecutors as a central figure in Malaysia's 1MDB scandal, in which US$4.5 billion were allegedly embezzled from the state investment company. He has repeatedly maintained his innocence and faces charges including money laundering in Malaysia. He was charged in absentia as his whereabouts are not known. He is widely speculated to be in China.
Inspector-General Mohamad Fuzi Harun from the Royal Malaysian Police said the efforts to track down Low were ongoing.
"The police are also communicating with Interpol and the status is the same," he told Bernama news agency on the weekend. Fuzi did not respond to requests for further comment.
Low has previously said he did consulting work for 1MDB – as the 1Malaysia Development Berhad fund is known – but is portrayed by some global investigators as the mastermind behind some of the schemes involving missing funds. He has been described as the "best witness" to provide information on alleged crimes at 1MDB.
Last week, Malaysian Prime Minister Mahathir Mohamad said the government would continue its effort to locate the businessman. Mahathir's remarks followed reports Chinese authorities offered to help derail investigations into 1MDB in exchange for the approval of infrastructure projects under its multibillion-dollar "Belt and Road Initiative", which involves the construction of roads, ports, railways and pipelines in more than 50 countries.
The Wall Street Journal – citing former premier Najib Razak's administration's summary of the minutes from private, undisclosed meetings between senior officials – claimed Beijing promised to influence the US and other countries into dropping 1MDB-related probes, and also offered to spy on reporters investigating rumours of mismanagement and money-laundering within the fund. This included wiretapping the Hong Kong offices of The Wall Street Journal.
However, the Mahathir administration has denied having any documents, saying that "at the moment, it is just a story in the press".
Jho Low has denied the report, which also claimed he was involved in facilitating the China-Malaysia talks. The Chinese Embassy in Malaysia described the claims as "groundless".
Malaysian media reported Low had, via a statement from his spokesperson, called the Journal piece "a selection of half-truths, mixed in with fiction, to create a misleading and oversimplified narrative that has been peddled by a morally bankrupt Mahathir regime to advance its failing political cause".
Low is wanted by several countries for his role in the 1MDB scandal. Although a large portion of the missing funds are alleged to have ended up in Najib's bank account, Low also used state money to throw extravagant Hollywood parties, purchase art and jewellery, and buy the US$250 million superyacht Equanimity, which has been seized by Malaysian authorities to be auctioned.
Last May, Mahathir's Pakatan Harapan managed to unseat Najib's Barisan Nasional after its 61-year reign. The furore surrounding the 1MDB was a key factor in Barisan Nasional's loss.
Low was an informal adviser to the 1MDB fund due to his connections in the Middle East and with the Saudi government. Najib said last year Low had "represented the Middle East partners and their dealings and partnership with 1MDB" in overseas energy sector deals.
Najib faces more than 30 charges related to money-laundering and abuse of power, but has also denied all wrongdoing. He has urged the authorities to not "stop at Jho Low" but also identify other key players in the scandal.
"There are other international figures who are probably involved … we want to know where the money flowed to and who really benefited from the whole issue," he said in October.
Mahathir has previously speculated Low may be in China, theorising the country may use him as a "bargaining chip". Former finance minister and Mahathir loyalist Daim Zainuddin revealed Low has been in regular contact in an attempt to strike a deal.
However, Daim has refused to engage with Low unless the businessman returns to Malaysia and implicates others involved in the scandal.
Malaysia has filed criminal charges against a host of names said to be involved in 1MDB, including Najib's wife Rosmah Mansor, Goldman Sachs and former treasury secretary general Irwan Serigar. scmp
Pasai limau pun depa nak boikot,
pindah pi dok kat Pakistan saja...
PAS mencuci tangki septik UMNO
dengan harapan ianya berbau wangi...
cheers.