1. Saya memilih tarikh hari ini 1hb Januari 2019 bagi menulis artikel seperti tajuk di atas kerana keinginan melihat lembaran baru negara tercinta ini bermula.
2. Tahun 2018 adalah tahun yang dipenuhi peristiwa bersejarah, suka dan duka yang tidak mudah dilupakan.
3. Bermula dengan Pilihanraya Umum pada Rabu 9hb Mei 2018 apabila buat pertama kalinya UMNO dan Barisan Nasional (BN) telah dikalahkan.
4. Sebagai Perdana Menteri, Pengerusi Barisan Nasional dan Presiden UMNO, nama Najib Tun Razak mula tercatat dalam sejarah sebagai orang yang bertanggungjawab di atas kekalahan parti tersebut.
5. Buat pertama kali sejak 1957, UMNO dan 13 komponen parti yang lain di bawah BN telah ditumbangkan oleh hanya 4 parti - PKR, DAP dan 2 parti baru, AMANAH dan BERSATU yang diwujudkan menjelang PRU 14.
6. Ketika Anwar Ibrahim di dalam penjara, isteri beliau Dr. Wan Azizah menerajui PKR sedangkan DAP pula dipandu oleh Lim Kit Siang dan Lim Guan Eng yang bertindak sebagai Setiausaha Agung.
7. Terdiri dari mereka yang berhemah dan tidak ekstrem, mereka akhirnya meninggalkan PAS dan menubuhkan parti AMANAH yang diketuai oleh Mohammad Sabu atau lebih dikenali sebagai Mat Sabu.
8. Oleh kerana tidak tahan dengan penyelewangan kuasa, rasuah dan rompakan wang negara melalui 1MDB, SRC dan lain-lain oleh Najib Tun Razak, Tan Sri Muhyiddin Yassin yang ketika itu Timbalan Perdana Menteri dan Timbalan Presiden UMNO telah dipecat dan menubuhkan Parti Pribumi Bersatu atau BERSATU.
9. Tun Dr. Mahathir yang sebelum itu bergerak atas tiket Deklarasi Rakyat dan telah berjaya mengumpulkan hampir 3 juta tandatangan tanda protes terhadap tindakan Najib telah dilantik sebagai Pengerusi BERSATU dan Pengerusi Pakatan Harapan atau PH, gabungan 4 parti tersebut.
10. Raja-Raja termasuk Agong ketika itu TIDAK MAHU melayani Tun yang ingin menyampaikan memorandum tersebut.
11. Majlis Raja-Raja HANYA bertindak seperti 'Melepaskan Batuk Di Tangga' sahaja apabila mengeluarkan satu kenyataan berhubung isu 1MDB tapi TIDAK ADA TINDAKAN SUSULAN; rakyat tertanya-tanya di manakah Raja-Raja ketika rakyat dahagakan pembelaan?
12. Sebaliknya ekoran dari usaha Tun hendak mengadap Raja-Raja, Sultan Kelantan yang kini Yang Di Pertuan Agong bertindak menarik balik pingat DK Kelantan dari beliau.
13. Selain Sultan Kelantan, Sultan Johor dan anaknya dan Sultan Selangor juga turut menyerang Tun.
14. Menjelang Pilihanraya yang baru berlangsung itu, Najib berserta Timbalannya dan pemimpin-pemimpin UMNO yang lain tidak berhenti-henti menakutkan pengundi-pengundi Melayu kononnya tanpa UMNO Melayu akan jadi bangsa bangsat dan orang Cina melalui DAP pula akan menghapuskan hak istimewa dan bahasa Melayu, menjadikan negara ini sebagai Republik dan lain-lain lagi.
15. Hadi dan PAS pula mengeluarkan berbagai fatwa dengan harapan pengundi-pengundi Melayu menolak calon-calon DAP tapi keputusan Pilihanraya membuktikan tindakan mereka tidak menjadi.
16. Di atas kepercayaan 'CASH IS KING', Najib menggunakan wang ringgit yang begitu banyak bagi memenangi Pilihanraya tersebut.
17. Selain itu segala bentuk penindasan terhadap para pengkritik dilakukan termasuklah tindakan polis terhadap Tun Siti Hasmah dan Tun Dr. Mahathir sendiri.
18. Sebenarnya Najib dan Hadi percaya bahawa orang Melayu masih boleh ditipu dengan isu-isu perkauman dan agama sedangkan orang Melayu sudah lama bangkit.
19. Tangapan mereka 'Tanpa UMNO Melayu Akan Mati' dan 'Tanpa PAS Tidak Ada Islam' adalah iguan mereka semata-mata.
20. Adalah lebih baik jika UMNO dan PAS mencermin diri sendiri bagi mengelakkan diri mereka daripada sebarang cacian dan cemuhan.
21. Sempena tahun baru 2019 ini, elakkan diri dari terus bercakaran dan memburuk-burukkan pemimpin demi membangunkan negara tercinta ini ; lagi pun kita semua manusia biasa yang tak boleh lepas dari kelemahan dan kesilapan; BUKAN SENANG membaik pulih sebuah rumah yang hampir ranap yang telah dimakan anai-anai.
22. Jika negara Jerman dan Jepun boleh bangkit semula selepas mengalami perang dunia ke 2 dengan teruknya maka mengapa kita tidak boleh berbuat sedemikian?
23. Jangan Buang Air Di Tempayan Dek Dentuman Guruh Di Langit.
24. Bersatu Kita Teguh Bercerai Kita Sama-Sama Akan Roboh - JANGANLAH KITA BERKELAKUAN SEPERTI ANAI-ANAI. - Tamrin Tun Ghafar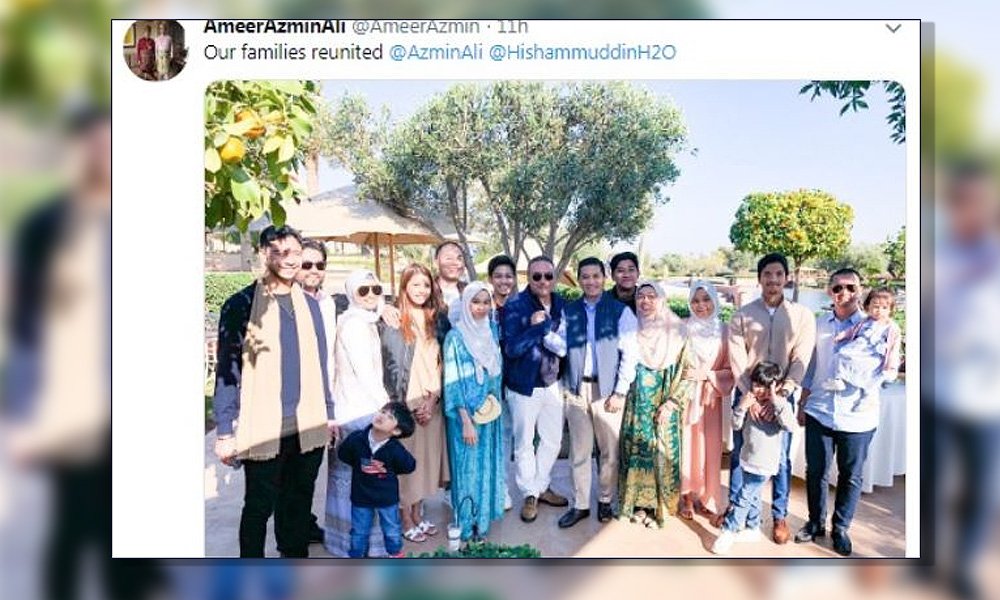 Azmin,Hisham "reunited" in Morocco...
Ternyata spekulasi yang tersebar bahawa broker dari Umno dan broker dari kartel mengadakan perjumpaan sulit hingga menyebabkan seorang demi seorang ahli parlimen Umno keluar parti, benar sama sekali.
Kemuncaknya kedua-dua keluarga ini bercuti di sebuah resort mewah yang tak terjangkau harganya bagi rakyat biasa yang kais pagi menoreh getah kais petang kutip tin minuman.
Kalau hanya bercuti semata-mata tanpa disulami dengan perbincangan 'selanjutnya' mengapa mesti dipadam gambar dan tulisan di Twitter beberapa jam selepas dimuat naik?
Apakah frasa 'You help me, I help you' mampu 'membantu' Najib Razak keluar dari 46 pertuduhan di mahkamah dengan hubungan kekeluargaan menjadi kaitan?
Berikutan tersebar dan gitu hebohnya cerita percutian tersebut anak menteri ekonomi Azmin Ali, Ameer, memadamkan gambar percutian keluarganya dengan bekas naib presiden Umno Hishammudin Hussein yang bercuti di Maghribi.
Ia dipadamkan di Twitter selepas media membuat spekulasi ia berkaitan dengan dakwaan perpecahan dalaman PKR.

Ameer pada mulanya memuat naik gambar percutian keluarga itu yang antaranya menunjukkan Azmin dan Hishammudin sedang berjabat tangan dengan kapsyen:
"Keluarga kami bersatu semula.''
Ameer juga dilapor memuat naik video di media sosial memaparkan kedua-dua keluarga menikmati hidangan makanan seperti udang kara di sebuah resort dengan Azmin dan Hishammudin sedang berbual.
Seramai 17 orang dilaporkan menyertai rombongan percutian itu merangkumi tiga generasi daripada kedua-dua keluarga. - f/bk
Ada apa di sebalik cuti bersama Azmin dan Hishammuddin?
PPBM VP Abdul Rashid's Demand For Contracts Is Proof PPBM Is Becoming As Corrupt As UMNO...
A couple of moons ago, 93-year-old Mahathir Mohamad proudly declared that corruption in Malaysia has become a thing of the past following the change in government. The world's oldest prime minister won the country's general election in May on promises of fighting corruption and reforming institutions, blaming the previous Najib Razak regime for plunging the country into heavy debt.
Najib son of Razak has become the poster boy of corruption and money laundering, thanks to his 1MDB (1Malaysia Development Berhad) scandal. After the downfall of the previous corrupt administration, Mahathir has been telling all and sundry – "Corruption is almost no more as there is a fear of the law. This is a major success. We don't hear about corruption anymore."
Interestingly, about 2 months after the premier tried to convince the world that the new Malaysia is a different country with zero corruption, he dropped a bombshell – that corruption and bribery have become the culture of ethnic Malays, who no longer care for their race, religion and country in their desire to satisfy their greed. Again, he blamed the Najib regime who believed "cash is king."
Can Mahathir make up his mind – is Malaysia a corrupt-free country because bribery had miraculously vanished overnight, or because bribery has already become part of the Malay culture, therefore, such culture cannot be considered as corruption anymore? The PM should realise the youth and new generation cannot be hoodwinked easily today, unlike his first era from 1981 to 2003.
It would be extremely stupid of Mahathir to think the young Malaysians would accept whatever he said as gospel when his actions or the actions of some warlords within his party – PPBM (Bersatu) – shows a different picture. For example, the old man announced corruption is no more, but at the same time, he has no issue welcoming crooks from UMNO, the same party he had condemned for corruption.
'In elections we must win by hook or by crook'
In yet another proof that his party is being transformed into a new re-branded corrupt version of UMNO, Mahathir's lieutenant – Vice President Abdul Rashid Abdul Rahman – openly demands for government contracts. Heck, Mr. Rashid, who is a former Election Commission chairman, even said that it would be "stupid" to deny PPBM leaders access to lucrative government projects.
The PPBM VP said – "If we have won, we will have to win (the next general election) by whatever way possible, by hook or by crook", suggesting that Mahathir government should grant tenders and contracts to party division chiefs of PPBM so they could defend their victory in the next election. In other words, the party's leaders should be enriched the same way UMNO crooks had grabbed contracts for themselves.
Abdul Rashid, one of the most corrupt Election Commission (EC) chiefs, was made one of PPBM's vice-presidents in 2016. He joined the extreme Malay rights group Perkasa in 2013, and was famously quoted as saying that the three redelineation exercises during his term at the EC were specifically designed to ensure the continued political dominance of the ethnic Malays.
At the just concluded PPBM (Bersatu) general assembly, Mr. Rashid also demanded for the functions of the Federal Development Department (JPP) to be reinstated for the benefit of the party's division and branch chiefs nationwide. He argued that by doing so, the leaders would be able to secure more projects, with the funds going back to their respective communities.
Amazingly, Rashid's idea of getting government contracts – even using the crook way – received standing ovation and applause from the thousands of PPBM participants on the last day (Dec 30) of the party's general assembly. Wait a minute. Does not this scenario look very familiar? Yes, it had happened previously during the past UMNO general assembly.
It appears the same corruption story is about to repeat itself, looking at how PPBM chiefs shamelessly asking for easy contracts to enrich themselves, family members and cronies but disguised under the pretext of helping the Malay community. Like UMNO, PPBM warlords like Abdul Rashid Abdul Rahman are sending a message that they won't work unless their hands are greased.
Of course, PM Mahathir has downplayed the demands for government contracts and positions. Yet, he cunningly said if his party members are awarded government contracts, people should not assume that it is because they are from the party. Seriously? Had Ahmad Zahid Hamidi not insulted his Indian ancestry – calling him the son of Iskandar "Kutty" – perhaps Mahathir might accept the crook too.
Amusingly, Mahathir conceded that there was no way to ensure the awarding of government contracts and projects to his party members would not be abused. The premier knew precisely that the idea of giving away contracts goes against the concept of a responsible and accountable government. And he knew UMNO did exactly the same before the Malay nationalist party collapsed.
Already, Mahathir's political party has taken a page out of UMNO's book – incapable and greedy warlords or chiefs blocking the rise of promising talents in an attempt to protect their own positions. And now one of the vice presidents has suggested going full-blown UMNO and adopts the practice of favouritism, cronyism, nepotism and even corruption.
Perhaps the Malaysian Anti-Corruption Commission (MACC) should be roped in especially after the PPBM vice president has openly asked for contracts and projects. More importantly, Mahathir has to clarify why his party is unable to function without abusing and stealing the government contracts and projects, even though they are the federal government
Like it or not, Abdul Rashid appeared to have given Mahathir a slap in the face for suggesting that PPBM would lose the next general election without free flow of money, when the premier has earlier whined, cried and bitched until foaming at the mouth that Malays cannot continue to depend on the government for financial aid as it was a form of "crutch".
Mahathir would be seen contradicting – even humiliating – himself for scolding and lecturing the ordinary Malays for being lazy and weak and depended on the government, but yet at the same time agree to give "crutches" to his party's lazy chiefs and corrupt warlords. Its plain arrogant and stupid to think people don't know the demand for contracts is a form of corruption similarly practiced by Najib and Rosmah once. - FT
Harap polis dan pak guard jangan terkejut pulak..
😁😁😁😁😁😂😁😁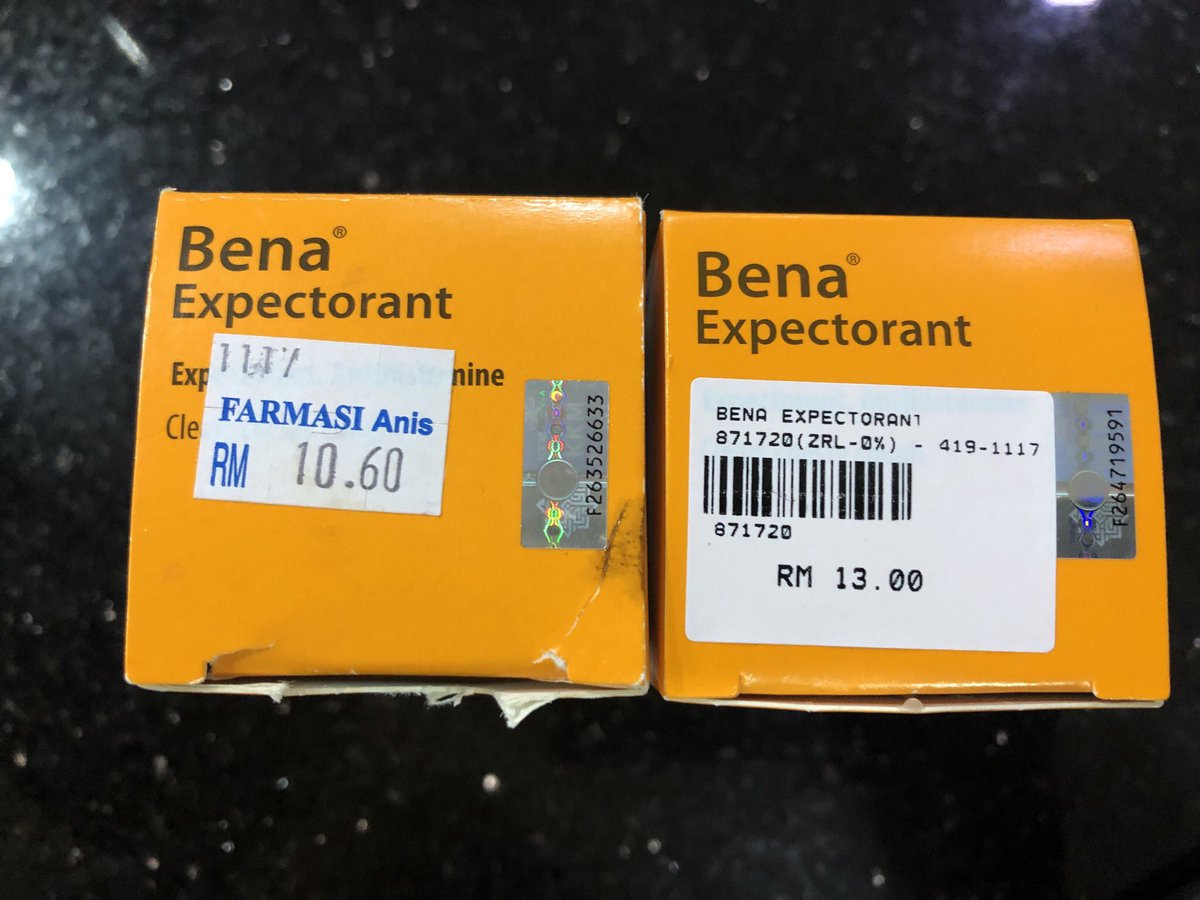 Ubat sama tapi harga yg berlainan di farmasi...
KPDNKK?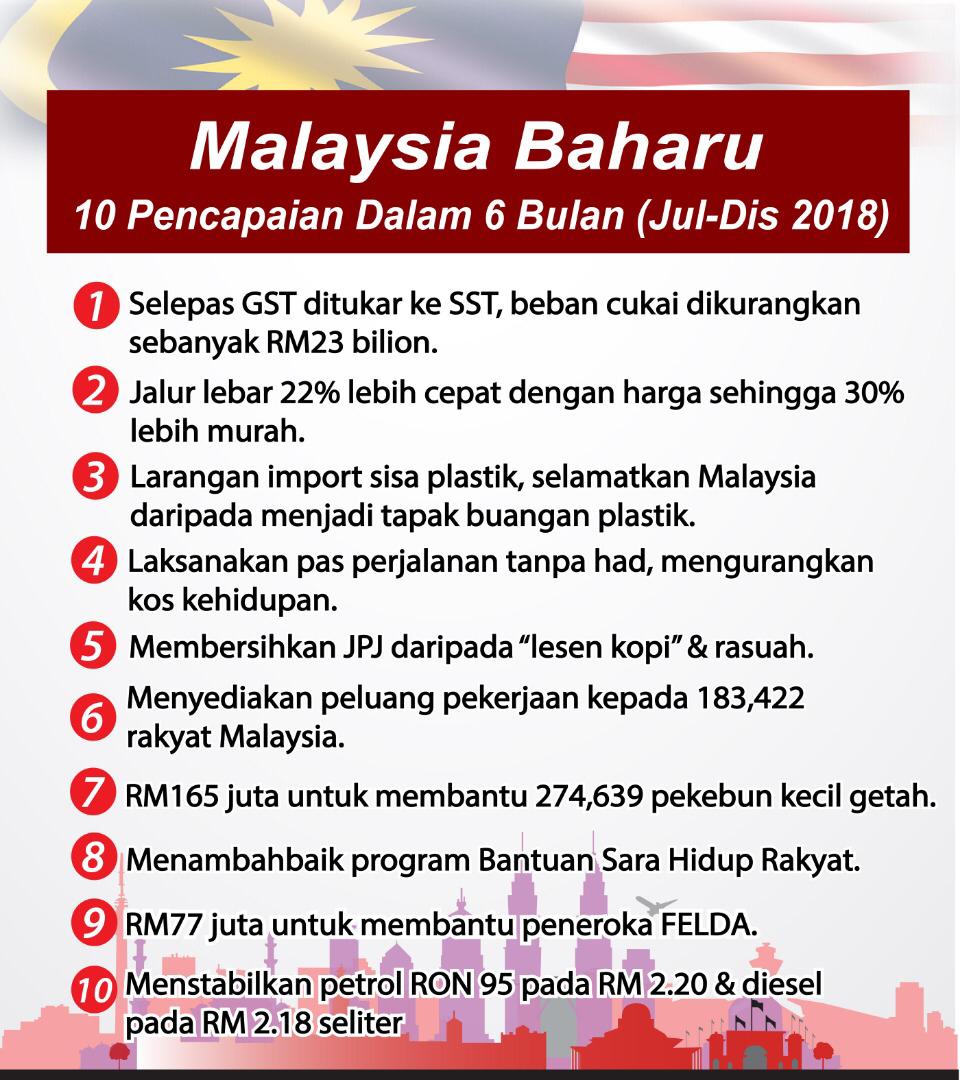 cheers.