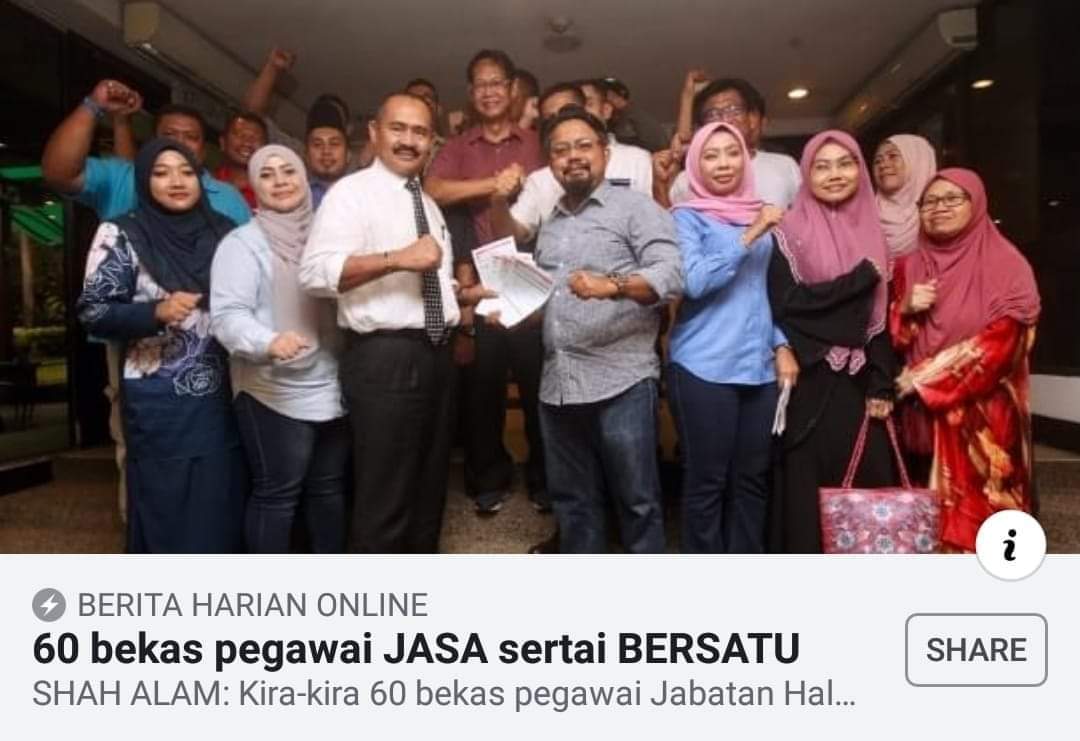 Jangan hairan bin terkejut kalau beruk, buaya sakit gigi pun ketawa melihat ketololan manusia menerima musuh mereka dalam kelambu yang sama. Kalau benar BERSATU hendak menerima penghina, pencaci Tun Mahathir sebagai ahli BERSATU maka janganlah salah ibu mengandung kalau para pejuang super tulen BERSATU hilang hormat terhadap pimpinan BERSATU kelak.
Umum tahu JASA besar jasa di era penyamun kelas cakrawala Najib Razak memuntahkan segala racun, fitnah dan nista, kebencian terhadap Tun Mahathir yang menjadi pemimpin tersohor PH merangkap PM sekarang.
JASA agen propaganda murahan rejim super korup BN. Matlamat mereka musnahkan musuh politik BN, mencipta fitnah, mengekalkan kezaliman dan kemungkaran. Apakah manusia jenis ini layak diterima dalam wadah BERSATU?
Pemimpin jenis apa dalam BERSATU yg sanggup menerima musuh politik PH dalam kelambu BERSATU? Mungkinkah pemimpin BERSATU ini juga balaci pemakan dedak Najib yang mendapat tempat dan kuasa dalam BERSATU? Hati-hati musuh dalam selimut.
Apakah bekas kakitangan JASA yang menyertai BERSATU bakal diberi jawatan dalam kerajaan PH juga? Apakah pihak BERSATU lupa segala jasa para pejuang mereka yang banyak berkorban tapi kini dipinggirkan?
Kalau bekas pegawai JASA diterima BERSATU sebagai ahli dan diberi pekerjaan oleh parti maka janganlah terkejut beruk kalau banyak pejuang super tulen BERSATU akan meninggalkan parti tanpa sedu sedan tapi penuh dengan dendam kesumat yang boleh membawa bala kepada BERSATU menghadapi PRU 15 kelak.
Sebelum nasi menjadi bubur kita nasihatkan BERSATU jangan terima bekas JASA menyertai BERSATU demi kerukunan dan kesejahteraan parti. - Yahaya Ismail
Kenapa tak tanya Najib?...
Tony Pua menempelak bekas menteri Barisan Nasional,Khairy Jamaluddin yang bertindak menjarakkan diri daripada dakwaan kerajaan China menawarkan bantuan kepada 1MDB yang mengalami masalah kewangan sebagai balasan penganugerahan projek.
Walaupun ia tidak pernah dibincangkan dalam mesyuarat Kabinet sekalipun, kata Ahli Parlimen Damansara itu, mereka sepatutnya mempersoalkannya apatah lagi selepas terdapat bukti mengesahkan berbilion dolar dana 1MDB diselewengkan.
"Pernahkah kamu membangkitkan persoalan itu di dalam Kabinet dan meminta Perdana Menteri ketika itu (Datuk Seri Najib Razak) menjelaskan perjanjian yang penuh muslihat itu?" soalnya dalam kenyataan, hari ini.
Beliau yang juga pegawai khas kepada Menteri Kewangan berkata demikian mengulas kenyataan Ahli Parlimen Rembau Khairy Jamaluddin yang kononnya tidak tahu menahu mengenai perjanjian antara China dan pentadbiran Najib.
"Sebagai bekas anggota Kabinet saya boleh katakan dengan jelas bahawa Kabinet tidak pernah diberitahu bahawa urus niaga China berkaitan dengan bail out 1MDB.
"Jika ada bukti ia berlaku, ia tanpa kelulusan Kabinet," kata yang juga bekas Menteri Belia dan Sukan di Twitter baru-baru ini.
Laporan Wall Street Journal (WSJ) mendakwa kerajaan China pada 2016 pernah menawarkan untuk menebus 1MDB yang menghadapi masalah kewangan sebagai balasan penganugerahan projek saliran paip bagi inisiatif 'One Belt, One Road'.
Akhbar yang paling awal melaporkan mengenai salah laku membabitkan 1MDB itu memetik minit mesyuarat yang tidak didedahkan sebelum ini.
"Minit mesyuarat menunjukkan pegawai China memaklumkan bahawa kerajaan China akan menggunakan pengaruh bagi memastikan AS dan negara lain menggugurkan siasatan berhubung kes melibatkan perdana menteri ketika itu Najib Razak dan sekutunya, yang didakwa menyeleweng dana 1MDB.
"Sebagai balasan, Malaysia menawarkan kepentingan dalam projek saliran paip untuk program infrastruktur kerajaan China 'One Belt, One Road'.
"Dalam tempoh beberapa bulan, Najib, yang menafikan sebarang salah laku dalam kes 1MDB, menandatangani perjanjian projek saliran paip bernilai AS$34 bilion dengan syarikat China, yang akan didanai bank-bank China dan dibina oleh pekerja China," demikian menurut laporan yang ditulis Tom Wright dan Bradley Hope. – Roketkini.com
Will Anwar actually succeed Mahathir...
Will Anwar Ibrahim actually succeed Mahathir Mohamad as Malaysia's next Prime Minister? That question has dominated Malaysian politics for months, and the opposition's high-flying Khairy Jamaluddin – an ex-minister who was once viewed as prime minister material – says he has had to deal with the poser even though he is now far from the corridors of power.
The speculation has risen amid whispers from within the government that Anwar, prime minister-in-waiting according to an agreement within the coalition that won last year's election, fears 93-year-old Mahathir has no plans to hand power to him.
Speaking at a conference in Singapore, Khairy, who was a key member of the defeated Najib Razak government, said the issue was top of the minds of many politics-savvy Malaysians.
"That seems the only thing that the political chattering class seems to ask me about," Khairy quipped when asked the question at the Regional Outlook Forum, which was organised by the Lion City's ISEAS-Yusof Ishak Institute.
"It has huge implications on succession planning and on stability for Malaysia simply because Dr Mahathir is the age at which he is at," the 42-year-old former youth and sports minister said.
While Anwar and Mahathir have stressed their pre-election pact is intact, commentators have been unable to resist comparing the current scenario to 1998. At the time Mahathir, then in his first stint in power, abruptly sacked his deputy prime minister, Anwar, from government.
Anwar, 71, was jailed over corruption and sodomy charges, despite scepticism from international observers. Upon his release in 2004, Anwar galvanised the opposition and made bids for the premiership in the 2008 and 2013 polls – failing both times by close margins. He was once more jailed in 2015, this time during Najib's tenure but again over a dubious sodomy charge.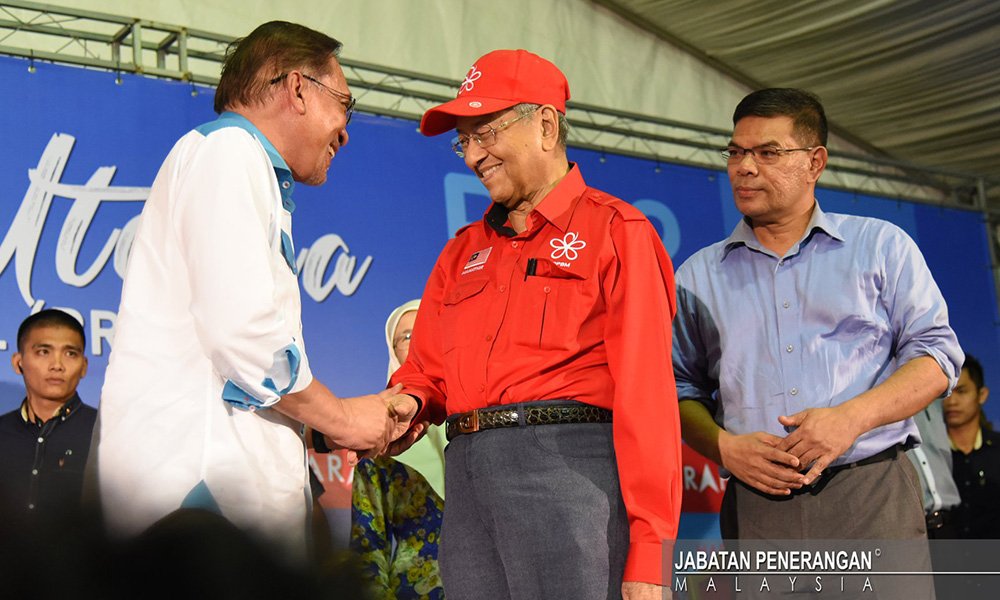 The opposition triumphed in last May's polls after Mahathir, at age 92, crossed the aisle and allied himself with arch-enemies such as Anwar in a bid to defeat the scandal-tainted Najib.
With his long history of being within touching distance of the premiership but never attaining it, his political prospects are sometimes a matter of dark amusement in Malaysia. Khairy, the opposition politician, invoked some of that humour when asked about Anwar.
"Yes, I think he should be prime minister for a few reasons … One, if he doesn't become prime minister, we will not hear the end of it. He cannot move on and we cannot move on," he said, to roars of laughter.
"Prince Charles and Anwar are the longest, you know … " Khairy added, trailing off as the audience lapped up the joke comparing the Malaysian politician with the long-serving British crown prince.
He was also asked if there were people actively plotting against Anwar. Kishore Mahbubani, a high-profile Singaporean former diplomat, wanted to know if Mahathir's stalwart ally Daim Zainuddin and Azmin Ali, a cabinet minister, were among these conspirators.
Anwar in Pakatan Harapan is the only person who can manage to navigate around identity politics in Malaysia, according to Khairy.

Azmin is a long-time Anwar loyalist who helped set up the democracy icon's Parti Keadilan Rakyat (National Justice Party) when he was jailed in 1999, but there have been signs of increasing friction between the two in recent months.
Responding to Kishore, Khairy said: "I think you could be right. There is a lot of chatter to say that there are some people around Dr Mahathir who still remain uncomfortable with Anwar."
But while he described Anwar as someone with various shortcomings including being "outdated" and "somebody who has not had a job for 20 years" (because of his two jail stints), Khairy said the older politician was still the best bet to lead Malaysia after Mahathir.
This, Khairy said, was because of Anwar's ability to appeal to Malaysians across the spectrum amid a rising tide of identity politics in the Muslim-majority country, an "advantage … that nobody else has".
He added: "[Anwar] speaks the language of modernity and he speaks the language of tradition, especially when it comes to Islam, and also the Malay identity.
"As long as identity politics remains an important marker in Malaysian politics … I think possibly Anwar in Pakatan Harapan is the only person who can manage to navigate around identity politics and prevent it from becoming something that is uglier than it potentially could be."
Khairy's comments in the Singapore forum follow a tersely worded statement Anwar released on Monday slamming speculation about the succession plan.
Anwar said there was "no issue whatsoever" between Mahathir and him, adding that they had "agreed on the process and succession plan". He said the national leadership had to be "on guard" against "forces that would like us to fail". - scmp
Ucaptama, Sdr.Anwar Ibrahim sempena Dialog Raisina 2019
di Raisina Hill, New Delhi, India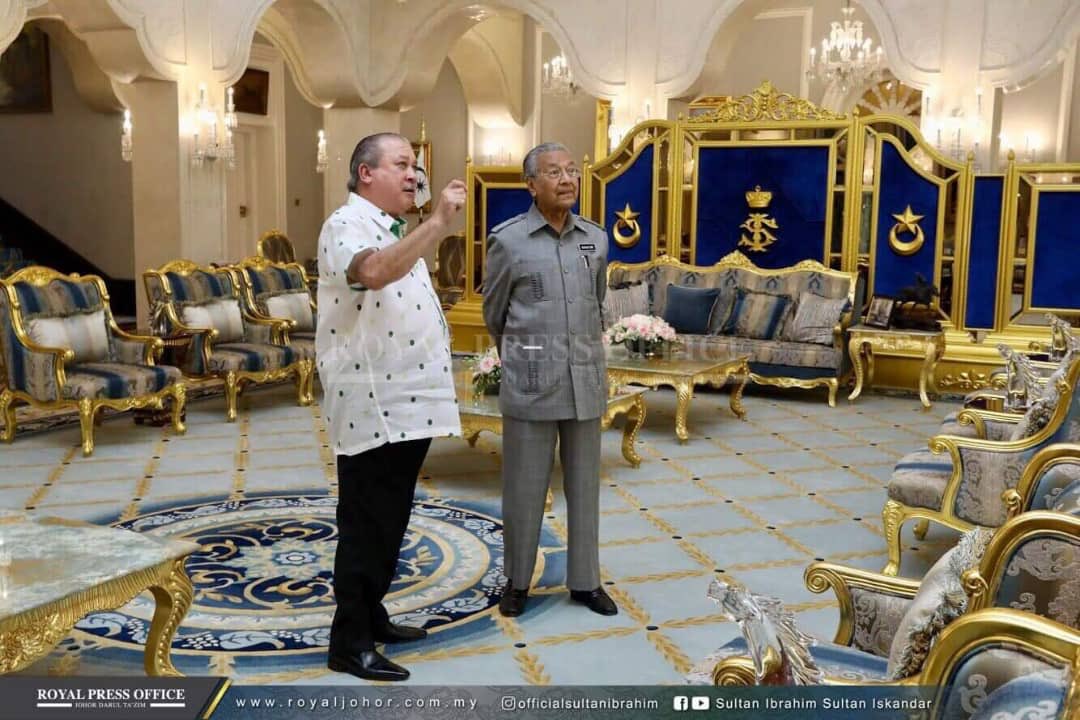 Sultan Johor, Sultan Ibrahim Iskandar berkenan menghantar Perdana Menteri, Tun Dr Mahathir Mohamad ke Lapangan Terbang Antarabangsa Senai dengan memandu sendiri Proton Saga edisi pertama yang dihadiahkan kepada Almarhum Sultan Iskandar pada 1985. Ini kita panggil "Diplomasi Proton". Kereta Proton Saga versi pertama dengan nombor Proton 1 adalah hadiah dari Tun Dr Mahathir kepada almarhum Sultan Iskandar. Digunakan semula oleh Sultan Johor kini untuk menghantar Perdana Menteri ke lapangan terbang selepas pertemuan empat mata mereka "frank talk"...
Imam hisap puting camne nak kuar suara?
😄😄😄
cheers.