Anwar Ibrahim menyebut perihal mengenai tangan yang dicurigai yang akan mengganggu agenda Reformasi yang dibawanya. Beliau mahu orang beringat-ingat dengan tangan berkenaan.
Apabila Anwar menyebut mengenai tangan "haram" itu tentu ramai yang memalingkan muka kepada Azmin Ali kerana hubungan di antara mereka kini ada sedikit masalah. Relation mereka berdua sedikit tegang dan tidak begitu aman. Semuanya berpunca ekoran perselisihan berkaitan pelantikan beberapa pimpinan tertinggi termasuk Naib Presiden tambahan dalam Keadilan.
Azmin secara terus terang tidak bersetuju dengan cara Anwar menyusun parti apabila dianggap tidak mencerminkan "fair and just representation" seperti mana digambarkan oleh oleh ahli parti semasa dalam pemilihan parti. Pokok menjadi pertikaian Azmin ialah pelantikan Rafizi Ramli sebagai salah seorang Naib Presiden dan pengekalan Saifuddin Nasution Ismail sebagai Setiausaha Agung.
Bagi Azmin, Saifuddin tidak patut dikekalkan sebagai Setiausaha Agung kerana beliau dikatakan gagal menjalankan tugas dan tanggungjawab itu dengan penuh profesional. Justeru ada benar kalau orang menyimpulkan tangan dicurigai Anwar itu adalah Azmin?
Apakah benar Anwar menghala kata-katanya itu kepada Azmin? Bagi saya ia kurang munasabah dan tepat kalau Anwar mengatakan tangan yang dicurigai itu Azmin. Kita tahu agenda Reformasi adalah agenda bersama di antara keduanya. Azmin adalah pendukung agenda berkenaan sejak lebih 19 tahun lampau.
Jika Azmin dimaksudkan Anwar ia bukan merupakan satu tindakan politik yang bijaksana kerana ia membuka aib bagi dirinya sendiri. Orang akan menjadi makin percaya beliau ada masalah dengan timbalannya.
Yang perlu diperhatikan sebaik mungkin oleh Anwar dan juga orang-orang yang taksub dengan Anwar dan yang berdoa dari Maghrib hingga ke Subuh mengharapkan Anwar jadi PM, ialah kemunculan secara penuh taktikal bekas Naib Presiden Umno Hishamuddin Hussein di karidor kekuasaan PH.
Pertemuan Hishamuddin dengan Dr Mahathir Mohamad baru-baru ini (lebih dua jam) tidak boleh dianggap pertemuan biasa. Tawaran Hishamuddin untuk membawa balik Jho Low, perlu dilihat jauh dari itu.
Tawaran Hishamuddin itu membawa arti tersendiri. Kalau pun Dr Mahathir tidak percaya, tetapi tawaran Hishamuddin itu menarik dan pelik. Ia perlu ditafsirkan dengan menggunakan banyak kitab dan risalah siasah.
Apakah Hishamuddin boleh dianggap sebagai tangan dicurigai yang akan mengganggu agenda Reformasi? Ini satu perbahasan baharu di celah-celah kita lihat Azmin sebagai pengancam kepada masa depan Anwar. Dan pertemuan Azmin dan Hishamuddin di Maghribi yang secara sengaja itu, (mereka bercuti di lokasi sama), sebenarnya bagi saya ia bukan sesuatu bukan sengaja. - MSO
The nouveau riche in Malaysian politics...
Founded barely two years, PPBM has exhibited its pompous style in last week's general assembly. It was held in Putrajaya International Convention Center, which is not as big as Umno's PWTC for sure, but wins in its stylish architecture and comfortable setting that reminisces the Malay nobility.
The delegates were given a door gift of Herschel backpack, a well-known brand from Canada that costs upwards of RM300 each. Sumptuous food painstakingly prepared by the convention center's chefs was also served to the 2,000-strong delegates.
The point is, the general assembly was held in Putrajaya as a symbol of the party's status as the master of Putrajaya while its members are now assuming the role as the nouveaux riches in Malaysian politics.
Indeed, PPBM has become the new big gun in Malaysian politics. When PPBM was established, it was thought to have been put together hastily just to fight the election war. Save for a few political elites, majority of the party's members were hardly anybody, mostly rejects from Umno. The party would burst like a bubble once the election was over.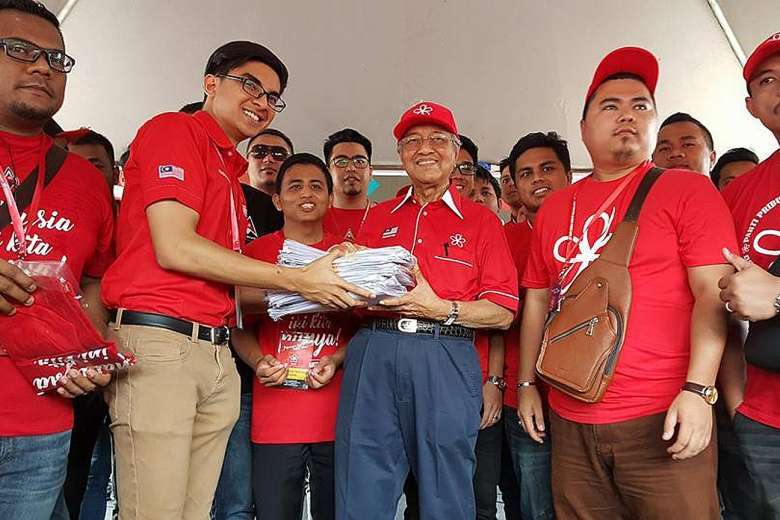 The party won 13 parliamentary seats in the general elections. It didn't burst like a bubble like many had anticipated even though it was still the smallest among the PH component parties, trailing far behind PKR and DAP. Many wouldn't think this party would do anything big at all. But in under one year, things have changes. PPBM has not only survived, but has grown by the day.
There are three factors that have contributed to this twist of fate: Mahathir, Umno and the Malay political tradition. Mahathir's power and status are unparalleled in this country at the moment, and being anchored safely under his unrivaled power, PPBM is being constantly nourished and growing by leaps and bounds.
When Mahathir first came to power, people thought he was only a transitional leader about to pass on the baton in two years' time, as PH parties believed. But they have overlooked one thing. Malaysia's prime minster has all the powers to himself, and Mahathir himself is a strong advocate and masterful manipulator of Machiavellianism.
Although PPBM is only a small party, it has second most cabinet positions. The party's position remains solid even though some of its cabinet members have unperformed and indeed utterly disappointing.
Secondly, Mahathir is undermining Umno's leadership foundation, forcing the party's members to quit en masse. Given the similarities in the two parties' genetic make-up, those departing Umno have found a new home in PPBM. And indeed they will only the protection of the power to be by so doing.
Meanwhile, Umno has split into three different factions today, one that is joining or prepared to join PPBM, one that is still staying put but trying to get close to Mahathir and support him as PM when the need arises. The last faction, of course, makes up of die-hard Umno loyalists that continue to play the role of opposition. Mahathir has the first two in his hand and is exploiting the situation to significantly boost his PPBM.
Thirdly, the Malay society has its own political tradition that is closely linked to its ethnicity, language and religion. It has a unique political mission: to defend the status and privileges of the Malays and Muslims. In the past, this was done through Umno. Now that Umno is down and out, a new political entity has to do this job.
PKR is a multiracial party that hardly wins the trust of conservative Malays; Amanah lacks representation in the Malay society; and while PAS gets a lot of support, the party doesn't seem to have much chance of making it to Putrajaya. Against such a backdrop, PPBM makes a natural choice for the conservative Malay society. - mysinchew
Dr.M is not anti-monarchy....
I have read somewhere in the social media of somebody praising the Prime Minister "for his bravery against the rulers".
I would like to put it slightly differently.
Tun Dr Mahathir Mohamad is brave in the face of adversity and challenges.
He is brave not because he is foolhardy but because he believes in doing the right thing.
He is a very practical person and is able to work with just about anybody for the good of the country.
It is for this reason that he was able to put together a coalition of former adversaries and won the May 9 General Election.
Many had tried for six decades or more to unseat the Alliance/Barisan Nasional government but failed. He successfully did it in less than three years.
In as far as the Rulers are concerned, I think I can state with some authority that Dr Mahathir is not anti-monarchy. - f/bk
Hisap rokok dok 3 meter jarak.
Kisahnya bermula tahun 2019.
Kalu tak mau hisap rokok..
Nak merokok dlm kedai buat macam ni.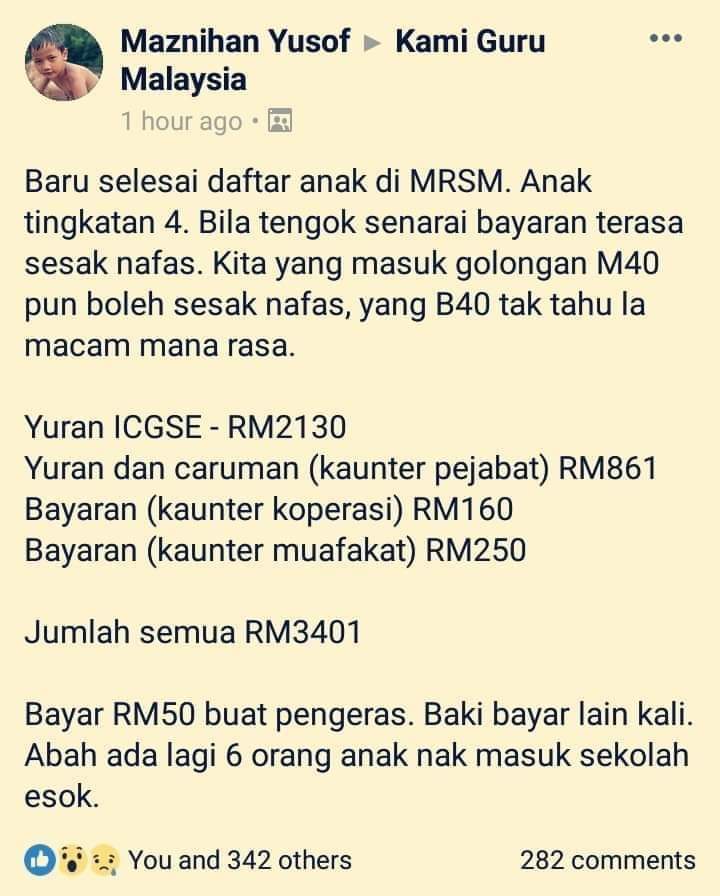 Masuk Universiti tak semahal itu...
cheers.