Najib malam tadi kata siasatan demi siasatan 1MDB badan yang paling banyak disiasat dalam sejarah negara membuktikan dia tidak bersalah.
Siasatan melibatan bank negara, polis, ketua audit negara, (PAC), adakah laporan itu menyatakan saya curi duit 1MDB? Jawabnya tidak sama sekali
Adakah laporan PAC menyatakan saya buat kesalahan? Jawapannya, tidak.
Adakah derma kerajaan Arab Saudi merupakan duit 1MDB? Jawapannya, tidak sama sekali.
Manalah kami nak tau,kami tak boleh baca
laporan PAC pasai awak dah OSAkannya...
Kalau Najib tidak salah, kenapa pula ramai pegawai kerajaan yang terlibat dalam siasatan demi siasatan berkaitan 1MDB, anak syarikatnya SRC dan sebagainya di buang kerja, disiasat, ditangkap Polis atau ditukar (transfer)?
1. Kalau Najib tak salah, kenapa AG Ghani Patail yang sedang siasat 1MDB dan SRC dipecat dari jawatannya atas alasan dia sakit (mungkin sudah dekat nak mati). Tapi sampai hari ini Ghani masih hidup, cergas dan akhir sekali berita dari GHani mengatakan dia bekerja sebagai peguam pula. Tak sakit tenat pun, belum mati pun.
2. Kalau Najib tak salah, kenapa pula Hamid Bador Boss No. 2 dalam SB atau Special Branch yang juga terlibat siasatan 1MDB, SRC dsbnya telah ditransfer dari jawatannya dan diarah melaporkan diri ke JPM pula. Hamid terus bersara dari pada perkhidmatan Polis.
3. Kalau Najib tak salah kenapa pula pegawai siasatan SPRM juga ditransfer daripada jawatan mereka. MACC director of special operations Datuk Bahri Mohamad Zin and MACC director of strategic communications Datuk Rohaizad Yaakob telah ditransfer ke JPM. Kemudian bila isu ini jadi kontroversi, transfer mereka telah dibatalkan balik.
4. Kalau Najib tak salah, kenapa pula seorang Tan Sri, ia itu bekas penasihat SPRM serta seorang pegawai penyiasat AG Chambers telah ditangkap oleh Polis berkaitan 1MDB juga dan dimasukkan ke dalam lokap.
"Malaysian police arrested ex- (MACC) adviser who is a Tan Sri and an officer from the Attorney General's Chambers to assist in investigations involving (1MDB).
They are expected to be brought to PJ Magistrates Court Sat morning for remand. IGP Khalid declined to comment on the latest arrests."
5. Kalau Najib tidak bersalah, kenapa pula Menteri Rahman Dahlan confirmkan bahawa makhluk MOI yang disebut oleh FBI / DOJ dalam siasatan kleptokrasi mereka berkenaan 1MDB itu sebenarnya adalah Najib? Ataupun mungkin Rahman Dahlan begitu bodoh macam bontot lembu?
6. Kalau Najib tidak bersalah, kenapa pula anak tiri dia Riza Aziz sudah setuju bayar balik RM240 Juta (US$60 Juta) kepada DOJ di Amerika Syarikat sebagai 'settlement' untuk menyelesaikan saman sivil FBI / DOJ yang telah mula merampas harta Red Granite Pictures (syarikat kepunyaan riza Aziz) yang FBI / DOJ menuduh telah dibeli dengan menggunakan dana wang yang telah dicuri dari 1MDB, di mana Najib adalah sole shareholder and signatory.
"PAC report has confirmed that Najib was the sole shareholder and signatory for the fund"
Apakah Riza Aziz anak tiri Najib juga bodoh tahap bontot lembu macam Menteri Rahman Dahlan?
7. Kalau Najib tidak bersalah kenapa pula FBI / DOJ memburu kapal layar mewah Equanimity kepunyaan Jo Lo, yang FBI menuduh telah dibeli dengan RM1 BILLION (US$250 Juta) wang yang dicuri daripada 1MDB. Dan kemudian FBI telah merampas kapal layar mewah itu di perairan Indonesia. JoLo adalah sahabat karib Najib dan anak tirinya Riza Aziz.
8. Kalau Najib tidak bersalah, kenapa pula Kerajaan Malaysia TIDAK MAHU MENGAKU, MENUNTUT DAN SETERUSNYA MENERIMA BALIK wang RM430 Juta (CHF 100 juta) yang ingin dipulangkan oleh pendakwaraya Switzerland kepada Malayaia yang mereka berkata telah dirampas berkaitan wang yang telah dicuri daripada 1MDB? Switzerland kata duit RM430 Juta itu duit Malaysia. Kalau Najib tidak bersalah kenapa Kerajaan Malaysia tidak mahu mengaku atau menuntut balik duit RM430 Juta itu daripada Switzerland? Switzerland kata itu duit kita. Bukan duit Bangladesh atau duit Zimbabwe.
9. Kerajaan Singapura pula telah penjarakan lima atau enam orang yang terlibat dalam kecurian wang 1MDB. Kerajaan Singapura juga telah batalkan lesen perniagaan dua buah bank antarabangsa yang terlibat dalam kes money laundering 1MDB. Apakah kerajaan Singapura begitu bodoh menyiasat jenayah atau kecurian wang 1MDB yang tidak wujud atau sebenarnya tidak pernah berlaku ? The Singapore government is so stupid? Kerajaan Singapura pun salah?
Rupanya hanya Najib seorang yang betul dalam skandal besar ini. Satu dunia yang lain semuanya salah. Siapakah orang-orang yang lain yang salah itu ?
1. Tan Sri Ghani Patail, Peguam Negara waktu itu - salah.
2. Dato Hamid Bador, Timbalan Ketua Special Branch, PDRM - salah.
3. MACC director special operations Datuk Bahri Mohamad Zin - salah
4. MACC director strategic communications Datuk Rohaizad Yaakob - salah
5. Seorang Tan Sri ex- (MACC) adviser - salah
6. seorang officer from Attorney General's Chambers - salah
7. Rahman Dahlan confirm MO1 itu adalah Najib - salah
8. FBI / DOJ menyiasat kes 1MDB - salah
9. FBI / DOJ merampas kapal mewah Equanimity kepunyaan Jolo - salah
10. FBI / DOJ merampas / sita syarikat Red Granite - salah
11. Riza Aziz anak tiri Najib, sahabat karib JoLo bayar settlement RM240 juta
kepada DOJ - salah.
12. Pendakwaraya Switzerland merampas duit RM430 juta - salah
13. Singapura penjarakan lima atau enam orang yang terlibat kecurian wang 1MDB - salah
14. Singapura batal lesen dua bank antarabangsa terlibat dengan wang curi 1MDB - salah
Hanya Najib saja betul. Satu dunia lagi semua adalah salah.
Wa akhirul kalam, harapan besar Najib adalah orang Melayu kurang faham apa pun berkenaan undang-undang, perbankan dan pecah amanah.
Harapan besar Najib adalah orang Melayu tidak membaca apa pun melainkan akhbar tempatan yang dikawal kerajaan.
Harapan besar Najib adalah orang Melayu tidak mempunyai tempat bergantungan lain kecuali bantuan kerajaan, sabsidi kerajaan, BR1M, bayaran gaji dan bonus oleh Kerajaan. - ostb
PAC juga tak sebut Najib tak curi duit 1MDB
PAC never had the chance
to question Najib over 1MDB...
Prime Minister Najib Razak's claim that the Public Accounts Committee's (PAC) investigation into 1Malaysia Development Bhd (1MDB) had cleared him of wrongdoing is fake news as the parliamentary body never got the chance to question him after its chief was replaced, DAP lawmaker Tony Pua said today.
The Petaling Jaya Utara MP who was on the PAC when it held investigations into 1MDB in 2015, said Hasan Arifin who replaced Nur Jazlan Mohamed as committee chief had "rejected all attempts to summon the prime minister to testify to the PAC".
Pua said Nur Jazlan had agreed that the committee should summon Najib for questioning on his role in 1MDB. Najib, who is Finance Minister, founded 1MDB and was chairman of its advisory board.
The PAC had wanted to question Najib as Treasurer-General Irwan Serigar told the committee that it was Najib who was responsible for all major decisions made by 1MDB.
"The BN members of the PAC blocked all such attempts with the excuse that (the) 'prime minister is not involved' or 'Najib Razak isn't relevant to the investigation,'" Pua said in a statement today.
Pua was responding to Najib's claim last night that the PAC had cleared him of any wrongdoing.
"Was there a line in the report to say that I had stolen 1MDB money? The answer is no. Were there anything in there that said I had committed an offence? The answer is no. Was the money that came from Saudi Arabia 1MDB money? Absolutely not," Najib had said at a National Transformation Programme (NTP) last night.
Pua said the PAC probe was limited in scope and focus in reviewing 1MDB's financial statements.
"There was no scope given for investigating the purported RM2.6 billion 'donation' that went into the personal bank account of the prime minister," he said.
He added that 1MDB had never submitted its financial statements of its overseas bank accounts to the Auditor-General (AG) and the PAC despite repeated requests.
"Yes, the PAC report didn't say Najib stole money from 1MDB. However, the PAC Report also didn't say that the prime minister didn't steal money from 1MDB.
"Without crucial documents and evidence, how in the world could the PAC ever claim that Najib never took money from 1MDB?" - malaysianinsight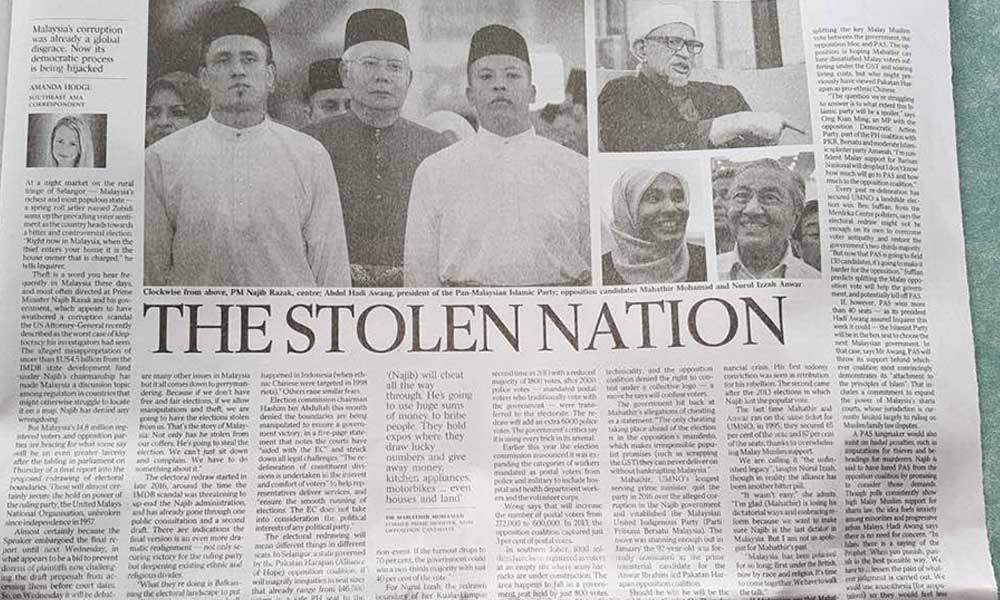 The stolen nation: electoral fraud
and bribes infect Malaysian poll...
At a night market on the rural fringe of Selangor — Malaysia's richest and most populous state — a spring roll seller named Zubidi sums up the prevailing voter sentiment as the country heads towards a bitter and controversial election. "Right now in Malaysia, when the thief enters your house it is the house owner that is charged," he tells Inquirer.
Theft is a word you hear frequently in Malaysia these days, and most often directed at Prime Minister Najib Razak and his government, which appears to have weathered a corruption scandal the US Attorney-General recently described as the worst case of kleptocracy his investigators had seen. The alleged misappropriation of more than $US4.5 billion from the 1MDB state development fund under Najib's chairmanship has made Malaysia a discussion topic among regulators in countries that might otherwise struggle to locate it on a map. Najib has denied any wrongdoing.
But Malaysia's 14.8 million registered voters and opposition parties are bracing for what some say will be an even greater larceny after the tabling in parliament on Thursday of a final report into the proposed redrawing of electoral boundaries. These will almost certainly secure the hold on power of the ruling party, the United Malays National Organisation, unbroken since independence in 1957.
Almost certainly because the Speaker embargoed the final report until next Wednesday, in what appears to be a bid to prevent dozens of plaintiffs now challenging the draft proposals from accessing them before court dates. So, on Wednesday it will be debated and rubber-stamped into law.
In Malaysia, such behaviour is often shrugged off by a population conditioned by decades of cronyism and political bastardry as another example of "Bolehland" — a country where anything is possible. But with stakes so high ahead of a likely May election, the move has tempers flaring.
"It's one thing to lose in an honourable contest but to lose against a government doing this is just unacceptable," fumed Nurul Izzah Anwar, the daughter of jailed opposition leader Anwar Ibrahim and an MP in his opposition People's Justice Party (PKR), hours after the controversial tabling.
"I can't even begin to describe how problematic this is, no matter how much support we have. There are many other issues in Malaysia but it all comes down to gerrymandering. Because if we don't have free and fair elections, if we allow manipulations and theft, we are going to have the elections stolen from us. That's the story of Malaysia. Not only has he stolen from our coffers. He's going to steal the election. We can't just sit down and complain. We have to do something about it."
The electoral redraw started in late 2016, around the time the 1MDB scandal was threatening to up-end the Najib administration, and has already gone through one public consultation and a second draft. There are indications the final version is an even more dramatic realignment — not only securing victory for the ruling party but deepening existing ethnic and religious divides.
"What they're doing is Balkan­ising the electoral landscape to put all Chinese in one area and all Malay in another area, so you create a divided electoral system where legislators need only address the one ethnic group," says PKR vice-president Tien Chua. "What will happen in the long run is we will have a parliament that's very divisive. On principle we oppose that, not because we will lose but because it's bad for the country."
In the Selangor market, an ethnic Chinese stall-holder checks no one is listening before saying that "whoever is in charge, it will be the same". "In Malaysia the government has to find funds to support the Malays. If they don't get help things aren't stable. I am scared if BN (the UMNO-led ruling coalition, Barisan Nasional) lose they will do something like what happened in Indonesia (when ethnic Chinese were targeted in 1998 riots)." Others raise similar fears.
Election commission chairman Hashim bin Abdullah this month denied the boundaries are being manipulated to ensure a government victory, in a five-page statement that notes the courts have "sided with the EC" and struck down all legal challenges. "The re-delineation of constituent divisions is undertaken in the interest and comfort of voters" to help representatives deliver services, and "ensure the smooth running of elections. The EC does not take into consideration the political interests of any political party."
The electoral redrawing will mean different things in different seats. In Selangor, a state governed by the Pakatan Harapan (Alliance of Hope) opposition coalition, it will magnify inequities in seat sizes that already range from 146,000 voters in a safe PH seat to the smallest, just 37,000 in an UMNO-held electorate.
Wong Chin Huat, a political scientist with the Penang Institute think tank, says the average size of a Pakatan Harapan seat is 77,655 voters compared with an average BN seat of 46,510. That is how government was able to secure 60 per cent of the seats in 2013 with just 47 per cent of the vote, while the opposition coalition won the popular vote (51 per cent) but only 40 per cent of the seats.
Wong says the only hope for the opposition is to stir up the kind of enthusiasm for change that led to an unprecedented 85 per cent voter turnout in the 2013 election. "The best thing for the government is if this election becomes a non-event. If the turnout drops to 70 per cent, the government could win a two-thirds majority with just 40 per cent of the vote."
For Nurul Izzah, the redrawn boundary of her Kuala Lumpur seat, Lembah Pantai, is a particularly bitter pill given it will now include the national police head­quarters, Bukit Aman. "Bukit Aman has such a special place in my heart because that's where my father was beaten by the former inspector general of police back in 1998," she says sarcastically, referring to the former deputy prime minister's arrest and brutalisation under then PM Mahathir Mohamad on politically motivated corruption and sodomy charges.
"He was taken away and we didn't know where," she says. "I went to Bukit Aman desperately trying to find him. So can you imagine? I now find myself as an MP representing Bukit Aman."
Nurul Izzah won the seat for a second time in 2013 with a reduced majority of 1800 votes, after 2000 police votes — mandated postal voters who traditionally vote with the government — were transferred to the electorate. The redraw will add an extra 6000 police votes. The government's critics say it is using every trick in its arsenal.
Earlier this year the election commission announced it was expanding the categories of workers mandated as postal voters from police and military to include hospital and health department workers and the volunteer corps.
Wong says that will increase the number of postal voters from 272,000 to 600,000. In 2013, the opposition coalition captured just 3 per cent of postal votes.
In southern Johor, 1000 soldiers have been registered as voters at an empty site where army barracks are under construction. The area happens to fall in a government seat held by just 800 votes. Various analyses of the Malaysian electoral roll also show voters registered in the middle of oil plantations, toilet blocks, cafes and bank branches. In Selangor, there are 136,000 voters with no addresses.
"What's going to happen is he (Najib) will cheat all the way through," Mahathir told Inquirer this week at his Putrajaya office. "He's going to use huge sums of money to bribe people. They hold expos where they draw lucky numbers and give away money, kitchen appliances, motorbikes … even houses and land."
All you need to be eligible is UMNO party membership and registration on the electoral roll.
Worst of all, his new Bersatu party could be deregistered on a technicality, and the opposition coalition denied the right to contest under a collective logo — a move he says will confuse voters.
The government hit back at Mahathir's allegations of cheating in a statement: "The only cheating taking place ahead of the election is in the opposition's manifesto, which makes irresponsible populist promises (such as scrapping the GST) they can never deliver on without bankrupting Malaysia."
Mahathir, UMNO's longest serving prime minister, quit the party in 2016 over the alleged corruption in the Najib government and established the Malaysian United Indigenous Party (Parti Pribumi Bersatu Malaysia). The move was stunning enough but in January the 92-year-old was formally nominated as the prime ministerial candidate for the Anwar Ibrahim-led Pakatan Harapan opposition coalition.
Should he win he will be the world's oldest leader. On Thursday he showed up at a public debate on whether he was too old to govern. "I can stand on stage and speak for an hour to explain things," he tells Inquirer. "I am not senile yet. I will be one day, that's OK. But if I can contribute to the opposition winning this election, I don't think I should consider my age."
It is hard to understate the magnitude of the political reversal that again pairs Mahathir, architect of the country's Malay Muslims-first policy, with his one-time deputy Anwar — in jail on a second politically motivated morality conviction but due for release on June 11. The two men fell out after Anwar led protests over his government's handling of the Asian financial crisis. His first sodomy conviction was seen as retribution for his rebellion. The second came after the 2013 elections in which Najib lost the popular vote.
The last time Mahathir and Anwar ran on the same ticket for UMNO, in 1995, they secured 65 per cent of the vote and 87 per cent of the seats, thanks to overwhelming Malay Muslim support.
We are calling it "the unfinished legacy", laughs Nurul Izzah, though in reality the alliance has been another bitter pill.
"It wasn't easy," she admits. "I'm glad (Mahathir) is losing his dictatorial ways and embracing reform because we want to make sure Najib is the last dictator in Malaysia. But I am not an apologist for Mahathir's past.
"Malaysia has been polarised for so long; first under the British, now by race and religion. It's time to come together. We have to walk the talk."
If Malaysians see that Mahathir and Anwar can reconcile, perhaps they too can bridge the mutual resentments now dividing majority Malay Muslims and ethnic Chinese and Indian minorities (who make up 30 per cent of the population), she reasons.
The alliance is only one of several tectonic shifts in Malaysian politics since the 1MDB scandal shook the country. The splintering of the Pan Malaysian Islamic Party (PAS) over whether to push for an extension of sharia law, followed by the PAS split from the opposition coalition, has also altered the landscape. Few are willing to predict the election impact of PAS's decision to go it alone and create multi-­cornered contests, splitting the key Malay Muslim vote between the government, the opposition bloc and PAS. The opposition is hoping Mahathir can lure dissatisfied Malay voters suffering under the GST and soaring living costs, but who might previously have viewed Pakatan Harapan as pro-ethnic Chinese.
"The question we're struggling to answer is to what extent this Islamic party will be a spoiler," says Ong Kian Ming, an MP with the opposition Democratic Action Party, part of the PH coalition with PKR, Bersatu and moderate Islamic splinter party Amanah. "I'm confident Malay support for Barisan Nasional will drop but I don't know how much will go to PAS and how much to the opposition coalition."
Every past re-delineation has secured UMNO a landslide election win. Ben Suffian, from the Merdeka Centre pollsters, says the electoral redraw might not be enough on its own to overcome voter antipathy and restore the government's two-thirds majority. "But now that PAS is going to field 130 candidates, it's going to make it harder for the opposition." Suffian predicts splitting the Malay opposition vote will help the government, and potentially kill off PAS.
If, however, PAS wins more than 40 seats — as its president Hadi Awang assured Inquirer this week it could — the Islamist Party will be in the box seat to choose the next Malaysian government. In that case, says Mr Awang, PAS will throw its support behind whichever coalition most convincingly demonstrates its "attachment to the principles of Islam". That includes a commitment to expand the power of Malaysia's sharia courts, whose jurisdiction is currently limited largely to ruling on Muslim family law disputes.
A PAS kingmaker would also insist on h udud penalties, such as amputations for thieves and beheadings for murderers. Najib is said to have lured PAS from the opposition coalition by promising to consider those demands. Though polls consistently show high Malay Muslim support for sharia law, the idea fuels anxiety among minorities and progressive urban Malays. Hadi Awang says there is no need for concern. "In Islam there is a saying of the Prophet: 'When you punish, punish in the best possible way.' We have to … lessen the pain of whatever judgment is carried out. We would use anaesthesia (for amputations) so they would feel less pain."
Asked what hudud punishment might befit those guilty of misappropriating billions of dollars in public money, he says: "It would have to be a very heavy punishment", though one's past good deeds must also be considered.
But even Hadi Awang concedes justice for the pillagers of 1MDB may not come in this lifetime. "The current system is in a mess because there is no separation of powers between the legislature and the judiciary. We have to rectify the system. Right now it's not possible to get justice. We hope to change that, provided it's a clean election," he adds. "But in this country, anything is possible." - Amanda Hodge, The Australian
Moving the goalpost...
With EC proposal, BN can get
2/3 with just 40% votes...
The Election Commission's proposed redelineation could allow BN to gain a two-thirds majority with just 40 percent of the votes, warned an analyst.
Political scientist Wong Chin Huat was reported telling The Australian in a report today that the new redelineation would worsen the malapportionment of constituencies.
"The best thing for the government is if this election becomes a non-event. If the turnout drops to 70 percent, the government could win a two-thirds majority with just 40 percent of the vote," Wong was reported as saying in the Australian daily's article today on electoral fraud in the coming general election.
Wong pointed out the average size of a Pakatan Harapan seat is 77,655 voters, as compared to an average BN seat of 46,510.
This, he said, allowed BN to secure 60 percent of the seats in 2013 with just 47 percent of the votes, while then Pakatan Rakyat won the popular vote (51 percent) but only managed to get 40 percent of the seats.
The redelineation has been highly criticised for not only malapportionment and gerrymandering, but for creating racial-centric constituencies, which Harapan claims is a move to reduce the impact of non-Malay support for the ruling party.
"What they're doing is Balkanising the electoral landscape to put all Chinese in one area and all Malay in another area, so you create a divided electoral system where legislators need only address the one ethnic group," PKR vice-president Tian Chua was reported as saying.
"What will happen in the long run is we will have a parliament that's very divisive. On principle, we oppose that, not because we will lose but because it's bad for the country."
The Australian's report on the controversial redelineation called the ruling party's move to bulldoze the EC's proposal through Parliament and manoeuvring to frustrate court action by embargoing the report, a move to secure BN's win in the coming election.
Meanwhile, Wong said the only hope was for a high voter turnout, for the opposition is to stir up the same kind of enthusiasm for change that led to an unprecedented 85 percent voter turnout in the 2013 election. - mk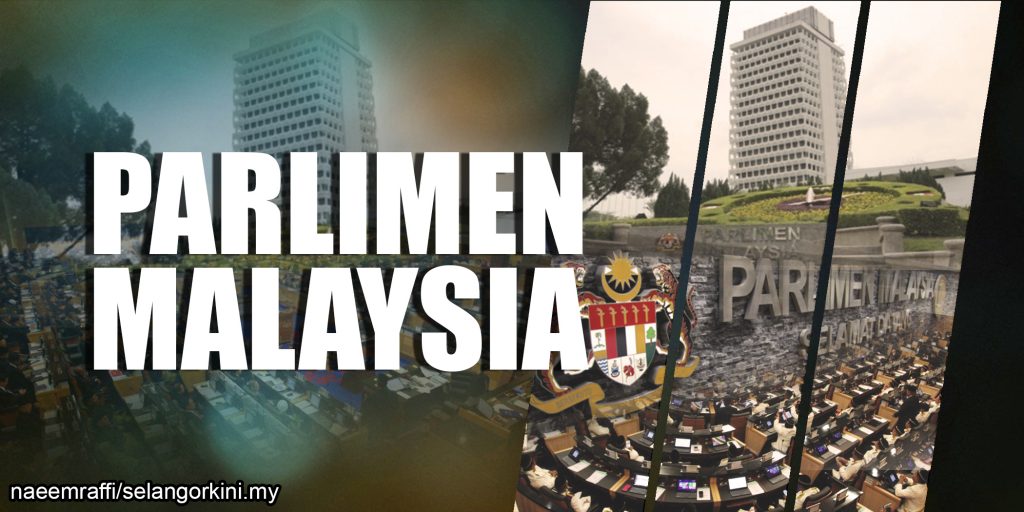 BN's manipulation in Parliament, with implicit support by the Dewan Speaker, puts a severe handicap on CSOs/CSIs seeking remedy through the courts.
A judge can only make a decision based on evidence presented, thus, denying access to available evidence (as contained in the EC Delimitation Exercise Report) is denying justice to prevail.
Excerpt: This coincidence of these events - the late uploading and distribution of today's order paper as well as the ludicrous decision by the speaker to embargo the delimitation report for 6 days - leads me to suspect that they have been carried out with the underlying reason of denying public access to these documents by the plaintiffs of two court cases against the Election Commission (EC) based on the delimitation exercise.
The first case, filed by Ivy Josiah and 3 others on the 8th of March 2018, which is before the EC handed over its report to the Prime Minister on the 9th of March 2018, will be heard on the 28th of March, 2018.
The second case, filed by Maria Chin and 107 others, was filed on the 20th of March and will be heard on the 23rd of March, 2018.
If the contents of the delimitation exercise are still embargoed up to the 28th of March, 2018, then it is likely that the plaintiffs in both of these cases won't be able to refer to the delimitation exercise in their respective court cases.
These actions raise the possibility that the office of the Speaker of the Malaysian parliament, the Election Commission and Prime Minister's office are acting in concert in order to push through this unfair and undemocratic delimitation exercise so that the BN can gain yet another electoral advantage in the upcoming 14th general elections.
I call upon the Speaker to immediately lift the embargo so that not only will MPs be able to read this report but that the press and the public can have access to this report so that they can determine for themselves if this is one of the most undemocratic and unfair delimitation exercises in Malaysian history. - f/bk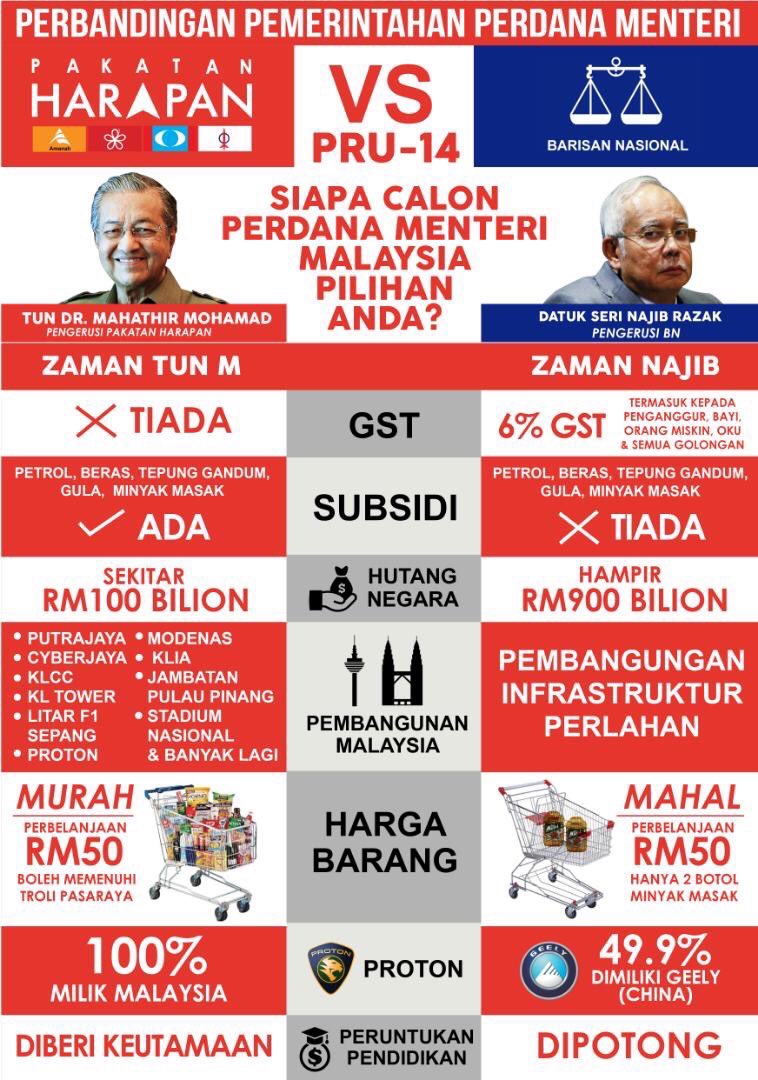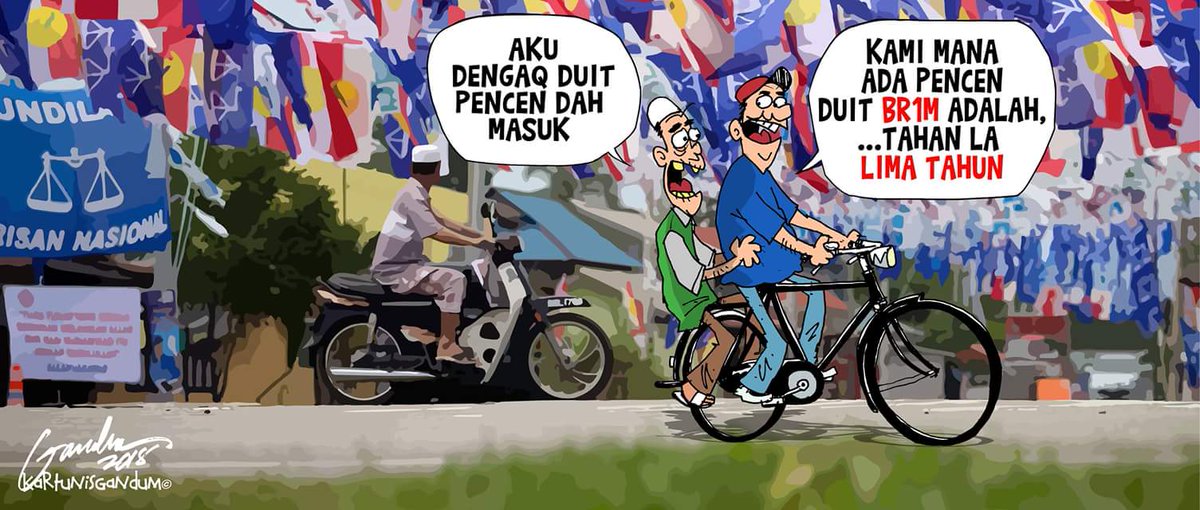 cheers.