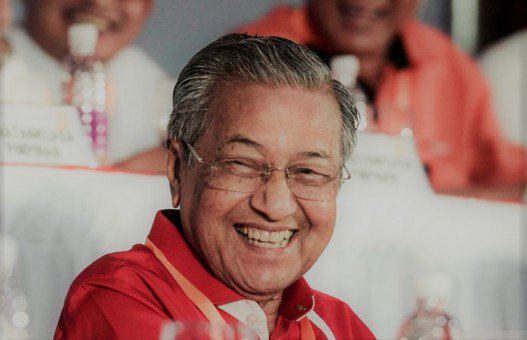 Nampaknya Tun Dr Mahathir Mohamad begitu marah apabila Perdana Menteri, Datuk Seri Najib Razak menyentuh tentang usianya yang mencecah 93 tahun dan ingin kembali menerajui negara.
Dalam catatan terbaru di laman blognya, seperti biasa bekas Perdana Menteri itu terus menyerang Perdana Menteri dengan menyifatkan pemimpin negara itu sebagai penakut.
Perang psikologi dilancarkan Mahathir dengan mendakwa Najib takut untuk berhadapan dengan cabarannya kononnya kerana banyak menipu.
"Ya, usia saya akan mencecah 93 tahun Julai ini. Ya, 93 tahun adalah tua. Najib tak perlu takut saya.
"Tetapi Najib takut. Takut berbahas dengan saya. Dua kali apabila forum Nothing to Hide (Tidak ada apa yang nak disembunyi) diadakan, Najib tidak berani hadir untuk bahas soal sembunyi fakta. Sebaliknya diarah polis hentikan forum. Bahkan pada kali kedua penyokong Najib membaling kerusi dan meletupkan letupan untuk gagalkan forum.
"YAB masih muda. Apa yang nak takut berhujah dengan orang umur sembilan puluhan tahun.
"Jika YAB tidak ada yang disembunyi nyatakan secara terbuka. Dan orang tua ini akan cuba buktikan bermacam-macam yang disembunyi oleh YAB," tulisnya.
Sebelum ini, Perdana Menteri dalam satu program mengingatkan rakyat apakah negara akan mencipta rekod dengan memilih individu berusia 93 tahun untuk kembali memimpin negara. - watan online
Pecacai2 UMNO buat forum wacana sinar bertajuk adakah Dr.M terlalu tua untuk menjadi PM,tiba2 Dr.M datang ke forum tu duduk depan sekali, muka panel macam ayam berak kapor. Sungguh memalukan...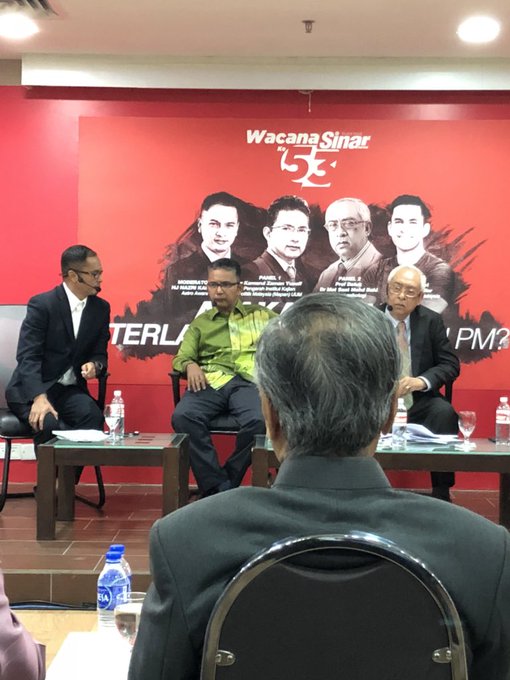 The guy in green shirt feel uncomfortable.Sebelum ni Prof.Kangkong cakap berdentum dentam cam langit nak luruh.Prof Kangkung ni kata apa merepek bagai nih? 1 org 1 undi adalah agenda DAP? Persempadanan semula tu kerja DAP ke kerja2 jahat SPR? Siapa bos SPR?
Video Prof.baju hijau cakap cam langit nak runtoh...
Sementara itu Tun Dr Mahathir Mohamad hari ini membuat kejutan apabila menghadiri Wacana Sinar Harian di Shah Alam, hari ini.
Bekas perdana menteri itu hadir bagi mengikuti program tersebut yang bertajuk "Apakah Tun M, terlalu tua untuk jadi PM?"
Beliau yang berbaju kelabu ditemani isteri beliau, Tun Dr Siti Hasmah Mohamed Ali dan disambut dengan meriah oleh penyokong dan hadirin.
Kehadiran menjadikan satu kejutan menyebabkan wacana Sinar
bertambah rancak menyebabkan penjelasan Tun M dan Tun Siti menjadi tumpuan utama.
Siri wacana itu disertai Pengarah Institut Kajian Politik Malaysia (Mapan) Universiti Utara Malaysia (UUM), Dr Kamarul Zaman Yusoff, pakar psikologi, Prof Datuk Dr Mat Saat Mohd Baki dan Cikgu Fitness Malaysia, Kevin Zahri Abdul Ghaffar.
Bekas perdana menteri itu, kemudian menulis di Twitter mengenai kehadirannya.
"Ada forum bertajuk, "Adakah Tun M terlalu Tua untuk jadi PM?" Saya hadir. I'm here guys. Say it to my face," ciapnya.
Ada forum bertajuk, "Adakah Tun M terlalu Tua untuk jadi PM?"
Saya hadir.

I'm here guys. Say it to my face.
Perdana Menteri selama 22 tahun itu kemudiannya dijemput ke pentas untuk menyertai perbincangan berkenaan.
"Bila saya letak jawatan… saya ingat saya boleh naik cruise (kapal layar)," katanya sambil disambut gelak ketawa oleh hadirin.
Dr Mahathir juga berkongsi rahsianya kekal sihat pada usia mencecah 93 tahun.
"Ramai tanya saya macam mana nak jaga badan, bagi saya jangan terlebih makan. Bila sedap makan berhenti kata mak saya.
"Saya aktif bukan tubuh badan sahaja malah akal fikiran.
"Dari dahulu saya aktif iaitu memikir dan menyelesaikan masalah. Dari segi menjaga kesihatan saya sedar kalau kita terlalu gemuk ia tidak bagus," katanya.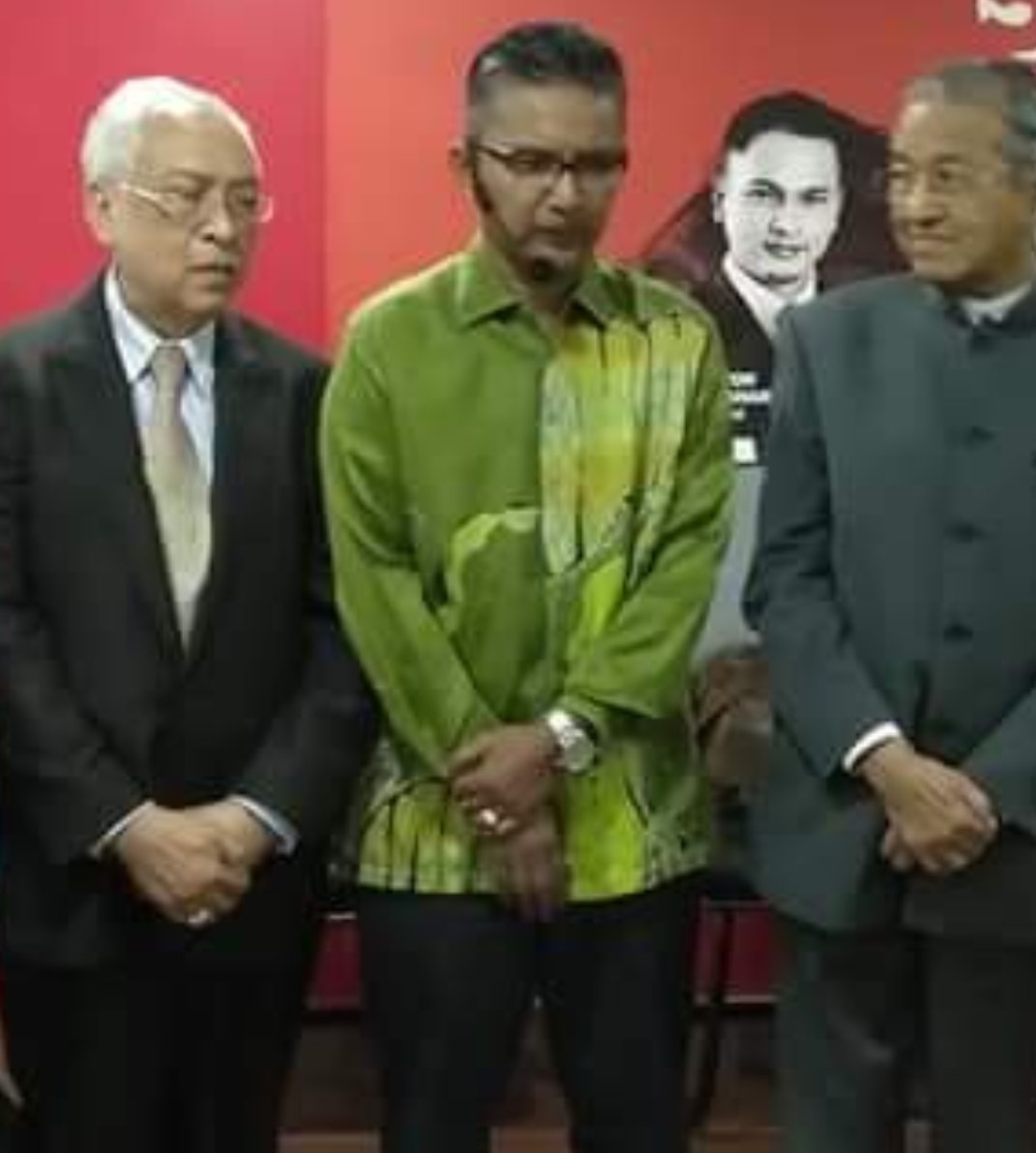 Gaya penakut Dr Kamarul Yusoff (baju hijau) semasa
bergambar dengan Tun Dr Mahathir Mohamed...
Sambil mengakui dirinya didesak untuk menjadi calon perdana menteri Pakatan Harapan, Dr Mahathir mengakui senang dengan perkembangan politik hari ini.
"Bila saya lancar Deklarasi Rakyat, pembangkang sertai saya. Saya banyak kali nasihat Perdana Menteri, Datuk Seri Najib Razak namun tak jalan.
"Bukan senang nak dalam kumpulan pembangkang kerana dahulu saya pernah kutuk mereka dan mereka pernah kutuk saya," katanya.
Beliau juga mengakui bahawa golongan muda hari ini lebih berani bercakap berbanding dahulu.
"Ramai yang kawan saya dahulu, takut nak dekati saya sekarang ini rentetan pilihan politik saya," katanya.– mk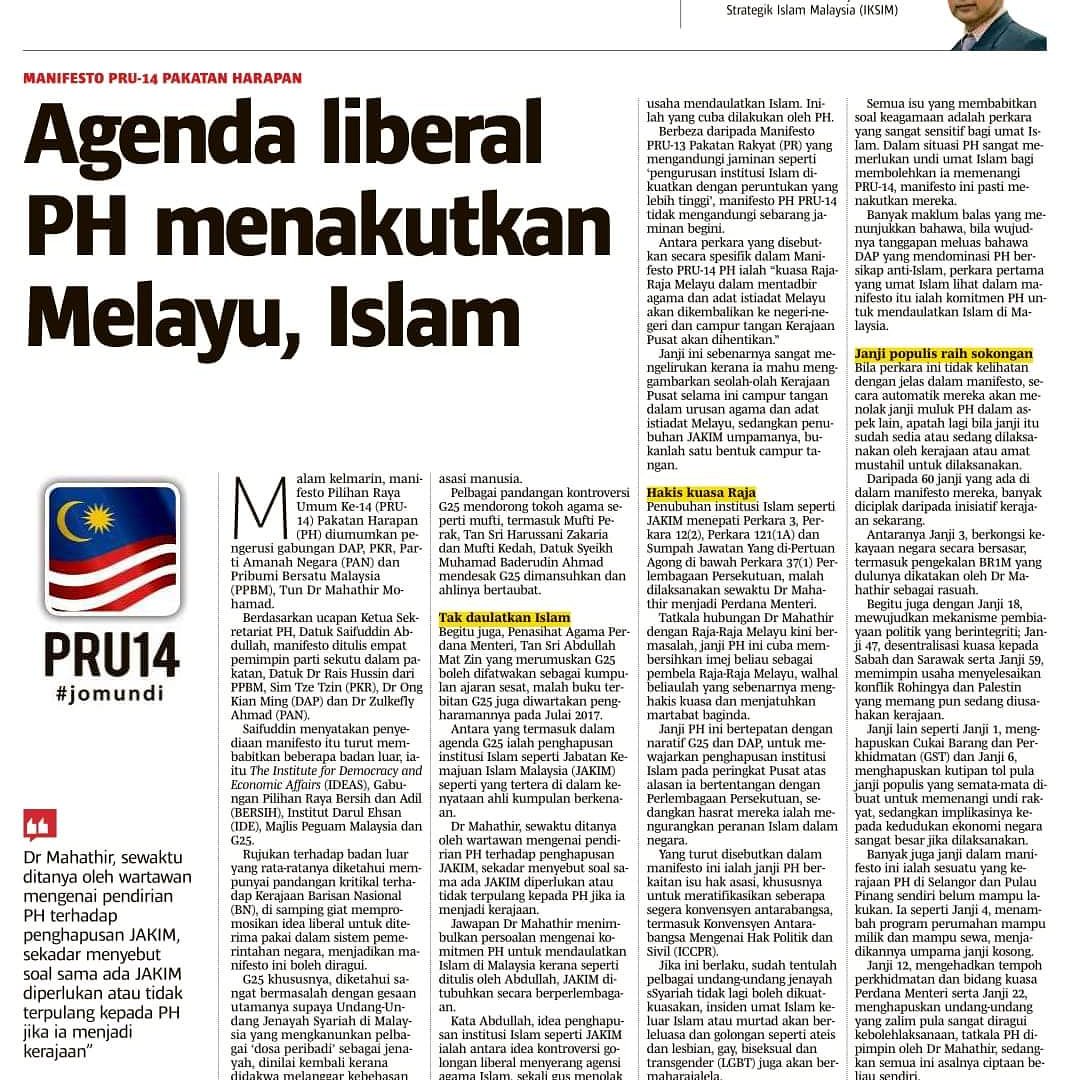 Article Dr. Kamarul Yusof(baju hijau) pencacai UMNO.
Sebelum forum berdegor2 hentam, depan Tun M jadi bisu macam tikus pondan...
Ground Zero, Ayer Hitam...
I don't think this recent news is good for BN, especially in my home state Johor.
DAP's Liew Chin Tong to take on
MCA's Wee Ka Siong in Ayer Hitam
First, let us look at the facts during the last general election in 2013. Results...
P148 Ayer Hitam
Wee Ka Siong (BN-MCA) 22,045 58.4 percent
Hu Pang Chaw (PR-Pas) 14,735 39.0 percent
Wee Ka Siong won with a majority of 7,310
Racial composition of the 42,913 electorates -
Malays (56 percent), Chinese (38 per cent), Indians (4 percent)
Ka Siong, who is the deputy MCA president has been the Malay-majority Ayer Hitam MP since 2004.
Chin Tong won in nearby Chinese-majority Kluang in 2013 by beating prominent MCA leader Hou Kok Chun by a majority of 7,350. Kluang, which is my hometown has almost double the size of electorate compared to Ayer Hitam at that time. Chin Tong is formerly the MP of Bukit Bendera in Penang. He won there in 2008.
In my opinion, Chin Tong's move to the Malay-majority Ayer Hitam for the coming GE14 is as important as the move by former Johor MB TS Abdul Ghani Othman to contest the Chinese-majority Gelang Patah against DAP supremo Lim Kit Siang in GE13.
Ghani became the first Umno leader to do that in an attempt to stop the Chinese tsunami of 2013. Chin Tong is trying to do about the same this time, but the other way around.
A DAP guy contesting in a Malay majority constituency in Johor, the state known as the tiang seri of Umno. I agree with Lim Guan Eng on this,
Pakatan's dream lives or dies on Ayer Hitam result.They are banking on a Malay tsunami, or at least a significant shift to their side among the Malay electorate.
If Chin Tong can pull this one off in Ayer Hitam, then that means Pakatan stands a good chance to win most of the crucial semi-urban constituencies. Yup, if he wins there, that's the end of Umno's dominance in my home state.
And more importantly, if Umno loses in Johor, that means it's going to lose elsewhere too. Of course, if Wee Ka Siong losses there despite the Malay majority votes, that's the end of MCA too.
Still, it puzzles me that Chin Tong dares to make the move in the first place as it is very risky for him. He may had done his calculations, which he is good at, and the results indicated that he has a chance to win.
But, Ayer Hitam actually has among the best BN election machinery in Johor led by its Umno division chief Samsol Bari Jamali, who is also the party's current state information chief.
I personally saw him in action in GE13 and I can confirm that the guy is good. I was told by those on the ground in Ayer Hitam that Samsol Bari is among the few Umno division leaders who still apply the very effective micro management strategy employed by Johor Umno during the previous general elections.
The strategy was perfected during Ghani's leadership where emphasis was given for the leaders to go all the way down to the kawasan peti undi to make sure all the problems of the electorate were seen and solved.
I was made to understand that most other Johor BN leaders are using a different strategy under their current boss DS Mohamed Khaled Nordin but I'm not sure what it is.
Whatever it is, a friend who actually talked to Samsol Bari a few days ago told me last night that the guy is confident that Chin Tong has had his calculations wrong about Ayer Hitam. That, we have to simply wait and see.
Whatever it is, I'm quite sure Ayer Hitam will be the most important fight of GE14. I'm going to give special attention to it. - Annie,Life of Annie
I really dont know where to begin. Lets be Irish and begin at the beginning. Where did Zahid get this magic number RM3,500? Why not straight away make it a nice round figure like RM5,000? Why stop at RM3,500?
If foreign skilled workers are paid a minimum RM3,500 that is an option. It is not a law. Employers still have a choice to employ local workers (skilled or semi-skilled) for less or more than RM3,500. Its their choice.
Or they still have the option to employ semi skilled foreign workers for less or more than RM3,500 and train them up. Its their choice. Let the market decide.
If an employer decides to hire a skilled foreign worker it must be because :
a. the foreign worker generates an output that is higher than RM3,500 per month.
b. the employer CANNOT get a local worker to do the tasks that need to be done.
It is a choice for the employer. No one forces him to hire the skilled foreign worker.
But if you pass a law or regulation that ALL skilled workers must be paid a minimum RM3500 then you remove the option for the employers. You place a higher burden on the Malaysian economy. It is no more a choice. It will increase the cost of doing business in Malaysia.
Can every local worker (skilled) generate a profit per worker in excess of RM3,500 per month? I dont think so. This is where Zahid's idea will burden the Malaysian economy again. These are populist statements made by dunggus like Zahid to win votes from the kampong people. Zahid does not understand anything about business or economics.
Setting minimum wages for skilled workers at RM3,500 will create huge turmoil.
What exactly do you mean by a 'skilled worker"? Oh ok - does skilled worker mean someone who has a certificate saying he is a skilled worker?
No certificate no skilled worker? Who issues these certificates? The sijil kursus kahwin fellows? What about that "1.5 million Bangla work permits" fellow? What is the definition of "skilled worker"?
What about the worker who is skilled because of on the job training and work experience - but no certificate? He does not deserve RM3,500? Without any certificate how does he prove that he is a skilled worker? This will certainly create more unemployment.
Not every factory or company can afford to pay RM3,500 for every skilled worker. They cannot afford to pay so much money. They will fire their skilled workers or they will have to close shop because the cost of doing business will be too high.
This will create higher unemployment among skilled workers. More will become unemployed. The higher minimum wages will also mean that prices will go up because factories and businesses must increase their prices to recover the higher minimum wage of RM3,500.
Zahid says by 2030 the minimum wage should be RM5000. Only RM5,000? Why not say that it will be RM10,000 minimum.
The young girl who can make cheesecakes and chocolate cakes in the Kedai Kek is certainly a skilled worker. But if she is paid minimum wages of RM3,500 that means she can make more money than the Owner or the Boss. This is because an ordinary Kedai Kek only generates a net profit of a few thousand Ringgit per month for the Owner.
Menteri tak tahu niaga, tak faham ekonomi, tak tahu kira, tak tahu apa pun tapi nak jadi pengerusi jawatankuasa gaji minima TVET pula. - ostb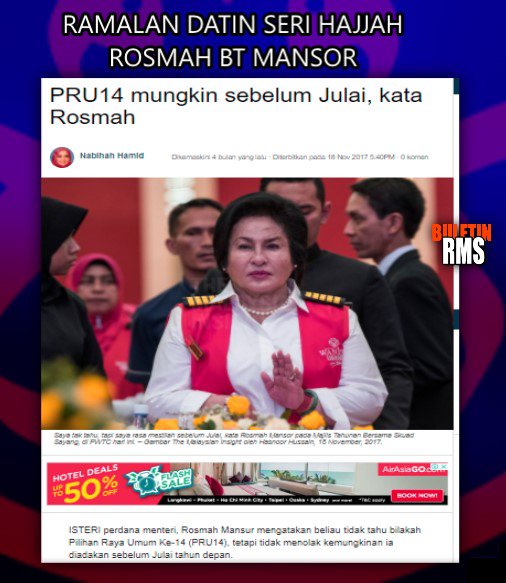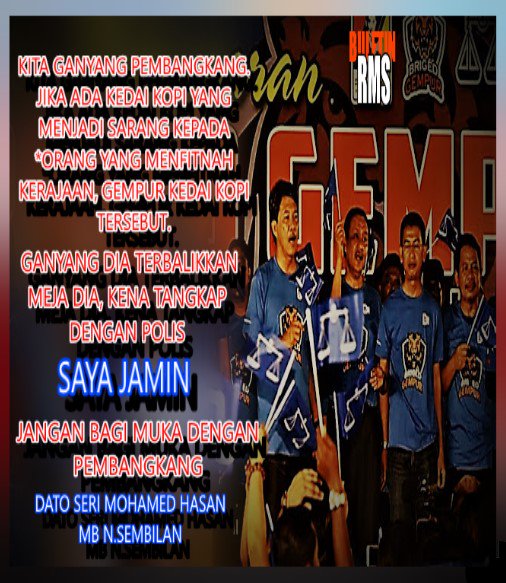 Yang membela rakyat diheret ke balai polis.
Yang merompak diangkat sebagai pemimpin.
Rakyat Sedang Memerhatikan Proses Keadilan Dlm Negara.
cheers.