"Jangan disoal apa yang telah Kerajaan Negeri buat selama 10 tahun, tetapi apa yang UMNO dan BN buat."
Demikian persoalan ditimbulkan Exco Kerajaan Negeri Pulau Pinang, Datuk Abdul Malik Kassim dalam respon terhadap laporan muka depan akhbar kawalan UMNO, Berita Harian bertajuk 'Melayu Pulau Pinang terus terpinggir'.
Menurut beliau, UMNO dan Barisan Nasional perlu terlebih dahulu bertanya diri sendiri sebelum mempersoal kedudukan orang Melayu di Pulau Mutiara itu.
"Island College of Technology (ICT), iaitu sebuah kolej dan syarikat yang diperbadankan oleh Kementerian Kewangan yang ditubuhkan pada tahun 1998 telah ditutup 11 September 2017 disebabkan sejumlah hutang RM376,557.64 kepada Perbadanan Kemajuan Kraftangan iaitu milik Kementerian Pelancongan.
"Bangunan tersebut telah disita atas perintah mahkamah hinggakan pelajar-pelajar di sana tidak dapat memasuki dan meneruskan pengajian masing-masing.
"Justeru jangan disoal apa yang telah Kerajaan Negeri buat selama 10 tahun, tetapi apa yang UMNO dan BN buat sehingga terjadi perkara sebegini," jelasnya dalam sidang media di Komtar tengah hari tadi.
Apa UMNO buat?
Dalam masa yang sama kepimpinan Umno Negeri dan Adun Pulau Betong, Datuk Muhamad Farid Saad digesa tampil membuktikan sebarang usaha yang dilakukan dua agensi negeri di bawah Kerajaan Persekutuan dalam meningkatkan pemilikan aset Melayu Pulau Pinang sejak dahulu.
Gesaan tersebut dibuat Exco Pertanian & Industri Asas Tani, Pembangunan Desa dan Kesihatan, Dr. Afif Bahardin(pix,bawah) yang turut memberi respon kepada laporan akhbar yang sama.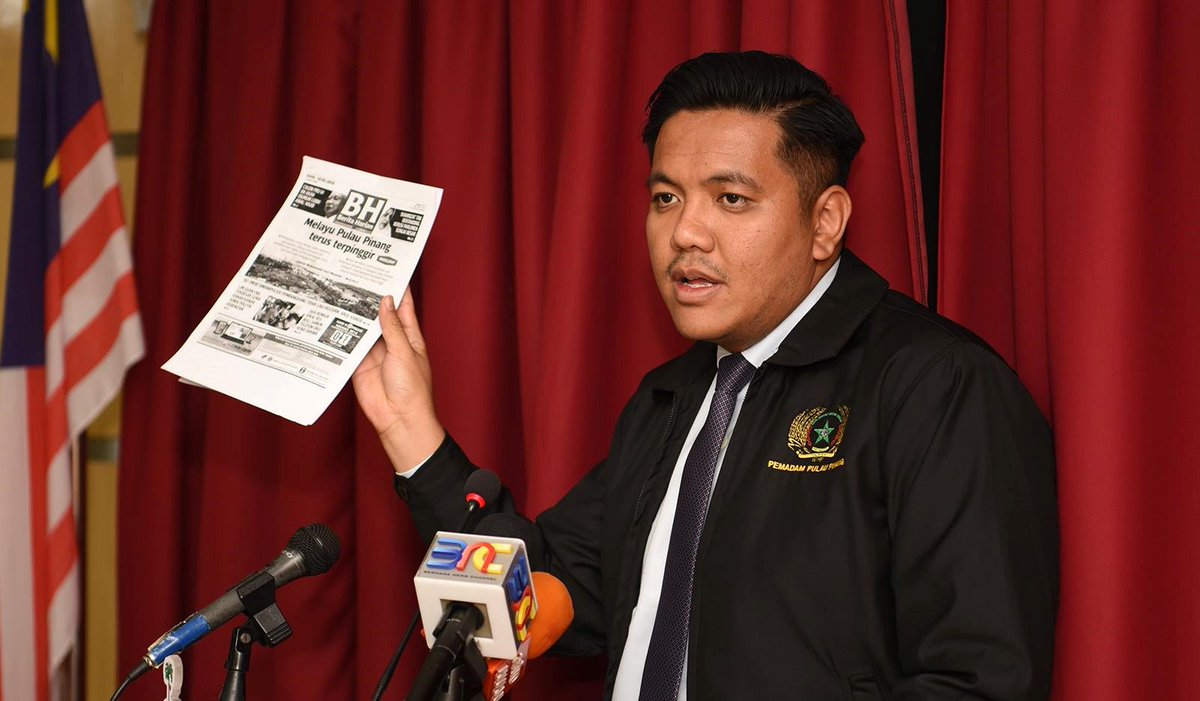 Beliau mempersoalkan berapa banyak tanah dan aset Melayu Pulau Pinang telah dijual semenjak penubuhan Lembaga Pembangunan Wilayah Pulau Pinang (PERDA) di bawah kepimpinan UMNO.
"Bolehkah mereka tunjukkan bukti kepada Kerajaan Negeri mana aset (PERDA) dan adakah pemilikan aset (Melayu) ini bertambah.
"Tetapi, sebagaimana yang ramai maklum, isu penjualan sebidang tanah oleh PERDA di bawah harga pasaran di Daerah Seberang Perai Selatan pun masih belum terjawab.
"Juga status JKP (JKP. Sdn. Bhd) dan Yayasan Bumiputera Pulau Pinang, di manakah Pengurus Besar JKP sekarang, apa yang jadi kepada projek-projek JKP yang seharusnya fokus kepada pembangunan dan juga peningkatan aset pemilikan Bumiputera di negeri ini," soalnya dilaporkan Buletin Mutiara.
Dr Afif menggesa agar UMNO menghentikan sandiwara bahawa Melayu Pulau Pinang terus terpinggir, padahal sebenarnya agensi-agensi bertanggungjawab dipimpin oleh mereka sendiri yang gagal melaksanakan amanah yang diberikan.
Mengulas lanjut, beliau berkata, Kerajaan Negeri Pakatan Harapan Pulau Pinang kini fokus membantu semua golongan tidak kira Melayu, Cina atau India selagi rakyat masih memerlukan terutamanya dalam hal-hal pemilikan rumah.
"Disebabkan itulah, kita (Kerajaan Negeri) memfokuskan kepada pembangunan rumah mampu milik (RMM) dan juga rumah-rumah rakyat untuk warga negeri tidak mengikut daerah.
"Malah, kita juga gunakan tabung untuk kuota Bumiputera bagi membangunkan satu unit blok RMM di S.P. Chelliah yang mana dikhaskan untuk golongan Bumiputera sahaja.
"Kita nak tanya Farid, sewaktu pemerintahan Umno dahulu, ke manakah perginya wang sumbangan tabung Bumiputera ini," soalnya. – Roketkini.com
UMNO,What have you done for Penang Malays?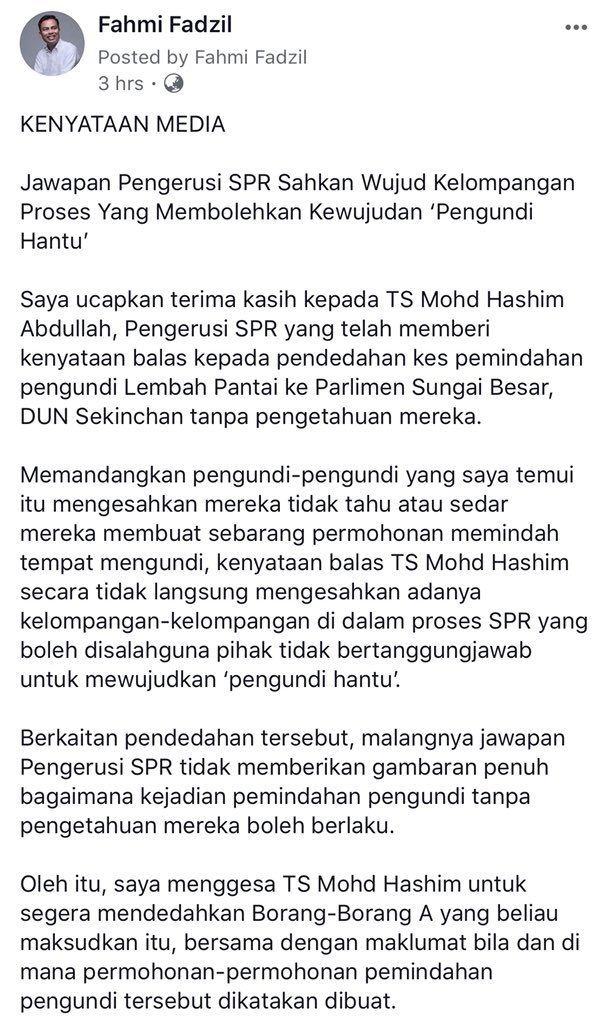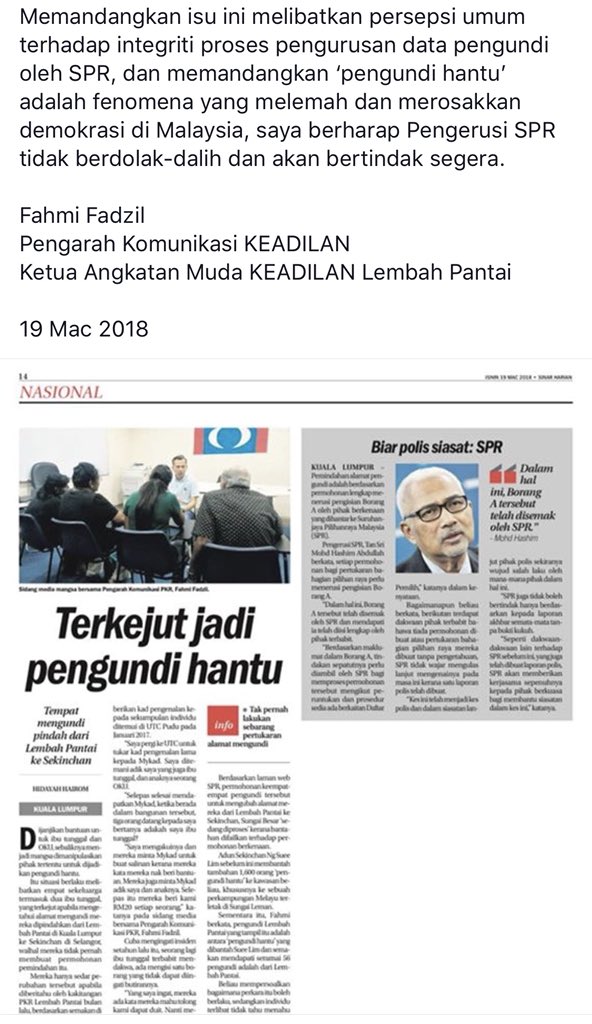 DAP lawmakers caution speaker
against tabling EC report...
DAP lawmakers today cautioned Dewan Rakyat Speaker Pandikar Amin Mulia against tabling the Election Commission's electoral constituency redelineation report in Parliament.
Beruas MP Ngeh Koo Ham said this is because the Penang state government had filed a motion for leave to appeal against the electoral boundary change exercise in the Federal Court, with eight questions of law posed.
"There is a pending court case. It will be wrong for the speaker to allow the report to be tabled," Ngeh told a press conference in Parliament today.
Last Friday, the Penang state government sought leave from the apex court to challenge the EC's exercise, after it was dismissed by the Court of Appeal.
In filing the motion, the state government's lawyer Leong Cheok Keng said Parliament should not discuss questions regarding the redelineation report as it would be sub judice.
The EC submitted its report to Prime Minister Najib Abdul Razak on March 9, without completing its hearing on objections during local inquiries.
At the same press conference, DAP veteran Lim Kit Siang said the EC had completed the report hastily so that it could be passed to the prime minister.
"The Parliament cannot become a rubber stamp (to pass reports). It should take time to study and take a position," he said.
The Gelang Patah MP urged the establishment of a parliamentary select committee to study the report, and suggested it be given at least four weeks to scrutinise it.
The EC's report is expected to be tabled in Parliament this Thursday. - mk
DAP tuntut Pandikar sekat laporan sempadan SPR
How Malaysia's Election is Being Rigged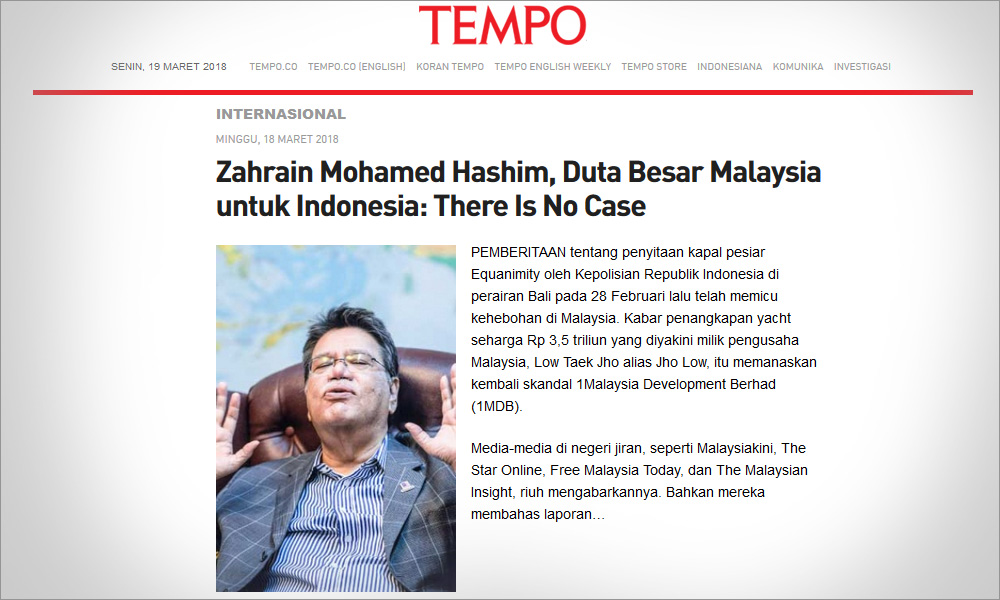 Despite the probe into 1MDB in several countries, there is "no case" against it and all allegations involving it are part of a "political game", Malaysian Ambassador to Indonesia Zahrain Mohamed Hashim said.
In an interview with country's top current affairs magazine, Tempo, Zahrain said the Malaysian government and its leaders were instead "victims" of the opposition's attempts to use the 1MDB issue to demonise the administration as the country heads towards the 14th general election.
"If there are allegations and reports, why is there no action? No arrest?
"There is no case. The police, MACC and the attorney-general have studied (the 1MDB case) and found there are no elements of fraud. It is the same case in the Parliament.
Cumanya Pak, PM tak mungkin menyaman TEMPO
walaupun beliau cukup marah berapi-api...
"There is no theft involved, no missing funds and no illegal flow of funds from 1MDB. 1MDB is formally still in business," he was quoted as saying.
Zahrain also told the magazine that Najib was "angry" and "extremely disappointed" with news reports linking him to the seizure of superyacht Equanimity in Bali on Feb 28.
The US$250 million (RM1 billion) vessel, linked to Penang-born businessperson Low Taek Jho (Jho Low), is alleged to have been bought with funds siphoned from 1MDB.
To a question on how the Malaysian government took the news about the yacht's seizure, Zahrain said: "It is not a Malaysian vessel, it has nothing to do with Malaysia. Based on the information we received, it is not even Jho Low's." - mk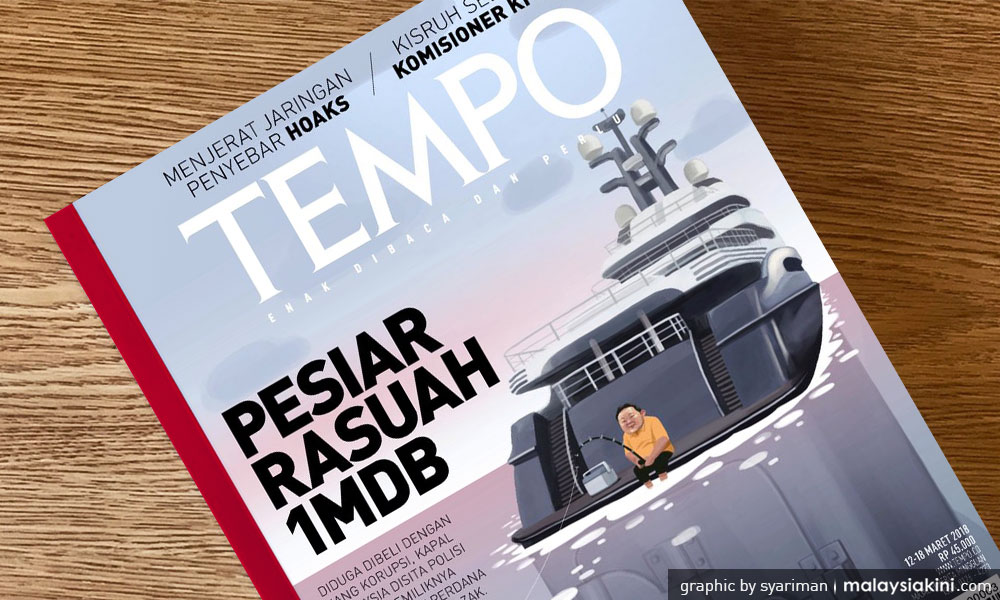 Why Najib sacked the former Attorney General? If there was no theft involved, no missing funds and no illegal flow of funds from 1MDB to Jho Low and Raza Aziz, why seven countries investigated their banks and officers for money laundering and Audit General Report on 1MDB was classified as Official secret Act? We already have one MO1 and please don't shame us by showing your stupidity in front of the Indonesians. Wait till he is no longer in power then come out to defend him!

- Anonymous 2475871497500343


Recently one made a fool of himself in London writing to The Economist. And now another one glaringly and proudly declaring to the Indonesians what a fool he is. Wow! half-baked clowns also layak jadi ambassodor. Malaysia truly Asia !!!!

- Anonymous 2251681440225523


To a question on whether Najib knew Low, he replied: "I do not know, maybe they have met.The prime minister is often linked (to 1MDB) even though he is not involved (in its administration)." There's a pic of them together on the yacht la!!! (below)

- Yellow Bird
Poor Zahrain having to make the denial to the Tempo by his boss and did a very lousy job of it. Those reading the magazine must be in stitches when they find how comical our ambassadors are. So now nobody own the yatch, Equanimity, not Jho Low, not the Malaysian government. It is a ghost ship. It is for this reason that the owners registered it in the Cayman Islands so no one can trace the ownership. Looks like the work of criminals don't you think Zahrain. It is only in Malaysia we have a luxury superyatch but nobody own it. It is only in Malaysia where a murder is committed without motive (remember the poor girl from Mongolia). Zahrain you forget to mention that the Auditor General report is still under OSA, that 1MDB still yet to file the audited financial statement for 2015 and 2016, that questions on 1MDB scandal are disallowed by the Speaker in Parliament, that the previous Attorney General was sacked without notice for ill reason etc etc. Why Zahrain, why?

- Anonymous 2436471476414726


Wah if Najib is angry and disappointed. how come never hear a squeak from him but all his stupid Ministers saying and denying everything on his behalf. What type of Bugis warrior is this !!??

- TheTruthPls


Just sue lah! No need to talk anymore.. Get a billion for our Malaysia Government!

- Bornean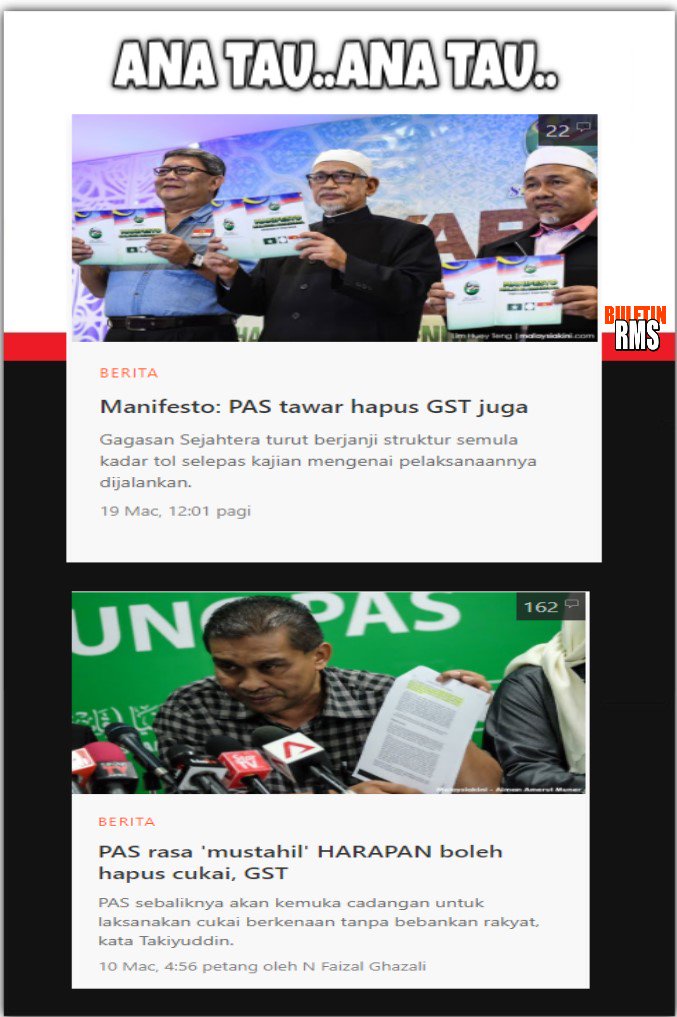 Takiyuddin kata PH nak hapus GST tu tak realistik. Tapi PAS umum manifesto, ada tak hasrat nak hapus GST.Yg hilang tak disebut dan tak ada bayang langsung ialah RUU355. Guaner walaun2 semua? Tak rasa lencun ke dikencing hidup2...
Ulamak PAS doakan "pakatan yang jahat" hancur walaupun Selangor ada Exco, Adun PAS
cheers.