Watson berang rancangan komedi
Bekas pelari pecut negara, Watson Nyambek kecewa dengan tindakan sebuah stesen televisyen swasta yang menghina mendiang bapanya dalam satu rancangan komedi yang disiarkan malam tadi.
Watson yang juga bekas pemegang rekod kebangsaan acara 100 meter, berang apabila stesen televisyen itu menyamakan bapanya yang meninggal dunia tiga tahun lalu dengan binatang.
"Saya ada menonton episod itu dan berasa tersinggung dan kini sedang mempertimbangkan untuk mengambil tindakan undang-undang," katanya kepada Bernama hari ini.
Watson berkata, sepanjang karier sebagai ahli sukan sehingga sekarang tidak pernah mana-mana media membuat penghinaan terlalu peribadi terhadapnya khususnya melibatkan mendiang bapanya.
"Saya tidak tahu motif sebenar stesen televisyen tersebut tapi ini satu penghinaan kepada bapa saya,"katanya sambil menambah stesen televisyen sepatutnya peka dengan sensitiviti masyarakat dan individu terutama sekali yang telah meninggal dunia.
Watson berkata, tindakan tersebut amat jelas tidak menghormati sensitiviti keluarga serta saudara-mara mendiang bapanya.
Beliau turut menggunakan laman Facebooknya untuk meluahkan rasa tidak puas hati kepada stesen televisyen itu.
"​​​​Orang hina saya miskin, bankrap, tak ada apa saya terima, nak ketawakan saya apa boleh buat, nasib kita macam tu, tapi bapa saya bukan binatang untuk dipersendakan." tulisnya dalam Facebooknya.
Luahan Watson mendapat reaksi serta perkongsian ratusan netizen yang mahu Watson menyaman stesen televisyen berkenaan serta mengutuk tindakan rancangan tersebut yang menghina individu yang telah meninggal dunia.
Watson yang memegang rekod kebangsaan 100m iaitu 10.30 saat selama 18 tahun sebelum dipecahkan Khairul Hafiz Jantan yang melakukan 10.18s pada Sukma Sarawak tahun lepas, diisytiharkan muflis selepas gagal membayar balik pinjaman bank yang digunakan untuk menanggung kos perubatan bapanya yang menderita barah telinga.
Bagaimanapun, beliau dibebaskan daripada status muflis selepas kerajaan Sarawak membayar balik tunggakkan pinjaman sebanyak RM80,000 itu.-Bernama
Hishammuddin's New Power:
The Dagger is Unsheathed...
The propaganda machine of the government and Barisan Nasional (BN) is going nut trying to play down the growing public skepticism over the recent appointment of (Datuk Seri) Hishammuddin Hussein as Minister with Special Functions in the Prime Minister's Department.
Read this April 19 New Straits Times' digital edition headline - Hishammuddin's new portfolio will strengthen Home, Foreign Ministries: Zahid
In simple English, what the Deputy Prime Minister and Minister of Home Affairs (Datuk Seri) Ahmad Zahid Hamidi was saying is this:
(Datuk Seri) Hishammuddin Hussein's appointment as Minister with Special Functions would strengthen the Home and Foreign Ministries.
If Hishammuddin's appointment "would strengthen the Home and Foreign Ministries" the inferred meaning is the two ministries are either weak or are not strong enough.
That could not be good for Ahmad Zahid because he is the Home Minister. Similarly it reflects negatively on the Foreign Minister, (Datuk Seri) Anifah Aman.
There have been rumours that the Sabahan Anifah is contemplating resignation. It makes sense, therefore, that one of Hishammuddin's additional power is to oversee the Foreign Ministry.
Ironically, this inference was confirmed by Ahmad Zahid himself in the intro of the NST report when he was quoted as saying that "the new tasks assigned to Defence Minister Datuk Seri Hishammuddin Hussein, as the Special Functions Minister, are meant to further strengthen the government's and party's leadership institutions."
What Ahmad Zahid was saying is this. The leadership of the government and the party was not strong enough that Hishammuddin has to be appointed to make it stronger.
There's no big problem agreeing with Ahmad Zahid on that. The government and party institutions have become week as a result of manipulations by the scandal-tainted Prime Minister, Mohd Najib Abdul Razak.
Ahmad Zahid appeared to be in such state of confusion and shock that no matter how hard he tried to justify Hishammuddin's elevation and put on a strong face, he failed.
While saying that Hishammuddin's new role would help strengthen the Home and Foreign Ministries, he went on to say "Hishammuddin's new portfolio is not designed to supersede the roles of the Home Ministry and the Foreign Ministry."
He said: "We have discussed several tasks for Hishammuddin as the Special Functions Minister, which include boosting the leadership institutions of the government and party. I am confident that with his vast experience in government he will be able to help me and the Prime Minister Datuk Seri Najib Razak."
Could the Prime Minister be saying goodbye?
The NST further quoted Ahmad Zahid as saying that Hishammuddin would assist him and the Prime Minister to address domestic and international issues.
"In my opinion, Hishammuddin is capable of carrying out his additional duty. His new role is not meant to overtake the tasks of the Home Ministry or the Foreign Ministry, but to enhance and complement the role of the prime minister and myself," Zahid told reporters after receiving a courtesy call from Hishammuddin at his office. (Read here).
It was reported that Hishammuddin's first task as Special Functions Minister is to monitor security in Sabah, where he will be working closely with Zahid and Sabah Chief Minister Datuk Seri Musa Aman.
Zahid and Musa jointly chair the Eastern Sabah Security Zone (Esszone), while Najib is the Eastern Sabah Security Command (Esscom) chairman.
In what appears to be a desperate attempt to salvage his tattered reputation, Ahmad Zahid claimed that it was he who suggested that Najib appoint Hishammuddin as the Special Functions Minister three months ago.
"The three of us (Najib, Zahid and Hishammuddin) have something in common. All of us held the post of Defence Minister. So, many things can be done as Defence Minister.
"Hishammuddin's new portfolio will enable him to help me and the prime minister.
"This does not mean that Hishammuddin is representing us, but he is representing the government," he added.
The Plot Thickens...Continue Reading...
GE14 voters told to view PAS as BN ally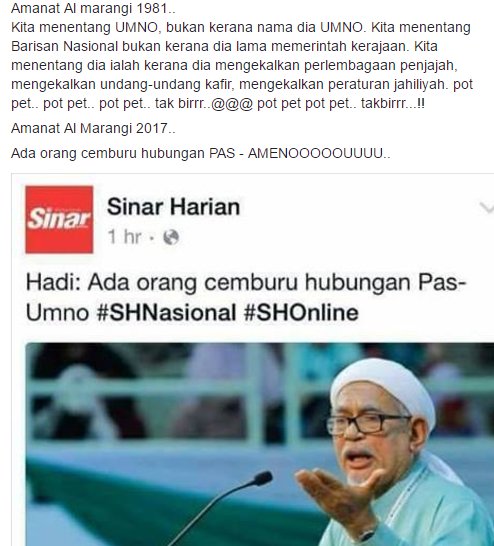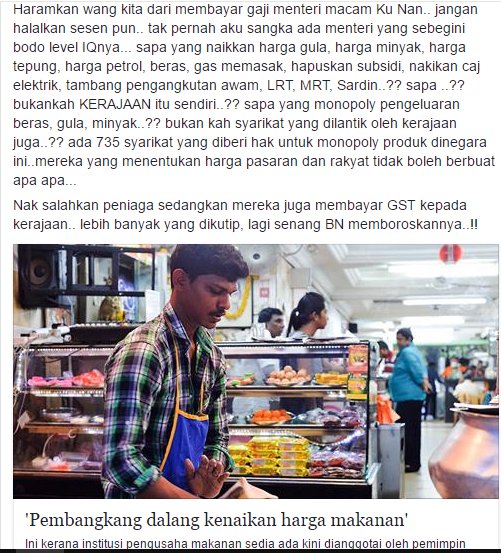 Bila Malaysia diperintah oleh BN yang dipenuhi Menteri bodoh...
rakyat sentiasa menjadi mangsa... so think carefully... Vote wisely
Just EXCELLENT! WE the Rakyat' and OUR 'tax payers' money will be used to PAY "IPIC" around RM11BILLION of the money which Najib & Jho Low had STOLEN...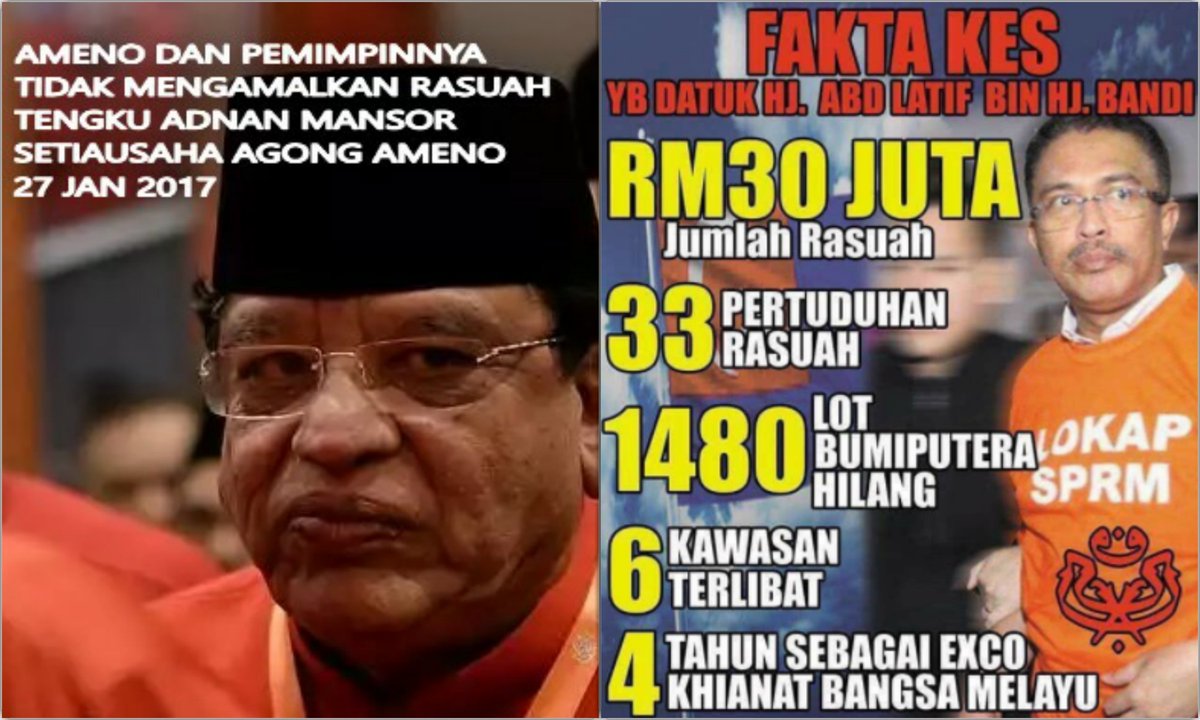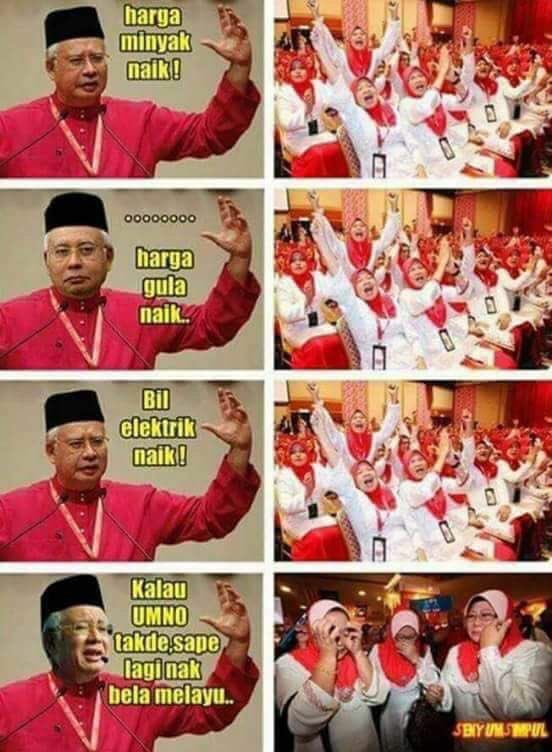 cheers.