'Penculikan' aktivis timbulkan kekecohan di perhimpunan anti-GST...
Polis meneruskan operasi ke atas para aktivis dan para pemimpin Pakatan Rakyat menjelang perhimpunan perhimpunan besar Kita Lawan di Kuala Lumpur.

Seorang daripadanya, aktivis sosial Hishamuddin Rais 'diculik' oleh beberapa individu yang berdekatan dengan tempat protes duduk Kita Lawan dan dibawa ke Balai Polis Daerah Dang Wangi.

Seorang lagi, timbalan presiden PAS Mohamad Sabu ditahan dalam kejadian berasingan di Pulau Pinang, kata senator PKR, Syed Husin Ali.

Menurut PKR, polis turut memanggil naib presiden parti itu, Tian Chua untuk siasatan di IPD Dang Wangi.

"Beliau kemungkinan besar akan ditahan malam ini," kenyataan rasmi parti itu dipetik.

Kejadian melibatkan Hishamuddin berlaku berhampiran persimpangan Jalan Tun Perak-Jalan Tuanku Abdul Rahman sejurus selepas Hishamuddin turun dari teksi.

Beberapa lelaki yang menunggang motosikal menariknya dan membawanya masuk ke dalam kereta berwarna perak yang mengekori teksi tersebut.

Lebih 10 orang aktivis yang ternampak kejadian itu mengejarnya, menyebabkan kenderaan tersebut terburu-buru membuat pusingan-U.

Beberapa penunggang motosikal bertindak memanjat pembahagi jalan untuk beredar dari situ.

Selipar Hishamuddin kemudiannya ditemui berhampiran tempat kejadian.

Beberapa minit selepas kejadian berlaku, Ketua Polis Daerah Dang Wangi Zainol Samah diminta untuk mengesahkan sama ada Hishamuddin ditangkap.

Bagaimanapun, Zainol berkata dia tidak tahu mengenai perkara itu.

Namun, para aktivis kemudiannya dapat mengesahkan bahawa Hishamuddin ditahan di IPD Dang Wangi.

Di Pulau Pinang, kejadian melibatkan Mohamad dikatakan berlaku pada kira-kira jam 11.40 malam di sebuah restoran di Sungai Dua.

Saksi, seorang MP PAS, Datuk Mujahid Yusuf Rawa berkata bedliau pada masa itu sedang minum bersama timbalan presidennya itu selepas habis bermesyuarat.

"(Mohamad ditahan) polis dari Bukit Aman lengkap dengan ski mask dan senjata lalu dibawa ke balai polis Seberang Jaya.

"Kami PAS Pulau Pinang berasa kesal dengan tindakan penangkapan ke atas pesuruhjaya kami yang juga timbalan presiden PAS," katanya dalam satu kenyataan. - mk
Hishammuddin Rais 'kidnapped' by several individuals...
Social activist Hishamuddin Rais was 'kidnapped' by several individuals near the site of the Kita Lawan sit-in and brought to the Dang Wangi district police station.


The dramatic incident happened near the Jalan Tun Perak-Jalan Tuanku Abdul Rahman intersection shortly after Hishamuddin disembarked from a taxi.

Several men on motorcycles grabbed him and tossed him into a silver coloured Honda Accord that was tailing the taxi.

About a dozen activists who saw the incident gave chase on foot, prompting the vehicles to make a hasty U-turn.

Some of the motorcyclist even went over a road divider to flee.


Both sides of Hishamuddin's slippers were later found near the scene.

Minutes after incident happened, Dang Wangi district police chief Zainol Samah was asked to confirm if Hishamuddin was arrested.

However, Zainol said he was unaware of the matter.

Several activists including Bersih 2.0 chairperson Maria Chin Abdullah later visited the police station and were informed that Hishamuddin was held there.

Tweets from those who visited Hishamuddin claimed that one of the assailants had covered his mouth to prevent him from shouting.

It is understood that Hishamuddin was heading to a ceramah at the Kita Lawan sit-in site.

The site has been the base camp for the movement's "Sack the IGP" and anti-GST campaign. - mk
Naib Presiden PKR Rafizi Ramli ditahan polis petang ini berhubung seruannya kepada anggota parti supaya menyertai perhimpunan Kita Lawan‬ esok.
Beliau, yang juga setiausaha agung PKR, ditahan bawah Akta Hasutan di pusat khidmat parlimennya di Pandan.
Beliau dijangka dibawa ke balai polis Dang Wangi untuk disiasat, kata satu kenyataan PKR.
Selain berkumpul di kompleks membeli-belah Sogo mulai jam 4 petang seperti beberapa minggu lepas, perhimpunan esok turut bertujuan "meraikan" majlis perkahwinan anak perdana menteri di pusat konvensyen KLCC.
Mereka dijangka berarak dari beberapa lokasi sebelum menuju ke Sogo dan kemudian KLCC.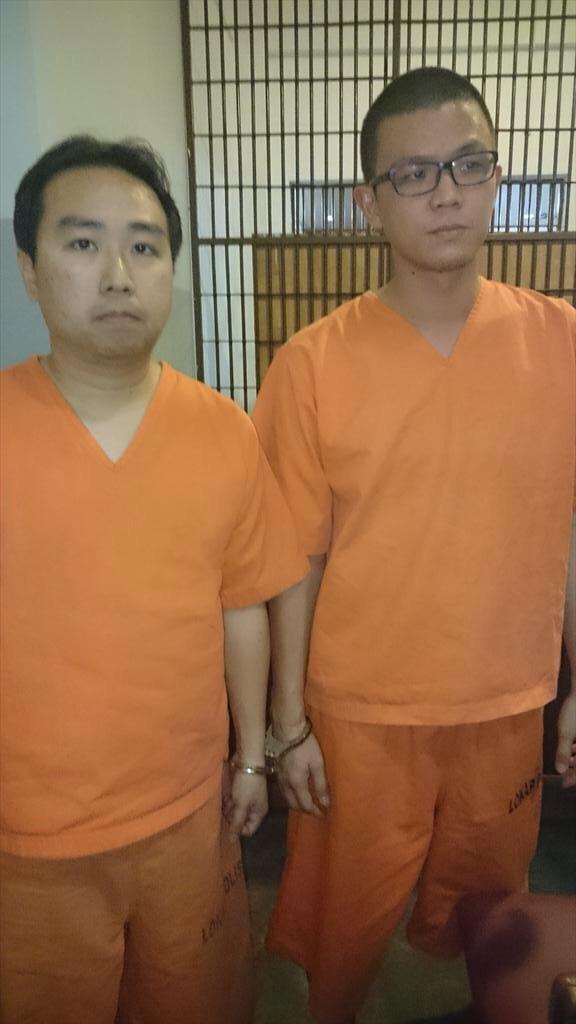 Sebelum ini Rafizi mengarahkan ahli parti itu untuk menyertai perhimpunan itu esok.
Ekoran itu beliau ditahan polis di pusat perkhidmatannya atas dakwaan menghasut, petang ini.
Malam tadi, berlaku pergelutan dengan anggota penguatkuasa Dewan Bandaraya Kuala Lumpur (DBKL) yang cuba untuk menurunkan kain rentang yang menggesa pemecatan Ketua Polis Negara, Tan Sri Khalid Abu Bakar.
Susulan itu polis menahan enam aktivis, termasuk dua wakil rakyat PKR ADUN Simpang Pulai, Tan Kar Hing dan ADUN Teja, Chang Lih Kang(above).- mk


Rafizi latest to fall into police dragnet...
PKR vice-president Rafizi Ramli is the latest to fall victim to an ongoing police crackdown on freedom of speech.
The Pandan lawmaker was arrested under the Sedition Act in connection with the planned Kita Lawan rally tomorrow.
"It is understood he was arrested under the Sedition Act over a directive he circulated recently about the Kita Lawan rally," PKR said in a statement late this afternoon.
It said Rafizi, who is also PKR secretary-general, has been taken to the Dang Wangi district police headquarters.
In a statement issued yesterday, Rafizi called for the mobilisation of party members to take part in tomorrow's Kita lawan rally.
The Kita Lawan movement was created following the jailing of Opposition Leader Anwar Ibrahim last month.
Since then, more than a dozen activists have been arrested over the series of protests organised by Kita Lawan.
Protesters tomorrow will gather at three locations - Masjid Jamek, Dataran Merdeka and the PAS headquarters from 4pm, before marching to the Sogo shopping mall and on to the Kuala Lumpur Convention Centre (KLCC).
Najib's daughter, Nooryana Najwa Najib, who is married to Kazakhstan national Daniyar Kessikbayev, will be holding a wedding reception at KLCC tomorrow night.
DAP has refused to mobilise its members to take part in the protest on grounds that it does not want its members to gatecrash the wedding party.- mk
IGP: Was Rafizi asking for Anwar's jailbreak...
PKR vice-president Rafizi Ramli's directive could also be interpreted as urging supporters to break out Anwar Ibrahim from prison, said inspector-general of police Khalid Abu Bakar.

He said this when asked to comment on the Pandan lawmaker's arrest this afternoon.


"Rafizi asked his supporters to come out in full force tomorrow to release Anwar.

"This kind of open letter has many meanings. Is he asking people to break Anwar out of prison?

"Such letters would give different interpretations to those who do not understand," he added.

Yesterday, Rafizi issued a directive calling for the full mobilisation of PKR members for the Kita Lawan rally tomorrow.

Directive can cause chaos

Meanwhile, Khalid said the police are also investigating the lawmaker to determine how widespread the directive is.

"We want to know the reactions of his supporters towards his call to release Anwar.


"This is dangerous, therefore the police would not allow such calls to be made. Any kind of directive which can cause chaos would only lead us to take action," he added.

However, the police chief did not reveal how long the Pandan MP would be remanded, saying the police had "many things" to clarify with Rafizi.

The Kita Lawan movement was created following Anwar's imprisonment last month.

Since then, more than a dozen activists have been arrested over the protests organised by Kita Lawan.- mk
Rafizi arah anggota PKR bebas Anwar?
Lembaga Pengamp
unan lupus petisyen Anwar...
Lembaga Pengampunan telah melupuskan petisyen yang difailkan oleh keluarga Datuk Seri Anwar Ibrahim dan ketua pembangkang akan hilang kelayakan sebagai ahli Parlimen, kata Peguam Kanan Persekutuan Amarjeet Singh hari ini.

Bagaimanapun, peguam Anwar N Surendran tidak mahu mendedahkan apa keputusan tersebut, sementara menunggu pengesahan di Mahkamah Tinggi Kuala Lumpur pada hari Rabu.

Keputusan Lembaga Pengampunan telah disampaikan kepada Hakim Mahkamah Tinggi Datuk Asmabi Mohamad dalam kamar pagi ini dan beliau menetapkan Rabu depan untuk pengesahan lanjut.

Amarjeet memberitahu pemberita kemudiannya bahawa petisyen itu telah "dilupuskan" dan dengan itu, kedudukan perlembagaan jelas mengenai perkara itu.

Beliau berkata afidavit dari Ketua Pengarah Bahagian Undang-Undang, Jabatan Perdana Menteri, yang merupakan sebahagian daripada urusetia Lembaga Pengampunan, telah dihantar kepada keluarga Anwar.

Difahamkan bahawa satu salinan afidavit itu, yang dikeluarkan oleh Ketua Pengarah bahagian tersebut, Nursiah Arshad, dihantar ke mahkamah hari ini.

"Ya petisyen itu telah didengar dan dilupuskan. Keputusan itu telah disampaikan kepada mereka (keluarga Anwar) dalam bentuk afidavit. Mereka meminta masa untuk mengesahkan fakta.

"(Kedudukan) sebagai ahli Parlimen tidak lagi wujud, dia hilang kelayakan," kata Amarjeet, sambil menambah bahawa hakim memberi pemohon masa untuk pengesahan dan mendapatkan arahan daripada plaintif.

Bagaimanapun, Amarjeet, yang mengetuai Bahagian Sivil Pejabat Peguam Negara, berkata beliau akan menyerahkan kepada peguam pemimpin pembangkang untuk mengesahkan perkara itu.

Lembaga Pengampunan dipengerusikan oleh Yang di-Pertuan Agong. Ahli-ahli lain termasuk Peguam Negara Tan Sri Abdul Gani Patail (kanan) dan Menteri Wilayah Persekutuan Datuk Seri Tengku Adnan Tengku Mansor.- mk
Pardon disposed, Anwar to lose MP seat...
The Pardons Board has disposed the petition filed by Anwar Ibrahim's family and the opposition leader will be disqualified as a member of parliament, senior federal counsel Amarjeet Singh said today.

However, Anwar's lawyer N Surendran did not wish to comment on this announcement, saying he would wait for the confirmation on the matter from the High Court in Kuala Lumpur.

The Pardons Board decision was conveyed to High Court judge Asmabi Mohamad in chambers this morning and she fixed next Wednesday for further confirmation.


Amarjeet told reporters later that the petition has been "disposed" and hence, the position of the constitution is clear on the matter.

He said an affidavit from the director-general of the Legal Division of the Prime Minister's Department, who is part of the Pardons Board secretariat, has been sent to Anwar's family.

It is understood that a copy of the affidavit, issued by division director-general Nursiah Arshad, was made available to the court today.

"Yes the petition has been heard and disposed of. The decision has been conveyed to them (Anwar's family) in the form of an affidavit. They asked for time to verify the fact.

"The MP (position) ceases to exist; he becomes disqualified," Amarjeet said, adding that the judge granted the applicant time for confirmation and to seek instructions from the plaintiff.

However, Amarjeet, who heads the Civil Division of the Attorney-General's Chambers, said he would leave it to the opposition leader's lawyers to confirm the matter.


The Pardons Board is chaired by the Yang di-Pertuan Agong. Other members include Attorney-General Abdul Gani Patail (right) and Federal Territories Minister Tengku Adnan Tengku Mansor.

This decision ends the bid by Anwar's family to seek a pardon on his sodomy conviction and the 67-year-old politician will have to complete his five-year sentence.

This will also mean that his Permatang Pauh parliamentary seat would be declared vacant, paving the way for a by-election.

Today was initially fixed for the hearing of leave (permission) on Anwar's application for a judicial review to attend the current sitting of the Parliament, which ends on April 9.

Anwar had named Prisons Department director-general Zulkifli Omar and Home Minister Ahmad Zahid Hamidi as respondents.

The plea for pardon was submitted by Anwar's family to the Pardons Board on Feb 24, 14 days after the opposition leader was convicted by the Federal Court.


Meanwhile, Surendran said they cannot confirm the disposal of the plea as the family has yet to receive the letter and it was inappropriate for them to comment at this juncture.

"We only got to know this (decision), this morning from the senior federal counsel. Last Tuesday, the senior federal counsel sought more time to find out more from the Pardons Board whether a decision has been made," Surendran said.

Asked to comment whether Anwar could file another application for pardon, the lawyer said it was possible if there are "fresh circumstances".

Responding to a question, another of Anwar's lawyers, Latheefa Koya, agreed that normally, the Pardons Board would take a long time to decide on applications.

"But this was so swift," Latheefa said. - mk
cheers.