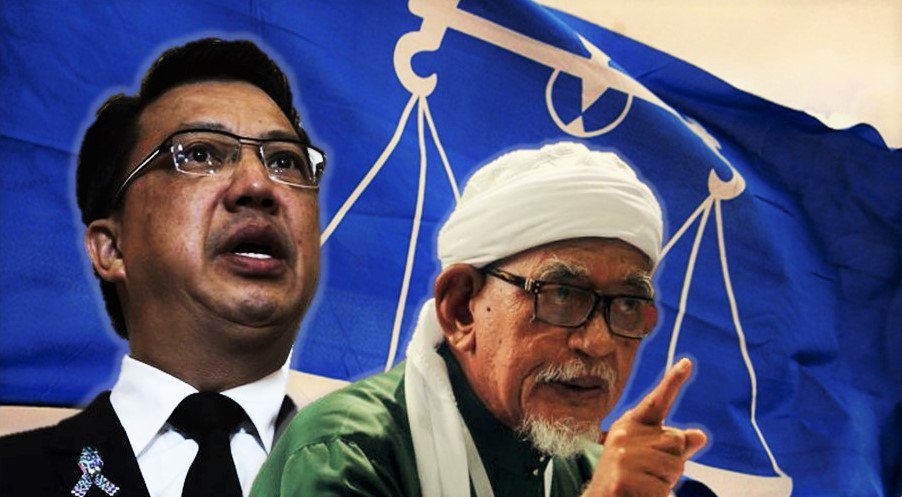 Nampaknya Presiden MCA Datuk Seri Liow Tiong Lai sudah menjadi jurucakap bagi gerombolan Najib-Hadi apabila mengulangi dakyah UMNO selama ini kononnya Ketua Parlimen DAP Lim Kit Siang akan menjadi perdana menteri jika Pakatan Harapan menang pilihan raya umum (PRU) akan datang.
Menurut Liow, negara akan terjejas sekiranya Kit Siang menjadi perdana menteri dan menuduh pemimpin veteran DAP itu sebagai ahli politik yang tidak berprinsip.
"Hanya beliau yang tahu jika beliau ada cita-cita menjadi perdana menteri atau timbalan perdana menteri. Bagi saya beliau adalah ahli politik yang tidak boleh dipercayai dan akan menjejaskan keharmonian antara kaum," kata Liow selepas menghadiri acara komuniti di Paloh di Kluang Sabtu lalu.
Di sebalik tuduhan jahat itu, persoalannya saat ini ialah mengapa Liow merendahkan diri sendiri dengan menjadi budak suruhan Najib dan Hadi soal Pengarah Pendidikan Politik DAP, Liew Chin Tong.
Katanya, selepas PRU 2013 yang menyaksikan BN menang dengan hanya 47 peratus undi popular, Najib mengetahui bahawa beliau tidak akan mampu menang PRU seterusnya jika bertembung dengan Datuk Seri Anwar Ibrahim merebut jawatan perdana menteri.
"Bekas pakar strategi UMNO baru-baru ini berkongsi dengan saya bahawa pada 2013, unit risikan (Cawangan Khas, Unit Risikan Tentera, JASA dan yang lain) memberitahu Najib boleh menang dengan lebih 60 peratus undi popular kerana populariti peribadinya di kalangan pengundi agak tinggi, dan beliau boleh memberi kemenangan yang selesa kepada UMNO dan BN.
"Menurut pakar strategi itu yang berada berhampiran Najib pada malam pilihan raya, apabila banyak hal tidak menyebelahi BN, perdana menteri dapat dilihat menggeletar dan terkejut dengan keputusan pada malam itu," katanya dalam kenyataan hari ini.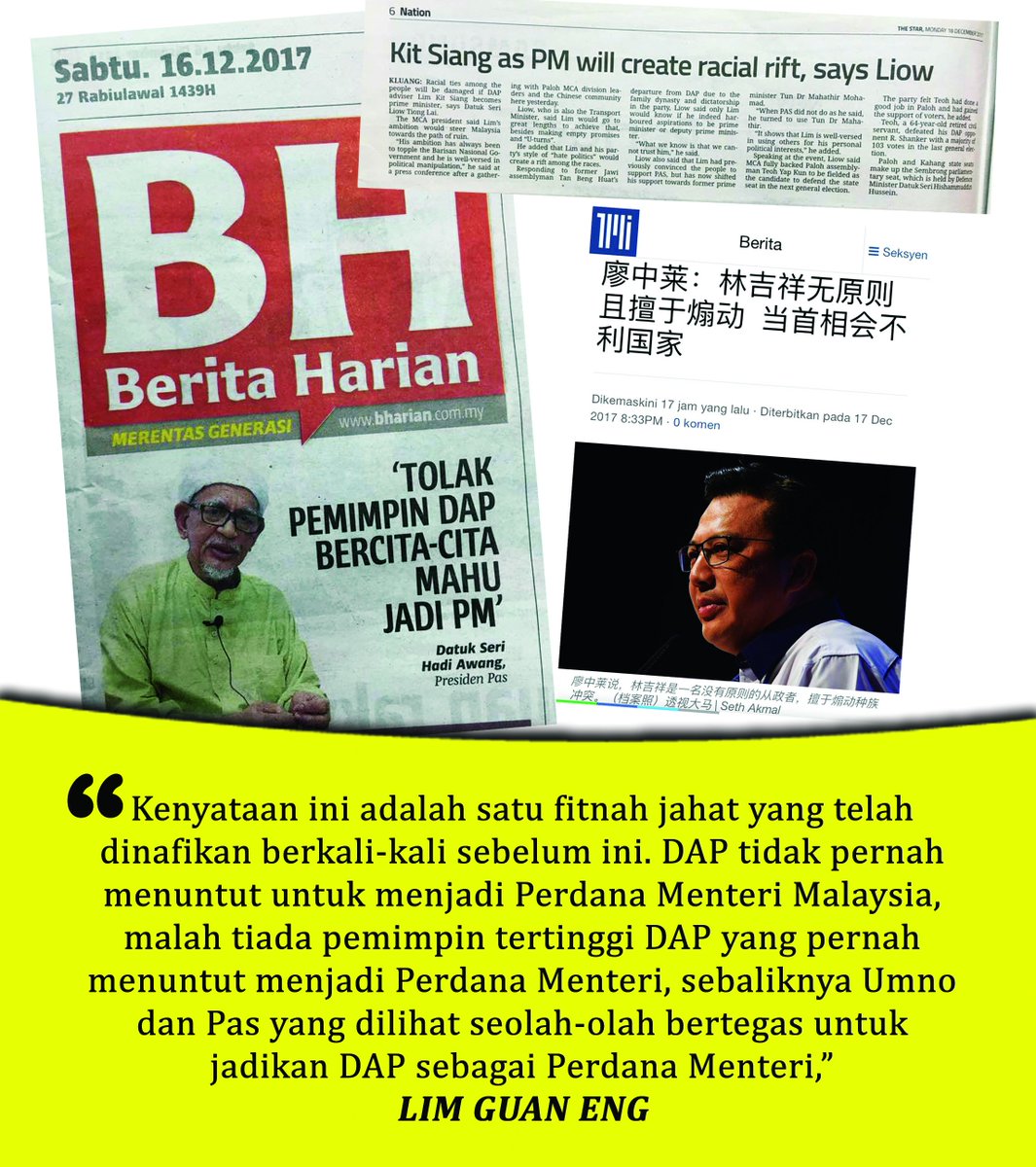 Jadi, untuk mengubah situasi itu katanya, Najib perlu melakukan sesuatu yang dramatic dengan bantuan Yusuf Kala yang belum lagi menjawat jawatan Naib Presiden Indonesia ketika itu.
"Najib cuba menghubungi Anwar bagi menarik bekas timbalan perdana menteri itu dalam kerajaannya, namun telah ditolak Anwar pada Ogos 2013.
"Sudah tentu, Anwar terpaksa menerima akibat daripada keengganannya itu. Setiap kali saya memikirkan tentang pemenjaraan Anwar, saya berasa begitu simpati terhadapnya dan pengorbanan yang dilakukannya bagi memastikan pakatan pembangkang kekal teguh terutama pasca PRU 2013. Ia bukan sesuatu yang mudah," jelas Ahli Parlimen Kluang itu.
Chin Tong berkata, strategi tiga sisi Najib mula kelihatan di pertengahan 2014. Pertama, menyingkirkan Anwar sebagai faktor yang menyatukan pembangkang; kedua, mengumpan PAS bekerjasama dengan BN; ketiga, menggambarkan pembangkang sebagai didalangi DAP bagi menakutkan pengundi Melayu yang menyokong pembangkang.
"Dengan menyingkirkan Anwar dan mengumpan PAS, Najib cuba memberitahu kepada pengundi Melayu yang membuat pertukaran undi agar perlu kekal menyokongnya tidak kira betapa rasuah pentadbirannya. Beliau cuba menang tanpa bertanding," jelasnya.
Anwar dijatuhkan hukuman penjara selepas rayuannya ditolak Mahkamah Persekutuan pada 10 Februari 2015 sekali gus telah menyebabkan tiada watak yang menyatukan pembangkang.
Pada Mac 2014, UMNO mula menyogok isu hudud/RUU355 bagi menarik penyokong akar umbi PAS dalam tempoh yang sama ketika Presiden PAS, Abdul Hadi Awang tidak begitu setuju dengan Langkah Kajang PKR yang bertujuan mengetengahkan semula Anwar sebagai pemimpin utama.
Idea kerjasama UMNO-PAS katanya muncul ketika Najib melawat Hadi di hospital pada penghujung Jun 2014.
Presiden PAS itu jelas beliau memainkan peranan dalam mengeruhkan krisis Menteri Besar Selangor pada Ogos dan September 2014.
Hadi mengambil sikap memusuhi DAP dari awal 2015 bagi menjustifikasikan peralihan sokongan kepada UMNO.
"Pada 5 Oktober 2014, ketika saya berdebat dengan Pengerusi MCA Kluang Gan Peng Sieu di ibu pejabat akhbar Sinchew, saya menjangkakan MCA akan menjadi rakan sekutu de facto PAS apabila tiba masanya.
"Hari ini, MCA bukan saja rakan sekutu de facto PAS, presiden MCA kini malah mengulangi pembohongan Hadi Awang bahawa Lim Kit Siang bercita-cita menjadi perdana menteri dan akan menjejaskan negara," kata Chin Tong.
Strategi kotor Najib ini bagaimana pun ujarnya dapat dihidu oleh rakyat.
"Meski menempuh pelbagai cabaran, Pakatan Harapan berjaya ditubuhkan dan memberi semangat baru untuk perubahan kerana pemimpin-pemimpin di dalam PAS yang enggan menyertai politik taksub parti itu telah keluar parti dan menubuhkan Parti Amanah Negara, sementara pemimpin dalam UMNO yang enggan terlibat dengan kleprokrasi Najib membuat keputusan untuk keluar dan menubuhkan Parti Pribumi Bersatu Malaysia, yang seterusnya memberi pilihan kepada rakyat Malaysia.
"Bagi Liow dan MCA, permainan politik mereka yang sebelumnya sudah sedia teruk kini bertambah parah. Tidak lama lagi mereka akan cuma tinggal sebagai nota kaki dalam sejarah," katanya lagi. – Roketkini.com
Demonising Kit Siang reflects
Malaysia's ugly racial politics...
IF you know that something is impossible but still go ahead and spin a yarn about it, what does that make you?
If you know that something is an untruth but still try and make political capital from it, what does that make you?
These are questions that Malaysian voters need to ponder and answer following the latest statement by MCA president Liow Tiong Lai (pixbelow). Today he said that the country would be in peril if DAP veteran Lim Kit Siang became the prime minister.
He said that Lim was an unprincipled politician who was good at sowing racial discord.
We should not be too concerned with Liow's attempt to take down Lim. Politicians with mightier heft and definitely more brainpower have tried doing so through the ages. Lim has survived detention without trial. He will survive some name calling by the junior partner in the Barisan Nasional coalition.
What we should notice is Liow's willingness to jump onto the Abdul Hadi Awang bandwagon and support the PAS president's wild allegation that Lim wants to become prime minister of Malaysia.
There is no chance of any non-Muslim/non-Malay becoming the prime minister of Malaysia. It is the reality of politics in Malaysia and any political novice knows this fact of life.
The DAP knows and accepts this fact and that's why it has not pushed for the senior most positions in Pakatan Harapan (PH) despite having the most settled political machinery of all the opposition parties.
Even the MCA knows and accepts this fact. That's why it has not pushed Umno for more seats or more senior representations in government.
But Umno and PAS believe that if you push the idea of a DAP politician becoming the prime minister of Malaysia, then malay voters will not give their votes to the opposition.
So Umno politicians and their comrade in arms Hadi have been pushing the idea that Lim is interested in becoming the prime minister. If you have not noticed, Hadi dances to the Umno tune these days.
Now it seems that Liow is singing from the same script. In doing so, they have become collaborators in a lie.
But worse yet, he is happily taking part in a scheme that paints a Malaysian Chinese politician as a bogeyman of Malaysian politicians.
Because essentially that is what Umno and Hadi are saying when they attack DAP as a Chinese party and attempt to stoke fears by saying that Lim Kit Siang could become the prime minister of Malaysia.
They are playing to the Malay gallery and demonising a Malaysian Chinese for political gain.
Liow Tiong Lai is happily aiding them. What does that make him? – themalaysianinsight
Poor Mothers RM200/Month...
With the prices of everything on the constant rise, the rakyat is definitely feeling the pinch like never before. Luckily, the caring Selangor state government has come up with a plan to help the lower-income group in buying basic necessities.
During the tabling of Budget 2018, Selangor MB Dato' Seri Azmin Ali introduced a programme called 'Kasih Ibu Smart Selangor' (KISS) to provide aid for poor mothers.
It was estimated that 30,000 mothers will benefit from this programme, which is set to launch in early 2018.
Here's how the programme works:
Upon successful application, each mother will receive a 'Kiss' card that allows them to shop for food items and groceries, amounting to RM200 per month.
The balance cannot be carried forward to subsequent months and the fixed amount will be reloaded automatically every month.
Kiss card holders can shop at selected grocery stores and supermarkets that are registered with the government. All transactions are wireless.
These are the approved items that can be bought using the Kiss card.
Rice,Noodles,Bread Biscuits,Eggs,Sugar and salt,Spices,Flour, Cooking oil, Vegetables, Chicken, beef, lamb and fish, Soap and detergent, Diapers for babies and adults,Dairy products (fresh milk, milk powder, condensed milk), School uniform and equipment (shoes, bags, books, stationery)
So, who's eligible under this programme?
To be able to benefit from this initiative, one must be:
- A Malaysian citizen Born in Selangor or has been staying in Selangor for 10 years
- A registered voter in Selangor
- A mother or single mother who has a child/children below 21 years old
- Has a household income below RM2,000 per month
As of now, the application can only be done manually as the online registration is currently unavailable (coming soon).
All you need to do is to download the application form here, and submit the completed form to the state assemblyman's office.
Alternatively, you can get the printed form at either one of these locations:
- Pejabat Ahli Dewan Negeri / Penyelaras Dewan Negeri
- Pejabat Ahli Parlimen / Penyelaras Parlimen
- Pejabat Ketua-Ketua Kampung Tradisi, Kampung Baru, Kampung Bagan, Ketua Komuniti India,
- Pejabat Ahli Majlis Pusat Wanita Berdaya
This noble initiative is part of the Selangor state government's effort in acknowledging a mother's role in a family, while simultaneously empowering them financially.
So guys, spread this good news and help out as many mothers as possible! - worldofbuzz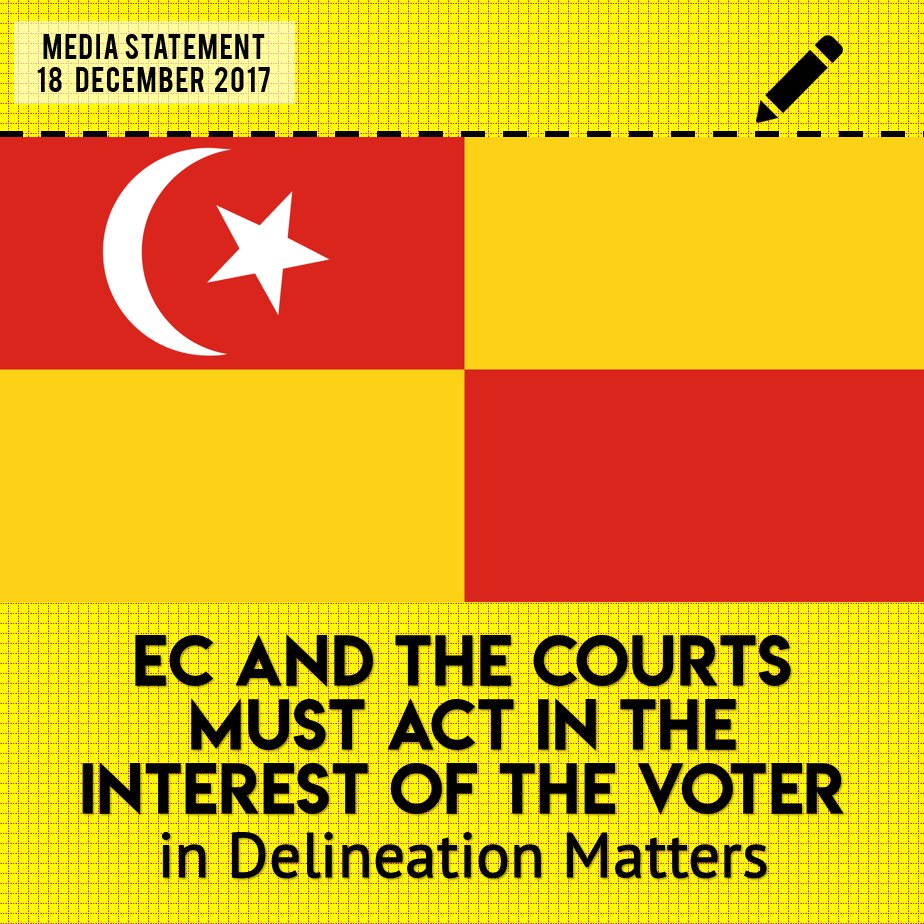 The EC and the courts are avenues of justice and a recourse... They must act for the people and in the interest of the people; and as such, they should not follow the government's election calendar when dealing with issues of re-delineation.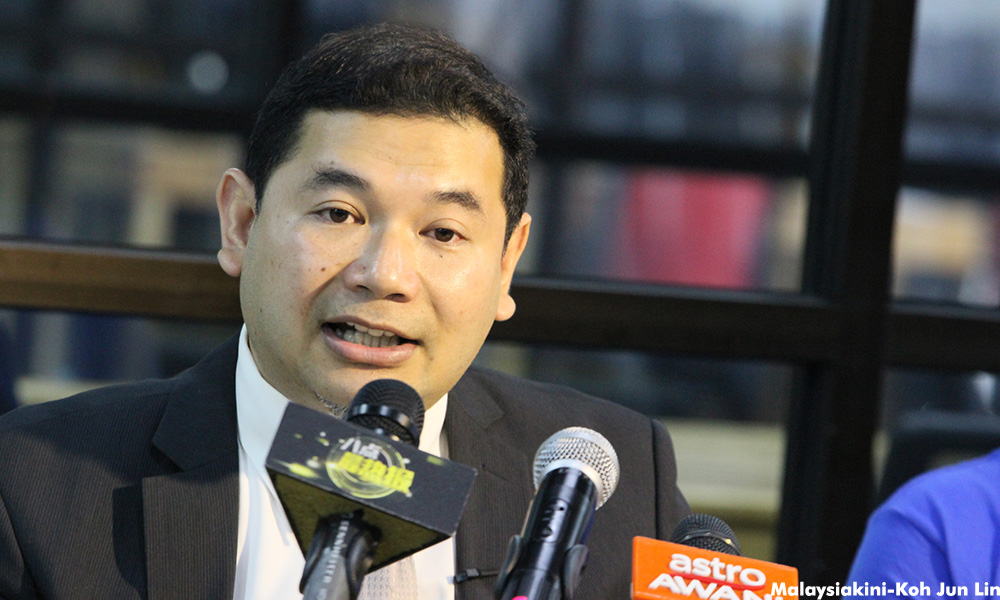 Govt.charging rakyat 'hidden taxes'
cheers.