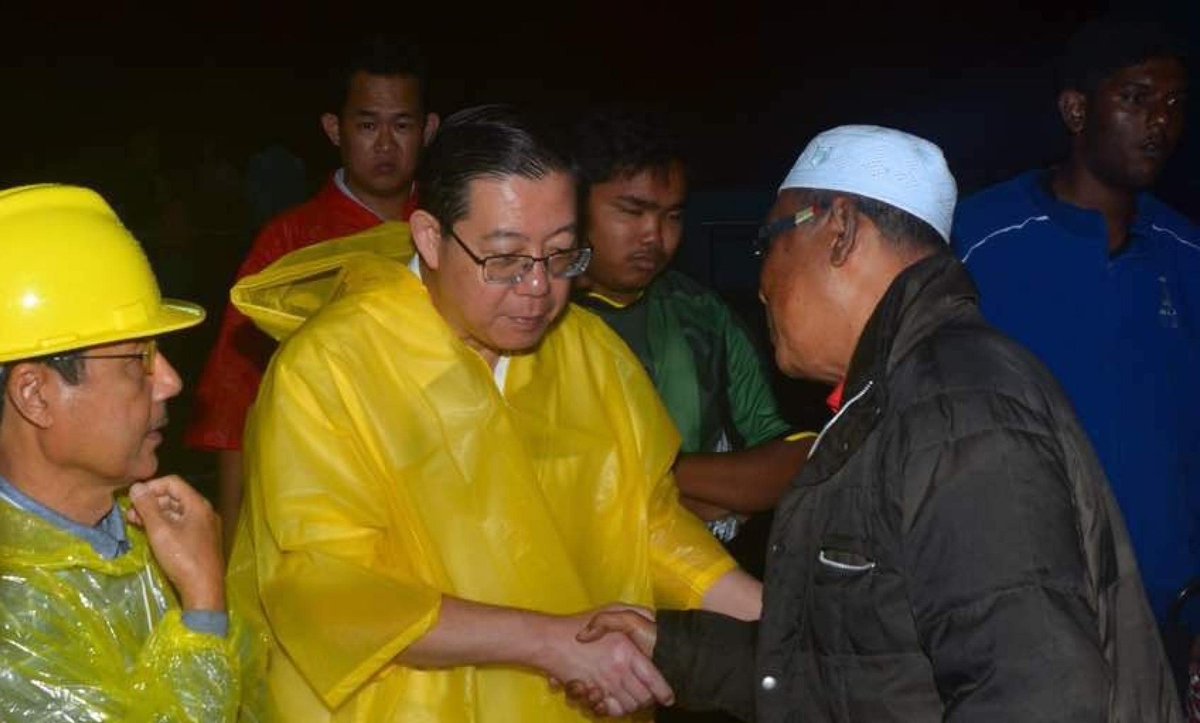 Ucapan dasar Presiden UMNO, Datuk Seri Najib Razak di perhimpunan agung parti itu baru-baru ini dipenuhi dengan maki hamun dan cercaan terhadap pembangkang.
Antara ucapan paling keji adalah ketika Najib merendah-rendahkan rayuan Ketua Menteri Pulau Pinang, Lim Guan Eng yang bekerja keras sewaktu bah melanda negeri itu pada November.
Perdana Menteri itu mendakwa Guan Eng hampir menangis sewaktu menghubungi Timbalan Perdana Menteri, Datuk Seri Zahid Hamidi untuk memohon bantuan kerajaan pusat.
Menzahirkan rasa marah dengan ucapan itu, Ahli Parlimen Bukit Gelugor, Ramkarpal Singh menyoal apa masalahnya dengan tangisan Guan Eng.
"So what kalau Ketua Menteri hampir menangis ketika meminta bantuan tersebut?
"Bukankah ini menunjukkan keprihatinan beliau terhadap nasib rakyat Pulau Pinang yang ditimpa bencana?" ujarnya dalam kenyataan, hari ini.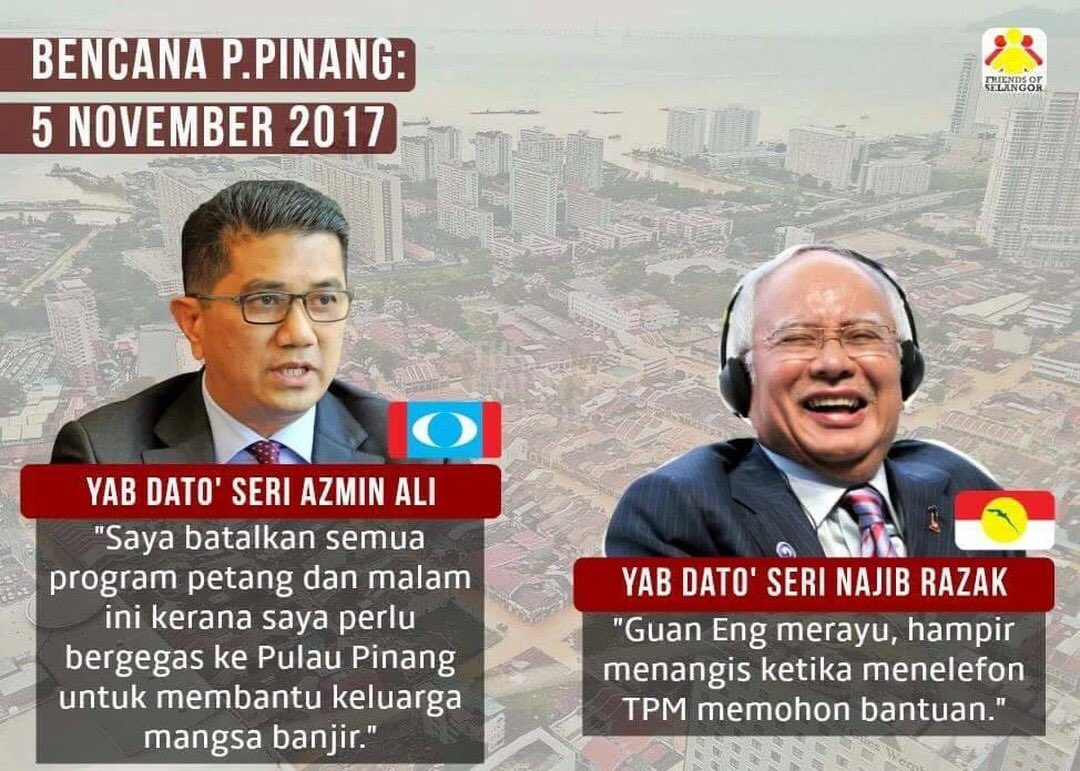 Tahap kematangan 2 pemimpin...
Beliau turut mengingatkan Najib bahawa bencana bukanlah satu isu yang harus dipolitikkan dan dipermain-mainkan.
"Sehingga hari ini, rakyat Pulau Pinang masih bergelut untuk meneruskan hidup akibat kerosakan harta benda malah ada daripada mereka menghadapi masalah kewangan
"Penghinaan Najib itu bukan sahaja dituju pada Ketua Menteri, tetapi kepada seluruh rakyat Pulau Pinang," ujarnya.
Malah, kata Rampakal, kata-kata tidak sensitif Najib itu juga boleh membangkitkan spekulasi mengenai keikhlasannya dan kerajaan pusat dalam membantu rakyat Pulau Pinang.
"Ramai rakyat Pulau Pinang yang menyambut baik aksi berpeluk Timbalan Perdana Menteri dan Ketua Menteri dalam sekeping gambar yang tular.
"Tetapi, tidak pernah terfikir mereka yang kesusahan mereka digunakan sebagai bahan dalam majlis UMNO untuk kepentingan politik," ujarnya. – Roketkini.com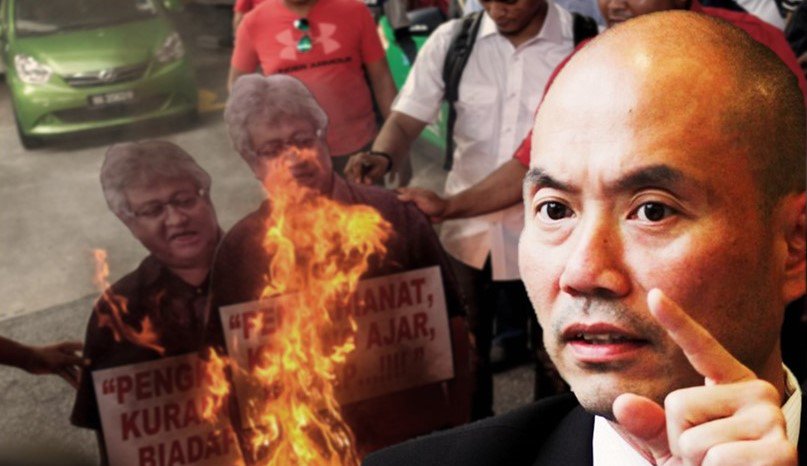 Pijak gambar kena tangkap,
bakar patung tak apa pula...
Adakah Datuk Seri Jamal Md Yunos begitu kebal daripada tindakan pihak berkuasa sehingga beliau berani melakukan gimik membakar patung seorang bekas menteri?
Ketua Bahagian UMNO Sungai Besar itu beberapa hari lepas di Perhimpunan Agung UMNO (PAU) bertindak membakar patung Datuk Zaid Ibrahim.
Namun, yang menjadi persoalan mengapa tidak ada sebarang tindakan terhadap aksi yang dilakukan ketua samseng Baju Merah itu?
Sedangkan pihak polis pantas pula menawarkan habuan bagi mencari dua individu yang didakwa memijak gambar Datuk Seri Najib Razak dan Datuk Seri Abdul Hadi Awang pada perhimpunan Bersih 4.
Seorang lelaki berusia 21 tahun dan wanita berusia 14 tahun kemudiannya ditangkap dan digari, walaupun mereka menyerah diri secara baik.
"Jadi sekarang saya mahu tahu, berapakah ganjaran yang akan ditawarkan oleh pihak polis dan berapa hari Jamal serta budak-budaknya akan ditahan di dalam lokap, ekoran tindakan membakar patung Zaid Ibrahim itu?
"Atau adakah tindakan memijak gambar dikira tidak okay, tetapi membakar patung boleh pula?" demikian soal Ahli Parlimen Segambut, Lim Lip Eng dalam kenyataannya, hari ini.
Menurut Setiausaha DAP Wilayah Persekutuan itu, politik matang tidak akan menerima aksi membakar patung sebegitu, justeru wajar dikecam kepimpinan Barisan Nasional (BN).
"Sekiranya tidak ada pemimpin BN yang mengecam tindakan Jamal, dan tiada tindakan dari pihak polis untuk aksinya mengintimidasi Zaid Ibrahim, yang merupakan seorang ahli politik pembangkang.
"Adakah ini akan memberi isyarat bahawa akan lebih banyak patung pemimpin pembangkang dibakar dan diaibkan sepanjang PAU sehingga selesai Pilihan Raya Umum ke-14?" soalnya. – Roketkini.com
Politics is NOT a game for the pondans.
It is NOT a game for the cissies.
It is NOT a game for the baculs.
It is not a game for childish boys and girls.
You cannot hide behind your mother's sarong. You cannot hide behind your wife's "Batu Caves" sized butt.
When that MO1 said Dr Mahathir was an Indian, was he implying that it is inferior to be an Indian? He was making fun of the name 'Kutty'.
After you elected Dr Mahathir as your party president and PM for 22 years? No wonder they say you are stupid.
No one from the Indian community or the Kerala community complained about the MO1's statements. Well why should they?
But no other Malaysians objected to the MO1's racist slurs either. Maybe it is ok to insult or insinuate insults against the Indians or against the Kerala community. After all they are such a minority in this country.
It was a racist and less intelligent statement by yet another member of the 'slow learners' group.Just ignore them. Dr Mahathir did well when he pretty much ignored the 'Kutty' and Indian taunts.
Because folks, when you enter politics, this is what you will face. This is what you will get. The kid gloves come off. It is a rough and tough game.If you cannot take the punches, then stay away from this game.
So I find it very surprising that folks who voluntarily dived into the crossfire suddenly feel hurt or belittled when they get hit by a few stray shots.
Obviously they are not of Indian or Kerala ancestry.-ostb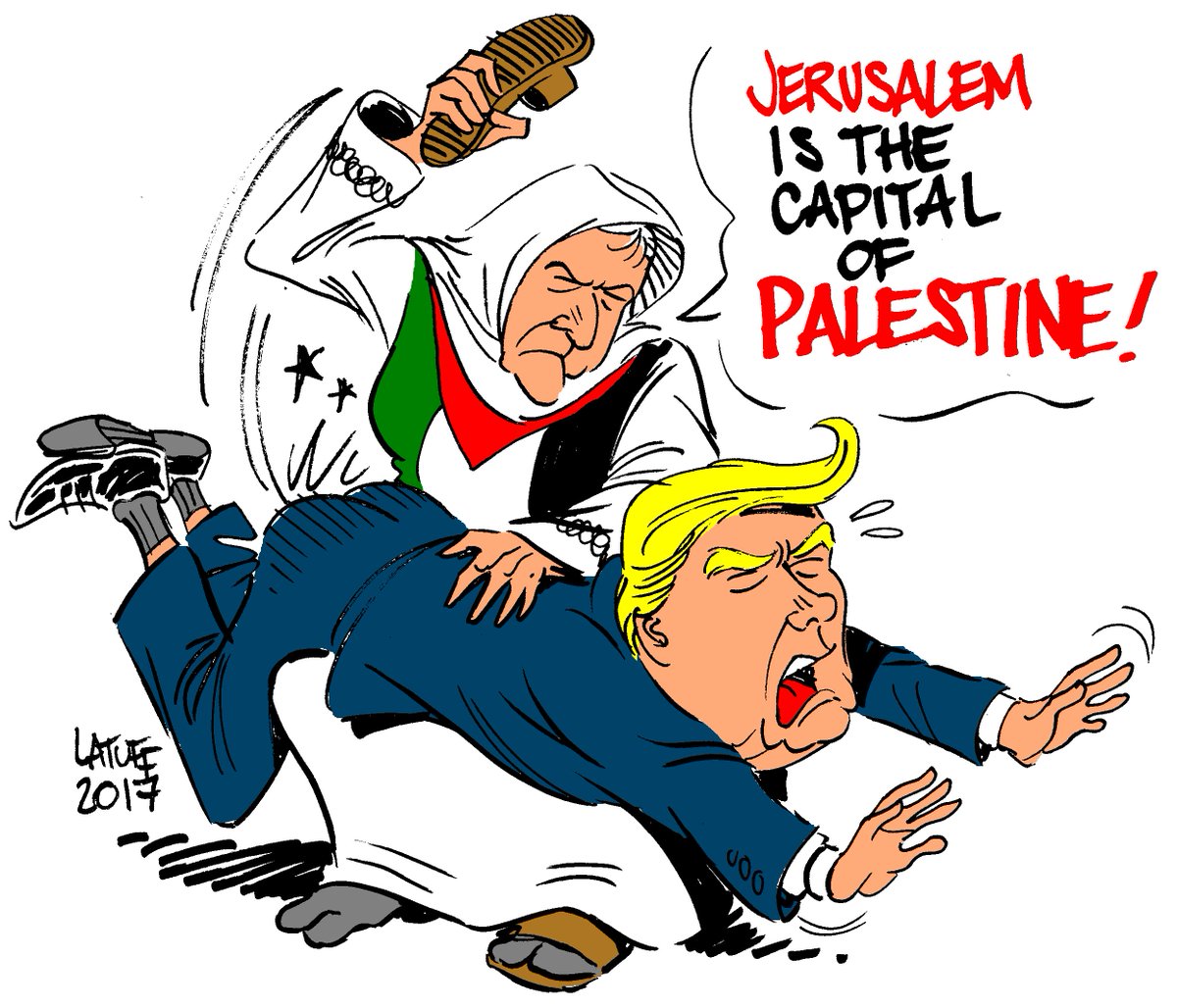 If you want to condemn others and pass judgement on others, then be prepared to be condemned by others and for others to pass judgement on you.(Err...for you "slow learners" out there, this applies to me too. If you want to condemn me or pass judgement on me, pleeeease go ahead).
This is a free country. I really dont believe in suing people for slander or libel, especialy when I put myself in the public domain.
When I write books, blogs, articles, give speeches and such then for certain there will be those who agree, disagree, applaud, curse, smile, sneer, cheer, jeer and so on. It comes with the territory.
We cannot be cissies or prima donnas. Sikit-sikit nak sue libel, nak sue slander, nak ambil tindakan Sedition Act. Sikit-sikit nak hide behind your mother's skirt. Or worse nak hide behind your wife's big butt.
Grow up ok. Dont be prima donnas. Or worse dont be pondans. This is not a small boys game. If you dont like the brick bats, then get out of the game.)
Anyway back to this comment by MO1 above, obviously he does not even listen to the news. Neither do his media advisors.
"...cadangan jadikan Baitul Maqdis sebagai ibu negara Israel..."
This is no more cadanganlah. This is far beyond cadangan.The issue IS NOT JERUSALEM AS THE CAPITAL OF ISRAEL.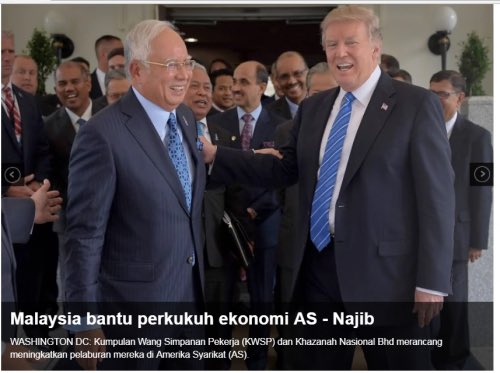 Di PWTC laung lawan US. Di Rumah Putih tawar bantu ekonomi Amerika.
Jerusalem has been the capital of Israel for almost 70 years now since 1948 when Israel captured West Jerusalem. Then East Jerusalem was occupied by Israel in 1967 - 50 years ago.
In 1980 (37 years ago), Israel officially declared a united Jerusalem as their capital.
The Knesset or Israeli Parliament has been almost continuously sitting in Jerusalem since 1948. The present Knesset building in Jerusalem was planned in the 1950s and they completed its construction in 1966 - 51 years ago.
The issue is not whether Jerusalem is the capital or not.The issue is Israeli sovereignty over Jerusalem.
Moving the US Embassy there recognises Israeli sovereignty over Jerusalem.This is the problem.
Even if they did not move their embassy to Jerusalem, but if the US recognised Israeli sovereignty over Jerusalem, then that is a big issue.
The rebuttal by Ahmad Al Bab above is correct. M01 said that he was golfing buddy with Donald Trump. So why not call your golfing buddy and tell him to cancel his decision. He is your buddy.-ostb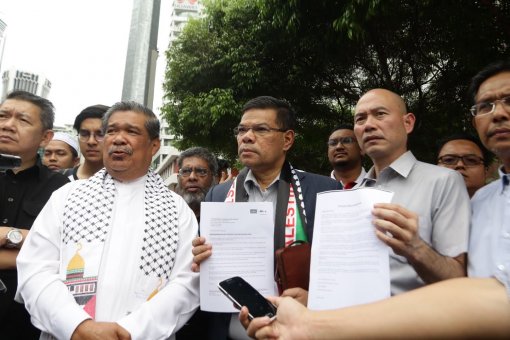 1MDB grabs world headlines,
but gets yawns at UMNO meeting...
In Singapore, four people have been jailed and two investment banks shut down with other banks fined over their role in the alleged laundering of billions of dollars from state fund 1Malaysia Development Berhad (1MDB).
And just hours before Malaysian Prime Minister Najib Razak held a closed-door briefing for Umno leaders on Tuesday (Dec 5), the United States' Attorney-General called the US$4.5 billion (S$6.1 billion) allegedly siphoned from 1MDB "kleptocracy at its worst".
But the ruling party's rank-and-file say they are confident that no crime had been committed. Umno president Datuk Seri Najib had denied that some US$700 million found in his accounts in 2013 were from 1MDB.
Instead, they are focused not just on returning him as premier after an election due by August, they want to reclaim the two-thirds supermajority they ceded a decade ago.
Never mind that apart from Singapore and the US, authorities in Switzerland, Luxembourg and Hong Kong are among those also probing the claimed theft of public funds allegedly used to buy luxury homes, expensive paintings and a yacht.
The Umno faithful either cite lack of evidence, or argue that any wrongdoing involving the state investor controlled by Datuk Seri Najib was committed on foreign soil, presumably by foreigners.
"Corruption is normal in other countries, whereas in Malaysia, we take it very seriously. So I'm confident it's not happening here. Whatever news on 1MDB... you should take it with a pinch of salt," said young women's (Puteri) wing member Zainab Jaafar from Terengganu state.
Damning headlines both at home and abroad are part of a campaign to undermine and distract Umno, according to Negeri Sembilan divisional youth permanent chairman Mohd Haidil Mohamad.
"We are still looking for exactly who is involved and if there is concrete evidence, we will not defend anyone who is involved, even if it is the Prime Minister. But so long as there is no conclusive proof, we cannot accuse anyone," he told The Straits Times. Continue reading...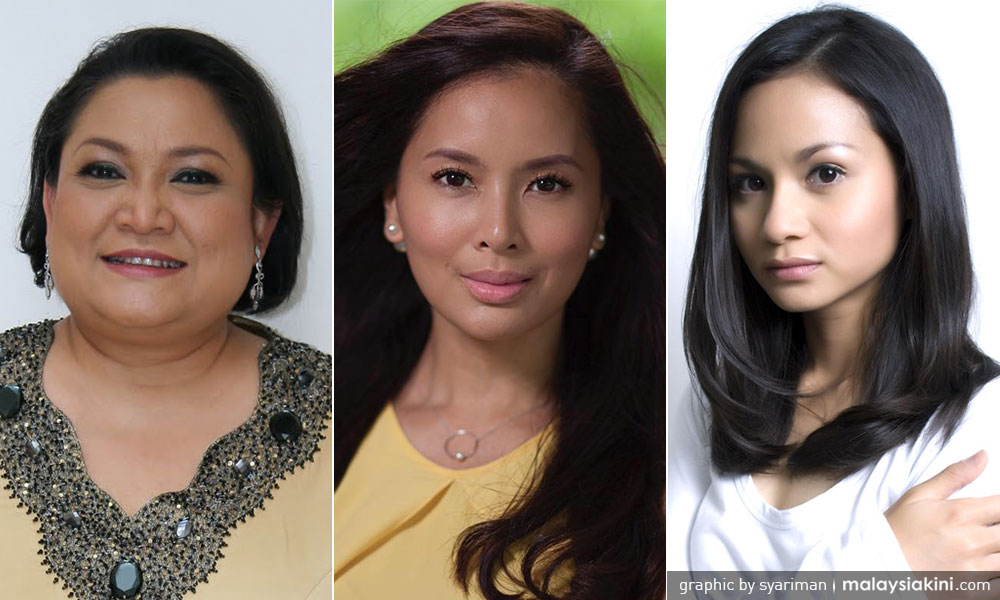 cheers.