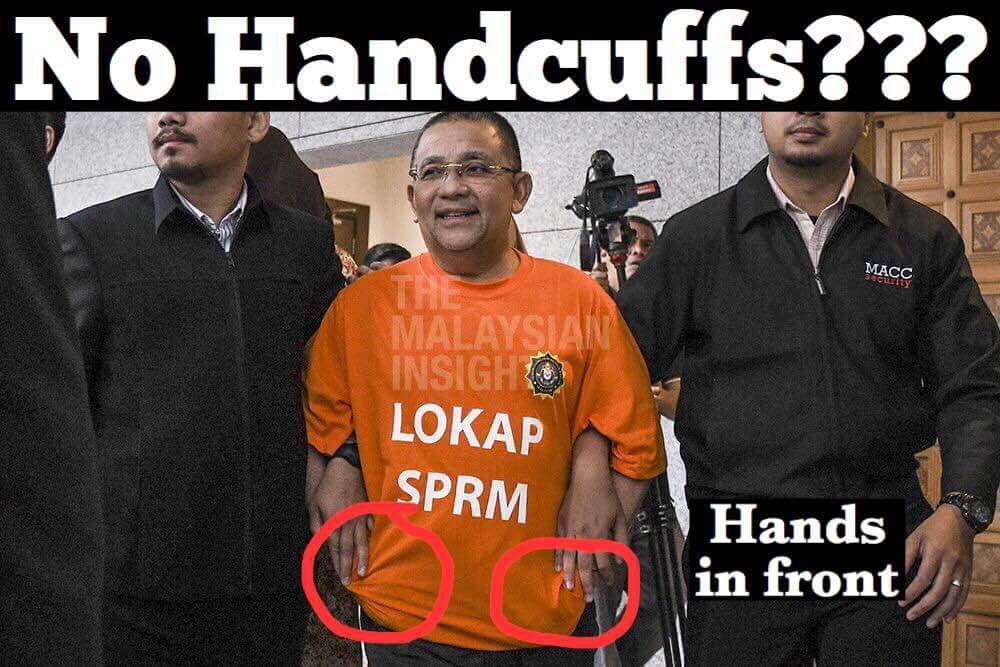 Pelantikan Tan Sri Mohd Isa Abdul Samad selaku Pemangku Pengerusi Suruhanjaya Pengangkutan Awam Darat (SPAD) terus dipertikai berikutan penahanannya oleh Suruhanjaya Pencegahan Rasuah Malaysia (SPRM), semalam.
Ketua Parlimen DAP, Lim Kit Siang berkata, Perdana Menteri, Datuk Seri Najib Razak seharusnya tahu bahawa bekas pengerusi Felda Global Ventures Holdings Bhd (FGV) itu bermasalah sebelum memutuskan memilih Isa Samad untuk mengisi jawatan tersebut.
"Najib pasti menerima banyak rungutan mengenai kegiatan rasuah, salah guna kuasa dan pecah amanah membabitkan Isa Samad, bukan sahaja berkaitan pembelian hotel di London dan Kuching, malah pembelian hartanah oleh Felda dan FGV.
"Mengapa Najib tetap meneruskan pelantikan Isa Samad sebagai Pemangku Pengerusi SPAD apabila yang sepatutnya dilakukan Najib adalah membiarkan siasatan dilaksanakan bagi menentukan sama ada Isa Samad benar-benar melakukan kesalahan tersebut.
"(Malah) Bagaimana dengan jawatan Pengerusi SPAD yang ketika ini dipangku Isa Samad berikutan penahanannya oleh SPRM?" soalnya yang juga Ahli Parlimen Gelang Patah dalam kenyataan, hari ini.
Beliau justeru menggesa Najib agar menjelaskan kepada rakyat berhubung keputusannya untuk tetap melantik Isa Samad dalam jawatan tertinggi SPAD walaupun Menteri Kewangan itu sepatutnya mempunyai akses kepada maklumat mengenai salah laku pemimpin UMNO itu.
Isa Samad dibawa ke Mahkamah Majistret Putrajaya pagi ini bagi permohonan reman oleh SPRM susulan siasatan badan itu terhadap pembelian dua hotel di London dan Kuching oleh Felda Investment Corporation (FIC) yang merupakan anak syarikat FGV.
SPRM sedang menyiasat pembelian hartanah oleh FIC di Kensington, London antara 2013 dan 2015 dengan jumlah £60 juta (RM330 juta) iaitu di bawah harga pasaran pada masa pembelian yang dikatakan berjumlah RM110 juta. – Roketkini.com
Isa Samad direman 5 hari, permohonan tahanan di hospital ditolak
Malaysian can shout and yell,in the end it's sandiwara. Wait n See...
Chief Thief Flushes Isa Down The Toilet...
Whether it is a sandiwara or no (the AG may decide NOT to prosecute Isa) most certainly Isa's reputation has been flushed down the toilet. He has been arrested - that is now on the record.
Isa is another another corrupted crony who has been thrown to the dogs by his boss the Chief Thief.
I dont know whether these morons realise it or not but that is how the Chief Thief seems to operate. He uses all these crooks to do his dirty things.
Then if they get caught or their dirty deeds are exposed and the temperature gets too hot, he just lets them get sacrificed. They become used toilet paper. That is what is happening to Isa.
The question for Isa Samad and all the other crony crooks to ponder is how come their boss Chief Thief is still walking around scot free? - ostb
Isa only a medium size fish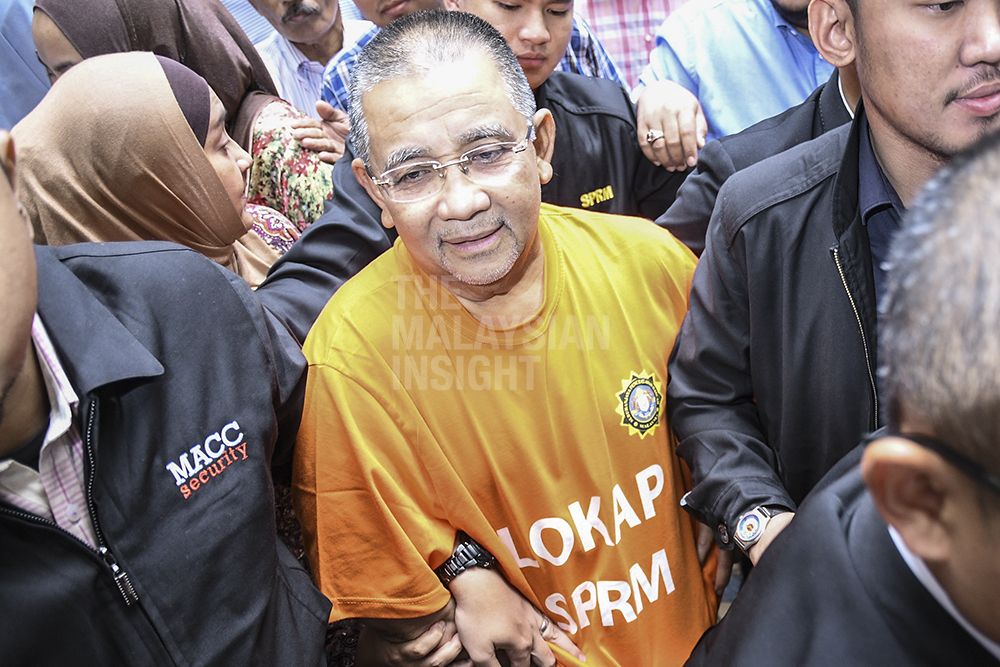 Will Isa swim free like the
18 sharks Pak Lah failed to net?...
When Abdullah Ahmad Badawi took over the leadership reins from Dr Mahathir Mohamad in 2003, he had promised to come down hard on corruption.
Recalling this period in the wake of former Felda chairperson Isa Samad's arrest, Lim Kit Siang wondered if this was a re-run of a pre-general election tactic.
Prior to the 2008 general election, he said the then minister in the Prime Minister's Department Rais Yatim announced that the Abdullah administration would net "18 sharks" for corruption.
"But not a single 'shark' was netted to be convicted and sentenced in the whole five-year Abdullah premiership and all the 'lightning and thunder' about eradicating corruption by netting and nailing the 'sharks' ended in a whimper without any results," he added in a media statement.
"Will the same mockery of justice repeat again with the approach of the 14th general election?" he asked in reference to Isa's case.
According to Lim, the circumstances of Isa's appointment as chairperson of both Felda and Felda Global Ventures (FGV) and now as Land Public Transport Commission (Spad) acting chairperson make this a pertinent question.
The DAP leader also pointed out that Isa was suspended for six years from Umno after the party's disciplinary board found him guilty of money politics.
"With such a background, the appointment of Isa to top public posts is most questionable and creates an onerous responsibility on the prime minister to be constantly on alert that such a blemished appointee should strictly abide by the principles of good governance, integrity and accountability.
"Had Najib performed these additional duties in this case?" he asked.
Lim also urged Prime Minister Najib Abdul Razak to explain the reasons for appointing Isa as chairperson of both Felda and FGV, and since July, as acting chairperson of Spad.
He also wanted the premier to disclose the state of Isa's present position as acting chairperson of Spad following his arrest and five-day remand.
Isa was arrested by the Malaysian Anti-Corruption Commission (MACC) yesterday to facilitate investigation into Felda Investment Corporation's (FIC) purchase of hotels.
MACC is reportedly looking at two hotel purchases one in London and another in Kuching, suspected to be at bloated prices. - mk
The rakyat is the hand that feeds you...
Story kat
SINI
dan
SINI
Jambatan P.Pinang- Satu Lorong Ditutup Setahun
Story kat
SINI
dan
SINI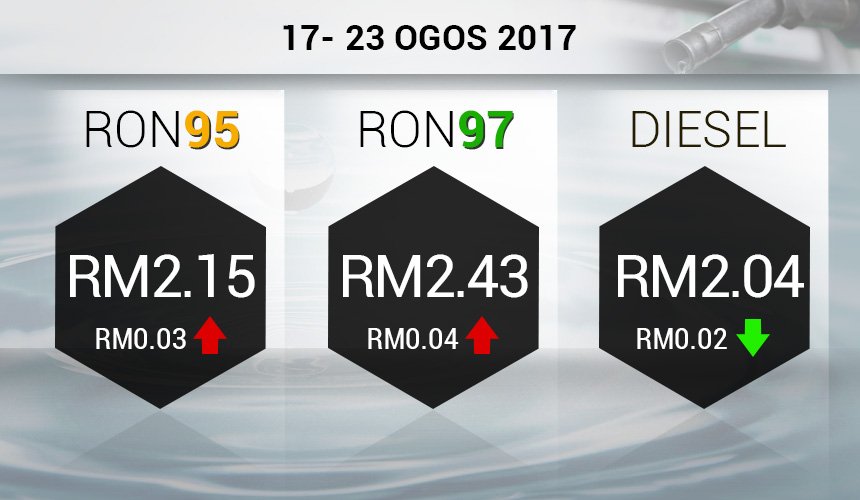 4 minggu berturut-turut...
cheers.