Guan Eng ke istana dengan
Ketua Menteri Pulau Pinang Lim Guan Eng hari ini mengeluh dengan kualiti kereta yang disewanya daripada Jabatan Kerja Raya (JKR) Kuala Lumpur untuk ke istana.
Keluhan di Twitter itu turut disertakan dengan tiga keping Proton Perdana hitam dalam keadaan tidak sempurna yang dimuat naik bersama.
"Semua pemilik Proton sila periksa pintu kereta anda.
"Kereta eksekutif Proton yang disewa oleh kerajaan Pulau Pinang ada masalah pintu.
"Pintu kereta rasmi JKR KL saya di bahagian penumpang belakang tidak boleh ditutup.
"Terpaksa pegang dengan tangan," tulisnya di Twitter.
Gambar itu juga memaparkan pintu itu terpaksa diletak dengan pita pelekat buat sementara waktu bagi mengelakkan terbuka ketika perjalanan.
Dalam tweet berikutnya, Lim mengeluh kerana terpaksa hadir ke istana dengan kenderaan sebegitu.
"Harap dapat kereta JKR lebih selamat pada masa akan datang," katanya.
Beliau dijadual hadir ke Mesyuarat Majlis Raja-Raja ke-245 di Istana Negara hari ini yang dipengerusikan oleh Sultan Perak Sultan Nazrin Shah.
Sementara itu, bercakap kepada Malaysiakini, Lim menjelaskan beliau menyewa kereta itu RM200 sehari dan menggunakannya untuk perjalanan dari lapangan terbang Subang ke Istana Negara di Kuala Lumpur.
Katanya, beliau boleh menyewa kereta daripada pihak swasta tetapi mahu "menyokong kerajaan pusat".
"Ini lawak jenaka! Saya terpaksa berpaut kuat, saya takut tercampak keluar pintu," katanya sambil mengaku "malu" masuk ke istana dengan kenderaan sebegitu.
Beliau justeru menggesa JKR mengaudit terlebih dahulu kenderaannya sebelum menyewakan kepada orang awam.
Lim bagaimanapun beliau hari ini sampai ke istana dengan selamat.
JKR juga, katanya, telah menggantikan kereta itu dengan kenderaan baru.
Malaysiakini sedang cuba mendapatkan penjelasan JKR KL berkaitan perkara itu. - mk
Pasai tulah Dr.Madinah boleh jadi
Ketua Odit Negara...


Dua ungkapan kata terhebat yang pernah dilafazkan oleh Redzuan Hamid, Ketua UMNO Bahagian Kepong sebelum isterinya, Dr. Madinah Mohamad dilantik sebagai Ketua Audit Negara yang baru menggantikan Ambrin Buang.
Dr. Madinah dilantik sebagai Ketua Audit Negara yang baru untuk tempoh dua tahun mulai 23 Februari 2017 hingga 22 Februari 2019.
Pertama, Encik Somi (suami) melafazkan kata-kata bahawa beliau sanggup mati demi untuk mempertahankan kedudukan Najib Razak selaku Presiden UMNO dan Perdana Menteri.
Saya berani mati untuk Najib. Jangan sentuh Najib. Kalau mati, kami mahu mati bersama Najib, demikian antara kata-kata Redzuan ketika berucap di Mesyuarat UMNO Bahagian Kepong, tahun lalu.
Kedua, Encik Somi juga mengatakan derma RM2.6 bilion yang diterima Najib melalui akaun peribadinya adalah kerana "pemberi derma" kagum dengan kelantangan Perdana Menteri melawan Yahudi.
Woww...agaknya Encik Somi terlupa atau buat-buat lupa dengan nama syarikat seperti Apco dan Goldman Sachs.
Apakah kerana kehebatan Encik Somi dalam berkata-kata itu, isterinya yang bukan berlatarbelakangkan pendidikan perakaunan/audit pun akhirnya boleh dilantik sebagai Ketua Audit Negara?
Mungkin kita tidak mempertikaikan kemampuan Madinah atas kapasiti penjawat awam dengan tugas terakhirnya sebagai Ketua Setiausaha Kementerian Pendidikan sebelum ini, tetapi apakah beliau mampu menganalisa angka-angka secara berkesan dengan tugas barunya nanti?
Mungkinkah juga suatu hari nanti seseorang yang bukan berkelulusan undang-undang boleh dilantik sebagai Peguam Negara? - shahbudin husin
PAS minta gomen teliti semula lantikan Dr.Madinah
Pasai apa Ketua Audit Negara tiada latar belakang audit?
Integrity, not accounting, for A-G job
The North Korean Assassination...
Kim regularly visited China, close with Beijing through uncle Jang Song Thaek 2nd most powerful man in North. Song Taek was China's guy in Pyongyang
Song Taek dramatically executed in 2013 on order of Jong Un,robbing Jong Nam of strongest ally and major link to Beijing. North executed Song Taek for business dealings in China. North is wiping out all pro-Chinese regime elements
Song Taek execution "greatly undermine China's confidence" in Jong Un. China is only real ally.Relations strained over Pyongyang nuclear program.
Jong Nam advocated reform in North Korea and openly encouraged (Pyongyang) to follow China's example
Jong Nam murder is a dramatic miscalculation by Pyongyang. Murder a major blow to China's hopes for North to open up fundamentally change how Beijing deals with North .
China halt all coal imports from North Korea, a sign of Beijing's displeasure with Kim Jong Nam's death. - CNN
Ostb : Folks, never agree to do anything for any stranger at any airport.
1. Never agree to "pinjam" your baggage check in or "carry on" baggage for any stranger. Never.
2. Never stop for any stranger who asks you where you are going.
3. Notice that at all airports around the world, only people wearing uniforms ask for your passport. This will include Immigration, Police (or Army) and the airline staff behind the counter. Never respond to any person NOT wearing a uniform who asks to see your passport.
This Kim Jong Nam assassination (obviously by North Korea) is proof again that fraternising with psycho countries will end up with you getting bitten in your backside.
Ok we allow a North Korean embassy here in KL but the UMNO boys invite the North Koreans to the UMNO Assembly. Now we read that there are so many North Koreans who are living and working here in Malaysia.
North Koreans are not allowed to travel outside their country. Period.
The only North Koreans who are allowed to travel outside are on some government related matter. In other words they must be spies, intelligence operatives and such. Why did we allow all these people inside the country?
As I "guessed" in my earlier post about this, the real assassins have already left the country. That would most likely be those four North Korean characters in the picture above.
The naive Viet and Indon girls were part of a clever ploy to be involved in the assassination. The fact that the Indon girl was "hired" earlier to play a part on a 'prank TV show' indicates that this murder was planned ahead. Meaning they also knew their victim's travel itinerary. This is my guess.
There is a lot of buzz that China (with the agreement of Russia and the US) are planning to "remove" Kim Jong Un from power, possibly this year. I believe the Chinese can do it. Not only does the guy have an ugly hair cut but he is really losing it. South Korean intelligence feels that he suffers dementia (that the guy is mad).
So you cannot blame "bad hair cut's" paranoia. And China's candidate to replace him in power was Kim Jong Nam. So they took him out at the KLIA.
My conclusion is Britain is coming down hard on some jihadi psychos (all Salafi / Wahhabi) who hang around in Britain. That Anjam Choudhury has been sent to jail. The Brits are possibly deporting or taking action against a bunch of other Salafis who live in Britain.
Soon, these Salafis / Wahhabis will be running away, looking for new countries to host them. Please dont let them into Malaysia. Pleeeeeeeease.
Jangan tunjuk bodoh sangat. Cubalah nyorok sikit bodoh itu. Tak payah bagi pulau tiga, bagi duit RM100 ribu, bagi IC, bagi passport kepada bapak-bapak setan dan iblis.
Lepas itu bila orang lain kata awak bodoh, DNA bodoh, awak marah pula.
Not only Salafis, Wahabis, Al Qaeda, ISIS, Jemaah Islamiyah, Abu Sayaf and Thai separatists but now we also have North Korean operatives running around our country.
Majlis Keselamatan Negara - just hand in your towels and shoes and go home. - ostb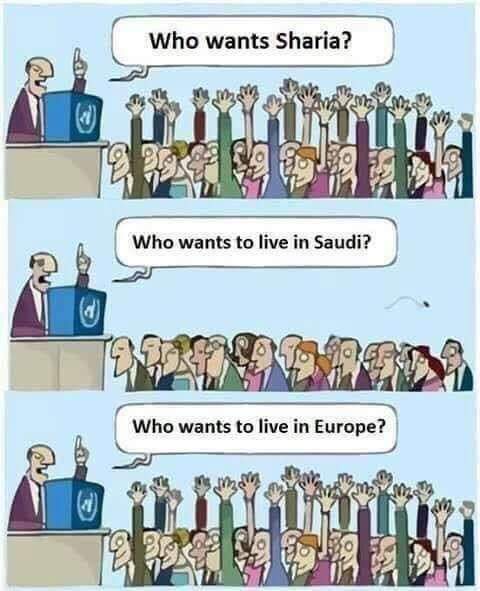 cheers.