Ada pemimpin negara asing datang ke Malaysia bukan atas dasar persahabatan tetapi kerana sesuatu yang 'diberikan' oleh perdana menteri kepada mereka, kata Pengerusi Parti Pribumi Bersatu (BERSATU) Tun Dr Mahathir Mohamad.
Meskipun tidak menyebut nama pemimpin berkenaan, beliau dipercayai merujuk kedatangan Raja Salman Abdulaziz Al-Saud dari Arab Saudi bersama delegasi 600 anggota yang terdiri daripada kerabat diraja dan jemaah menteri dari negara itu.
Mahathir dalam satu majlis anjuran BERSATU di Sungai Buloh malam tadi, seperti biasa menyerang musuh nombor satu beliau, Datuk Seri Najib Razak dengan menyentuh isu derma yang dimasukkan ke akaun bank peribadinya.
"Saya belum jumpa manusia yang apabila kita cakap dia pencuri dia 'eheheh'. Orang semua cakap kamu pencuri. Pemimpin negara lain datang melawat anggap ini menghalalkan perbuatan haram.
"Tapi kita tahu sebab-sebab yang orang asing membuat lawatan ke Malaysia. Saya tak perlu nak sebut di sini. Tapi mereka datang bukan kerana persahabatan tapi kerana ada sesuatu yang Najib boleh bagi kepada mereka.
"Inilah sebabnya mereka berada di sini," kata Mahathir.
Mahathir berkata, pemimpin negara berkenaan sepatutnya memberi penjelasan mengenai wang derma berkenaan.
"Kita berasa amat malang kerana mereka ini sepatutnya menjelaskan bahawa derma yang diberi oleh mereka itu tak benar- tak ada dokumen yang menunjuk bahawa wang itu diberi secara percuma.
"Tetapi demikianlah mereka sanggup berbohong sama-sama dengan Najib," kata Mahathir dalam ucapannya kepada kira-kira 1,000 hadirin yang terdiri daripada anggota BERSATU dan penyokong.
Ditanya oleh media kemudian sama ada beliau merujuk kepada Raja Arab Saudi, Mahathir berkata, "Saya tidak berkata apa-apa, anda menyebutnya."
Tujuh bulan selepas The Wall Street Journal pada Julai 2015 mendedahkan bahawa RM2.6 bilion dimasukkan ke akaun bank Najib, Peguam Negara Tan Sri Mohamed Apandi Ali mengisytiharkan wang itu adalah derma daripada keluarga diraja Arab Saudi.
Apandi juga mendakwa siasatan menunjukkan sebahagian wang itu telah dikembalikan kepada penderma berkenaan.
Sementara itu, Raja Salman Abdulaziz Al-Saud melakukan lawatan ke Malaysia dari 26 Februari hingga 1 Mac bagi memperkukuh kerjasama dalam beberapa bidang berkaitan, termasuk isu kuota haji yang akan menjadi agenda utama.
Lawatan sulung Raja Salman yang menaiki takhta pada 23 Januari 2015, adalah atas undangan Yang di-Pertuan Agong Sultan Muhammad V. - mk
Siapa Anwar pada PRU14?
The UMNO Elections are long overdue. They should have been held yesterday. All eyes now are on one position only - the deputy president. Since Muhyiddin was fired and thrown out of the party there has been great speculation who shall be the deputy party president.
Not only has the deputy president been kicked out but another Vice President Shafie Apdal has also left UMNO. Leaving behind Hishamuddin and Zahid Hamidi as the two incumbent VPs.
Both Zahid Hamidi and Hishamuddin Hussein will (or rather they must) vie for the vacant deputy president's post.
The money says if Hishamuddin Hussein becomes Deputy President, then of a certainty KJ's career in UMNO will be substantially impeded. KJ knows this as well. So KJ has no choice but to also aim for the Deputy President's post.
Observers note that KJ has lately been appearing wearing his Reserves military uniform - perhaps sending a strong signal to Hishamuddin Hussein the Minister of Defense that KJ too can tie his boot laces.
So Zahid, Hisham and KJ will be vying for the Deputy President's position in UMNO.
No one seems to favour Zahid Hamidi as the Deputy President, deputy PM or as PM. Zahid can be helped here but other than telling him to stop showing his fist, his advisors are not helping him at all. I think that UN speech in English was sabotage.
If Zahid had spoken in Malay at the UN, even I would have voted for Zahid. Zahid would have come out as a Malay and Malaysian champion. It was a fantastic opportunity lost. Bila lagi nak berbahasa Melayu brader? (Dulu masa mamak tak reti cakap Melayu, depa kutuk mamak tak suka Melayu. Sekarang mamak fasih cakap Melayu, depa kutuk mamak nak jadi Melayu pula. Kay se-paata)
Coming back to UMNO, there is therefore a serious vacancy for the three Vice Presidents positions as well.
Talk is the front runner for VP is none other than Ismail Sabri. Tokpa or Mustapa Mohamed is also in the running they say. The other person hoping to be VP is Mahadzir Khalid. And Sabah UMNO wants a VP slot as replacement for Shafie Apdal. If Sabah UMNO does not get a VP slot, they say you can shut down UMNO in Sabah.
As the stomach churns.- ostb
UPDATED :
Anonymous said...
- Zahid has been quiet of late.
- Hisham is in a big dilemma. But he is (not) defending the Moron either.
- That budak hitam has no choice but to wait and see..
- when Moron falls, his political fate is sealed.
- Dahlan sense that he will lose in Sabah if he keeps on defending the Moron.
- Salleh that Keruak like a water buffalo too is also feeling the heat.
- Sabahans are not happy with Umno.
- What more with that Moron up there.
- A big split is going on.
- The Moron is in trouble.
- He expects his appointees to support him.
- And now with the country going on SALE to China, Malay politicians in Umno are not happy.
- They may not get the support of their people
- Moron must be seriously on sleeping pills now..
- an overdose will see him become a zombie soon.
ostb - Sunday, February 26, 2017 6:21:00 PM
Ministers Are Split, Even
The "Advisors" Are Split...
Anifah Aman is not the only Minister who is unhappy. (By the way, there are FOUR State EXCO members in a particular State who are ready to 'jump ship'. I will not entertain any private email or smses asking who or which state, sorry folks.) There is serious dissension within the ranks.
As I predicted (it is no rocket science) Anifah finds it increasingly difficult to converse with foreign missions and foreign diplomats whenever they bring up the 1MDB and other MO1 related issues. And Anifah has been obliged to 'tolerate' China.
The Ministers are split in their support for MO1. Talk is MOI has complained more than once that not all Ministers are with him to fend off Dr Mahathir's attacks. Which is true because not all Ministers attack Tun Dr Mahathir. Many remain quiet. Their feeling is, "Duit dia bantai, lepas tu suruh kita defend pula."
Even among the Advisors around MOI they are split. Not all of them support MOI. Talk is that one Se·ño·ra who publicly supports MOI says many (but true) things about him in private. " . .. di belakang kata macam-macam". So there is plenty of hypocrisy going on. Are we surprised?
And Sarawak under the new Chief Minister Abang Jo is pulling even farther away from MOI. Sarawak is reiterating that they will work "with the sitting Prime Minister". Their loyalty is NOT to MOI. The 31 parliamentary seats in Sarawak will support whoever is PM.
And if Shafie Apdal wins in Sabah, then Sarawak is prepared to follow 'Sabah's lead' in dealing with Putrajaya. Sarawak has made it plain that they do not want UMNO in Sarawak. Sabah also does not want UMNO. Together Sarawak and Sabah will work to 'send UMNO back' to Semenanjung.
On the ground level, the sentiment among the people in Sarawak is increasingly against UMNO / BN (from the Semenanjung). This is no great secret.
Lets see what the cat drags onto the lawn tomorrow. - ostb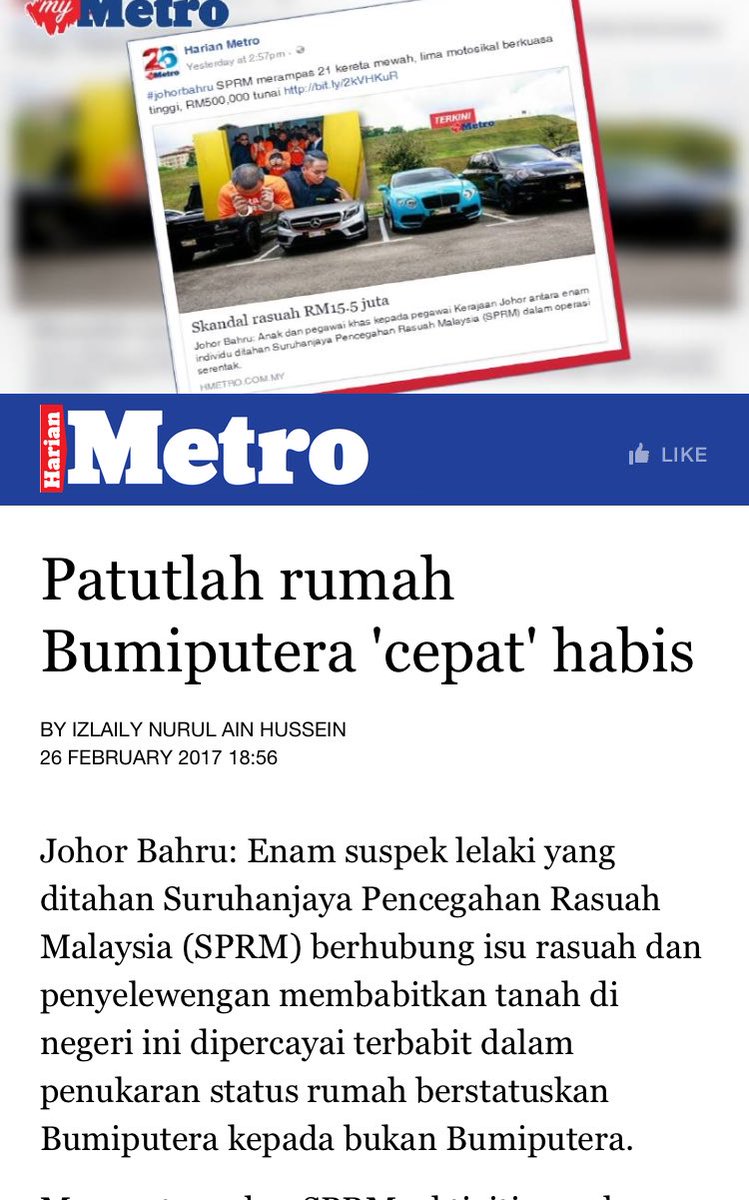 Gua selalu cakap, yang banyak khianati Melayu adalah orang Melayu sendiri,
bukannya Cina DAP. Tapi lu olang masih buta, khususnya penyokong UMNO dan PAS.
..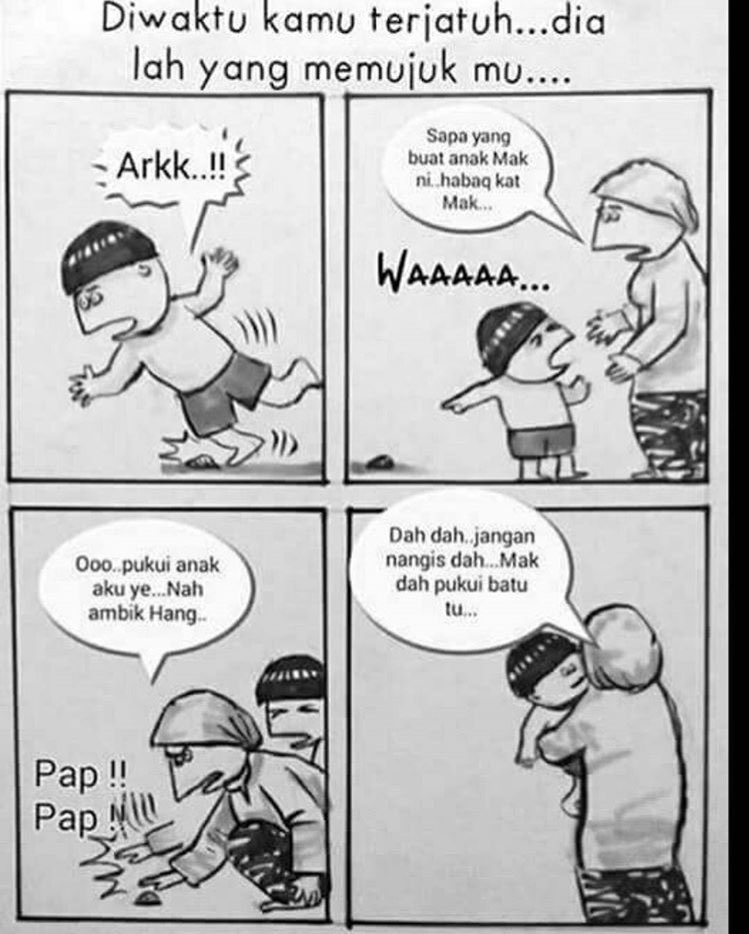 cheers.