Apabila Dr Mahathir membayangkan akan terus jadi PM selama tiga tahun bukannya dua tahun ramailah yang memberi reaksi kurang senang dan berbagai-bagai. Bagi yang anti Anwar gembira dan seronok dengan kenyataan Dr Mahathir itu. Manakala yang mengharap Anwar jadi PM rasa kecewa dan terkedu.
Bagi saya tidak penting sama ada dua tahun atau tiga tahun atau 10 tahun lagi, Dr Mahathir hendak jadi PM. No problem, teruskan. Tidak perlu mendesak dan menekan Dr Mahathir. Mereka yang tekan Dr Mahathir agar berundur adalah silap. Apa yang kena fahami dalam keadaan seperti hari ini "jawatan" adalah penawar bagi Dr Mahathir Mohamad.
Jawatan sebagai oksigen untuknya memberikan keselesaan penafasanya. Beliau sendiri mengakui dia seronok berada dalam tekanan dan challenge.kerana itu ubat baginya. Jadi apakah baiknya memberikan ubat itu kepadanya?
Yang perlu dinilai kini ialah pencapaian dan reformasi yang beliau lakukan dalam tempoh itu. Apakah ada perubahan dan ada reformasi dilakukan atau tidak. Itu penting kerana kerjaaan yaqng ada kini adalah kerajaan reformasi, bukannya kerajaan di era Tunku Abdul Rahman, ataupun kerajaan era Mahathir Mohamad sebelum ini. Kalaupun Dr Mahathir jadi PM 20 tahun lagi tanpa dapat dan mampu melakukan reformasi itu ia tidak bermakna apa apa pun.
"Saya bekerja 18 jam sehari kerana saya tidak mempunyai banyak masa. "Saya janji akan berundur sebelum PRU akan datang dan memberi laluan kepada calon lain. Jadi, saya mungkin ada lagi tiga tahun paling lama...
"Dalam tempoh tiga tahun itu, saya perlu menyelesaikan banyak perkara," katanya
Rakyat sedang menilai kemampuan dan perubahan dilakukan oleh Dr Mahathir. Jika tiada ada perubahan, dalam tempoh itu, betapa pun Dr Mahathir seronok dengan jawatan, ia tidak memberi makna. Dan saya rasakan Dr Mahathir tidaklah menjadikan jawatan itu sebagai suplimen untuk hidupnya, tetapi digunakan untuk memperbaiki kerosakan ditinggalkan Najib Razak.
Apapun seperti saya sering katakan, apa yang orang ingin lihat kepada kerajaan PH ini ialah dasar-dasar, polisi dan pendekatan diamabil oleh Anwar Ibrahim sebagai PM nanti. Orang mahu tunggu apakah perbezaannya, apakah ia lebih teruk atau sebaliknya dengan apa dilakukan PM sebelum ini.
Dan sama ada Anwar berjaya atau tidak membawa perubahan (reform) itu soal subjektif, tetapi yang objektifnya orang mahu melihat Anwar memimpin sebagai PM. Kita tidak boleh menghukum atau mengatakan Anwar tidak mamhu selagi ia tidak melalui ujian atau pepperiksaan dengan menjadi PM.
Bagi saya Anwar faham ini dan dia bersedia. Perbalahan mengenai bila detik Dr Mahathir akan berundur tidak memberi apa-apa keuntungan melainkan menambah keserabutan dalam kerajaan.
Anwar sendiri tidak perlu terkedu atau pun rasa tercabar dengan kenyataan-kenyataan Dr Mahathir yang membayangkan sesuatu yang tidak diharapkan oleh semua itu. Anwar dan kita semua harus rileks dan beliau perlu memikirkan dari sekarang apakah reform yang akan dilakukan. Dr Mahathir biarlah dia diberi suplimen secukupnya.- mso
Pasai apa ramai dok hasut
Dari semasa ke semasa, semakin dekat janji peralihan kuasa menemui titik kenyataan, ternampak semakin ramai yang mahu Tun Mahathir Mohamad memungkiri janji penyerahan jawatan Perdana Menteri kepada Anwar Ibrahim.
Terbaru, walaupun tidak menyebut dan hanya ditulis secara umum, tetapi tidaklah sukar untuk memahami bahawa surat terbuka Mufti Perlis, Dr Asri Zainul Abidin juga mempunyai maksud yang sama.
Meskipun beliau mengatakan tulisannya adalah bersifat umum dan tidak ditujukan kepada sesiapa, namun berdasarkan konsensus penyerahan jawatan kepada Anwar sudah pun ada sebelum PRU14 lagi, maka apabila memperkatakan tentang peralihan kuasa yang sudah ada persetujuan itu, tentulah ia ditujukan kepada Anwar.
Jika tidak ada konsensus penyerahan jawatan secara khusus kepada Anwar, rasanya tidak mungkin Dr Asri ada idea untuk menulis surat terbuka ini kepada Perdana Menteri.
Mufti Perlis seolah-olah cuba menasihatkan Tun Mahathir agar lebih memikirkan redha serta murka Allah daripada menunaikan janji kepada Anwar yang disifatkannya sebagai rakus, tamak kuasa dan sebagainya.
Soalnya, daripada kasyaf mana dan daripada penilaian kaca mata apa beliau melihat Anwar sebagai seorang yang rakus dan tamak kuasa?
Apakah beliau benar-benar yakin bahawa jika Anwar menjadi pengganti Tun Mahathir, keadaan negara akan menjadi lebih buruk daripada sekarang?
Ataukah tulisan beliau atas nama mufti itu sekadar membawa mesej Shahidan Kassim, Pengerusi Perhubingan UMNO Perlis yang difahami mahu PH berbalah dan dengan demikian akan memudahkan BN merampas semula kuasa dalam PRU15 akan datang?
Dalam erti kata yang mudah juga, Dr Asri, sebagaimana ramai yang lain yang sebelum ini menolak penyerahan jawatan kepada Anwar, mereka dengan jelas cuba menghasut Tun Mahathir agar memungkiri janji yang telah dipersetujui dalam PH.
Kalau orang politik menghasut orang politik untuk mungkir janji, mungkin boleh difahami maksud dan tujuannya.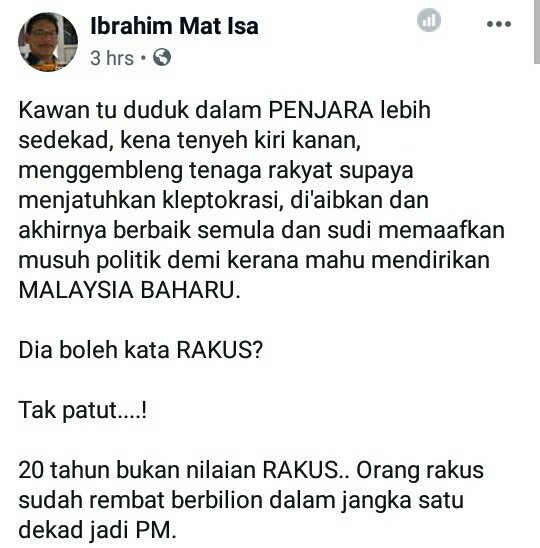 Tetapi, apa untungnya seorang mufti dengan jubah dan kopiah juga turut melakukan kerja-kerja menghasut ini?
Apakah mereka sanggup menanggung dosa Tun Mahathir jika akhirnya pemungkiran janji itu benar-benar berlaku?
Dalam janji politik, jika mahu, Dr Wan Azizah Wan Ismail pun boleh mungkir janji apabila beliau ditawarkan oleh Yang Dipertuan Agong untuk mengangkat sumpah sebagai Perdana sebaik kemenangan PH pada 9 Mei 2018 lalu.
Meskipun PKR memiliki kerusi Parlimen majoriti dalam PH, namun oleh kerana berpegang kepada janji konsensus bahawa Tun Mahathir adalah calon Perdana Menteri, Dr. Wan Azizah tanpa ragu-ragu memilih untuk akur dengannya dan menolak permintaan Agong itu.
Hendaklah difahami, selain janji Tun Mahathir sebagai Perdana Menteri dan Dr Wan Azizah sebagai Timbalan Perdana Menteri, kedudukan Anwar sebagai bakal Perrdana Menteri ke-8 juga adalah janji dan muafakat yang dipersetujui oleh PH, bukannya janji Tun Mahathir seorang diri.
Kenapa jika Dr Wan Azizah boleh patuh kepada janji PH, ada pula yang gatal tangan, termasuk Mufti Perlis sanggup menulis cuba menghasut Tun Mahathir menjadi pemungkir janji?
Adakah mereka ini mahu Tun Mahathir berkelahi sekali lagi dengan Anwar dan seterusnya mungkin mengkibatkan kematiannya berakhir dengan kehinaan?
Selain itu, jika mereka mahu Tun Mahathir mungkir janji kepada Anwar, mereka mahu siapa sebenarnya sebagai Perdana Menteri ke-8.
Azmin Ali?
Mukhriz Mahathir?
Muhyiddin Yassin?
Kalau betul-betul ikhlas, beranikanlah diri menyebut nama yang dirasakan lebih layak daripada Anwar itu!!! - Shahbudin Husin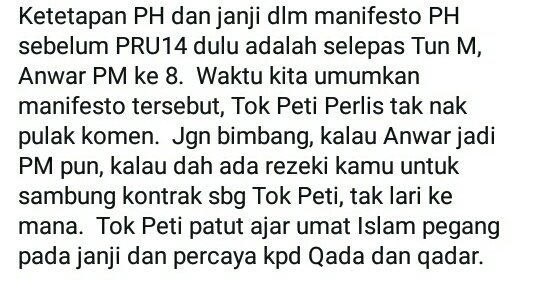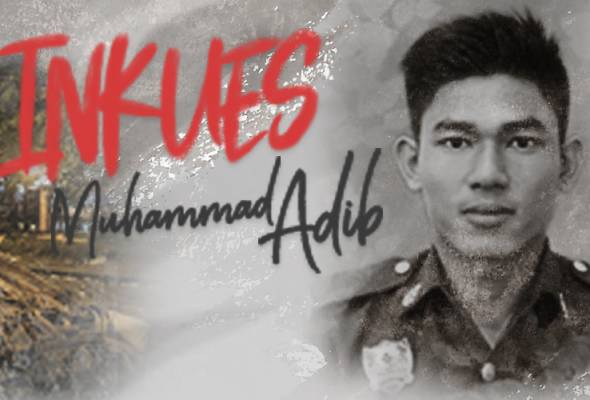 Coroner Rejects Pathologist Who Conducted Postmortem

In Favor Of UiTM Physics Lecturer...


The full report at FMT here. My comments are in

yellow

...
Coroner ruled "more than two unidentified persons" killed fireman Adib...

OSTB : How did the Coroner conclude 1, 2, 3, 4 or 5 persons? On what basis did the coroner come to these conclusions? There must be a solid basis for saying things like this.
Coroner Rofiah Mohamad said blunt force trauma not caused by himself or through accident.
OSTB : Of course he did not kill himself. How come the Coroner has not considered negligence? Or criminal negligence?
"Hospital Kuala Lumpur forensics specialist Dr Ahmad Hafizam Hasmi said the injuries sustained by Adib in the Seafield Sri Maha Mariamman Temple riot on Nov 27 were likely due to him being hit by a vehicle."
The Coroner has not given solid reasons why she has rejected the report by forensics specialist Dr Ahmad Hafizam Hasmi. She added that Adib's death has been classified as a criminal case.
"It is now up to the police and the attorney-general to bring charges," she said.
OSTB : How can the police bring charges when the police already arrested some Indian boys and then had to release them. There is no evidence that any of the Indian boys in that area at that time caused any injury to Adib.
Adib died at the National Heart Institute (IJN) on Dec 17, 2018.
OSTB : The injuries were sustained on Nov 27, 2018. This means that Adib survived for 21 days.
Dr Ahmad Hafizam testified that some of Adib's broken ribs were not detected by the earlier X rays. Hence those broken ribs were not treated immediately.
On 28th Nov. 2018 Adib was transferred to the IJN where he responded well to treatment. Here is news from the next day 29th Nov. 2018.
So he began responding well to treatment.
Then SEVEN DAYS later on December 5th, 2018 Rosmah and Najib visited Adib and Rosmah says Adib showed her a 'thumbs up'. This is as per the report by Astro Awani :
Meaning Adib was getting better by December 5th, 2018. Here is another picture where there is a group of people with Adib and all of them are showing 'thumbs up'. I do not know the date of this picture.
Then another THREE DAYS later by 10th December, 2018 the Berita Harian reported that Zuraida Kamarudin visited Adib and that Adib 'sudah boleh menulis'. Here is the Berita Harian :
OSTB : So Adib was getting better and better. From showing thumbs up, to being able to recognise Rosmah and Najib to being able to 'sudah boleh menulis'.
Adib was also able to do weight training with dumb bells. Asked if the use of dumbbells by Adib while being treated at IJN and being told to raise his hands could have contributed to the fracture, Ahmad said it "would have". IJN senior cardiothoracic consultant surgeon Dr Mohamed Ezani Md Taib had told the inquest previously that Adib used special weights in what he described as "passive physio" to strengthen his muscles.
Over 21 days in hospital he awoke from his coma and was able to recognise visitors, he was doing weight training with dumb bells and he was able to write 'sudah boleh menulis'.
Then suddenly his health took a turn for the worse and he died. How come? Was there negligence at the two hospitals which treated him? Because the pathologist Dr Ahmad Hafizam said that FIVE OF ADIB'S RIBS WERE BROKEN DURING TREATMENT AT THE SJMC AND THE IJN.
OSTB : Was there serious infection in his chest cavity caused by late detection of all his broken ribs? The Coroner makes no mention of either investigating or dismissing these possibilities. The Coroner is totally silent. Having FIVE of your ribs broken is not a small matter. Broken ribs have sharp edges which would have torn tissues and caused infections.
Rofiah rejected evidence of forensic expert Dr Ahmad Hafizam Hasmi who conducted the autopsy and told court he found no injuries consistent with violent acts. Hafizam told court Adib had been hit by fire engine despatched to scene.
OSTB : I can tell you straight away that this would be the first time in the history of Malaysia where a Coroner's court has rejected the scientific examination by a trained medical doctor and forensic pathologist who also conducted the autopsy on the body.
On what basis did the Coroner Rofiah reject the official autopsy report conducted by the forensic expert Dr Ahmad Hafizam Hasmi? There must be a proper basis for her to reject the entire autopsy report !! This is getting quite ridiculous.
Rofiah instead accepted testimony of UiTM physics lecturer Amir Rafzi Ab Ghani, who suggested that Adib had been pulled out of the Emergency Medical Rescue Services van.
OSTB : Mak datuk !! UiTM lecturer in physics ?? Did the lecturer in Physics even get a chance to see the body of Adib? In contrast to the forensic pathologist who actually conducted an autopsy on the dead body?
On what basis did the lecturer come to the conclusion that Adib was pulled out of the van? Compared to the forensic pathologists scientific finding that there was a vertical trauma to Adib's rib cage consistent to being hit by the open door of the Bomba truck.
Elaborating on Adib's left rib injuries, he said they were consistent with being hit by "something blunt, hard, straight and vertical". Based on a reconstruction of the scene on Dec 22, where he also spoke to the EMRS driver Adib was sitting next to on Nov 27, it was "most probable" that Adib was outside the van.
He said Adib must have been standing, with his back to the van, and was hit by the left open back door of the EMRS as it was pushed backwards by the reversing fire rescue tender (FRT) truck in front of it.
"The cross-shaped scratch on his left back could have been caused by the friction from being scrapped by the left door handle of the EMRS," he said, forcing him to fall.
So can the Coroner explain how 'two or more people' could have caused a vertical injury stretching over Adib's ribs ? Did they hit him with a straight piece of wood or steel. No one has testified anywhere that anyone saw Adib being hit with anything - hockey stick, crash helmet, piece of wood, an iron rod, a sharp object nothing. None at all.
So how can the Coroner dismiss this part of the autopsy report as well?
She also referred to the medical assistant at IJN who testified that Adib had indicated to him that he was pulled from behind and beaten up during the fracas. Muhammad Ashraf Baruji, who took care of Adib at the ICU for 21 days, told the inquest he had communicated with the fireman using sign language and a whiteboard.
OSTB : Then how come there were no defensive wounds on Adam. The autopsy report says that Adib did not defend himself against anything. And there were absolutely no injuries to his face and head. This is not consistent with someone being attacked by a mob. But it is fully consistent with injuries caused by a truck that is reversing in panic.
Conclusion : The Coroner has now created an Indira Gandhi situation. Plus an Amri Che Mat situation. Meaning...
- the case will not get resolved...
- Indira Gandhi's ex husband cannot be found even after 10 years.
- The location of Amri Che Mat's body has not been divulged although there are people who would know where his body is. Try asking the kidnap team.
The Coroner has said that it is now up to the Police to bring criminal charges. Against who? The Police have already arrested and then had to let go some Indian boys who were there on Nov 27th 2018. The Police found no evidence to hold the boys responsible for Adib's death.
So is the Coroner suggesting now that the Police re-arrest those same Indian boys? Or that the Police go and look for other Indians who were there that night? I dont think that is going to happen. So at the end of the day no one is going to be charged for the death of Adib. - OSTB
Ramai dok tanya tok,apa itu rumah patuh syariah? Tok jawab, rumah tu ciri2nya begini:
1. Rumah tu mesti mengadap kiblat, dapornya mengadap Rusila.
2. Tandas dia mesti ada terompah mcm guru tok.
3. Semua bahan utk bina rumah tu tiada sedikitpun campur dgn bahan buatan atau dari kaum Cina DAP. Paku, tukul, papan, atap dan segalanya mesti buatan melayu kalau boleh dari melayu terengganu.Suppliers mesti Melayu isley.
4. Gap pagar 10 cm untuk elak jiran jengok bini.Tinggi pagar divider antara unit 5m.
5. Doorbell berbunyi salam.
6. Penghuninya rumah tersebut mesti di kalangan olamak. - Tok Usin
cheers.