Masuk masa minit ke 3:28...dia dah kalut...
Saya dapat flyer ini di expo semalam.
Sambil mencari peserta utk seminar, ejen kertas ini turut mempelawa kami peniaga untuk meniaga di platform e-commerce mereka.
Bayaran seminar RM10. Untuk jadi ahli RM160. Peniaga yang ingin meletak produk di platform mereka pula dicaj RM550. Bayaran tahunan juga ada. Saya tak ingat berapa.
Penerangan disulami dengan dakwah islamiah & naratif perjuangan bangsa. Diselit juga konotasi anti bangsa lain.
Saya meminta dengan baik mahu tengok dahulu working platform. Kerana saya adalah e-commerce player.
Selepas 5-7 minit berkomunikasi dengan siapa saya tidak tahu, ejen tersebut memberi saya satu URL yang ternyata masih BETA. Hanya ada 36 produk.
"Puan nak saya bayar RM550 untuk masukkan produk saya di platform yang tidak siap ini?" Saya bertanya.
Lantas terus sahaja naratif islamik dicanang lagi.
"LAZADA, Shopee dan AgroBazaar Online FAMA tidak caj peniaga untuk meletak barang. Barang perlu banyak dahulu Puan, baru pengguna suka surf. Jangan fikir nak untung cepat, Puan." Saya menyelit sedikit realiti e-commerce Malaysia.
Makin bertalu-talu ayat-ayat kebencian (kepada bangsa lain) diselit seiring dengan bait-bait dakwah perjuangan ditekankan oleh ejen terbabit.
Saya hanyalah seorang peniaga kecil yang mencari makan melalui e-commerce. Saya hanya cuba bercakap berpaksi realiti. Janganlah canang tentang perjuangan kalau satu-satunya pihak yang disuruh berjuang adalah orang lain...
Sedang diri sendiri cuba menangguk di air keruh membuat untung segera!!!
BMF itu bagus dan mulia. Maka janganlah jadi manusia yang merosakkannya.
Oh, ya.. Ejen itu kemudiannya berlalu pergi dengan muka masam apabila saya mula menyanggah definisi erti perjuangan tidak menang-menang yang beliau perjuangkan. - Mohszin Mokhtar

BMF tapi yg muslim ni dok menunggang agama utk cari untung cepat. mcm celaka je. usahawan muslim konon nak bantu tapi dia bedal RM550 dulu.

- Mohd Hazmin


Platform sendu...janji bulan bintang. Charge harga yahudi mabuk....senang buat duit. Petik butang agama..layu lah yg muslim.....ini bukan support muslim. Ini cekik darah hantu mak limah. Mmg akan ada golongan penghisap darah bertopengkan agama ni di mana2....pandai mengambil kesempatan.

- Alan Sand Taufers


Canang2 bangsa lain itu ini sedangkan organizer ni sendri menipu dan ambil kesempatan atas bangsa sendiri..

- Sherry Reddy
Patutlah hangpa dok ratip DAP, DAP, DAP siang malam pagi petang.
Rupanya ada Hadi sebalik mee cap DAP.

- f/bk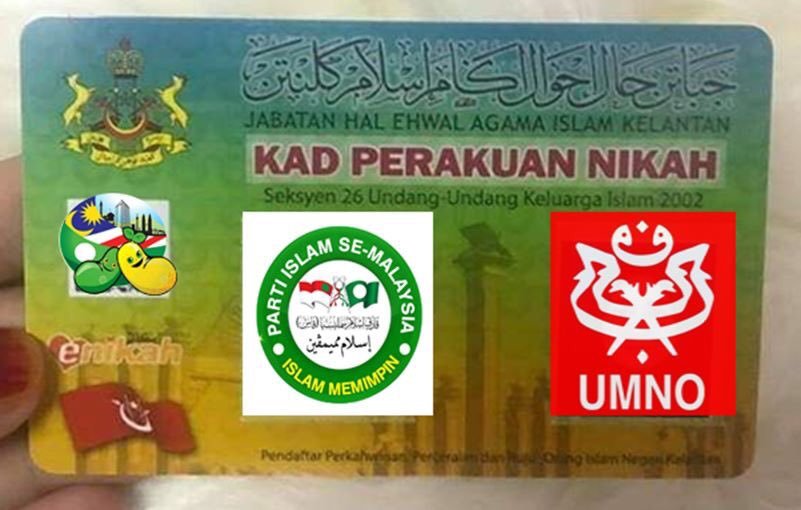 PAS-UMNO marriage of convenience,
just to defeat the PH govt in GE15...
PAS and Umno signed a charter called "Piagam Muafakat Nasional" (National Cooperation Charter) formalizing their pact after months of informal cooperation. The charter outlined a commitment by two largest Malay-Muslim political parties to an Islamic, Malay and bumiputra agenda.
The strategy of this alliance is for the preparation to unite opposition in preparing to face the PH coalition in the 15th general elections scheduled in 2023, by the latest. The rationale of this collaboration is that the opposition now is divided. BN was broken up with only three parties left -- Umno, MCA and MIC -- in the coalition, instead of 13 parties contesting in GE14.
For Umno, they have to collaborate with any party in order to strengthen the opposition. For them, it is a rational thing to invite PAS to a formal cooperation and willing to sacrifice their popularity especially from those in the grassroots level who are suspicious of PAS's intention. For PAS, it really needs Umno to spread the wing of influence and support to the party.
Previously, PAS is strong in the Malay belt states such as Kedah, Perlis, Kelantan and Terengganu. They want to spread the party to all states in the peninsula and then to Sabah and Sarawak as well.
The first thing PAS was doing after formalizing the Charter is that some leaders of PAS, headed by president Datuk Seri Abdul Hadi Awang, were visiting Chief Minister of Sarawak Datuk Patinggi Abang Johari Tun Openg and perhaps inviting the Sarawak Coalition Party (GPS) which used to be a BN coalition member to join the new movement established by the Charter.
PAS and Umno want to build the momentum, new political dynamic and snowball the support among all opposition parties to be part of perhaps BN-PAS coalition. To me, PAS gets more benefit in this cooperation than Umno because a space was opened for PAS by Umno to spread its support nationwide.
Many argue that if this is a type of Ummah unity, why not Umno and PAS merge into one party? This merger will illustrate the real unity. However, merging these two parties is considered unrealistic and not practical because both parties have long traditions even though PAS started as a splinter group leaving Umno, to begin with. This clearly shows that the marriage between PAS and Umno is a marriage of convenience, just to defeat PH government in GE15.
Vice president of PAS, Datuk Mohd Amar Nik Abdullah even said that PAS just only works with Umno in a cooperation, not political coalition. Therefore, there will be no coalition governments in states controlled by either Umno (Perlis and Pahang), or PAS (Kelantan and Terengganu). This makes many saying that the alliance between PAS and Umno is just merely a political gimmick and rhetoric.
Looking back at the National Cooperation Charter, nothing much to offer by PAS and Umno actually. It requires further explanation from both parties about the way forward they want to bring for Malaysians if they be in power.
In the Charter, it mentioned a lot about protecting the Federal Constitution and highlighting to defend the Malay rights and Islam without sacrificing the plural society that exists in Malaysia. There is full of narrative about the issues of race and religion. This might make many non-Malays, non-Muslims and also bumiputras from Sabah and Sarawak to feel uneasy with this new brand of politics coming from PAS and Umno.
I believe that by playing the sentiments of race and religion would not let both parties win the election. This is because the majority of people especially the middle class would reject this brand of politics which is far right wing in nature. The middle class was the group that decided to swing to PH in GE14 after feeling disappointed with the economic policies of the previous BN government and several scandals emerged that time like the 1MDB.
Besides, PH was able to produce a leadership in Tun Dr. Mahathir Mohamad after Datuk Seri Anwar Ibrahim was imprisoned, as well as alternative policies to BN's. It does not matter whether PH policies are practical or not, but people managed to be convinced to support PH for a better Malaysia.
So far, PAS and Umno have failed to provide alternative policies for the PH government. They play too much racial and religious narrative to gain support. As long as they do not produce the alternative policies, I believe PH still has the advantage to prolong its power. However, this is subject to the stability in PH government.
If PH government is divided because of leadership crisis or infighting, or they do not perform as expected by the people, in a democracy PAS and Umno can have a better chance of winning the next election. For PH, they somehow have ample time, more than three years the most, to stop the momentum created by this PAS-Umno alliance. The key of success for PH government is to maintain a solid coalition and most importantly bring economic opportunities and prosperity to the country.
However, the realpolitik in Malaysia is that, in order to win the election, political parties must be able to dominate the perception and current political dynamic, plus to provide the most attractive initiatives and incentives for the people.
It is difficult now to predict the perception of the people and political dynamic that will exist in the next two to three years. Definitely, PH now is in hurry to perform as the government of the day in order to put perception and political dynamic on their side. There is no easier way to win the election, except to perform as a government. - Prof. Dr. Mohd Azizuddin Mohd Sani,sinchewdaily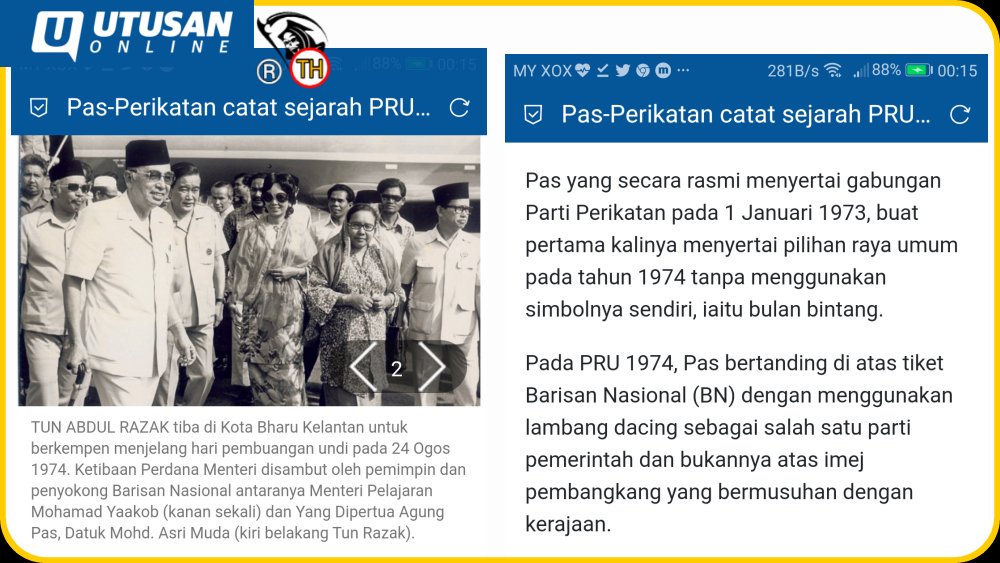 cheers.