Dua hari penuh dengan bermacam cerita disurahkan pelbagai sumber cukup menjadikan himpunan yang kononnya menyatukan ummah, sebenarnya tidak lebih daripada himpunan menyelamatkan masa depan politik masing-masing.
Dengan penyamun sudah kehilangan kuasa lebih 400 hari sejak Pakatan Harapan menjadi kerajaan persekutuan buat pertama kali, tiada apa yang istimewanya himpunan yang pada mulanya bertemakan perpaduan ummah akhirnya dipinda menjadi penyatuan nasional seperti tertera pada piagamnya.
Berbalik kepada kisah penyamun dan lebai penipu tadi, jelas wajah-wajah kecewa terzahir terutamanya pada geng lebai penipu setelah akhirnya ditipu lagi hidup-hidup berlatar belakangkan Dewan Merdeka yang majoritinya pertama kali tercangak mencari-cari hala tuju diri sendiri.
Pun begitu, saat paling kelakar semasa himpunan lebih empat jam itu ialah bagaimana piagam yang ditandatangani tidak ubah seperti meminta belas kasihan rakyat yang telah menolak mereka kecuali penyokong dan ahli mereka di peringkat akar umbi.
Itu pun belum pasti mereka merestui 'pernikahan songsang' sejak pertama kali bertaut pada 1974 dan kesudahannya Kelantan diisytihar darurat empat tahun kemudiannya kerana tamakkan kuasa dan pembelotan sesama sendiri.
Wajah-wajah sugul malah ada yang menangis air mata buaya darat dan laut jelas terpampang di skrin besar dewan yang pernah dimaki saban tahun sama ada muktamar diadakan di Ipoh, Kuala Terengganu mahupun Alor Setar yang mencetuskan ribut angkara 'jahanam' yang terkena kembali kepada mereka sendiri.
Belum lagi cerita berpuluh-puluh bas digunakan bagi 'meramaikan' tapak himpunan di perkarangan PWTC, itu pun sudah menjadi indikator jelas betapa nyawa politik mereka saling tak tumpah cuma syok sendiri tanpa mendasari jauh sekali bermuhasabah diri atas apa yang sudah terjadi pasca PRU 14 yang menjadi mimpi ngeri.
Tanyalah pada hati kecil Nik Amar atau Tuan Ibrahim sendiri, sejak 2008 lagi Almarhum Tok Guru Nik Aziz pada muktamar di Ipoh memberi amaran akan meludah sesiapa yang mahu berpaut dengan penyamun sehingga ke akhir hayatnya pada 12 Februari 2015.
Namun pintu belakang yang diajar geng kortel semburit dikepalai Azmin Ali terus diaplikasi PM Online semahu-mahunya hingga Perak hampir jatuh kembali ke tangan Umno beberapa bulan selepas Pakatan Rakyat menguasai negeri itu.
Apakah PM Online lupa siapa yang membeli tiga Adun Perak hingga Nizar Jamaluddin ditumbangkan secara kudeta tanpa memikirkan kesannya terhadap rakyat?
Berpuluh2 tahun PAS tuduh Perlembagaan Persekutuan tu perlembagaan kapir,
tak ikut Islam,tak ikut Quran. Tiba2 PAS kini menjunjung Perlembagaan Persekutuan.
Lebai Hadi gi sign nak pertahan perlembagaan penjajah ni. Apa hukum????
Penyamun yang sama itulah yang kini menjadi sekutuk rapatnya di samping Zahid Hamidi yang masih berdepan dengan 87 pertuduhan di mahkamah atas pelbagai kesalahan berkaitan salah guna kuasa dan penyelewengan yayasannya.
Sekali lagi Dewan Merdeka menjadi saksi bisu betapa 'penyatuan ummah' yang akhirnya terpaksa menjadi penyatuan nasional tidak akan membawa apa-apa erti bagi orang Melayu kerana retorik dan naratif yang dihidangkan tidak lebih dari sekadar mendapatkan kuasa bagi merompak semula khazanah rakyat atas perjuangan bangsa dan agama, kononnya.

Tanyalah pada pakcik dan makcik mangsa tragedi Memali pada 1985, apakah perasaan mereka, masakan melihat kedua-dua parti yang bermusuh sekian lama boleh bersanding berdua?
Sebab itu Pakatan Harapan tidak perlu melayan sangat 'penyatuan kutub utara dengan kutub utara' ini kerana agenda membasmi kemiskinan dan meningkatkan ekonomi rakyat dan negara akan menghapuskan apa saja fitnah dan adu domba pembangkang yang cemburu dengan kejayaan kerajaan setakat ini.
Hanya dengan jalan itu sajalah mulut-mulut penyamun dan lebai penipu ini akan dikatup apabila pelbagai inisiatif dan program bantuan untuk rakyat mula menampakkan hasil walaupun diakui agak perlahan akibat kekangan kewangan yang berpunca dari si penyamun dan si perut buncit bernama Jho Low itu tadi.
Yang pasti, PM Online dan lebai penipunya membuktikan sekali lagi pada dunia betapa mereka sedang malah sudah mula memasuki lubang hitam dalam masa depan politik mereka apabila menjadi tetamu sahaja di dewan yang menjadi cacian dan makian musuh politik mereka.
Tersungkurnya PM Online di kaki penyamun buat kesekian kalinya membuktikan juga kiblat dan orbit politik mereka kini berada di tangan sang penyamun yang kini cuma menghitung hari untuk dipasung di Sungai Buloh sama ada 11 November atau lewat sedikit dari tarikh itu.
Puas hatikah mereka kini menjadi khadam politik pula kepada penyamun malah ditambah lagi dua iaitu MCA dan MIC yang masih menjadi komponen parti dalam BN?
Jangan nanti penyokong mereka pula yang akan meludah malah berkahak tuiii pada batu nesan PM Online di pusaranya suatu hari nanti. - f/bk
UMNO-PAS pact won't be enough
to defeat Harapan in GE15...
It might take more than an alliance between the two largest Malay-Muslim political parties to carry the opposition past the finishing line in the 15th general election (GE15). Umno and PAS signed their much-awaited "Piagam Muafakat Nasional" (National Cooperation Charter) yesterday, formalising their pact after months of informal cooperation.
Among other things, the charter outlined a commitment by the former foes to an Islamic, Malay and bumiputera agenda. The move is largely seen as a way to endear themselves to conservative Malay voters in the lead- up to GE15, but observers say relying on Malay votes alone will not win one a general election.
For one, the pact is likely to spook any remaining non-Malay support the opposition has, said Universiti Utara Malaysia political science professor Mohd Azizuddin Mohd Sani.
"The reality is that without the support of all Malaysians from all races, they cannot succeed. Depending on Malay votes (alone) won't get them to Putrajaya.
"[...] (But) non-Malays, including those in Sabah and Sarawak, will distance themselves from the Umno-PAS pact," he predicted.
The pact could even alienate it from some of Umno's own supporters in Sabah, said University Malaysia Sarawak academic Arnold Puyok.
"They may be pressured to re-think their position in Umno as PAS' ideology is widely seen as incompatible with the Malaysia Agreement 1963 (MA63)," he told Malaysiakini.
Voters are fundamentally worried that this marriage of conservative forces will push politics farther to the right and divide society, said University of Tasmania's James Chin.
"Umno and PAS are telling all Malaysians this country belongs to the Malays and Muslims, there is no space for you if you are non-Malay or non- Muslim.
"It is a sad day for those who wish to see a progressive, modern and multi-racial Malaysia," he said.
Before yesterday's charter-signing ceremony, Umno president Ahmad Zahid Hamidi promised that Umno and PAS will not resort to "narrow racial politics" or "extremist" religious beliefs.
He repeatedly stressed that they will ensure stability and look out for the needs of all Malaysians regardless of ethnicity or religion. Chin expected these assurances to do little in convincing non-Malay voters.
"Ahmad Zahid can say whatever they want but non-Malays can see this for what it is - a call for Ketuanan Melayu Islam (Malay Islam superiority)," he said.
Better if PAS joins BN
The pact could widen its appeal if PAS were to join BN and campaign under the 'dacing' logo alongside coalition partners MCA and MIC in GE15.
Even so, MCA and MIC were all but obliterated in the last general election with just two seats between them.
Umno and PAS could alternatively form a new multi-racial front but they will sorely need the support of Sabahan and Sarawakian parties, said think-tank Ilham Centre CEO Mohd Azlan Zainal.
"If the pact only comprises Umno and PAS, they could win several more states like Kedah, Perak and maybe another state (in GE15) but it will be hard to take control of Malaysia.
"[...] However, if they fulfil the elements mentioned above and rebrand their charter, they will give Pakatan Harapan a run for its money. They could even potentially win Putrajaya," he predicted.
MCA and MIC leaders have voiced support for the Umno-PAS pact on condition the struggle respects multi-culturalism and is in line with the Federal Constitution.
However, Sarawak ruling coalition Gabungan Parti Sarawak (GPS), which comprises former BN allies, has distanced itself from the alliance and said it prefers to stand on its own.
PAS most to gain
Ultimately, observers see the pact as a marriage of political expediency with PAS having the most to gain.
Umno needs to cleanse its image, marred from the many corruption scandals involving its leaders, but Mohd Azlan said PAS will be able to capitalise on the former ruling party's deep pockets and grassroot networks.
For Chin, the alliance will serve to strengthen the Islamist party.
"PAS knows it cannot win alone; now its biggest competitor is helping it to take power. It will also force Umno to adopt its version of Negara Islam," he said.
Mohd Azizuddin believes convincing their respective grassroots members to set aside their once-bitter rivalry will be a challenge but the parties now have few alternatives.
"I think PAS will gain more because Umno is stronger. Actually, PAS wants Umno more than Umno wants PAS. But because both are in the opposition, they have no choice but to collaborate," he said.
Seat negotiations will pose another challenge.
Umno and PAS have yet to announce their stance on this but Mohd Azizuddin expects many disappointments if they plan to challenge Harapan head-on for Malay votes.
"They will have to ensure two-cornered fights with Harapan. The negotiations and decisions may disappoint many people if the distributions are not being carried out properly," he said.
In the interim, Mohd Azlan suggested that Umno and PAS form coalition governments in the four states they presently govern - Pahang, Perlis, Kelantan and Terengganu.
Not only would this give voters more confidence in their pact, it would also serve as a trial run for the future. PAS president Abdul Hadi Awang has already hinted at the possibility of this.
"There are definitely plans, (Umno) is in our family," he said yesterday in response to a question on whether PAS plans to include Umno in the Kelatantan and Terengganu governments. - mk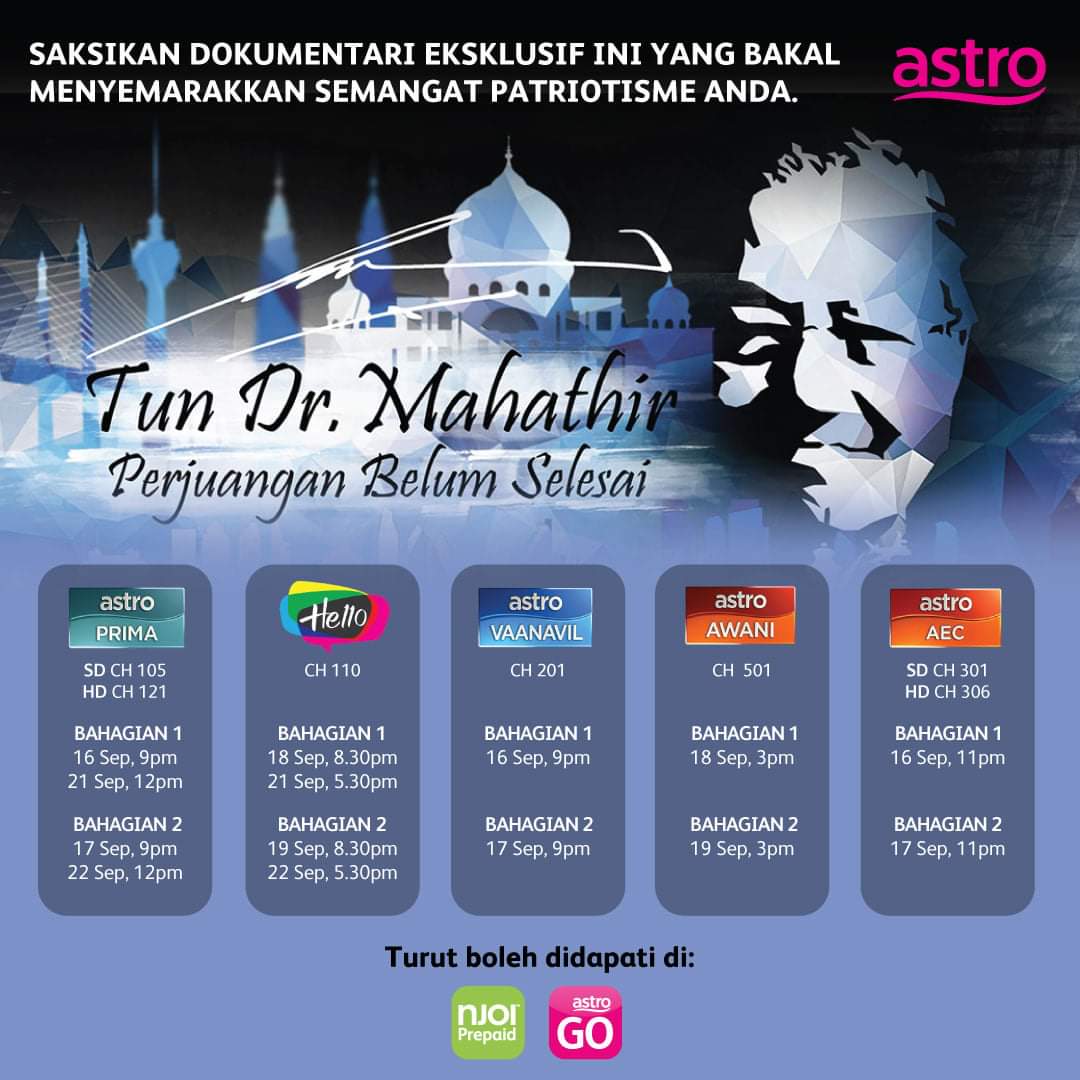 cheers.