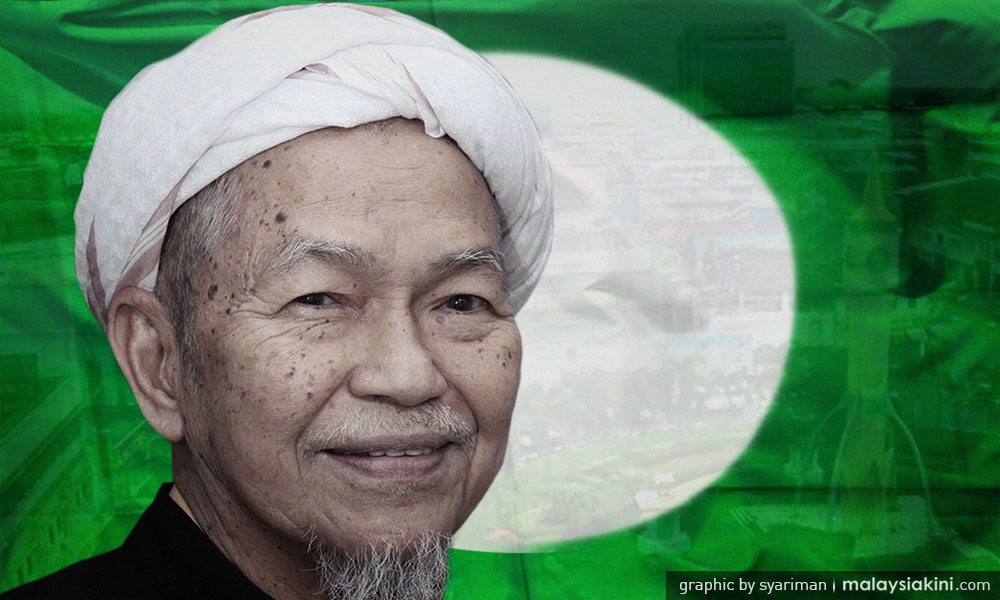 Ada di kalangan masyarakat Melayu yang tidak senang atau kurang selesa apabila pemimpin PAS berkata Allahyarham Nik Aziz Nik Mat pasti gembira dengan kerjasama parti itu dengan Umno yang dimeterai tempoh hari.
Ini kerana lazimnya orang yang sudah meninggal dunia tidak molek dikaitkan dengan 'urusan dunia' khususnya soal politik.
Sehari sebelum Umno dan PAS menandatangani piagam, Timbalan Presiden PAS Tuan Ibrahim Tuan Man dilaporkan berkata beliau selaku anak saudara Allahyarham Nik Aziz cukup mengenali keinginan bekas murysidul am PAS itu dan penyatuan ummah atau kerjasama kedua-dua parti selaras dengan kehendaknya.
Keesokan harinya , pada sidang media sempena Himpuan Penyatuan Ummah, Presiden PAS Abdul Hadi Awang pula ditanya mengenai perkara itu dan respon beliau senada dengan apa yang disuarakan timbalannya .
Beliau dilaporkan berkata: "Oh ya (Allahyarham Nik Aziz gembira dengan penyatuan PAS - Umno). Taawun ialah satu istilah yang dah sepakat dengan Tok Guru Nik Aziz ."
Kata-kata Hadi dan Tuan Ibrahim agak memeranjatkan sebahagian masyarakat kerana pendirian Allahyarham Nik Aziz berhubung kerjasama dengan Umno memang diketahui umum.
Penulis buku politik dan pemerhati PAS Mohd Sayuti Omar menjelaskan: "Mengenai 'persetujuan' Nik Aziz PAS bergabung dengan Umno secara prinsip sebagai seorang Islam yang melihat Umno sebagai parti Melayu memang betul, tetapi dari segi kaedah, syarat syaratnya ia tidak semudah itu."
Kata Sayuti lagi: "Tok Guru pernah bercakap dengan saya sendiri. Allahyarham tidak setuju kalau PAS menyertai BN mahupun Umno kerana serik dengan apa yang berlaku pada 1978 dulu."
(Beliau merujuk kepada PAS yang terpaksa keluar daripada BN yang dipercayai parti itu akibat perbuatan tikam belakang oleh Umno).
Sayuti diketahui umum akrab dengan Allahyarham Nik Aziz.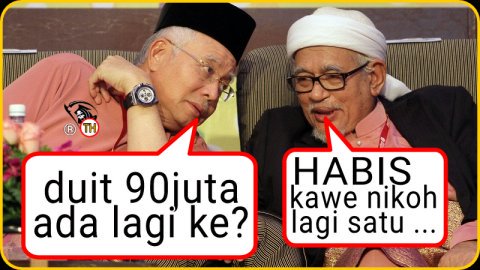 Imbas kembali semasa Tunku Abdul Rahman memimpin Umno - beliau dan timbalannya Tun Abdul Razak Hussein juga pernah mengadakan pertemuan dengan Dr Burhanuddin al-Helmy yang ketika itu menerajui PAS. Tidak ada hasil signifikan yang dicapai.
Pada 1986, ketika Umno dipimpin Dr Mahahir Mohamad dan Anwar Ibrahim menjadi ketua pemuda, satu muzakarah Umno-PAS diadakan yang antara lain membincangkan soal perpaduan dan masalah dihadapi umat Islam.
PAS pada masa itu dipimpin Allahyarham Yusof Rawa dan Allahyarham Fadzil Noor pula sebagai timbalannya. Namun tidak ada susulan lanjut.
Selepas itu soal perpaduan umat, kerjasama mahupun perdamaian menjadi sepi. PAS dan Umno terus bersengketa.
Bagaimanapun pada 2004, ketika zaman Abdullah Ahmad Badawi menerajui pucuk pimpinan Umno, ada usaha dibuat untuk mengadakan muzakakah untuk mendamaikan kedua-dua parti. Pun begitu usaha itu tidak ke mana.
Pada 2009, semasa Najib Razak menjadi presiden Umno, ketua pemuda Khairy Jamaluddin menulis dalam blognya mencadangkan muzakarah Umno dan PAS diadakan semula. Bagaimapun tidak ada perkembangan selepas itu.
Empat tahun kemudian Khairy sekali lagi membuat cadangan sama, dan sekali lagi tidak menjadi kenyataan. Anehnya pada tahun sama iaitu 2013 PAS menerusi Hadi sendiri mengajak Umno bermuzakarah untuk berbincang soal pentadbiran Islam. Tidak ada apa-apa yang terjadi.
Cakap-cakap mengenai muzakarah terus dilaungkan pada era Najib sehingga 2015. Ia mendapat reaksi PAS seperti biasa tapi hakikatnya ia tidak berlaku.
Bagi beberapa penganalisis politik, cakap-cakap mengenai muzakarah timbul apabila pilihan raya menjelang. Kedua-parti bermain politik dan menggunakan isu muzakarah sebagai modal masing masing.
Dan bagi penganalisis ini, PAS dan Umno melengah-lengahkan keadaan dengan Umno khususnya tidak serius walaupun hampir semua pemimpinnya mendakwa mereka mahu muzakarah diadakan "demi Islam".
Hakikatnya, kata penganalisis politik, ketika Umno berkuasa parti itu tidak benar-benar berminat. Seorang rakan dari ibu pejabat Umno memberitahu saya baru-baru ini bahawa "hikmah" kekalahan Umno pada PRU ke-14 ialah parti itu kini boleh berbaik dengan PAS.
Seorang kawan Facebook menerusi hantarannya berkata dia tidak mahu mempertikai benar atau tidak Tok Guru Nik Aziz merestui perkahwinan Umno-PAS . Katanya "biarlah rakyat yang menentukan".
Namun, katanya lagi, dia tertanya-tanya kenapa Allahyarham perlu dikaitkan dengan pertemuan bersejarah itu. "Apa nama tuan guru Hadi Awang atau Tuan Ibrahim Tuan Man tidak begitu kuat untuk mengesahkan perkahwinan bani Melayu itu?" soalnya.
Panjang juga huraiannya tetapi saya singkatkan dan memetik barisan hujung yang berbunyi: "Dia ( Allahyarham Nik Aziz ) sudah tiada apa perlu dikhuatiri dan dibimbangi? Apa masih adakah bayang-bayang Tok Guru Nik Aziz yang boleh mengusik kemeriahan di PWTC itu?"
Bekas pengarang The Malaysian Insider Amin Iskandar membuat catatan berikut di Facebook: "Apabila Hadi terpaksa 'jual nama' arwah Tok Guru Nik Aziz untuk menghalalkan perbuatannya mengahwinkan PAS dengan Umno bermakna beliau masih belum yakin ia akan diterima ahIi bawahan."
Bukanlah suatu rahsia besar ada di kalangan ahli PAS tidak "berkenan" parti mereka menjalin kerjasama dengan Umno berdasarkan kisah pahit masa lalu.
"Tidak ternafi sentimen pertembungan yang kekal tajam khususnya di Kelantan, Terengganu dan sebahagian negeri kuat PAS," kata ketua pegawai eksekutif agensi kajian dan perunding Ilham Centre Mohd Azlan Zainal.
Kata Azlan lagi: "Di kalangan ahli lama, menerima Umno adalah sesuatu yang mustahil kerana sejarah hitam yang panjang diantara kedua-dua parti."
Baginya PAS seolah-olah "nampak terdesak di kala terpaksa mengeheret nama Tok Gu Nik Aziz" dan ini menurutnya "amat tidak wajar".
Menurut Azlan, memetik dan memanipulasi nama Allahyarham Nik Aziz adalah untuk "merasionalkan permuafakatan" yang dijalin dengan Umno tempoh hari.
PAS tentu tidak setuju dengan semua pandangan dan ulasan yang terhurai itu.
Namun bagi Sayuti, walau apa pun parti itu tidak perlu malah mesti berhenti memanipulasi dan mengeksploitasi nama dan cara Nik Aziz berpolitik "untuk menghalalkan apa pun tindakannya". - Mohsin Abdullah
looking right through it...
I'll call a spade a spade. Although I could be stating the obvious, I'll say it anyway. The PAS-Umno charter signed last Saturday by presidents of both parties is all about Malay Muslims with an eye of winning GE15, despite invitations sent to all non-Malays to attend the event, including MCA and MIC, and also all the subsequent and ongoing rhetoric.
And it's all about a political pact between two parties wanting to topple the current government. This is also obvious and the non-Malays I know are not blind to all this. Having said that, I'll say this: there are quite a number of contradictions leading to the unveiling of the charter which I wrote in an article in The Edge recently.
Firstly the theme or "name" of the gathering, Himpunan Penyatuan Ummah or gathering for the unification of the ummah. Umno. in particular its deputy president Datuk Seri Mohamad Hasan, wanted the theme changed because ummah sounded exclusive and even racist, even though ummah is an Arabic word for "people" or "mankind", if you like. Good for him!
But it's no secret PAS wasn't keen on a name change, wanting the word ummah retained probably because it "sounds Islamic" – consistent with its "image" which Umno too is trying to latch on to. Anyway, as we know there was no change in the theme and the gathering went on to be known as Himpunan Penyatuan Ummah. It appeared that PAS got what it wanted.
And as pointed out by veteran journalist Datuk A. Kadir Jasin, posters and what not of the gathering proudly displayed the PAS flag first before Umno's. PAS president Datuk Seri Abdul Hadi Awang spoke first at the ceremony, followed by Datuk Seri Zahid Hamidi, his Umno counterpart. This may be minor matters but it can send "signals", so to speak. After all in politics, perception is everything.
Therefore, can we conclude that in this PAS-Umno marriage, PAS is the husband and Umno the wife? Trivial question you might say. Funny even. But bear in mind going by the conservative idea of marriage which I suspect PAS subscribes to (and possibly the present day Umno adheres to), the wife although always loyal and supportive of the husband will always be a step behind, because the husband is the head of the family and he knows best.
As Kadir and many other political observers see it, PAS is "solid" while Umno is "weak" and should in no position "set terms". And if Umno is the wife in this marriage, Umno will have to… Feel free to come up with your own conclusion!
Back to the contradictions I mentioned earlier. Mohamad despite wanting a name change in the theme of Saturday's gathering to "accommodate" all races, also said "the nation needs a new narrative but with Malay Muslims as priority". That, to me, is like Mohamad and Umno for that matter, taking one step forward and two steps backward.
Umno and PAS leaders including Zahid, Hadi and his deputy Datuk Tuan Ibrahim Tuan Man have told non-Muslims they have nothing to fear with regards to the PAS-Umno tie-up. And both parties have admitted that the support of non-Malays/Muslims is crucial if they are to win elections.
However, Umno and PAS (and in particular Umno) have, especially of late, only succeeded in hurting the feelings of non-Malays. No elaboration needed but the latest "example" is Umno and PAS' stance on controversial preacher Zakir Naik and the "buy Muslim first" campaign which many see as a call to boycott non-Muslim products.
Also pro-PAS and Umno NGOs like Ummah (obviously this word is popular among them) have come up saying the Pakatan Harapan administration "is not a Malay-centric government", or as its secretariat head Aminuddin Yahya phrased it "the government now is no longer a government for Malays".
One doesn't have to be a political pundit to read such a message. It's crystal clear they want the current government changed and replaced by a Malay Muslim-centric government made up of PAS and Umno. And they are talking of getting non-Malay support? I don't know if there's a bigger contradiction than that.
And it's interesting to note the PAS-Umno charter is known as Piagam Muafakat Nasional or National Cooperation Charter even though PAS and Umno leaders are saying to all and sundry in particular Malays their tie-up is about unifying Malays "as the race is under threat of dangers, risks and problems". Is that also another contradiction?
To detractors it's all about fanning racial and religious sentiments to garner votes. I don't know if there are "national" elements now that it's called "national cooperation charter", but have noted only a one-page summary of the charter made public, and it was just to list out its justifications and objectives. The rest of the document, said Umno secretary-general Tan Sri Annuar Musa, is classified as "internal document of both parties".
To political writer and long-time PAS watcher Mohd Sayuti Omar, such "secrecy" is because Umno and PAS want to make sure Umno's allies MCA and MIC are kept in the dark, at least for now, as both parties will not be happy if "things listed in the charter are only favorable to Malay Muslims".
"By not telling the whole story, Umno and PAS are trying to entice only one section of the rakyat. They are not reflecting the Malaysian spirit," says Sayuti.
Ahead of the signing of the charter, Free Malaysia Today news portal ran a story on warning made by political analysts that a "Malay-centric nation" is in the making which is against the national spirit.
Senior fellow with the Singapore Institute of International Affairs Dr. Hu Yi Shan tells me that most non-Malays now have their "displeasures" and "disappointments" with Pakatan Harapan who they voted for in GE14. This is due to some sociopolitical policies the non-Malays see as "not friendly" to them, such as the teaching of khat or Jawi in public schools.
Then, there are other issues like the U-turn on ICERD seen as the government bowing to hardline Islamists. But according to Hu, almost nothing can be worse to non-Malays than this marriage of parties "advocating racial supremacy and religious extremism".
And say Yu, the unhappiness and anger with Pakatan Harapan "paled in comparison with the predictably racially supremacist Umno and the religiously extremist PAS such as eventual introduction of hudud for all". I know the MCA had defended its stand to be present at Saturday's ceremony held at PWTC in the federal capital and the party's support of the charter.
Yet, I have to end this article with remarks made by a Malaysiakini reader who called himself (or herself) "Kunta Kunte". I suspect he or she is a Chinese. This was what Kunta Kunte wrote: "I can understand if PAS and Umno want to sleep together. I cant understand why MCA and MIC want to squeeze into the bed. Where do they stand in the new narrative?" - Mohsin Abdullah
Beza tuan dgn khadam..Tuan tak kibar bendera khadam
tapi khadam kene kibar bendera tuan..
Jika parti lain yang buat, habis macam-macam hukum dan dalil keluar untuk menghukum. Tapi bila geng PM Online lebai penipu sendiri kerja parti guna aset-aset kerajaan, kenapa lebai penipu diam jadi syaitan bisu ??! Dalil apa, hukum apa yang benarkan lebai penipu boleh guna aset kerajaan bagi tujuan kerja parti ??!
Susah payah berpuluh2 tahun melawan UMNO,akhirnya Tok Guru ambo tewas dengan sebilah keris Melayu.Apa daya kami sebagai walaun di bawah lakukan ikut saja!!! Heran juga juga pasai apo depa tak junjung Koran...
cheers.