1. Ekoran penolakan ICERD oleh PM di Papua New Guinea baru2 ini, Kabinet telah membuat keputusan muktamad bahawa Kerajaan TIDAK akan menandatangani dan meratifikasi Deklarasi tersebut.
2. Bukan sahaja KPN, bahkan TS Muhyiddin selaku Menteri Dalam Negeri dan Tun Dr. Mahathir sendiri telah menasihat dan memberi amaran agar perhimpunan anjuran UMNO dan PAS yang bakal diadakan pada 8hb Disember nanti dibatalkan.
3. Polis sendiri melalui Timbalan KPN mengumumkan akan memanggil beberapa individu yang dikenal pasti yang cuba mencetuskan hura hara dan pertumpahaan darah semasa perhimpunan tersebut.
4. Salah seorang yang disenaraikan ialah Zahid Hamidi, mantan Timbalan Perdana Menteri dan Menteri Dalam Negeri dan kini Presiden UMNO.
5. Tidak hairanlah Zahid termasuk dalam senarai hitam polis kerana rekod beliau sendiri tidak begitu baik.
6. Semasa dalam Kabinet, jenayah pertama yang dilakukannya ialah apabila beliau sendiri terlibat mencederakan dengan teruk Ahmad Bazli, kekasih anak sulungnya ketika itu sehingga menyebabkan tempurung hadapan di dahi beliau retak - ini telah disahkan sendiri oleh pakar2 yang memberi rawatan.
7. Semasa menjawat jawatan Timbalan Perdana Menteri dan Menteri Dalam Negeri, beliau telah menulis kepada Pengarah FBI Amerika Syarikat meminta Biro tersebut tidak mengambil sebarang tindakan undang2 terhadap seorang penjenayah Malaysia yang ditangkap di sana.
8. Semasa beliau menjadi Menteri Dalam Negeri itulah tak kurang 3 juta pekerja asing terutama dari Bangladesh berpusu-pusu datang ke negara kita.
9. Apakah ketika itu Zahid berjuang untuk keselamatan dan kesenangan rakyat khususnya bagi orang Melayu atau untuk keluarga dan kroni2 beliau.
10. Mengapa beliau tidak menganjurkan demontrasi ketika itu apabila Kerajaan BN menggantikan Dasar Ekonomi Negara dengan Dasar sama rata atau meritokrasi, membuka biasiswa JPA kepada semua bangsa dan peruntukan besar-besaran kepada Sekolah Jenis Kebangsaan (sekolah Cina dan Tamil).
11. Zahid hanya berkokok setelah hilang jawatan kerajaan dan sedang menghadapi 45 pertuduhan undang2, beliau kini sedang memperalatkan rakyat bersama PAS menganjurkan demontrasi tersebut.
12. Atas alasan menyelamatkan Melayu dari segi ekonomi dan agama beliau sebenarnya sedang bermain api membakar semangat orang Melayu khasnya ahli UMNO berbuat apa sahaja dengan satu tujuan.
13. Kepada beliau jika sekiranya Tun Dr. Mahathir dan Kerajaan berjaya diturunkan, peluang beliau dibebaskan adalah cerah.
14. Kepada Hadi pula inilah peluang keemasaan bagi beliau menjadi Timbalan Perdana Menteri dan akhhirnya menjadi orang nombor satu negara.
15. Zahid umpama orang yang sedang lemas - beliau akan buat apa sahaja bagi menyelamatkan dirinya.
16. Zahid juga tak ubah seperti seekor harimau cedera yang sedang mengganas - ini AMAT BERBAHAYA kepada negara dan masyarakat berbilang kaum.
17. Sudah 61 tahun negara Merdeka dan berbagai-bagai dasar dan agensi ditubuhkan, dari Agong dan 9 orang Sultan, dari Perdana Menteri ke Menteri Besar, dari KSN hingga ke budak pejabat dan pemandu, 90% daripadanya adalah Melayu tetapi ekonomi Melayu masih jauh ke belakang; begitu juga dengan kedudukan agama Islam.
18. Tidak boleh dinafikan memang ada segelintir bukan Melayu yang agak keterlaluan pemikiran mereka tetapi bilangan mereka terlalu kecil jika dibandingkan dengan jumlah penduduk Melayu dan Bumiputera; lagi pun mereka yang keterlaluan itu tidak punyai cukup kuasa bagi melaksanakan apa yang berada dalam pemikiran.
19. Jalan mudah bagi mereka ialah dengan menyalahkan bukan Melayu khasnya parti DAP yang disifatkan sebagai anti Melayu.
20. Perlu diingatkan DAP tidak berkuasa dan DAP juga tidak mempersoalkan malah mereka sentiasa menghormati Artikal 153 Perlembagaan negara.
21. Bukankah lebih bermakna jika himpunan yang dicadangkan itu dijadikan 'Himpunan Rakyat Menuntut Wang Rakyat Yang Dilesapkan Oleh Najib Melalui 1MDB Dipulangkan Segera' - itu barulah berjuang untuk rakyat dan tanahair.
22. Bagi Pas pula, bak kata Shahbudin Husin, seorang blogger, apa perlunya nak berdemonstrasi di jalanraya jika setakat nak berdoa kesyukuran - kan lebih afdal jika mengadakan doa kesyukuran di masjid dan surau.
23. Sebenarnya ini semua alasan yang tidak boleh diterima oleh mereka yang mempunyai akal yang terbuka dan waras, bukan akal yang sempit atau jumud dan bak kata Kharuddin Abu Hassan tak ubah seperti 'otak udang'.
24. Kerajaan hari ini perlu tegas bagi menentukan keselamatan, kerhamonian dan ekonomi negara dapat dipulihkan semula TANPA sebarang gangguan dari puak pelampau ini.
25. Bagi mengubati pesakit ialah dengan memberi ubat-ubatan walaupun pahit untuk ditelan.
26. Sama ada mereka membaca kenyataan kerajaan dan amaran atau baca tapi tak faham atau sengaja buat tak faham atau tak peduli itu semua.
27. Mereka sebenarnya sedang mencabar kesabaran dan kekuatan kerajaan dan pasukan polis dan anggota keselamatan.
28. Bak kata Azman Attar (arwah) 'If You Have The Power You Must Be Powerful Or Else You Are Bloody Fool'.
29. Humbankan saja mereka ke dalam penjara sebelum 'Nasi Menjadi Bubur'. - Tamrin Abdul Gafar
Matlamat golongan ini amat jelas, untuk menaja huru-hara dalam negara supaya kerajaan yang diberi mandat oleh rakyat dan disahkan oleh YDP Agong ini tidak stabil.
Mungkin kah kerajaan PH terlebih toleran terhadap suara2 pembangkang sehingga mereka sudah menjadi seperti cacing naik ke mata...? - Tamrin Tun Ghafar
The Late-Night Riot In Subang Jaya...
Solving the race problem...
The past week has been about race, and it will continue to be for the weeks and months to come, with Umno and PAS seemingly galvanised for the first time since the last general election.
Umno president Ahmad Zahid Hamidi has been experimenting with different approaches in search of political relevance, after inheriting a party without power and having to get used to the chaotic nature of opposition politics.
First, he tried the easiest route: identity politics. Umno tried to accommodate PAS in a series of by-elections to portray themselves as the great Malay-Muslim defenders.
This proved unsuccessful with both being a liability to the other. Cooperation with PAS was driving away moderate Umno supporters, and cooperation with Umno was driving away hardliner PAS supporters.
Thereafter, Zahid tried a different strategy: to be an issue-based party. In a surprise move, Umno formed a shadow cabinet to provide effective check and balance against the government. But this quickly descended into a series of feeble arguments and shouting matches in Parliament.
Rembau MP Khairy Jamaluddin tried to put forward a shadow budget that was thoughtful and well-designed. However, even this did not seem to gain much traction among Umno parliamentarians. Perhaps Zahid was anxious of Khairy's popularity usurping his?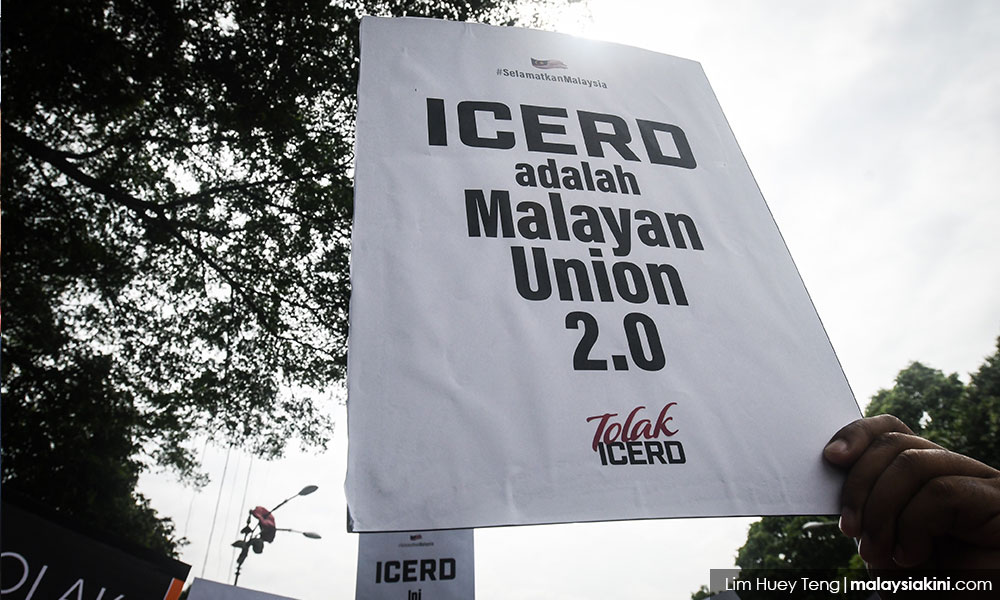 And then, opportunity
Then came ratification of the International Convention on the Elimination of All Forms of Racial Discrimination (Icerd) at a golden hour.
Six months was enough to erase any euphoria of overthrowing the most corrupt regime in Malaysian history. Any semblance of goodwill from Malay-Muslim voters who were not Pakatan Harapan supporters and fence-sitters who took a leap of faith on May 9 had largely dissipated.
What is often forgotten is that race relations does not change with a vote. The century-long construction of race that was manipulated by politicians to harbour hatred, resentment, and prejudice against others will not change simply because of a change in government.
That is why it was so easy for Umno and PAS to mobilise angry mobs to protest even against a complex and little-understood United Nations instrument fraught with legalese, extensive mechanisms, and an uneasy abbreviation.
Manipulating Icerd into Malay rights being under threat was easy, because suspicions against the Harapan government were already bubbling beneath the surface.
Unsuccessful merger
On this issue, Umno and PAS finally found their voice. That also explains why the public merger negotiation between Zahid and Abdul Hadi Awang on stage did not come to fruition.
Both saw how powerful this tool really was. Zahid must have been elated that Umno could once again lead the narrative of identity politics with PAS following behind.
But Hadi was quick to ignore Zahid's open invitation for a 'merger' because PAS must have also seen this opportunity as attractive, and wanted to seize it for themselves.
Race has long been a tool ready to ignite and easy to manipulate. Both Umno and PAS saw their political futures return; opposition politics must have now appeared easy.
If further evidence is needed of how easy race can be manipulated, we need look no further than to the 'beer promoter' incident.
Edi Rejang must have felt that the beer promoter represented a foreign element antithetical to his beliefs of a 'wholesome' life. Edi was a symptom of dormant resentment; he was self-activated and ready to be activated.
Umno and PAS are ready to play into our worst instincts to regain political relevance.
Extremism never survives
But I have a feeling that racial extremism will not be sustainable in modern Malaysia.
These are not the empty words of idealism by a 25-year old; instead, they are based on the truth that moderation and peace were the guiding themes of the formation of the country.
In the face of every evidence of extremism, we are always surprised with one race standing up for others.
Against the overt aggression by Edi, it is no coincidence that the vast majority of those who defended the beer promoter were Malay.
This gives credence to my belief that the core of our humanity detests aggression and animosity, and celebrates tolerance and togetherness regardless of the colour of your skin. In the impending retreat to divisive racial politics, we must remind ourselves of this shared history that confirms the truth of our humanity.
None of this suggests the road to achieve racial empathy and acceptance is easy.
To be effective defenders of ideals, we must read history and appreciate that the people who are suspicious of other races are not all irrational racists.
We must engage with empathy to understand the root causes shaping their prejudice and misunderstanding: Is it economic? Is it century-long targeted exclusion? Is it the effects of our colonial legacy? Is it political manipulation? Is it ignorance? Is it experiential validation?
The road ahead is arduous, which is why we cannot afford political expediency or the arrogance of idealism. - James Chai,mk
Patutlah Tun Hamid sanggup bersusah payah melayan perhimpunan bantah ICERD tu walaupun dlm keadaan uzur,rupa2nya chief spy si Hasanah yang kena tangkap hari tu adalah anak dia. Eloklah bapak ketua Hakim anak pula Spy. A disgruntled ex chief judge, angry that his daughter, Hasanah Abdul Hamid, (ex MEIO chief spy who helped Najib to cheat, steal n murder) was arrested; doing his best to sow discord.Self interests above all, even if it means destroying our beloved nation with deceitful lies...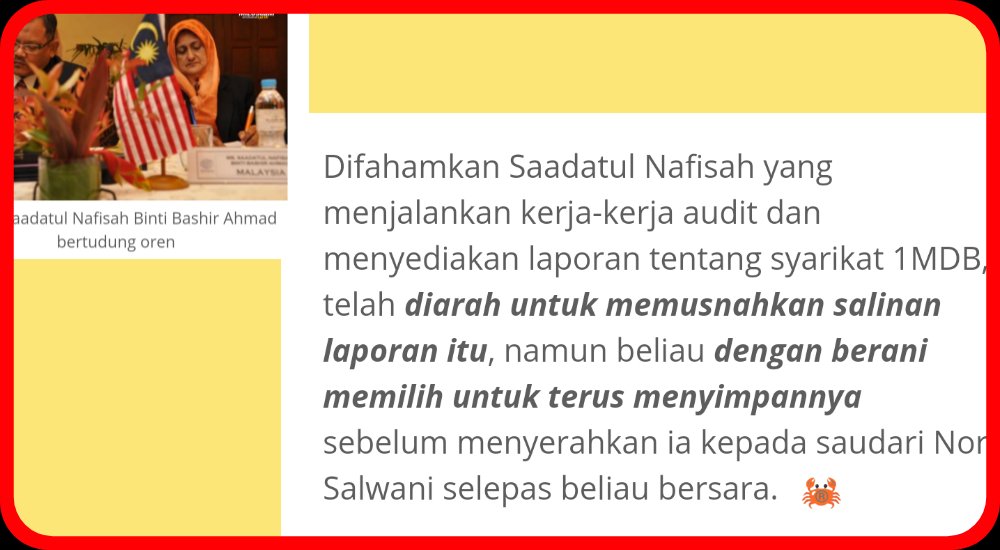 cheers.