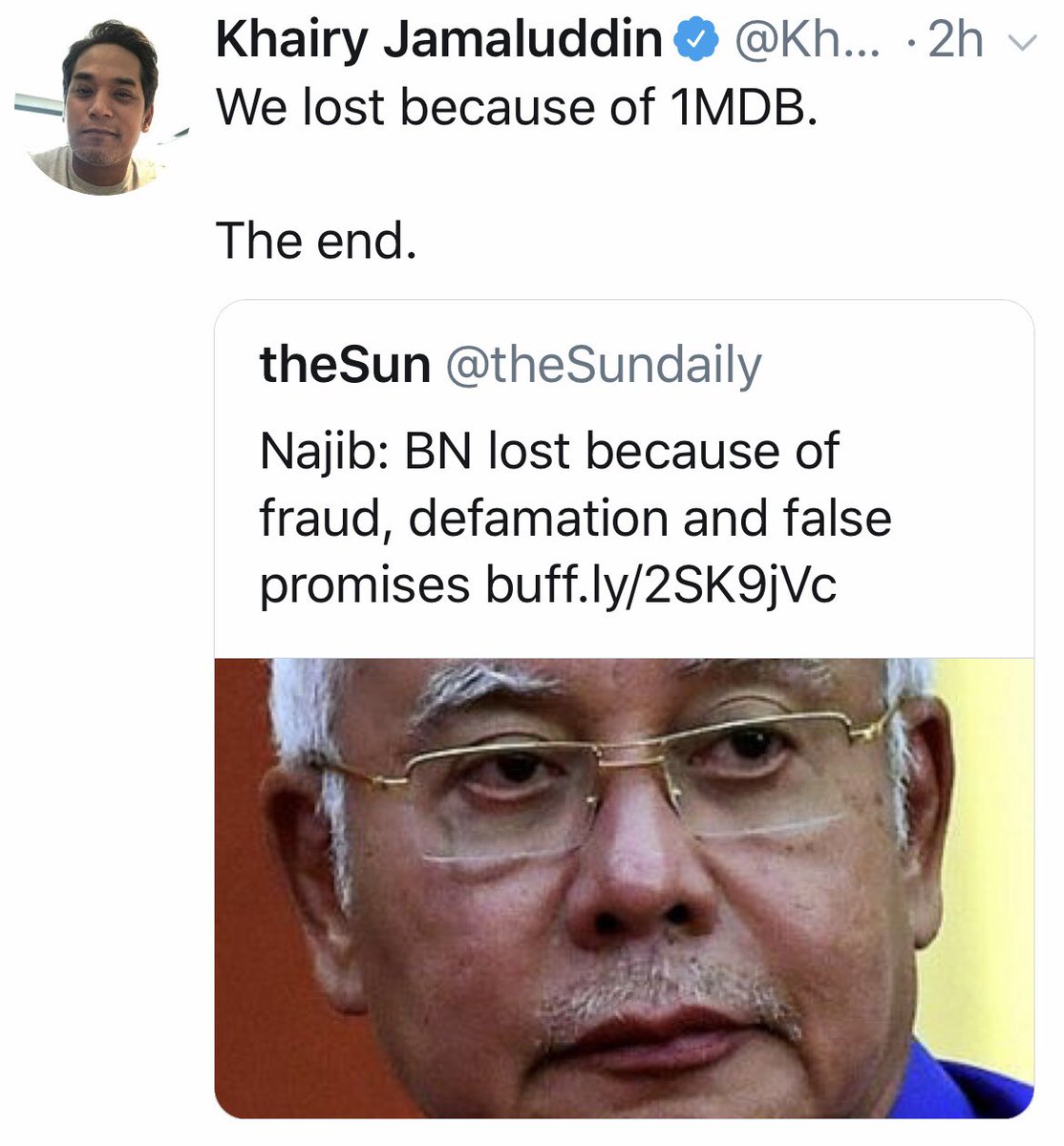 Sesuatu yang orang kata "buruk perangai" oleh Najib Razak ialah keengganannya mengaku sehingga sekarang mengenai sebab utama kekalahan UMNO dan BN dalam pilihanraya umum 9 Mei lalu. Di sebalik semua orang mengakui skandal 1MDB adalah punca terbesarnya, Najib masih bertegas mendakwa kekalahan UMNO dan BN adalah disebabkan penipuan, fitnah dan janji palsu oleh Pakatan Harapan.
Beliau juga mendakwa padang yang tidak sama rata yang menyebabkan kekalahan BN kepada Pakatan Harapan itu. Lebih buruk lagi ialah pentaksub Najib sendiri yang turut tidak mahu mengakui hakikat yang sama, meskipun sudah hampir enam bergelar pembangkang.
Sebab itu, apabila Khairy Jamaluddin menyanggah kata-kata Najib itu dengan mengingatkannya bahawa punca kekalahan BN ialah kerana 1MDB dan bukan kerana penipuan, fitnah serta janji palsu, beliau sendiri dilabel meroyan dan datang bulan.
Realitinya, penyokong setia Najib masih terkepung dengan kemajalan dalam berpolitik, pendek akal dan buruk perangai yang sama seperti Najib sendiri yang enggan mengakui kesalahan serta kelemahan - dulu kini dan selamanya. Jika pun mereka tidak setuju dan ingin menyanggah kenyataan KJ itu, ia sepatutnya dilawan dengan hujah dan fakta, bukan dengan serangan seperti meroyan atau datang bulan.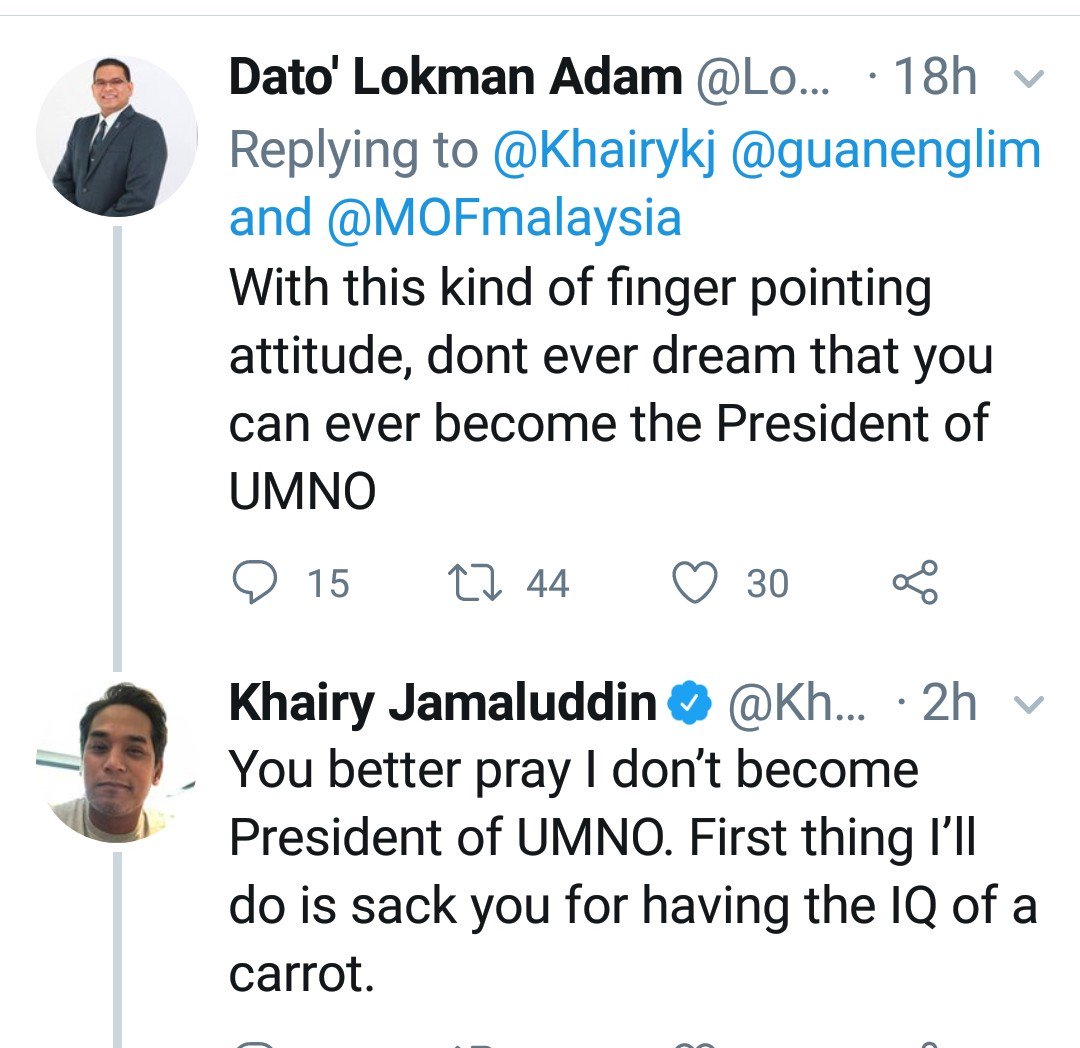 Serangan terhadap KJ itu hanya memperlihatkan sesetengah pemimpin UMNO masih tidak berubah, apalagi mampu berhujah dan nampaknya hanya mahu mengekalkan budaya lama yang sudah pun ditolak rakyat dalam pilihanraya lalu. Dalam hal ini KJ terlihat berniat baik dan ingin melihat UMNO pulih serta mendapat semula sokongan rakyat.
Lagi pula, selain pendakwaan sedang berjalan dan proses perbicaraan akan berlangsung tidak lama lagi, di Amerika Syarikat sendiri sudah ada yang mengakui terlibat dalam merancang penipuan berkaitan 1MDB itu. Maka, di celah mana ia mahu dipertahankan lagi?
Dalam hal ini, UMNO bukan saja perlu memisahkan dirinya daripada Najib, malah jika terus membiarkan Najib menggunakan nama UMNO untuk membersihkan dirinya, parti itu tidak akan mampu bergerak ke depan dan memulihkan dirinya.
Selagi Najib terus bergayut dengan nama UMNO, malah enggan mengakui 1MDB sebagai punca kekalahan, malah syok sendiri mendakwa penipuan, fitnah, janji palsu dan padang yang tidak sama rata sebagai sebab-sebabnya, selagi itulah UMNO akan terus suram masa depannya.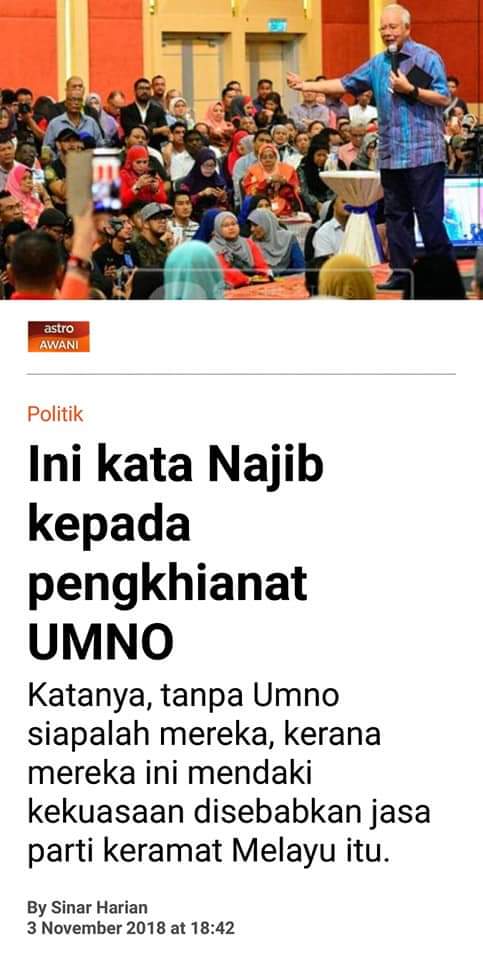 Najib mesti belajar untuk mengakui silap dan salah sendiri. Tidak guna beliau terus mengatakan kekalahannya kerana fitnah, penipuan, janji palsu dan padang yang tidak sama rata ketika pilihanraya yang lalu. Siapakah yang jadi memegang kuasa, yang menguasai jentera kerajaan, menguasai seluruh media dan mampu mengupah ribuan tentera maya dalam kempen PRU14 yang lepas? Siapakah sebenarnya paling banyak mencipta fitnah, penipuan dan menabur janji palsu?
Jika BN yang menguasai kerajaan ketika itu, tetapi Najib tetap mahu mendakwa padang masih tidak sama rata, di mana logiknya Pakatan Harapan yang hanya pembangkang boleh dikatakan ada kelebihan? Di sebalik Najib mengatakan bahawa beliau direndam 10 kali pun hatinya tetap UMNO, ia adalah pernyataan bahawa beliau akan terus bergayut atas nama UMNO dan menggunakan sesetengah pemimpinnya untuk terus membela dan melindunginya.
Bermakna, untuk tempoh yang lebih lama lagi UMNO akan terus memikul nama Najib, nama Rosmah dan nama 1MDB yang tidak lagi wangi dalam hari-hari muka yang akan dilaluinya. Jika demikian, selain Presiden UMNO, Zahid Hamidi sendiri ada 45 kes pendakwaan, bagaimanakah UMNO mampu memulihkan dirinya dan boleh diterima dengan baik oleh rakyat jelata? - Shahbudin Husin
Parti Bersatu dijangka akan menerima sekurang-kurang tiga orang ahli parlimen Umno dalam masa terdekat. Mereka terlibat termasuk bekas menteri kabinet di era Najib Razak. Mereka itu akan menjadi "geng" kedua yang meninggalkan Umno selepas beberapa orang ahli parlimen termasuk Mustapa Mohamed yang sudah pun menyerahkan borang menjadi ahli Bersatu.
Difahamkan selain tiga orang wakil rakyat itu ada terdapat dua hingga lima orang lagi yang akan berbuat demikian. Mereka yang meninggalkan Umno tidak dikaitkan dengan apa-apa tawaran atau imbuhan oleh Bersatu tetapi atas persetujuan sendiri.
Tindakan wakil rakyat itu katanya turut memusnahkan misi, "mission impossible" yang diaturkan oleh Umno yang bertindak untuk mengekang Dr Mahathir menjadi PM sehingga sekurang-kurangnya dua tahun.
Tunggu perkembangan lanjut. - MSO
Malaysia Should Sue Goldman Sachs In 1MDB Corruption and Money Laundering Scandal
Goldman Sachs, the 149-year-old American investment bank, raised nearly US$6.5 billion in three bond sales between 2012 and 2013 for 1MDB (1Malaysia Development Berhad). More than US$2.5 billion raised from these bonds was misappropriated by high-level 1MDB officials, their relatives and associates, according to U.S. Department of Justice civil lawsuits filed in a U.S. court in 2016.
In the process, Goldman earned almost US$600 million for the three deals – a jaw-dropping amount of close to 10%, far in excess of the normal 1-2 percent fees a bank could expect for helping sell bonds. The fees alone – 5 to 10 times more than usual rate – should raise the red flag that something fishy was going on, which today has proven to be true.
Essentially, the US$600 million in fees earned would make 1MDB the most profitable client in the world for Goldman during those years. Didn't mommy say there ain't no such thing as a free lunch? Now, the chickens have come home to roost. The scandal has punched a bigger hole on Goldman's reputation and credibility, after the bank screwed up everything in the 2008 sub-prime financial crisis.
When the 1MDB scandal first exploded, only one name – Tim Leissner – was put forward as the bad apple. He was basically thrown under the bus. Still, the Goldman former partner and Southeast Asia chairman wasn't charged at all. He merely resigned in Feb 2016 after he was found to have violated the firm's internal rules. The downfall of Malaysia PM Najib Razak changes everything.
The defeat of Mr. Najib, the crooked behind 1MDB scandal, in the historical May 9 general election saw Leissner hurriedly seeking talks with U.S. prosecutors to potentially plead guilty to criminal charges, especially to a violation of the U.S. Foreign Corrupt Practices Act, which prohibits the use of bribes to foreign officials to get or keep business.
On Thursday (Nov 1), U.S. revealed criminal charges against not only Tim Leissner but also another Goldman Sachs banker, Ng Choon Hwa (Roger Ng), together with Malaysian financier fugitive Jho Low (full-name: Low Taek Jho). Roger Ng has been arrested in Malaysia while his former colleague Tim Leissner pleaded guilty to conspiring to launder money and to violating anti-bribery laws.
Tim Leissner agreed to pay US$43.7 million (£33.6 million; RM182 million). Still, it was a good deal considering he has admitted to enriching himself – acknowledging that more than US$200 million in proceeds from 1MDB bonds flowed into accounts controlled by him and a relative in Hong Kong. This sweet deal raises speculation that Leissner may have agreed to turn witness in the explosive scandal.
The former Goldman bankers – Tim Leissner and Roger Ng – had offered bribes to government officials in Malaysia and Abu Dhabi in order to help the bank win the deal. They then stole and laundered money from the 1MDB sovereign-wealth fund using controlled offshore accounts where the stolen money was funnelled to, as the indictment reveals.
But there appears to be another culprit, a second Goldman partner whose identity was withheld by prosecutors. The co-conspirator allegedly knew not only about the bribes paid but also helped Mr. Leissner get around Goldman's internal compliance officials. That crook is believed to be Andrea Vella who has been Goldman Sachs partner since 2007.
According to Vella's LinkedIn profile, the Italian citizen was JP Morgan Managing Director for close to 10 years from 1998 to 2007 before joining Goldman. Vella, who was demoted last month from his management role as co-head of Goldman's investment banking division in Asia, was placed on leave Thursday over his role in the 1MDB scandal.
Mr. Vella matches the description of "Co-Conspirator #4" in the Justice Department's filings related to charges unsealed on Thursday. But is that all? Is Andrea Vella the last of his kind in Goldman Sachs who had stolen and laundered money in the 1MDB scandal? The indictments, the first criminal charges in the U.S. in the 1MDB scandal, are far from over.
People in the industry said to avoid criminal liability, Goldman has blamed rogue employees. If that sounds freaking familiar, that was what the Saudi government and even President Trump said about the brutal murder of journalist Jamal Khashoggi's as both parties tried to shield and protect Crown Prince Mohammed bin Salman from being indicted.
The Leissner guilty plea is the biggest humiliation for Goldman since 1989, when executive Robert Freeman was led off the trading floor in handcuffs. He was the head of arbitrage at Goldman Sachs convicted of a crime related to insider trading scandal in November 1986. However, New York Times blogger William D. Cohan wrote that Freeman was actually an innocent victim of a prosecutorial "witch hunt."
Prior to the latest criminal charges, it was all about Tim Leissner and very little about Roger Ng and none about Andrea Vella. Sure, unlike Robert Freeman, Tim Leissner is guilty as hell. But for such a high profile business deal, it's hard to believe only 3 senior individuals were involved in the biggest heist in the world's history – to the tune of US$4.5 billion theft from 1MDB funds.
The three bond sales for 1MDB – code-named Projects Magnolia, Maximus and Catalyze – had resulted in more than US$2.7 billion of the US$6.5 billion raised diverted into accounts controlled by Jho Low, Tim Leissner and other crooks, according to U.S. prosecutors. Money stolen was used to pay bribes to government officials, including the purchase of jewellery for Najib's wife Rosmah Mansor.
Besides Leissner who had pocketed US$200 million, even a relative of Roger Ng received US$24 million from a shell company funded with stolen 1MDB money. In 2014, it was revealed that Jho Low and Tim Leissner used chat messenger to discuss about the need to "suck up to" a government official and send "cakes" to a person prosecutors believe is Rosmah Mansor to get another 1MDB deal.
Lloyd Craig Blankfein (pix,above), Goldman's chairman since 2006 and chief executive from 2006 until last month (September 2018), once said the bank's biggest opportunity was to be "Goldman Sachs in more places." And when the firm struck gold in Malaysia's 1MDB deal, Mr. Blankfein had nothing but song of praises for Tim Leissner and Andrea Vella.
Although Leissner and Vella were among Goldman's 435 partners, a rank bestowed on about 1% of employees, it doesn't mean Blankfein hadn't a clue what was going on behind his back. Even Gary Cohn, the former Goldman president who quit to join Trump administration in March this year would probably know about the dubious deals.
Mahathir government should sue not only for the recovery of the US$600 million fees charged, but also for being cheated by the supposedly American trustworthy investment bank. It's not an exaggeration to say Goldman Sachs is being managed by crooks and liars. Sadly, nobody went to jail despite the firm's involvement in tanking the U.S. economy in 2007-2008.
The U.S.-DOJ only slapped them with a US$2.385 billion penalty after reaching a settlement with Goldman-Sachs on its role in the 2008 subprime mortgage crisis. Fellow Golmanites such as Gary Cohn, Anthony Scaramucci, Dina Powell and Steve Bannon were promoted to the White House. Even Steven Mnuchin becomes United States Secretary of the Treasury.- FT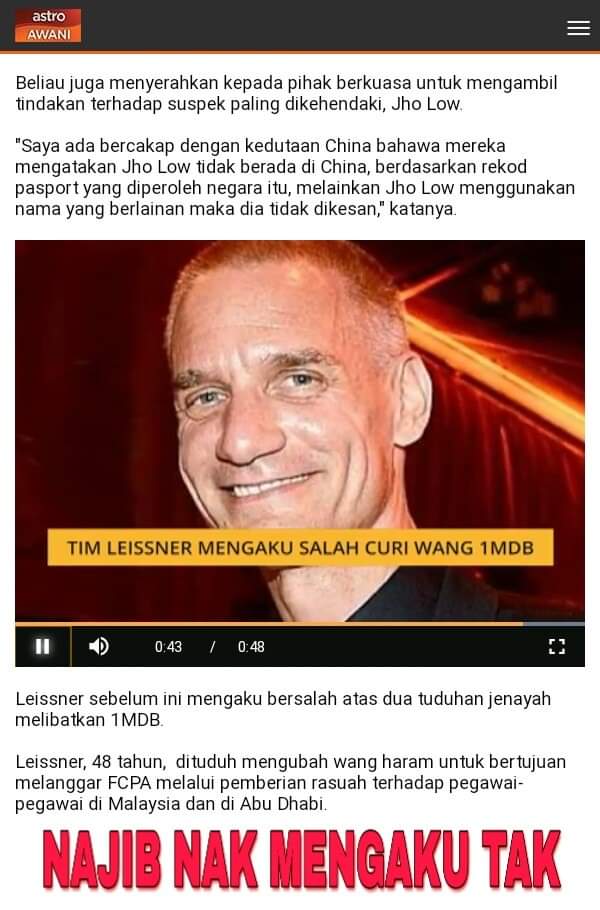 Politik memang suatu yang mengasyikkan. Ada masa jadi pejuang,
ada tika kena sumbat ke penjara, lama lepas tu, jadi pembesar negara.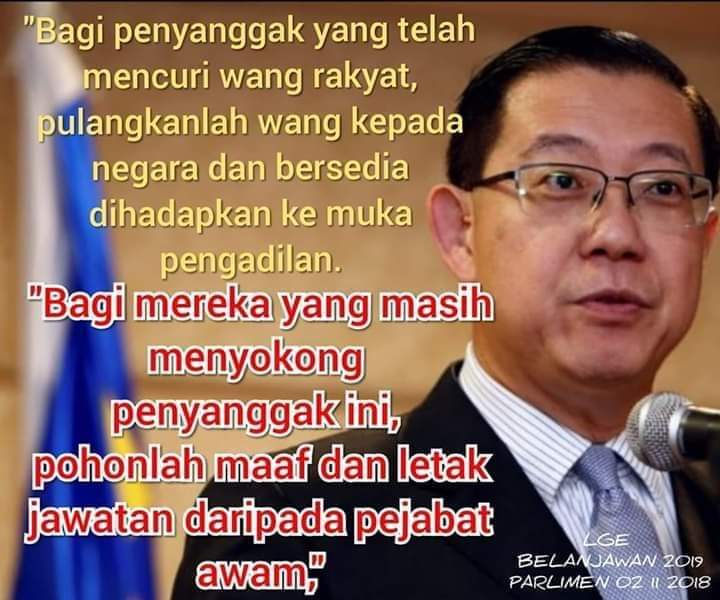 Sekali dua ponteng tak apa mungkin ada masalah
tapi kalu kerap dah jadi tabiat,lebih berhenti...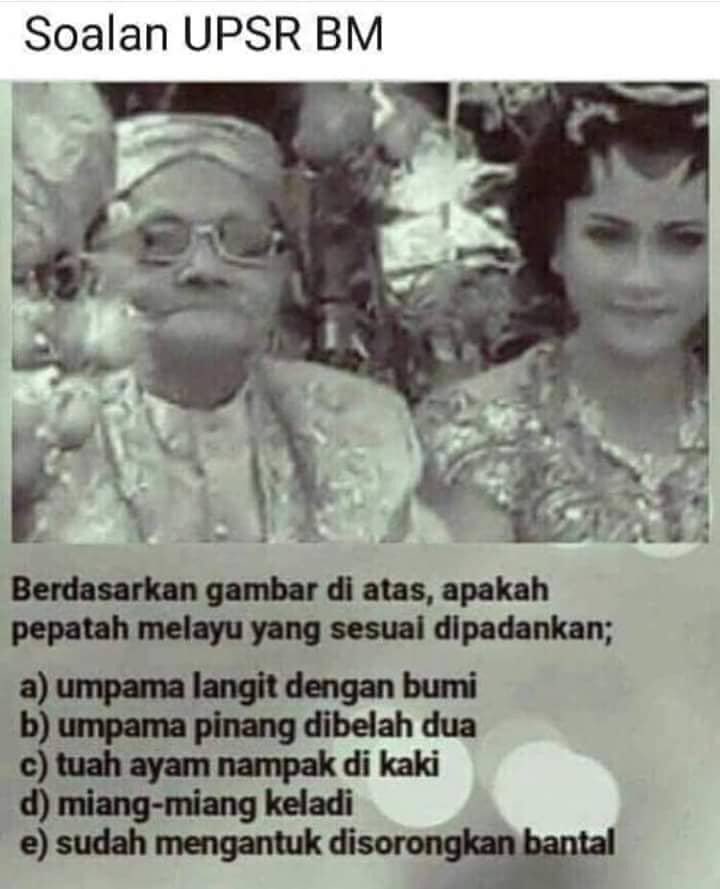 cheers.