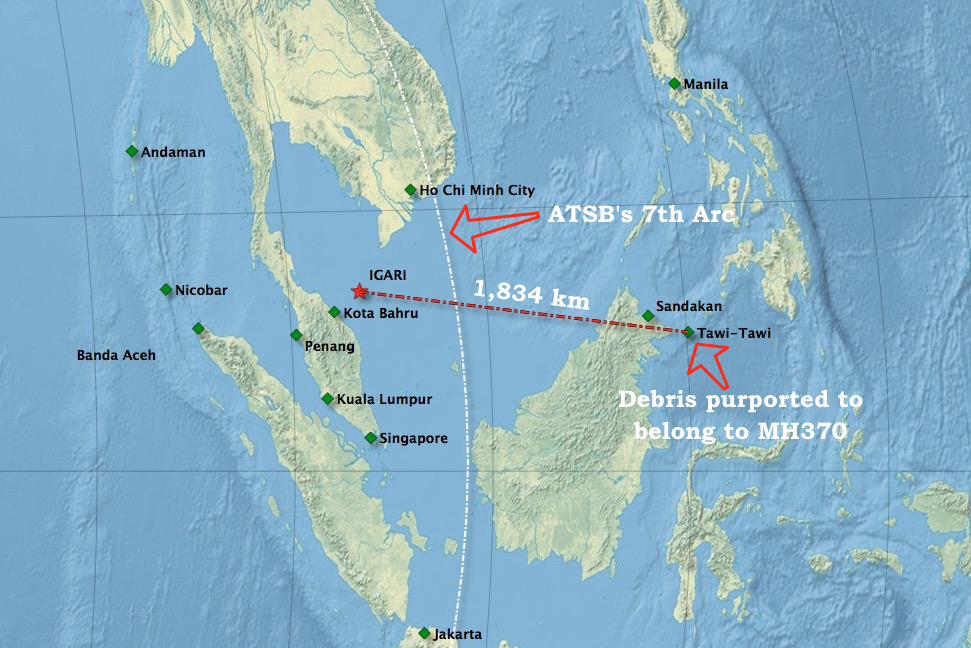 The Philippine navy has denied sightings of wreckage of a Malaysian plane in the southern island of Tawi-Tawi, reports the Inquirer.
The Inquirer reported that Captain Giovanni Carlo Bacordo, commander of Naval Task Force 61, said they had deployed a gunboat to investigate the claims of a man about the sightings of the wreckage.
"Since yesterday, we deployed a gunboat there because of the news. We interviewed the people there, the fishermen, but they have no knowledge about it," he was reported as saying.
Bacordo added that locals had no knowledge of it and were surprised by the news.
Malaysian daily The Star said a report was lodged on Saturday with Sandakan authorities about the sighting of the wreckage.
It said that Jamil Omar, 46, had gone to the police with the information he got from his aunt, who claimed to have been told about it from her relatives who were hunting for birds on Sugbay Island, Tawi-Tawi, last week.
It added that Jamil said skeletal remains fastened to their seats were seen in the plane, which was believed to be part of the Malaysia Airlines flight MH370.
Flight MH370 remains one of the most baffling aviation disasters in history. It disappeared in March last year, while flying from Kuala Lumpur to Beijing with 239 passengers and crew members on board.
This latest rumour comes after French authorities confirmed a piece of wing found on the shore of Reunion Island in the Indian Ocean has been identified as part of the MH370 wreckage.
The flaperon was found on the shore of the French island on July 29 and Putrajaya said paint colour and maintenance-record matches proved it came from the missing Boeing 777. – tmi
Governor denies plane wreck with Malaysian flag found in Tawi-Tawi
Tiada Bangkai Pesawat MH370 Di Selatan Filipina
Slap me if you dare, DAP MP challenges Tajuddin...
DAP Segambut MP Lim Lip Eng challenged deputy minister Tajuddin Abdul Rahman to slap him on the first day when Parliament resumes next week.
Lim issued the challenge to the deputy agriculture and agro-based industries minister in a statement today.
Tajuddin

refused to apologise

for saying that ethnic Chinese Malaysians who complain to foreign quarters about domestic affairs deserve to be slapped.
After his remarks backfired, Tajuddin's explanations ranged from outright denial to claiming that he was misquoted, to saying that it was targetted at DAP
Chinese, to it was "just a reminder" and even declaring that it was just "a joke".
Lim (photo) said if Tajuddin is an anak jantan (courageous), he should repeat the threat to slap the Chinese in the Dewan Rakyat.
He added that people wanted to see whether he will be receiving the same fate as Penang DAP Sri Delima state assemblyperson RSN Rayer, who was charged under Sedition Act for saying "Umno celaka" in Penang state assembly.
"Slap me if you dare, let the people judge how low is the mindset of a deputy minister."
Lim advised Tajuddin to follow the good example of former Malay leaders in the history, not the thuggish behaviours. - mk
Ahli Parlimen DAP cabar timbalan menteri lempang di Parlimen
Ku Li ada cara untuk jatuhkan Najib...
Usaha untuk menjatuhkan Perdana Menteri, Datuk Seri Mohd Najib Tun Razak akan dilakukan menggunakan kaedah lain bukan undi tidak percaya di Parlimen.
Ahli Parlimen Gua Musang, Tengku Razaleigh Hamzah berkata, undi tidak percaya yang mahu dilakukan pembangkang itu tidak akan berlaku kerana kerana awal-awal lagi usul tersebut sudah dihalang oleh Speaker Dewan Rakyat.
"Speaker mempunyai kuasa untuk menolak mana-mana usul sekiranya tidak berada dalam urusan aturan mesyuarat Dewan Rakyat di Parlimen.
"Kita sedar usul tidak percaya tidak akan berlaku, namun kita akan lakukan dengan cara yang lain," katanya yang enggan mendedahkan usaha terbaharu itu.
Beliau berkata demikian dalam sidang media yang turut dihadiri mantan Perdana Menteri, Tun Dr. Mahathir Mohamad , Timbalan Presiden UMNO, Tan Sri Muhyiddin Yassin, Naib Presiden UMNO, Datuk Seri Shafie Apdal, bekas Menteri Besar Kedah, Tan Sri Sanusi Junid dan bekas Presiden MCA, Tan Sri Ong Tee Keat. - fmt
Will Zeti be the woman to hasten the downfall of Najib...
History was written today when five Umno veterans and former ministers went rogue to 'whip' Prime Minister Najib Razak in public over the 1Malaysia Development Berhad (1MDB) financial fiasco.
Dr Mahathir Mohamad, Muhyiddin Yassin, Shafie Apdal, Tengku Razaleigh Hamzah, and Sanusi Junid – all time-tested hardcore politicians in harmony upped their call and pressured the government to stop using draconian laws like Sosma against those who spoke and reported against the government and 1MDB.
And they were joined by two MCA's former presidents - Dr Ling Liong Sik and Ong Tee Keat.
How far will their effort go is anybody's guess.
But if there is one person who could possibly rock the government, it may actually be a non-politician and that is the Bank Negara Governor Zeti Akhtar.
Reading from the statement made by the central bank last Friday that it has revoked three permissions granted to the government strategic investment arm 1MDB under the Exchange Control Act 1953 for investments totalling US$1.83 billion, it can be assumed that Bank Negara has taken its own stand on the matter as opposed to the Attorney General.
The AG had cleared 1MDB of any wrongdoing despite an appeal from Bank Negara but that did not hinder and suppress the Central Bank to reveal their findings to the world.
Zeti did the right thing. She has all the powers as the Bank Governor to institute and enforce the relevant laws as permitted under the Act against any party found to have misled the bank into believing the information provided was accurate and complete to obtain various allowance and permissions.
Zeti must have exhausted all avenues at her disposal which eventually pushed her to the corner and make things public.
Under the various financial laws and the vast powers granted to the Bank Governor, Zeti could have unilaterally taken action on 1MDB, as it can for any financial related business that is out of norm and limitations as permitted.
But she may have kept to 'political' protocol since 1MDB is a hot button issue and involves Prime Minister cum Finance Minister Najib Razak directly. Going against her 'boss' could have been impolite and ugly or even detrimental to her career.
But when public opinion and judgment, locally and internationally, came knocking on her doors and with the indirect 'blessings' of the Malay Rulers decree on the 1MDB issue, Zeti must have thought she might as well answer to the call of the nation and its people.
Last beacon of hope
Zeti must have realised that it is not worth the salt dicing with 1MDB that seems to be endlessly finding itself in deeper trouble as the months pass by.
Though reactive actions have been initiated by Najib's government, nothing is going right for him.
Zeti may be holding many more cards close to her chest about 1MDB and their financial dealings for the fact that the Central Bank made detailed audit recently.
Many more documents could have revealed how monies would have been transacted using the 1MDB umbrella here and offshore.
We must keep in mind that the Monetary Authority of Singapore (MAS) had also provided valuable information on the various accounts of 1MDB and related companies to Zeti after their own investigations.
This has never been made public yet. Is Zeti keeping it for another day to launch a greater 'blow' to Najib and team, or even the AG?
MAS has also frozen accounts in Singapore, which again no details have been made public.
Zeti has privy to all the information, some of which even 1MDB may not know for the fact.
All this can sum up into a gigantic ball rolling over those in powers, be it the AG, Najib and other enforcement agencies.
Just after the Bank Negara statement, we can also deduce that the CEO of 1MDB Arul Kanda will make some 'safe' statements that he was not part of some decisions made by the 1MDB board and it was done before he joined the firm.
It can be assumed that the internal pressure is rising to unproportional levels since Zeti made the statement which can also assume to mean that she is getting pretty 'tired' of all the play.
Zeti may well be the last beacon of hope in saving the nation from going worse economically and even socio-economically.
Zeti must not stop now. She is due to finish her term as Bank Governor in April 2016, thus it makes it more urgent that while in office she does her duty well to the nation and not suffer the fate of being pushed aside like former AG Gani Patail.
'The hand that rocks the cradle is the hand that rules the world' - Zeti could be that 'Messiah' to save us all from falling further.
If Najib's strength is drawn from his wife Rosmah Mansor, Malaysians may have to draw theirs from Zeti! - Narinder Singh ,beritadaily
Bila UMNO/BN cakap kot juboq...undi lagi BN
cheers.