Adakah pengundi Permatang Pauh akan kecewakan rakyat Malaysia...
Kini kerusi Parlimen Permatang Pauh sudah diisytiharkan kosong dan Pilihanraya Kecil bakal diadakan. Apakah yang dapat dijangka?
Adakah BN akan sekali lagi tidak menyertai PRK, seperti di Bukit Gelugor dan Chempaka (ekoran kematian Karpal Singh dan Datuk Nik Aziz Nik Mat)?
Ini akan menjadi PRK kesembilan selepas PRU ke-13, selepas Suruhanjaya Pilihan Raya (SPR) bermesyuarat pada 8 April ini dan mengumumkan tarikh PRK.
Setakat ini, Malaysia sudah melalui enam PRK bagi kerusi Dewan Undangan Negeri (Kuala Besut – Terengganu, Sg Limau – Kedah, Kajang – Selangor, Balingian – Sarawak, Pengkalan Kubor dan Chempaka – Kelantan) dengan keputusannya BN 3 Pakatan Rakyat 3.
Manakala dua lagi melibatkan kerusi Parlimen, dengan DAP mengekalkan kedudukannya di Bukit Gelugor dan Gerakan merampas Teluk Intan daripada parti itu.
Keputusannya juga seri, 1 -1.
Dan kini tiba giliran Permatang Pauh, kerusi Parlimen PKR dan diduduki tokoh yang tidak perlu diperkenalkan lagi, Anwar Ibrahim sejak 1982. Isternya, Dr Wan Azizah juga pernah menduduki kerusi itu ketika beliau dipenjarakan buat kali pertama.
Ia bukanlah pencapaian yang kecil dalam sejarah pilihanraya – 33 tahun yang lama.
PKR dan keluarga Anwar dijangka akan berusaha bersungguh-sungguh untuk mempertahankan Permatang Pauh. Mereka tentunya mahu mendapat kemenangan yang meyakinkan untuk Anwar, dan untuk membuktikan kepada Umno dan BN bahawa kerajaan kini semakin tidak popular.
PKR adalah pilihan untuk memenangi PRK ini, namun ia bukanlah sesuatu yang mudah. Mereka tidak boleh sambil lewa dan mengambil kesempatan terhadap sokongan yang ada.
Jika Umno tidak takut untuk bertanding di Permatang Pauh – seperti MCA di Bukit Gelugor dan Umno sendiri di Chempaka – keseluruhan jentera BN pasti akan turun ke Seberang Perai.
BN pasti ingin membuktikan pengkritiknya salah, dengan mengurangkan majoriti 11,721 undi yang dimenangi Anwar pada PRU yang lalu.
Namun, seperti mana-mana PRK, jumlah pengundi dijangka akan kurang daripada PRU, maka menjangkakan kemenangan dengan majoriti yang lebih tinggi boleh dikatakan tidak realistik.
PKR dan keluarga Anwar akan berfikiran realistik, dan mensasarkan kemenangan dengan [eratusan undi popular yang lebih tinggi.
Anwar mendapat 58.56 undi popular pada PRU ke-13 dan inilah yang ingin dilangkaui PKR dan keluarganya.
Jika Umno takut untuk bertanding, dan kebarangkaliannya amat kecil, maka kerusi itu akan kekal di tangan PKR.
Pertembungan PKR dan Umno pasti akan menjadikannya pilihanraya yang menarik. Jika PKR menang dengan selesa, ia menunjukkan warga Pulau Pinang dan Malaysia umumnya menolak dasar sosio-ekonomi Umno BN, pemenjaraan terhadap Anwar dan penggunaan kuasa politik untuk menyekat kebebasan bersuara rakyat.
Lebih utama, ia juga menunjukkan pengundi kecewa dengan pembaziran kerajaan, yang kini telah memikul hutang setinggi RM800 bilion.
Pertarungan PKR dan Umno di Pematang Pauh adalah amat signifikan secara politik – sama ada BN sudah berjaya menakut-nakutkan rakyat Malaysia agar mengundi BN, atau bangkit menunjukkan siapakah tuan dan apa yang boleh dijangka pada PRU ke-14.
Dan adakah kemelut hudud antara PAS dan presidennya yang pro-Umno, Abdul Hadi Awang dengan PKR dan DAP akan memberi kesan kepada keputusan PRK itu.
Agak mustahil di Pulau Pinang, jika kemenangan besar Pakatan pada PRU lalu masih boleh menjadi petunjuk kepada kecelikan politik warga negeri itu, yang setakat ini telah menukar kerajaan negeri sebayak dua kali dalam sejarah pilihanraya.
Pada PRU ke-13, disebalik pemberian cenderamata dan makanan dan minuman percuma yang banyak, BN masih lagi ditolak mentah-mentah.
Orang Pulau Pinang, terutama yang bekerja di luar negeri, perlu pulang beramai-ramai di hari mengundi nanti, untuk menunjukkan siapakah tuan yang sebenar.
Adakah warga Pulau Pinang, khususnya Permatang Pauh akan mengecewakan dengan jumlah undi yang kurang? - Ng Kee Seng,theantdaily
Contest in Permatang Pauh, Dr M dared...
Following former prime minister Dr Mahathir Mohamad's scathing attack on one of his successors Najib Abdul Razak's administration, an MCA Youth leader said the former premier should contest in the Permatang Pauh by-election on the opposition ticket.

"This former prime minister's arguments are not fresh topics. Its contents and topic are pirated from the opposition's rhetoric.


"Therefore, Mahathir is no longer suited to stay in BN, nor does BN need such veterans.

"His existence would only weaken BN and the government, hence boosting the opposition's chances of taking power," Pahang MCA Youth secretary Quek Tai Seong (right) said in a statement today.

In his latest string of attacks against Najib and his administration, Mahathir had written in his blog yesterday that BN will be defeated in the next general election unless he steps down.

He also made an issue out of the Altantuya Shaariibuu murder scandal, which implicated Najib's close confidant Abdul Razak Baginda.

Abdul Razak was charged with abetting the murder but was set free without his defence being called.

The Permatang Puah parliamentary constituency was held by opposition leader Anwar Ibrahim, but the Dewan Rakyat speaker had declared the seat vacant on April 1. A date for the by-election would be decided next week.

This followed the Pardons Board's decision to reject Anwar's appeal against his five-year prison sentence for sodomy.

However, Anwar's family and lawyers dispute this, arguing that the Yang Dipertuan Agong himself - who chairs the Pardons Board - has yet to dispose of the case himself.

'Now more opposition than the opposition'

Meanwhile, Quek said Mahathir is now "more opposition than the opposition" and because of this, grassroots members are recoiling away from Mahathir but would not speak up out of respect for him.

He reminded that all 13 BN parties have formally voiced their support for Najib as prime minister, and this is not something to be decided by Mahathir alone.

"Since the post of opposition leader is temporarily vacant, former prime minister Mahathir should volunteer to represent the opposition at the Permatang Puah by-election and run against the Umno candidate.

"Then, it can be proven whether the people support the prime minister's administration," he added. - mk
Mahathir calon BN di Permatang Pauh?
Can Pakatan retain Permatang Pauh without Anwar...
As Pakatan Rakyat (PR) scrambles to prepare for the Permatang Pauh by-election now that Datuk Seri Anwar Ibrahim is no longer MP, questions remain as to who the pact will field for the seat previously held by the PKR de facto leader for six terms.
Although the federal seat in Penang has been considered a PKR stronghold, some state PR leaders believe that there is a sizable risk of electoral defeat if PKR fields a fresh candidate or someone who is not from Anwar's family.
Chief among their concerns are the possibility that the DAP's ongoing spat with PAS might affect the mobilisation of ground support for the by-election, a low-voter turnout and the probability of Barisan Nasional (BN) using vast resources in fielding their choice candidate for the seat.
"It's still quite a large Malay population. The concern is that if we field someone who is not from Anwar's family, we can lose the seat," a Penang PR MP spoke to Malay Mail Online on condition of anonymity.
"And it being a by-election, there is also cause for worry as there will be a lower voter turnout...Everyone thinks the seat is a shoe-in for a win, but if a fresh candidate is fielded, there is no hundred per cent surety that we can win the seat," the source added.
The Wan Azizah factor
Speculation is rife that PKR president Datuk Seri Dr Wan Azizah Wan Ismail will be the party's choice candidate to contest her husband's seat.
A high-ranking PKR official told Malay Mail Online that there was a "general consensus" that the PKR president should be fielded in Permatang Pauh, as she had held the seat in Anwar's stead for two terms before vacating it for him back in 2008.
But no official decision has been made yet.
"I support the call for Dr Wan Azizah to contest the seat," PKR secretary-general Rafizi Ramli told Malay Mail Online, adding that her stature and credibility as party president and former Permatang Pauh MP would help in reaching out to voters.
"But I think it should be pointed out that the by-election, should it take place, should not be used as referendum to gauge Anwar's or Pakatan's support," the Pandan MP added.
During the Selangor mentri besar crisis last year, Dr Wan Azizah replaced Anwar as candidate to contest the Kajang state seat in a by-election, a move originally orchestrated to allow Anwar to replace Tan Sri Khalid Ibrahim as MB.
"I think PKR will win, as long as they put a known person or relatively known person," political analyst Ibrahim Suffian told Malay Mail Online when contacted.
"The thing [to] look out for is how big of a victory they (PKR) will enjoy in Permatang Pauh, as there might a be a lower voter turnout as it is a by-election," the director of pollster Merdeka Center added.
In Anwar's absence, Dr Wan Azizah has already begun efforts to unite a fractured PR, calling on the three PR component parties yesterday to close ranks and to focus on national issues like the Goods and Services Tax (GST).
Will PAS cooperate?
DAP's ongoing tiff with PAS president Datuk Seri Abdul Hadi Awang has raised concerns as to whether this might compromise PKR's chances in retaining the Permatang Pauh seat.
On Wednesday, Bukit Gelugor MP Ramkarpal Singh claimed that since DAP had cut off all ties with Hadi, having a PR leadership discussion on the by-election might prove problematic.
"I do not know whether there can be a consensus in the Permatang Pauh by-election with Hadi, as he still calls the shots as he is PAS president," the Penang DAP lawmaker had said.
But PAS appears to be committed in assisting PKR in efforts to retain the seat, with the Islamist party's deputy president Mohamad Sabu dismissing concerns of a divided PR.
"Not an issue. We will work together with PKR and assist PKR in whatever way we can," Mohamad told Malay Mail Online when contacted.
But analysts like Ibrahim believe that the PR's disunity on a national level might have some trickle-down effect on the ground in Permatang Pauh, although it will unlikely become the biggest cause for concern.
"I think [in] some ways there will be some friction in terms of PAS's cooperation, but to what extent it would be translated in Permatang Pauh remains to be seen," he said.
The Permatang Pauh parliamentary seat was declared vacant on Wednesday by Speaker Tan Sri Pandikar Amin Mulia after Anwar's petition for a royal pardon over his sodomy conviction was rejected.
Anwar was jailed for five years on February 10 when his appeal to the Federal Court against his sodomy conviction was dismissed.
PKR has held the Permatang Pauh parliamentary seat for 17 years since Anwar's first incarceration in 1998. Anwar held the seat for four terms before that, under the Umno ticket, since 1982.
Dr Wan Azizah led the newly formed PKR in 1998 to win the seat and she held it for three terms until she made way for her husband in 2008.
Anwar then held it for two terms under PKR until he was disqualified as MP earlier this week.- mmail
Pak Lah, Musa urged to join anti-Najib chorus...
Former statesmen Abdullah Ahmad Badawi and Musa Hitam have been urged to join Dr Mahathir Mohamad and Tengku Razaleigh Hamzah in speaking up against Prime Minister Najib's administration.
Strident Najib critic Shahbudin Husin, in making the call in a blog posting, says patriotic Malaysians should welcome Mahathir's and Tengku Razaleigh's common stand as "good news".
He says there appears to be a "new ray of hope" for the country with Tengku Razaleigh adding his voice to Mahathir's startlingly harsh remarks against Najib yesterday.
"For the sake of the nation's future," he says, "others such as former prime minister Abdullah and former deputy prime minister Musa should join Tengku Razaleigh in providing support for Mahathir."
He says the public's respect for Abdullah and Musa will increase if they are willing to join hands with Mahathir in the effort to bring an end to Najib's problematic administration.
Referring to old enmities between Mahathir and the three other statesmen, he urged them to forget the past, to "spring themselves out of the prison of time" because "the nation's future and the wellbeing of future generations supercede everything else."
In a blog article he posted yesterday, Mahathir said Umno and Barisan Nasional would lose the next general election if Najib was allowed to continue leading the nation. He continued his criticism of Najib's pet project, 1MDB, and for the first time since he started his attacks against the Prime Minister, he referred to the controversy surrounding the 2006 murder of Mongolian national Altantuya Shaaribuu, a highly sensitive issue with Najib.
Shahbudin agrees with other commentators that it was Mahathir's harshest attack on Najib to date. He says there's no doubt that Mahathir was asking Najib to resign and telling others to force him out if he refuses to quit his positions.- fmt
Masa Untuk Tun M, Ku Li, Pak Lah dan Musa Hitam Bersatu
Altantuya changed everything...
Why, you may ask, has this Razak Baginda-Altantuya affair not brought down Najib and caused the downfall of the Umno-led BN government?
Watergate resulted in the resignation of an American president and the indictment, trial, conviction and incarceration of a number of Nixon's top administration officials. No sex, no corruption, no cronyism, no murder, no national security issues…just Nixon lying to the American people!
The Profumo Affair forced the resignation of Britain's War Minister and ended 13 years of unbroken Conservative government rule. This was a tale of how the rich, famous and powerful indulged in sex, with suicide, intrigue and espionage thrown in for good measure.
As political scandals go, the Abdul Razak Baginda & Altantuya Shaariibuu affair has it all. It's a concocted tale of violence and murder, death, betrayal, greed, deceit, cover ups, illicit sex across many continents, corruption, cronyism, abuse of executive power and the peoples' trust, massive abuse of public money, compromising our national security, shenanigans at the Immigration department, gutter politics, miscarriage of justice, covert operations by Unit Tndakan Khas (UTK) on behalf of the rich and powerful, theft of explosives from the Ministry of Defence (MINDEF), blackmail and the exposure of the lives of the rich, powerful and politically connected and not dismissing the likelihood of further escalation of diplomatic 'tension' involving Mongolia and France….and still counting!
In summary a drama of Shakespearean dimension! As of 2013 – another death – that of P Balasubramaniam, and the acquittal of Azilah Hadri and Sirul Azhar Umar, can now be added to its data base.
Yes, events can be manipulated, information suppressed and truth hidden but not indefinitely.
The Altantuya murder exposed what we suspected has been happening all along in the murky world of corruption, cronyism and abuse of executive power by Umno's political elites and their cronies.
There has always been corruption in Mindef before but never on this scale and latitude.
There were those who actually managed to "persuade" the Barisan Nasional government to buy Scorpene submarines. The entire process from tendering, evaluation, logistics of equipment supply, training and right up to getting the submarine crew was manipulated just to ensure that the two Scorpenes will "selam".
And it surely involved a tender committee, the Malaysian Cabinet, the Minister of Defence and (of course) Abdul Razak Baginda himself. Truly a cast of thousands and painfully paid for by the ignorant Malaysian public.
Commissions have been paid for questionable "services rendered" to brokers, middlemen and agents before but never so blatantly as to make even the most tolerant of us to ask "What services were rendered to warrant RM500 million payment?"
There have been abuses before by those tasked to purchase our defence equipment but awarding Abdul Razak in millions of our money is totally astounding.
Upon pocketing, Abdul Razak chose to embark on an escapade across continents in a Ferrari with his mistress. It is clearly an irresponsible behaviour on his part.
Did it ever occur to Abdul Razak that apart from cheating his wife and family, he was compromising our nation's security and honor? Was it just to satisfy his personal needs –sex?
A matter of timing
Watergate and Christine Keeler brought down governments but in Malaysia the Abdul Razak and Altantuya affair only brought out the worst of our judiciary and the government.
The manner on how BN government handled the matter speaks for itself:-
1. Two UTK operatives have been found guilty of murdering Altantuya for reasons unknown to-date, and now they have been acquitted on appeal.
2. Abdul Razak is in exile and well cashed up and is free to do what he pleases, where he pleases.
3. The then minister of defence is today Prime Minister of Malaysia!
And the Malaysian public has been told that "justice will prevail" despite the obvious before our eyes.
Before the Altantuya saga, the accusations of mischief, corruption, cronyism and abuse of power hurled towards our ministers were brushed off as half-truths, gossips and innuendos.
Altantuya changed everything. The truth has surfaced. We have names, amount of money involved, the secret deals and much more today. Nevertheless, there is a lot more to be discovered.
Why, you may ask, has this Abdul Razak-Altantuya affair not brought down Najib and caused the downfall of the Umno-led Barisan Nasional government?
It is simply a matter of convenience. The merit of a scandal has little or nothing to do in bringing down a government. It is a matter of timing.
When Muhyiddin Yassin or other forces within Umno are ready to move against Najib, then the Abdul Razak-Altantuya affair will be revisited and enough will be revealed to 'persuade' Najib to exit Umno with dignity or money!
There is ample of evidence to support this notion. It happened with Musa Hitam, Anwar Ibrahim, Ku Li and even Pak Lah during the Mahathir era. This phenomena will only stop when we demand excellence and meritocracy from those in public office.
Until such time, Altantuya will have to wait for justice. - CT Ali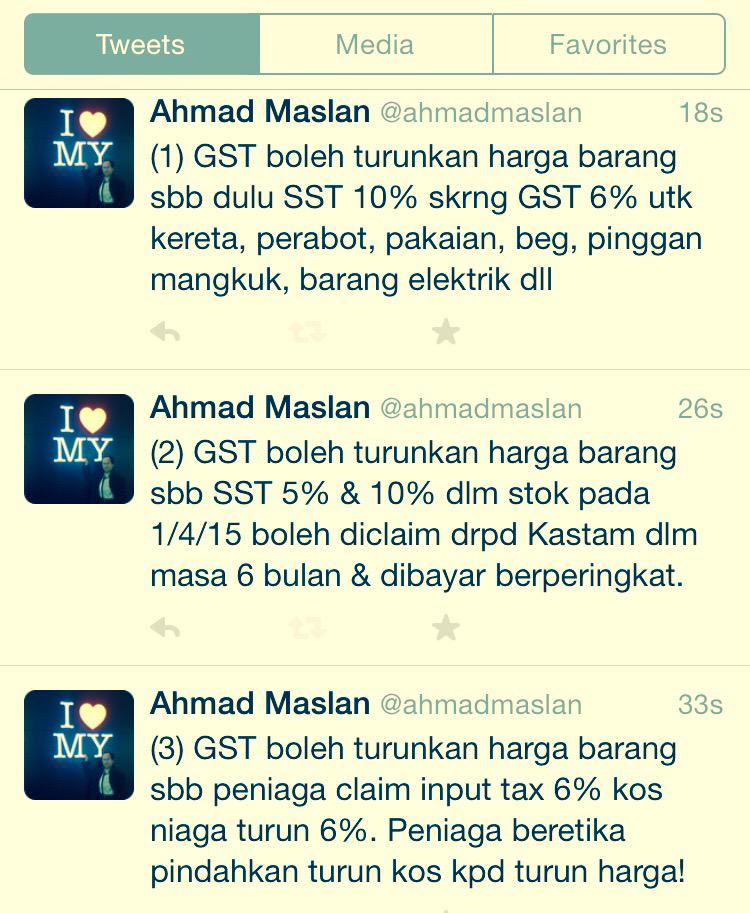 cheers.