Setiausaha agung PKR Rafizi Ramli berharap Umno tidak hanya menyebar video seks semasa kempen pilihan raya kecil parlimen Permatang Pauh kali ini.

Rafizi berkata, ini memandangkan naib presiden Umno, Datuk Seri Ahmad Zahid Hamidi mengumumkan bahawa parti itu akan mendedahkan satu kejutan dalam kempen tersebut.

"Biarlah mereka dedahkan kejutan. Tapi saya harap ia bukan satu video seks sebab itu sahajalah selalunya kejutan dari Umno," kata Rafizi kepada Malaysiakini.

Rafizi berkata, pengundi Permatang Pauh juga sudah muak dengan permainan politik seperti itu.

"Lagi pun, saya tak fikir mereka boleh reka apa-apa mengenai Kak Wan (presiden PKR Datuk Seri Dr Wan Azizah Wan Ismail)," katanya.

Beliau mengulas pengumuman Zahid di Permatang Pauh hari ini berhubung "kejutan" yang akan muncul dalam kempen tersebut.- mk
Hope Zahid's shocker not another sex video...
PKR secretary-general Rafizi Ramli hopes that Umno's shocker for the Permatang Pauh by-election, as announced by its vice-president Ahmad Zahid Hamidi, will not be another sex video.

"Let them unveil the shocker. But I hope it's not a sex video, since that always seems to be the shocker from Umno," Rafizi told Malaysiakini, adding that Permatang Pauh voters were already disgusted with such dirty tactics.

"Anyway, I doubt that they can manufacture anything on Kak Wan (PKR president Dr Wan Azizah Wan Ismail)," Rafizi joked.


He said this in response to the announcement by Zahid in Permatang Pauh earlier today that there will be a "shocking surprise" in the coming by-election for the parliamentary seat that Anwar Ibrahim held until just after his Sodomy II conviction.

He said this surprise would change the political landscape of the constituency which Anwar has held since 1982, when he was still an Umno leader.

However, Zahid did not want to elaborate further and told reporters to wait for Umno's announcement on its candidate come April 23.

'After Dr M-Najib feud, nothing is shocking'

On his part, Rafizi said after considering the ongoing feud between Prime Minister Najib Abdul Razak and former prime minister Dr Mahathir Mohamad, nothing was shocking anymore.

"I don't think the people, and PKR, will be surprised by anything that can come out from Umno," he said.

Rafizi, who is also a PKR vice-president, believes that Zahid's announcement was only to divert attention away from the real issues.

"I'm not surprised for Zahid to go down the sensational route for Umno, because it will be difficult for them to counter and answer these issues, about which they will be on the defensive," he said.


As for PKR's plans, Rafizi said the party's campaign would be low-key and focused on real issues, such as the goods and services tax (GST), the economic hardship faced by the people, crackdowns on politicians and activists, as well as what had happened to jailed PKR de facto leader Anwar.

Meanwhile, PKR Youth chief Nik Nazmi Nik Ahmad said the party was working hard for the by-election.

"We're confident and we're working very hard to keep the seat," he said, adding that as for Zahid, there were so many other things that he should be focusing on.

"Issues such as his wealth, his handling of civil liberties, Paul Phua, and so on. If I were him, I would put my time on all these things," Nik Nazmi said.

PKR has head start

PKR supreme council member Fariz Musa said the party was ready to face any surprises to be made by Umno.

"We are confident, that whatever the circumstances, Umno will not be able to win Permatang Pauh especially since it is PKR's fort.

"And as a state under Pakatan, we will be able to defend the seat," he added.

Stating that Zahid's statement was nothing but rhetoric, Fariz said it also has no significance, especially with issues like the GST.

"And Umno has not launched its machinery, unlike PKR," he said.

The Permatang Pauh seat fell vacant after the bid by Anwar's family to seek a pardon for his conviction and jailing for sodomy from the Yang di-Pertuan Agong failed. Anwar has, since Feb 10, been serving a five-year jail term in the Sungai Buloh Prison.

The by-election will be held on May 7, with nomination day being April 25. - mk
Goodies pouring into Permatang Pauh...
The polling season is never complete without goodies - big or small - being rolled out in the constituency facing an election.

Permatang Pauh is no different as BN and Pakatan Rakyat have kicked off their election machinery two weeks ahead of nomination day, slated for April 25.


Polling is only on May 7, with early voting on May 3, but BN and Pakatan heavyweights are already doing their rounds in the constituency.

On Sunday, Bernama reported that Deputy Prime Minister and Umno deputy chief Muhyiddin Yassin pledged RM1.2 million or RM200,000 for six schools in Permatang Pauh to build new halls.

The Umno deputy chief was in town earlier that day to meet with the party's division chiefs and BN leaders to work out preparation strategies to face the by-election.

In an immediate response, DAP national women's wing chief Chong Eng denounced the move as an "obvious ploy" to garner votes in the constituency, dubbed a PKR stronghold.

"He used the education building pledges for politics and politicised education," Chong Eng said, targetting Muhyiddin, who is also Education Minister.

"Such allocations should not be given during polls as it gives the impression that areas which do not have by-elections will not be considered for the funds," she added.

The Penang executive council member then urged voters to use their votes to correct this impression of using education as a political ploy during polls.

She said Muhyiddin's move differs from the Penang government which also allocate funds for schools throughout the year and not only during polls.


However, this morning, Chief Minister Lim Guan Eng announced a RM12 million upgrade for the public and traders market in Seberang Jaya, a state constituency under the Permatang Pauh parliamentary seat held by PKR national deputy chief Dr Afif Bahardin.

The other two constituencies are Penanti, held by PKR's Norlela Ariffin, and Permatang Pasir by Penang PAS deputy chief II Salleh Man.

Held at the Seberang Perai Municipal Council hall in Bandar Perda, Lim was accompanied by PKR president Dr Wan Azizah Wan Ismail.

Azizah is no stranger to Permatang Pauh as she held the seat from 1999 to 2008 when her spouse Anwar Ibrahim was in jail for a conviction related to his first sodomy charge.

She is highly speculated to be the candidate again, although some quarters questioned why PKR refuses to field a candidate who is not related to Anwar.

'Market upgrade would benefit everyone'


Asked whether the market overhaul announcement was also an election goodie, Chong Eng (right) denied it and questioned instead the location of the six schools which received Muhyiddin's federal funds.

"The upgrade of the market would benefit everyone and all surrounding areas, not just the voters in Permatang Pauh.

"The funds for schools were only targetted to those in Permatang Pauh," she added.

Asked when the market project was set in motion, Afif said the discussions about the projects had already begun since the 2013 polls, after Pakatan retained Penang against BN for a second term.

"That is why we are announcing it now and not during the by-election campaign period," added the Penang executive councillor.

Meanwhile, Gerakan president Mah Siew Keong said Tuesday that party members will go to the ground to meet voters "face to face" to convince them to support the Umno candidate.

"Having big dinners doesn't work on anyone," he quipped.

However, his ally, MCA, led by its Penang liaison committee chief Chew Mei Fun, is set to hold a dinner with the Chinese community in Sungai Lembu tonight.


Not to be daunted, PKR is using the strategy to its advantage.

"Please go for the free dinner but ask MCA about the implementation of the goods and services tax and (the alleged financial mismanagement) of the 1Malaysian Development Fund (1MDB)," said state PKR deputy chief and state assembly speaker Law Choo Kiang.

Law said this at a high-tea event attended by Azizah and her daughter Nurul Iman in Sungai Lembu village.

During the session, attended by 100, mostly senior citizens, Azizah presented the village martial arts club with a spanking new lion dance set. - mk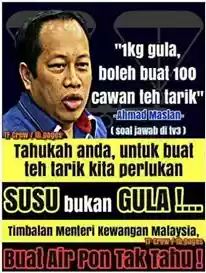 The world according to Ahmad Maslan...
Prime Minister Najib Abdul Razak has the liberty to choose whomever he likes to fill up his Cabinet, but his deputy in the Finance Ministry is such a terrible choice. Ahmad Maslan, when he opens his mouth to speak, makes Najib look like an economic genius in comparison. Perhaps it is for this reason that Najib leaves the talking to him.
Ahmad Maslan is clueless, not just about the GST, but about many other things.
In January 2015, Ahmad claimed that once the GST was implemented, the government revenue would be around RM23 billion compared to RM13 billion under the current tax system.
During a visit to Kampung Kerilla, which was severely affected by the recent flooding, he said, "With the GST, we can build more basic facilities such as roads, bridges, schools, clinics, hospitals, mosques and government buildings, which require the allocation of billions of ringgit."
Ahmad claimed that without the GST, the government would have found it difficult to cover contingency expenses needed to restore facilities destroyed by disasters.
Trust Ahmad to use people's suffering to sell the GST. So, what would have happened if there had been no GST? Would none be given to the East Coast?
Last January, Ahmad blamed "lazy" and unemployed Malaysians for the influx of foreign migrant workers into the various industries. He said, "The three percent are the lazy ones. They are worse than just lazy. There are around 300,000 of them, who are just sitting and doing nothing."
Unscrupulous companies prefer to exploit migrant workers, giving them ridiculously low wages and virtually no rights. They are cheaper than Malaysian workers. Ahmad is being disingenuous. His government's policies are at fault, not the Malaysians he called lazy.
Ahmad, who is Umno-Baru's information chief, tried to use the self-styled First Lady of Malaysia (FLOM) to convince the rakyat that the GST would benefit them. His idea flopped, and he had to do a lot of back-pedalling.
He said "I was there at the event and she (Rosmah Mansor) talked about how hairdressers who make house calls were charging up to RM1,200. She was only raising the issue. It's not that she paid for it or used the services."
Out of touch
At a time when people were forced to tighten their belts, Rosmah talked about RM1,200 hairdos. Most Malaysians don't bring home that much money at the end of the month. Both Ahmad and FLOM are out of touch with reality.
To address the confusion about service charges at hotels and restaurants, Ahmad said, "Among the proposals are to set the service charge at lower than 10% as practised now and customers can choose not to pay the charge if they are not happy with the service rendered."
Is Ahmad proposing that we walk out of the restaurant or hotel after deducting 10% from the bill? He is assuming that all consumers are honest, and that hoteliers and restaurateurs will not retaliate. "Happy" is relative. So what does he mean?
Ahmad told us that the GST would decrease the price of many goods, but few have seen this happen. The people are angry because their spending power has dropped by at least 10%.
When the people in Umno-Baru have not properly thought through a policy or proposal, they blame others. This time, Ahmad blamed the traders.
He said, "They are sabotaging the economy. Some goods are GST-free but they are arbitrarily imposing GST on them, which causes the prices of goods to go up.
"It is unacceptable if they say they don't understand GST as we have explained for a year and seven months, on television, radio and newspapers."
If the formidable Iron Lady, former Trade and International Industry Minister Rafidah Aziz can complain that the GST is difficult to understand, shouldn't Ahmad take heed?
Ahmad recently upset students at University Teknologi Mara in Shah Alam. He skirted around GST and avoided their questioning. When they complained, he said, "I spoke for two hours 45 minutes and I spoke on various (GST-related) topics but they only picked up one line – cooking one's own meals."
Ahmad is so dense that he does not realise that the students are trying to tell him that only one remark from his entire three hour speech was comprehensible.
Someone of his calibre should not be in the ministry providing any service to the rakyat.
In 2013, a Taiwanese tourist was abducted from a resort off Pom Pom Island, near Semporna. Subsequently, a question was raised in parliament about security in Sabah. A typically clueless and nonchalant Ahmad said, "We have Sarawak and Peninsular Malaysia for people to visit. Kuala Lumpur and Pom Pom are far from each other and Kuala Lumpur is not affected."
In other words, he is saying, "Don't worry, be happy."
Ahmad Masalan is clueless about the effectiveness of the Eastern Sabah Security Command in Sabah waters and equally clueless about the effects of the GST on the rakyat.- Mariam Mokhtar,FMT
Rafizi Teruja Jumpa Najib & Rosmah di Mahkamah...
Menteri akui hutang 1MDB membebankan...
cheers.