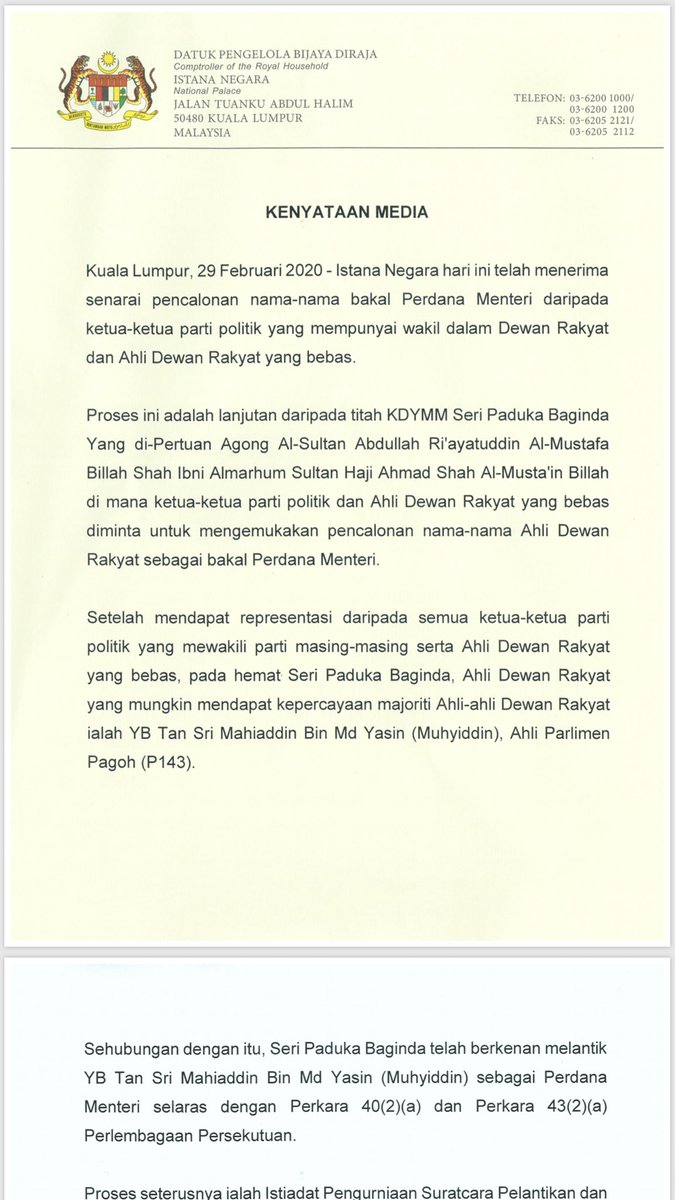 Muafakat Nasional petang ini mengubah pendirian dengan mencalonkan Presiden Bersatu Muhyiddin Yassin sebagai calon perdana menteri kelapan. Perkara itu dinyatakan dalam kenyataan bersama Setiausaha Agung Umno Annuar Musa dan Setiausaha Agung PAS Takiyuddin Hassan.
"Ini bermakna seramai 57 ahli parlimen Umno dan PAS memberi sokongan penuh kepada YB Tan Sri Muhyiddin Mohd Yasin," menurut kenyataan itu.
Keputusan terbaru itu dibuat selepas Yang di-Pertuan Agung hari ini bertitah akan meminta pencalonan perdana menteri selepas tiada pihak mendapat majoriti jelas. Muafakat Nasional sebelum ini mahu parlimen dibubarkan.
Muhyiddin setakat ini turut memperoleh 36 sokongan - daripada anggota parlimen partinya (termasuk dipercayai kem Azmin Ali). Dalam perkembangan terkini, MCA dan MIC juga menyatakan sokongan pada Muhyiddin. MCA mempunyai dua anggota parlimen manakala MIC satu kerusi dalam Dewan Rakyat. Jika PBRS juga menyokongnya, Muhyiddin selamat dengan sokongan 97 anggota parlimen.
Anwar, pesaing terdekat Muhyiddin, kini hanya mendapat sokongan 92 wakil rakyat Pakatan Harapan.
Dengan keadaan sekarang Gabungan Parti Sarawak (GPS) dengan 18 kerusi dilihat berpotensi menjadi kingmaker (penentu), sekali gus menamatkan krisis politik sekarang. Setakat ini, usaha Perdana Menteri Sementara Dr Mahathir Mohamad membentuk "kerajaan tanpa parti politik" juga dilihat telah menemui jalan buntu. - mk
Semuas jangan sedap sangat..
Malam ini kotak WhatsApp Udin anak Yassin penuh dan jem kerana terlalu banyak sangat ucapan tahniah dikirimkan kepadanya ekoran perkembangan politik menjelang petang ini. Sudah ada yang berjoget dan menari-nari kerana terlalu gembira dengan bayangan dan khabar beliau akan dilantik jadi PM.
Keadaan itu sama terjadi kepada sebelah penyokong PH sebelum ini. Apabila Anwar diperkirakan mendapat 92 undi berbanding dengan Mahathir atau cadangan membubarkan parlimen, sudah ada yang "gila-gila ingat" bergembira dengan keadaan itu.
Nah, petang ini bertukar jadi lain pula. Nak diingatkan kepada mereka yang terpesona dengan ramalan Udin anak Yassin akan jadi PM, hendaklah mengambil sikap sederhana jangan melampau. Tuhan marah kepada sikap melampau.
Formula yang hendak diguna pakai oleh Agong untuk memilih PM masih lagi samar-samar. Kita belum mengetahui apakah cara dan kaedah baginda akan memanggil ketua-ketua parti itu. Apakah secara berseorangan atau berkumpulan, semuka ramai-ramai dengan semangat Malaysia?
Mungkin baginda ada formula lebih jilah dan harmoni demi menyelesaikan kemelut politik yang berdebu dan berkabut kini. Dan seperkara lagi apabila hanya ketua parti dipanggil untuk menyatakan sokongan kepada sesiapa, ia boleh mengatakan sokongan yang berbeza daripada apa yang partinya kehendaki itu. Kena ingat kuasa presiden parti adalah tertinggi. Tidak semestinya apa yang setiausaha kata sama dengan kehendak presiden. - mso
Muhyiddin tak dapat restu
MPT Bersatu calon PM 8...
1. Kenyataan ringkas Bersatu mengatakan ahli Dewan Rakyat parti itu bersama feksyen Azmin Ali telah menamakan Tan Sri Muhyiddin Yassin sebagai calon Perdana Menteri.
2. Sebagai penjelasan, ini bukan keputusan Bersatu. Majlis Pimpinan Tertinggi Bersatu tidak dibawa berunding atau dimaklumkan mengenai hal ini.
3. Pendirian terakhir MPT yang dibuat dalam mesyuarat malam Isnin lalu ialah Tun Dr Mahathir kekal sebagai Perdana Menteri.
4. Dalam perkembangan berkaitan, Umno dan Pas menyatakan sokongan kepada Muhyiddin. Ini tidak menghairankan.
5. Tidak seperti Dr Mahathir yang hanya bersedia menerima pemimpin Umno sebagai individu, Muhyuddin sanggup menerima mereka sebagai parti.
6. Prinsip Tun adalah beliau menghormati keputusan rakyat jelata yang menolak penjenayah kleptokrasi dalam PRU 2018.
7. Perlu diingatkan semula bahawa Bersatu adalah cetusan daripada kempen Selamatkan Malaysia dan Deklarasi Rakyat tahun 2016.
8. Dr Mahathir berulang kali mengingatkan MPT bahawa Umno "desperate" untuk menubuhkan kerajaan campuran dengan Bersatu kerana hari penentuan bagi para pemimpinnya yang sedang dibicarakan semakin hampir.
9. Sementara itu jenayah baru telah ditemui termasuk jenayah berat.
10. Jadi tidak hairanlah kalau mereka menggunakan slogan agama, bangsa, negara, maruah dan seumpamanya sebagainya perisai. - A Kadir Jasin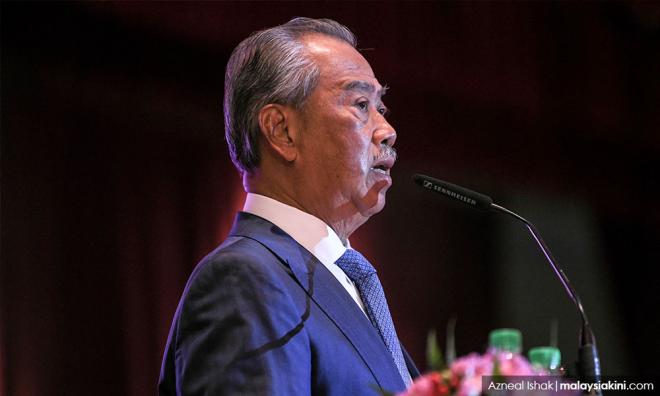 Bagi aku bila Muhyiddin mengenepikan Tun Mahathir, sudah satu berita baik.. Bila Blok BN,UMNO dan PAS kembali sokong Muhyiddin juga satu berita baik.. Bila Azmin sertai Bersatu juga satu berita baik..
Sebabnya dalam Bersatu..UMNO itu sendiri bukan semua sokong Muhyiddin..sokong gabungan ini..Sokongan berdasarkan blok parti tidak akan kemana..ia hanya menggambarkan kerakusan Muhyidin nak jadi PM.. tidak akan kekal lama.. nak tengok reaksi bagaimana orang seperti Dr Maszlee, Syed Saddiq nak bersama dengan gerombolan UMNO dan PAS..
Hari ini salah satu gabungan yang paling solid adalah Pakatan Harapan.. Walaupun Azmin membawa keluar 11 Kerusi parlimen.. Pakatan masih ada 92 Kerusi.. Hanya Perlukan 20 kerusi lagi gabungan..Jika MP PKR tidak tinggal Parti..Hanya perlukan 10 lagi kerusi... Hakikatnya hari ini apapun terjadi Pakatan Harapan gabungan yang paling Solid..
Cuba lihat Parti Bersatu.. Asalnya depa hanya menang 13 Kerusi masa PRU 14.. Sekarang ada hanya 26 Kerusi dari sokongan MP UMNO yang lompat bukan sebab prinsip.. tapi sebab PH berkuasa...Bersatu 26 Kerusi.. Untuk bentuk Kerajaan, Perlukan sokongan dari Blok UMNO, blok Warisan, Blok GPS ,Blok PAS, BLOK Azmin.. Bersatu perlukan 5 Blok lagi.. untuk bentuk Kerajaan..
Mereka Bersatu..akan dibentuk dengan pelbagai idealogi politik dan pelbagai haluan dan matlamat yang tidak jelas.. Sedangkan PH matlamatnya jelas..Sebuah Malaysia baru.. dan aku yakin... ada MP Bersatu , Warisan dan GPS sendiri suatu masa nanti akan melompat kepada PH..
Bersatu terlalu bercita cita tinggi untuk jadi PM.. jadi teruskan lah... Jika Muhyiddin berjaya jadi PM pun.. Muhyiddin boleh jatuh pada bila bila masa dalam dewan rakyat...Bila bila masa PH akan boleh buat undi tidak percaya..
Gabungan dan Kerajaan begini tidak akan menyakinkan Pelabur dan Ekonomi...Jadi berfikirlah.. masih ada ruang semua ahli parlimen berfikir demi masa depan Ekonomi Negara. - Ipohmali
Scenario 1 ini memang kira all stars aligned la, jadi depa akan jadi pakatan pengkhianat, pencuri dan penjual agama. Semua ada kat dalam sana
Sebab itu bersatu-shereton depa bergabung letak 36 kerusi, depa nak lawan UMNO 39 kerusi. Assuming yang UMNO boleh masuk secara en-bloc ( kira Najib, Zahid, H20, KJ, Ku LI) boleh terima Mahyudin jadi PM. PAS yang 18 kerusi pun kena terima bersatu jadi PM. GPS + Warisan pun kena setuju, off course they will request for all the Ministry in exchange for the vote.
But when this happen, penyokong akan marah sebab pakatan mereka ada pengkhianat. Ada chances yang mereka akan kena game dengan UMNO dan PAS sebab mereka memang nak bubar parlimen. Unless Mahyudin boleh janji gugurkan kes pemimpin UMNO. I just dont see how this going to work. Not sure who's manifesto that they will deliver. But economy will go down to the drain. PH can and should be able to survive this as opposition.
For scenario 2, PH jadi kerajaan dan DSAI PM. bekerjasama dengan GPS secara en-bloc, lantik TPM dari GPS. Should be a solid simple majority government...
For scenario 3, Hanya UMNO H20 masuk ker kem Bersatu Shereton, masih boleh tubuh kerajaan. Tapi chances untuk undi tidak percaya tinggi.
Ini assuming yang semua bersetuju Bersatu Sherton lead kerajaan, kalau ada di kalangan UMNO nak jadi PM, akan masih jadi stalemate. Dan tengok juga GPS, sebab dulu mereka tak nak berkerjasama dengan UMNO.
Now everything hangs on the balance. - Mohd Mukhlis Mohd Sharif
Perlu diingat, GPS dan beberapa parti Borneo bersama dgn Tun atas dasar blok Tun tiada sokongan MN (yang memilih bubar sebelum ini)..
Now MN bersama blok Bersatu, dan mungkin Warisan.. Adakah depa yakin GPS akan bersama blok ini?
HARAPAN + GPS + beberapa serpihan = Simple Majority - f/bk
As at 9.30 pm 28/02/2020...
With backing from UMNO/PAS,
Muhyiddin set to be next PM...
After retracting its support for Tun Dr Mahathir Mohamad as Prime Minister candidate, the Muafakat Nasional coalition — comprising Umno and PAS — have now pledged their support for Parti Pribumi Bersatu Malaysia president Tan Sri Muhyiddin Yassin for the top government post.
"Umno (with 39 MPs) and PAS (with 18 MPs) as the Muafakat Nasional coalition have agreed to nominate Tan Sri Muhyiddin Yassin, Pagoh MP (Bersatu) as the 8th prime minister for the consideration of the Duli Yang Maha Mulia Seri Paduka Baginda Yang Di-Pertuan Agong," the two parties said in a joint statement this afternoon.


Coupled with the support of 36 lawmakers from Bersatu announced earlier today, this brings the number of MPs backing the former Home Minister to 93, which is just 19 seats short of the 112 simple majority.
The statement did not include other Barisan Nasional component parties namely MIC and MCA, each with one and two MPs respectively.


Gabungan Parti Sarawak, which holds 18 seats, is understood to be backing Muhyiddin and is expected to announce its support.
The Pakatan Harapan coalition meanwhile nominated PKR president Datuk Seri Anwar Ibrahim for the premiership. The coalition controls 92 seats in the Dewan Rakyat. - theedge
The Triangle Power Struggle – Mahathir Trapped Himself By Announcing His Refusal To Work With UMNO...
Like the Chinese ancient Romance of the Three Kingdoms, Malaysia's current political crisis has transformed into three major coalitions fighting for the throne. The triangle power struggle consists of Mahathir's coalition (63 MPs), Anwar's coalition (92 MPs) and BN-PAS' coalition (61 MPs). None of them has the magic number of 112 MPs required to form a simple-majority government.
The current situation is so fluid – and exciting – that any articles written could be obsolete by the time it's published. Just when it was thought that Mahathir Mohamad, the 7th prime minister who suddenly resigned, but appointed by the Agong (King) as the interim prime minister, would be crowned again as the 8th prime minister, it's now possible that the 94-year-old man could be jobless.
And all that could happen within this week alone. The triangle power struggle emerges primarily because Mahathir wanted to create what is known as a "unity government", an ideal government where all the good, bad and ugly politicians from both sides of the political divide have a chance to be included in the government. In short, it's one big happy family without the Opposition.
Unfortunately, there's one huge problem. The country is plagued with racism, discrimination, extremism, xenophobia and all forms of bigotry that you can find in the dictionary, thanks to over 60 years of one-party rule. Coincidentally, Mahathir, the man who now wants a unity government is also the same man who had spent more than a third of those 60 years destroying the once harmony country.
It's not hard to understand why so many people distrust Mahathir to lead a unity government. He was the man who practised dictatorial-style leadership and gerrymandering and misused institutional tools to manipulate an electoral process to stay in power for 22 years (from 1981 to 2003). And now he expects people to give him a blank cheque to rule until his death like Peter the Great?
Anwar's Pakatan Harapan (PH) coalition refuses to work with BN-PAS coalition and vice-versa. Both coalitions accuse each other of being racist, extremist and whatnot. At the same time, Mahathir appeared in television yesterday (Feb 26) saying UMNO (a component party of BN) cannot join his unity government. The old man, however, welcome UMNO members but not UMNO party.
Therefore, all bets were off. The alliance of BN (Barisan Nasional) and PAS Islamist party immediately withdrew their support for Mahathir as the leader of the country. To make matters worse for Mahathir, Anwar's PH coalition also made a stunning U-turn about supporting the old man after he refused to chair the Harapan presidential council meeting on Tuesday (Feb 25).
Mahathir's refusal to attend the meeting means he had no intention of restoring the previous PH-led government, which also means all the pre-election manifesto would be thrown into the trash bin. Mahathir only wants PH's powerful bloc of 92 votes, but not the manifesto. He wanted the free hand to explore a new unprecedented political landscape that has not been tested.
Hence, the remaining component parties of PH (Pakatan Harapan) – PKR, DAP and Amanah – were left with no choice but to nominate PKR president Anwar Ibrahim as the next prime minister. In what appears to be proof that the coup circus was orchestrated by Mahathir himself, the old fox has today decided to return back to his party Bersatu and resumes his chairmanship.
Mahathir's support came from Bersatu (25 MPs), Azmin Ali and his 10 PKR traitors (11 MPs), Sarawak-based GPS (18 MPs) and Sabah-based Warisan (9 MPs). Yes, despite whining and crying about being backstabbed by Azmin, astonishingly, the former deputy PKR president is about to join Bersatu, which would enlarge Mahathir's party to 36 MPs, just 3 seats less than UMNO.
One of the reasons Pakatan Harapan decided to nominate Anwar, instead of Mahathir as promised earlier, was that the former premier appeared to have trapped himself when he announced to the world that there's no way he can work with the corrupt UMNO party. That would mean Mahathir will not be able to leverage on BN-PAS' 61 MPs to achieve his ambitious unity government.
That explains why Anwar's coalition was incredibly happy when they went to see the King yesterday. Pakatan Harapan's 92 MPs have a superior number than Mahathir's 63 MPs. For Mahathir to go back to UMNO and beg for support would be extremely humiliating. Anwar probably was betting that Mahathir would be forced to rejoin PH coalition – quite a clever strategy.
In the eventuality that Mahathir abandons or modify his unity government concept to suit PH's agenda, everything would be back to its previous configuration, allowing the PH coalition to rule again. Anwar's camp was also betting that Mahathir would not dare go for a snap election, as doing so would certainly allow the return of BN – and Najib Razak – to the federal government.
But it seems Anwar had chosen to count his chickens before they hatch – again. Mahathir, in his desperation, may go bonkers and work with UMNO after all. The state of Johor has already collapsed after Mahathir's party decided to work with UMNO in forming a new state government – another betrayal. Without approval from the top, Bersatu Johor will not dare switch sides.
After meeting with the King today, Mahathir pre-emptively revealed that a special Dewan Rakyat sitting will be convened on March 2 to see who will be the next prime minister. Mr. Mahathir has also confirmed that Bersatu (PPBM) president Muhyiddin Yassin will be one of the candidates to be offered as the prime minister in the Lower House of Representative.
The biggest giveaway that Mahathir was the hidden hand behind the recent coup to topple his own Pakatan Harapan government is that he now says he can accept if Muhyiddin wants to work with UMNO en bloc. Exactly how could he return to his party after allegedly being betrayed by Muhyiddin, let alone endorsing his lieutenant's plan to join forces with UMNO?
Now that the King has told Mahathir to fly kite with his unity government, the old fox is tangled in his own web of deceit. If indeed he was betrayed by Muhyiddin and Azmin, he could easily ordered Sarawak-based GPS (18 MPs) and Sabah-based Warisan (9 MPs) to support Anwar's coalition, instantly gives Pakatan Harapan a comfortable simple majority of 119 parliamentary seats.
Even the idea of going to the Dewan Rakyat to elect among its members a prime minister is unconstitutional. The King must first appoint a prime minister among the 222 MPs whom in his judgement is likely to command the confidence of the majority. The Lower House of Representative is just a place to test whether an "existing" premier enjoys the majority support.
Lim Guan Eng with Anwar Ibrahim and Mat Sabu
Obviously, Muhyiddin is the backup plan. The party's bloc of 63 MPs, if combined with UMNO-PAS' 61 MPs, will be sufficient to form a new government with a majority of 124 parliamentary seats. However, that depends on whether UMNO-PAS is ready to play ball. Based on UMNO's current preparation for a snap election, it doesn't seem so.
The Johor move was a gift to impress upon UMNO-PAS to support Muhyiddin as the next prime minister, instead of Anwar Ibrahim. The wisdom behind that was that if Muhyiddin fails to win the beauty contest in the Dewan Rakyat, then a snap election will be called. If that happens, the state of Johor won't matter because Bersatu on its own will be wiped out completely.
Anwar's Pakatan Harapan has until March 2 to swing kingmakers Sarawak-based GPS (18 MPs) and Sabah-based Warisan (9 MPs) to his camp. He could, for example, offer deputy prime minister posts for them. Anwar probably should call Mahathir's bluff that he's willing to let crooks like Najib Razak and Zahid Hamidi free after all the efforts he had done to prosecute them.
When Mahathir decided to play the coup game, there's no turning back. This is perhaps his final war for glory, or death. The 94-year-old fox will play all his trump cards to win the throne. However, there's something that Mahathir can never possess – the awesome brotherhood and loyalty displayed by Anwar Ibrahim, Lim Guan Eng and Mat Sabu (all of them were once prisoners of Mahathir) – built since 1998. - FT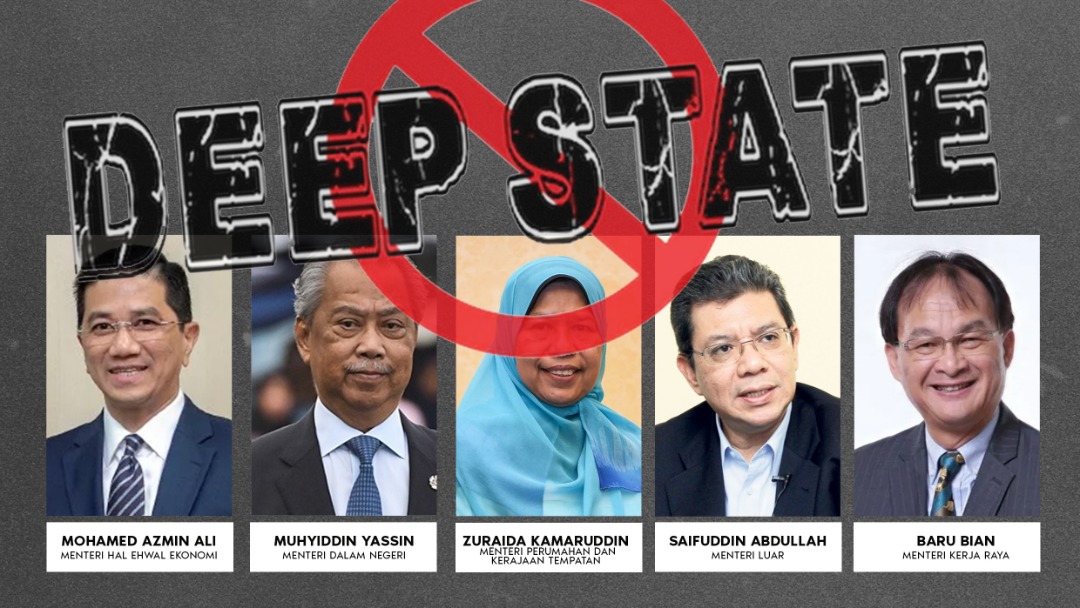 Agar berhati-hati dengan anasir 'deep state' yang
boleh mengganggu-gugat kestabilan kerajaan.
cheers.