Baru2 ini Hishamuddin Tun Hussein telah meminta Tun Mahathir menubuhkan sebuah kerajaan tanpa Amanah dan DAP. Cadangan Hihsmuddin ditolak oleh Dr Mahathir. Juga, semua parti2 komponen PH mengeluarkan kenyataan menolak unjuran Hishamuddin Tun Hussein itu.
Namun, yg kita perlu soal ialah siapakah dalang di belakang Hishamuddin Tun Hussein ini. Kita tau Hishamuddin sudah putus hubungan dengan UMNO. Beliau hanya UMNO sekadar pada nama.
Kita juga tahu Hishamuddin rapat dengan Azmin Ali sehingga boleh berlibur di Morocco bersama satu masa dahulu. Hishamuddin sejak dari dahulu memang rapat dengan Azmin Ali.
Juga, Azmin Ali, kalau tidak disebabkan video semburit beliau, sudah pun menjadi Perdana Menteri Malaysia sekarang ini. Hanya video semburit itu telah menghalang Azmin Ali dari menjadi Perdana Menteri Malaysia yg ke 8.
Kita juga tahu Daim (above) dan kawan2 billioaire beliau tidak suka Anwar Ibrahim dan mereka jugalah yang telah menjatuhkan Anwar tahun 1998 lepas dgn tuduhan palsu liwat.
Jadi, adakah ini plan seterusnya di dalam usaha menghalang Anwar Ibrahim menjadi Perdana Menteri Malaysia yg ke-8?
Daim dan rakan2 billionaire nya bakal kehilangan sumber kerana Anwar Ibrahim lebih ikhlas mahu melihat orang Melayu bangkit dan sumber2 kerajaan tidak dimonopoli oleh kawan2 Daim dan Dr Mahathir ini?
Sebagai contoh komoditi gula sudah pun melimpah2 dari segi bekalan tetapi kerana gula dimonopoli oleh Syed Mokhtar Al Bukhary (below) maka harga gula masih dikekalkan dua kali ganda dari harga pasaran demi menjaga kepentingan Syed Mokhtar.
DI bawah Anwar Ibrahim sudah tentuk Syed Mokhtar tidak akan dapat menikmati perniagaan monopoli seperti ini.
BERNAS juga monopoli Syed Mokhtar di mana beliau sahaja dapat menentukan harga beras seluruh Malaysia. Ini juga akan berubah bila Anwar Ibrahim jadi Perdana Menteri kelak.
Maka, plan A sudah gagal kerana video semburit Haziq. Adakah Plan B melibatkan Hishamuddin Tun Hussein dan cadangan kerajaan Melayu beliau?
Sama-sama kita lihat dan berdoa. - Tulang Besi
Besi karat ni merbahaya...
Baca Malaysiakini tadi dakwaan Hishamuddin telah merancang atau berkomplot dengan sebahagian pemimpin PH mengagalkan usaha menjadikan Ds Anwar sebagai PM bukan lah mengejutkan.. Takda apa yg nak dihairankan sejak gambar Keluarga Hishamuddin dan Azmin bercuti bersama nun jauh di Marocco..
Lagi tidak mengejutkan Datang Boneka UMNO seorang Tok Guru dikalangan Pemimpin PAS berjumpa Tun di Sri Perdana menjanjikan sokongan untuk Tun Mahathir.. Kerja Pak haji ni jadi boneka UMNO sejak zaman Pakatan Rakyat dulu lagi.. Sama situasinya watak Pak haji yg sama berjumpa Najib, dan dibawa ke Istana untuk menolak cadangan menjadikan Wan Azizah sebagai MB Selangor dulu.. Skrip dia sama jer..Watak pun lebih kurang sama...
Depa adalah orang yg sama yang merencanakan Kongress Maruah Melayu.. Jadi biarkanlah depa zahirkan wajah depa sebelum Ds Anwar dilantik jadi PM.. Biaq kita kenal sorang sorang termasuk anggota pentadbiran kerajaan...Berita ni sengaja keluar sebab nak melagakan sesama pimpinan jer..
Tapi tidak lah membimbangkan.. Bak kata Tun Mahathir, Depa boleh mencuba... rasanya Tun pun tahu walaupun aku yakin Tun mahathir tidak terlibat.. Aku yakin, Ds Anwar mendapat Sokongan jauh lebih besar dari depa jangkakan..hatta dari dalam UMNO sendiri.. Tengok Ds Anwar relax jer.. No hal lah.. Selamat mencuba.. - Ipohmali
Besi karat nie sungguh merbahaya... Demi kuasa, semburit dipergunakan untuk bina blok politik baru dengan umno melalui hisaputing? Itulah kerjanya - dulu, sekarang dan selamanya. Mereka lupa, kuasa sebenar terletak dalam tangan rakyat! Tangan yang sama yang telah jatuhkan gomen umno BM.
Sebarang manipulasi untuk kembalikan mula2 umno akan yetap dibangkang oleh rakyat. Rakyat pasti akan bsngkit dengan lebih lantang - dan kali ini kami akan terus binasakan tiap2 watak jahat yang membantutkan aspirasi rakyat untuk menzahirkan Malaysia Baru. Kali ini kami akan tanam mereka hidup2 untuk selama2nya. Tak percaya?...cuba! - f/bk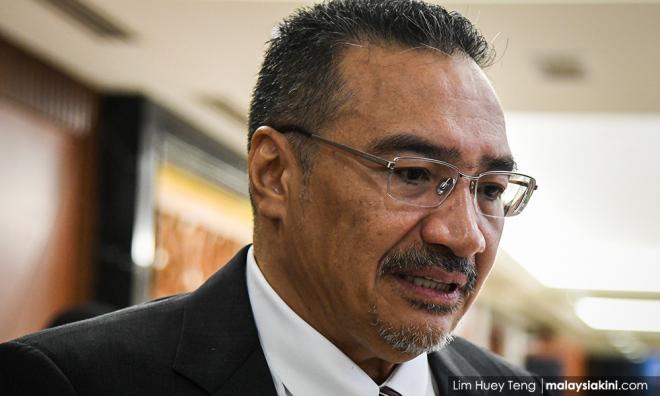 Plot thickens-sources claim Harapan
leaders working with Hisham...
Earlier this week, Pakatan Harapan dropped a bombshell accusing Hishammuddin Hussein of plotting to form a new government sans DAP and Amanah.
Hours earlier in the Dewan Rakyat, PKR president Anwar Ibrahim also hinted that Hishammuddin was working behind the scenes when urging BN MPs not to be rattled by threats of prosecution.
Although the former Umno vice-president dismissed this allegation or that he wanted to prevent Anwar from becoming the next prime minister, sources, however, claimed otherwise and revealed that Hishammuddin is working with those within Harapan as well.
When Malaysiakini spoke to multiple sources from both sides of the political divide, three names surfaced – Bersatu's MP for Larut Hamzah Zainuddin, Bersatu's Redzuan Yusof, who is also entrepreneur development minister, as well as PKR number two and Economic Affairs Minister Azmin Ali.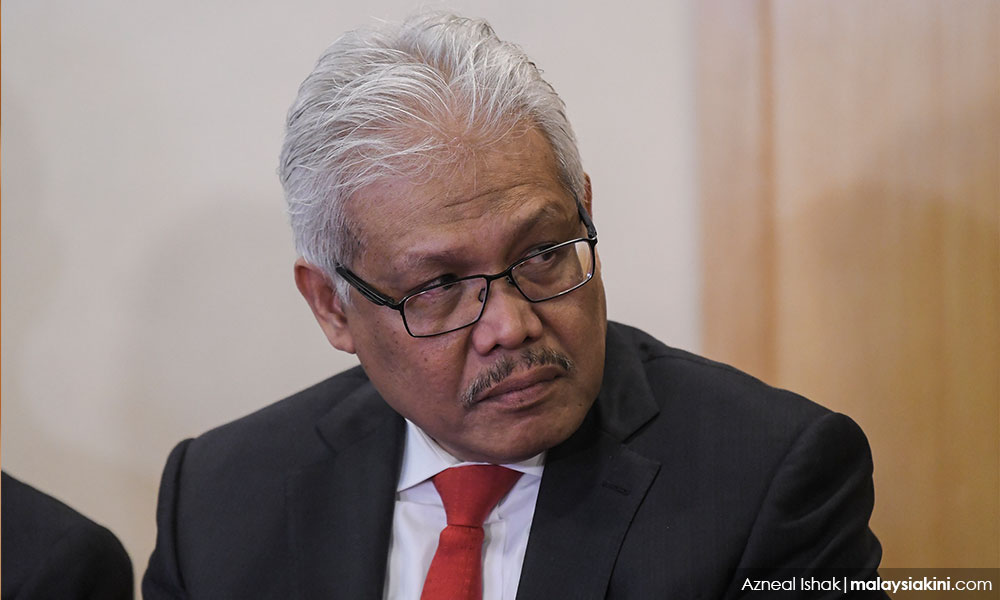 Previously it was alleged that Hishammuddin facilitated Hamzah's (photo above) defection from Umno to Bersatu in February. Hishammuddin had denied this allegation.
According to a senior Bersatu source, the two are now working to ensure Prime Minister Dr Mahathir Mohamad serves his full term in office instead of passing the baton to Anwar as per the agreement in Harapan prior to the last general election.
"There is 'horse-trading' ongoing," the source told Malaysiakini.
"The idea is to retain Mahathir until the end of his tenure in exchange for 'immunity' for some who are facing or will face prosecution except for (former premier) Najib (Abdul Razak) and (Umno president) Ahmad Zahid Hamidi," he added. To date, no charges have been brought against Hamzah or Hishammuddin.
Hishammuddin was embroiled in controversy over land swap deals in the Defence Ministry when he helmed the portfolio during BN's time but has denied any wrongdoing.
A ranking PKR source, meanwhile, claimed that Hishammuddin, Hamzah, Redzuan and Azmin met recently to discuss plans to keep Mahathir in office.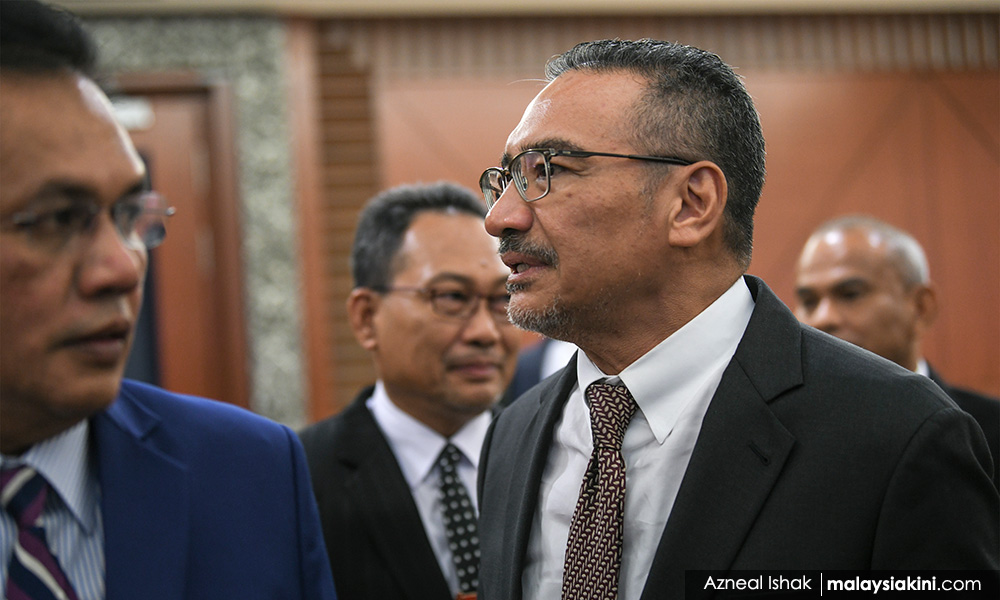 'Hisham's personal initiative'
The four are now said to be canvassing support from both ruling and opposition lawmakers. At this point, it is unclear if any PAS leader is involved.
PAS president Abdul Hadi Awang had previously lent his support to the call for Mahathir to remain in office. The Islamic party has 18 parliamentary seats.
"MPs from PKR and Umno were approached. We confirmed with both sides before raising this issue. Those who revealed this to us are those who didn't sign (a statutory declaration to support Mahathir)," the PKR source added.
The source alleged that Hishammuddin only has the support of a few Umno MPs whereas Azmin secured the backing of 18 MPs from PKR.
Padang Rengas MP Nazri Abdul Aziz (photo, below), when contacted, said if Hishammuddin was engaged in such negotiations, it would be the latter's "personal effort" and not a party initiative.
"That is his problem, it is his personal effort. As far as I am concerned, whatever the party leadership decides, I will support, but it will be for the supreme council to decide," he added.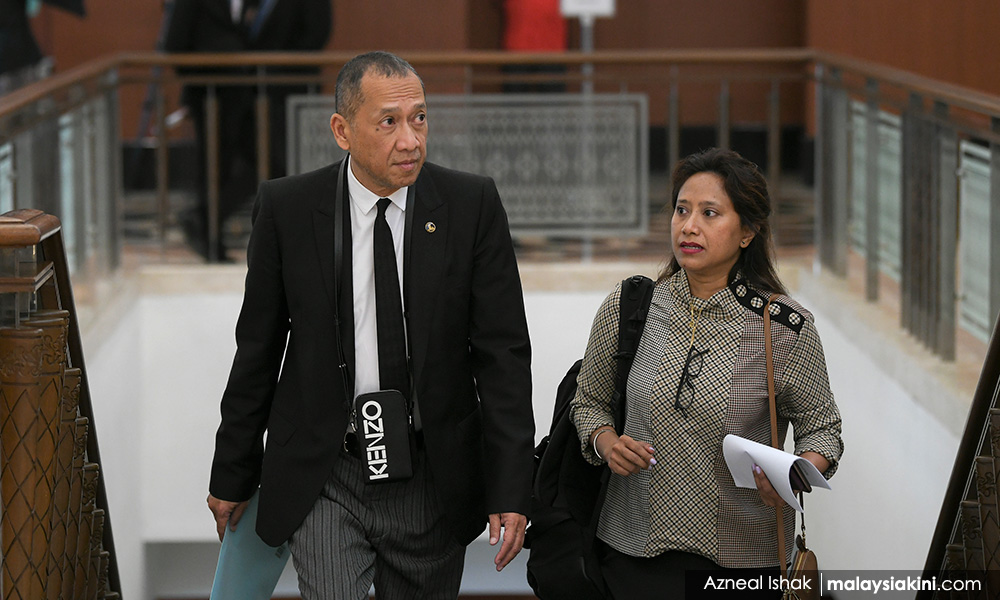 On a personal note, the former culture and tourism minister said he supported Anwar on the basis of friendship and because the latter was an "extraordinary politician."
Previously, when he was BN secretary-general, Nazri (pix,above) pledged Umno's support for Anwar to be the next prime minister albeit without becoming part of the government.
On Wednesday, Umno vice-president Ismail Sabri had also distanced the party from Hishammuddin's alleged plot.
Umno sources alleged that Hamzah is determined to ensure that Anwar does not become the prime minister but did not reveal the reasons.
In 2008, Hamzah had accused Anwar of harassing his wife back in 1998. The PKR president sued the Larut MP for defamation but withdrew the suit in 2013 after both sides reached an amicable and private settlement.
There was speculation that Hamzah had quit Umno partly due to efforts within the party to align themselves to Anwar.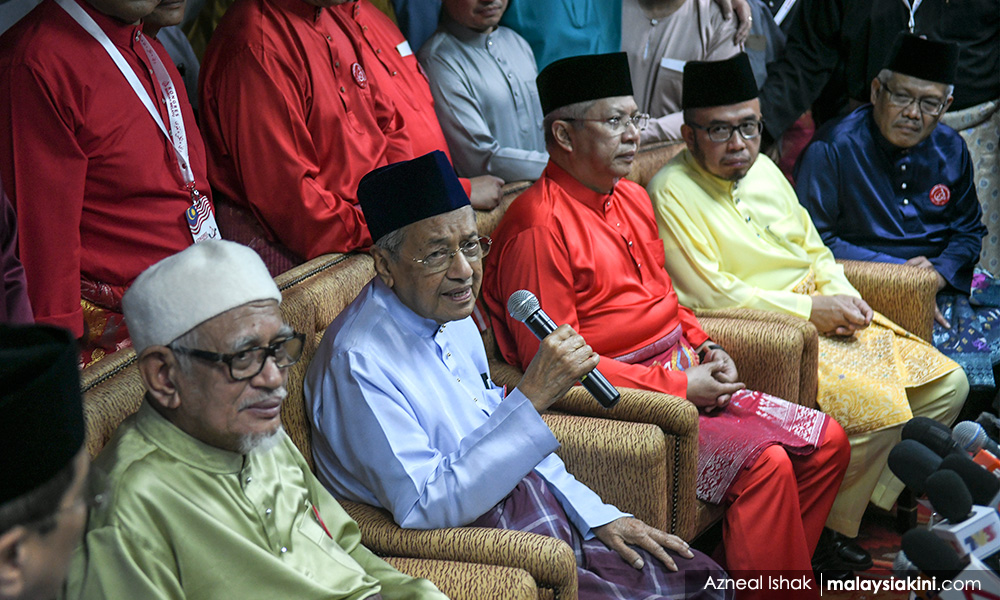 Meetings on Malay Dignity
The Bersatu source told Malaysiakini that Hishammuddin and Hamzah met with Mahathir last month, around the same time when the Malay Dignity Congress took place. Hamzah is said to have played a key role in organising the congress. However, its secretariat chief Zainal Kling claimed the Larut MP's role was just to ensure that Mahathir attended the event.
On Sunday, Hishammuddin penned a comment, which was published by several media organisations, calling on Malays to unite across political lines without sidelining other races. In an NST article the next day, Redzuan said he had been in communication with Hishammuddin on the need to create a "Bangsa Malaysia" led by Malays.
"To unite Bangsa Malaysia, Malays must unite first. After that, the question would be who will lead this Bangsa Malaysia. Is it the Chinese, Indians, Malays or Orang Asli?
"To me, Malays, as the majority race must lead Bangsa Malaysia. I proposed this idea to Hishammuddin and he agreed to it," he said.
Quizzed about this in Parliament yesterday, the minister reiterated the need for Malays to be united under one "gagasan" (movement) and to lead Bangsa Malaysia.
Pressed on whether forming a new government was also part of his discussions with Hishammuddin, he appeared to ignore the question and responded in a vague manner, saying: "This is my personal opinion, there is a need for us to rethink, to shape the future of Malaysia."
In a separate conversation with Malaysiakini, Redzuan denied being in a meeting with Hishammuddin, Hamzah and Azmin to discuss Malay unity or keeping Mahathir in power.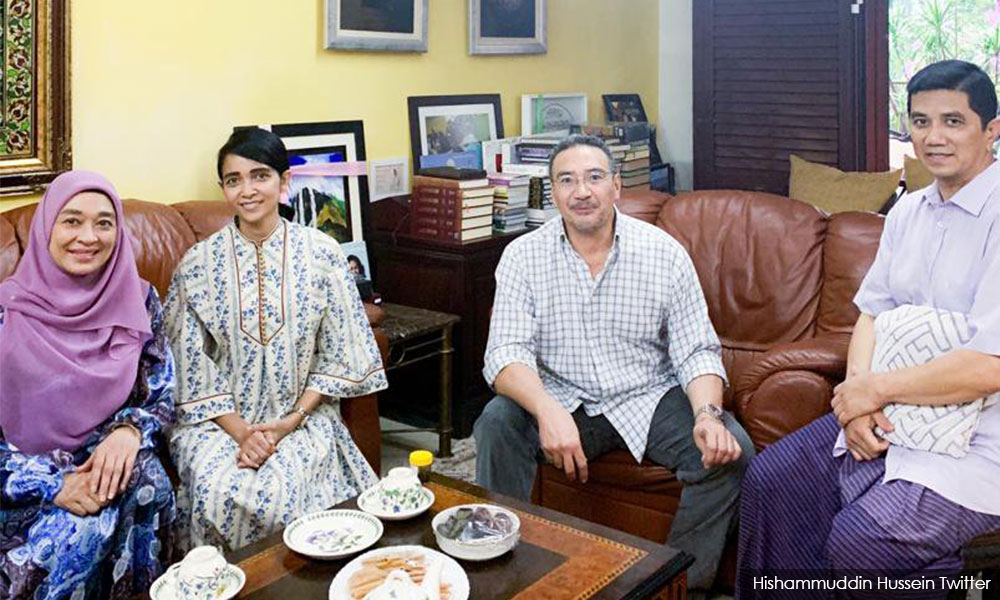 As for Azmin, it has long been speculated that Mahathir and his inner circle preferred him to be the next prime minister instead of Anwar.
Ranking sources from both Umno and PKR claimed that the alleged plan is for Azmin and Hishammuddin to lead the nation after Mahathir steps down. However, Hishammuddin denied this.
"He (Mahathir) has never said that to me," he told Malaysiakini.
Likewise, he said there were "no such meetings" with Hamzah, Redzuan and Azmin with regard to Malay unity or ensuring Mahathir remained at the helm.
Mahathir's communication and media advisor A Kadir Jasin told Malaysiakini that he was not aware of any recent meetings between the premier and Hishammuddin. However, he said that anyone is free to meet the prime minister.
"Any Malaysian has the right to see the prime minister, irrespective of their political affiliation or leaning, because he is the prime minister of Malaysia, he is not the prime minister of any particular party," he added.
This is not the first time Hishammuddin has been alleged to be part of political machinations involving Mahathir. Previously, Umno disciplinary board chairperson Mohamed Apandi Ali claimed that Hishammuddin was under investigation and this was believed to be over his meetings with Mahathir. However, Hishammuddin and other party leaders denied there is such a probe.
The information gathered from Malaysiakini's sources indicate that even if all MPs from Bersatu (27), BN (40), and PAS (18) unite with 18 Azmin-aligned PKR lawmakers, as well as three Gabungan Bersatu Sabah MPs and two independent MPs, this will only translate to 108 seats. This is four seats shy from the 112 needed to form government.
To ensure the move is a success, its architects would require the support of lawmakers from Warisan or Sarawak's GPS. Warisan has nine seats and GPS 18. GPS does not care who is in power. GPS secretary-general Alexander Nanta Linggi told Malaysiakini that to his knowledge, none of the coalition's MPs have been courted as yet to support Mahathir serving his full term.
"But if they spoke to individual MPs, then I don't know," he said.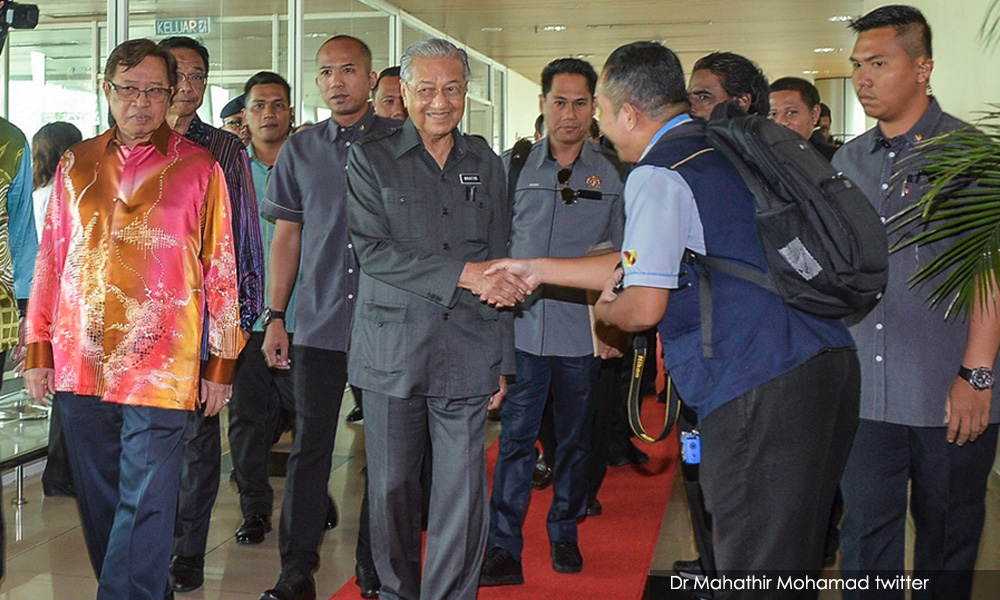 He said GPS is not concerned about who is the prime minister or whether Mahathir should serve his full term.
"Whether it is Mahathir or Anwar, we don't care too much. We want the government, regardless of the leader, to govern the country well and stick to the Harapan manifesto," he added.
GPS also has a non-coalition ally in Parti Sarawak Bersatu, which is part of the state government and has one MP seat.
Meanwhile, Labuan MP Rozman Isli – who defected from Umno to Warisan last year - said he has not not been approached.
Bersatu's move to set up a chapter in Sabah despite an understanding with Warisan that it would not do so could prove to be a stumbling block in winning over MPs from the party led by Chief Minister Mohd Shafie Apdal (photo,below).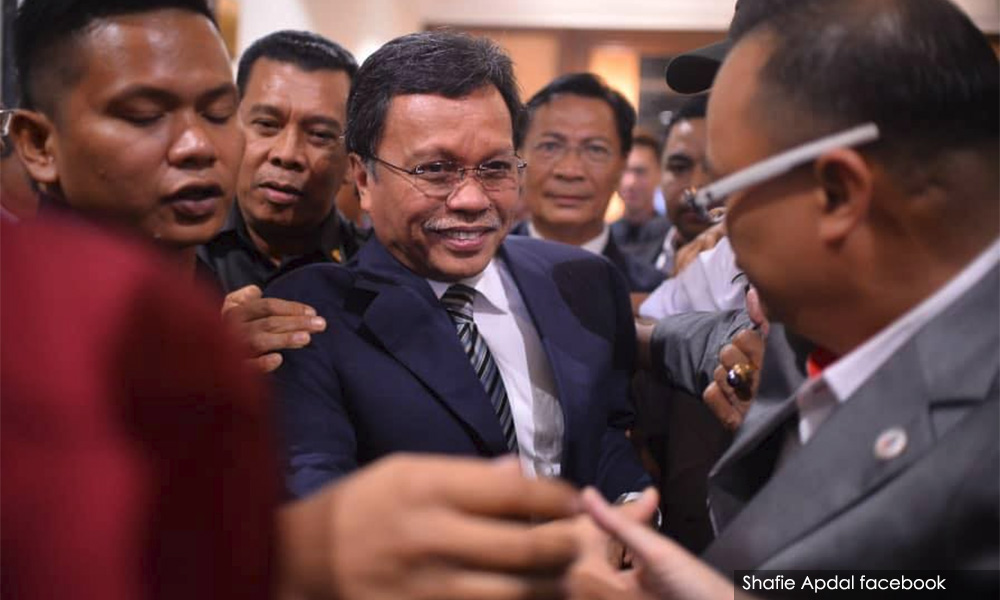 Warisan also has a non-coalition ally in Upko, which has one MP seat as well.
Azmin's office and Hamzah have not responded to Malaysiakini's requests for comment.
Though both Mahathir and Anwar have often reiterated that the transition of power between them would proceed as promised, claims of plots and counterplots being hatched begs the question if the nation would witness a repeat of the 1998 episode? - mk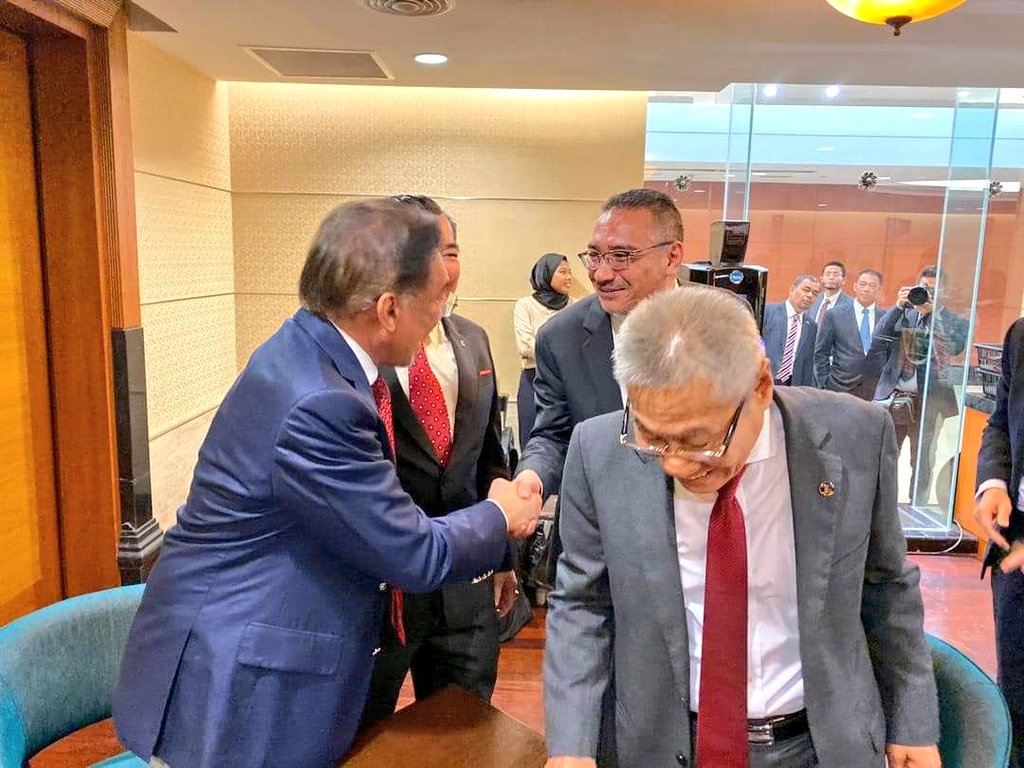 It was rumoured earlier the year that Hisham might default to PPBM with 30 other Umno MPs so that PPBM could officially take over the place of Umno to firm up Mahathir's premiership.
However, the unexpected victory of BN-Umno in the subsequent by-elections in Cameron Highlands, Semenyih and Rantau has turned things around, with Umno reps who had the intention of leaving the party now abandoning their plans.
And now, we have a new version to the story. Hisham is back in the picture, and Anwar is making the story more intriguing and suspenseful by bringing in the MACC. And this new version will see DAP and Amanah taken out.
How to form a new government without DAP's 42 seats and Amanah's 11? Naturally, this shortfall has to be filled by Umno and PAS. Then where is PKR in Hisham's (read Mahathir's) plot? And where is Anwar? What about Azmin Ali?
Hisham denied, arguing that he did not have such power to do that. And when Mahathir was asked about the "new government", he said coolly, "They can try!" But, if this whole thing has been completely baseless, why did Anwar and the PH secretariat sound so real?
Or, they just make up the story for the PM? - sinchewdaily
PAS dan SR SENTIASA DIHATI:
Dulu SR tu maknanya Sarawak Report!
Skrg SR juga tapi Secret Recipe!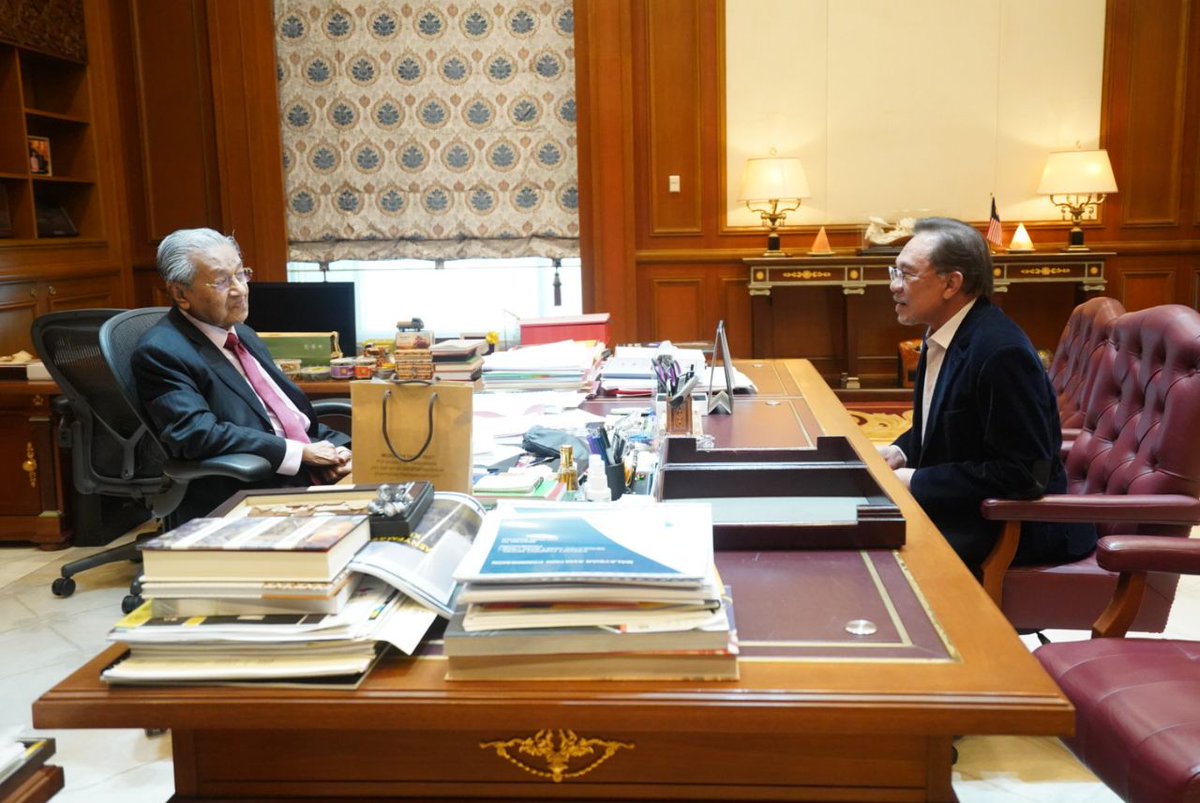 cheers.