Ostat Din Tontowi dlm tulisannya "Sekali Serban Dililit" , dengan penuh semangat menjual agamanya dan berkata, Islam harus bangkit. Apa cara Islam nak bangkit? Hapuskan DAP.
Lihatlah, betapa rendahnya mentaliti ugama yg ada pada Din Tontowi. Kebangkitan Islam bukan terletak kpd Pas, Umno, MCA, MIC atau Dap, tetapi ianya terletak kpd penganut ugama Islam itu sendiri. Kalau pemimpin Islam hanya kerjanya mengkapirkan org yg sudah Islam, Islam takkan bangkit.
Kalau pemimpin Islam sendiri rompak duit rakyat, duit Tabung Haji, duit LTAT, duit bela lembu NFC, duit KWAP, dan tidak pandai mentadbir negeri hinggakan terpaksa pinjam duit untuk bayar gaji kakitangan kerajaan negeri, usah mimpi mahu lihat Islam bangkit.
Mengapa salahkan Dap? Tontowi dulu menang di Temerloh pun kerana pertolongan Dap. Bersepah lebai jadi Wakil Rakyat hasil dari undi orang Dap. Bila lebai dah jadikan Dap musuh, bersepah lebai yg kalah terkangkang di dalam PRU14 yg lalu.
Di Kelantan, Dap tiada pun pengaruh. Hebatkah Islam di Kelantan di bawah lebai? Kekal sebagai salah satu negeri termiskin. Dari segi kebersihan, jauh P.Pinang di bawah Dap mengatasi Kelantan. Maksiat? Jangan kata di Kelantan itu tiada maksiat.
Budak2 pijak Quran berlaku di mana? Terengganu pun sama juga. Hampir tiada Dap. Hebatkah Islam di Terengganu? Sejarah kapir mengkapir, solat dua imam, sembelih orang umno tidak sah, cerai berai, itu semua berlaku di mana?
Jangan salahkan orang lain kalau Islam itu mundur, kalau kamu sendiri pun peluk puak perompak kleptokrasi dan tidur sekelambu. Pas tidak ada moral untuk bercakap tentang Islam biarpun "seratus kali serban dililit". - WFAUZDIN NS
Zahid Hamidi kena berterima Kasih banyak dengan PAS.. Allah bukan mencuci Dosa kamu semua, tetapi cuba menguji untuk menambahkan Dosa Dosa Ashabiyah kamu..
Sebenarnya PAS dan Haji Hadi sendiri sudah sedaya upaya menyelamatkan UMNO sebelum PRU 14.. Tapi memang benar kata Zahid, Allah tak izinkan rencana Jahat ini menjadi kenyataan..
Haji Hadi sudah cukup kuat mainkan peranannya pecahkan Pembangkang, Pecahkan Pakatan Rakyat dulu..Zahid kena berterima Kasih, sebagaimana US berterima kasih kepada Jihadis Takfiri yg dah berjaya hancurkan bumi Syria.. Cuma Allah tak izinkan kemenangan mereka..
Bayangkan Haji Hadi dan PAS dan berjaya mainkan peranannya menyerang Pakatan Rakyat, Ulama PAS sudah sedaya Upaya mengtakfirkan, Munafiqkan lawan Poltiik depa, Doa ahzab..Doa laknat pun telah dilakukan dengan Jayanya.. Nak buat mcm mana Allah tak Izinkan hatta Doa itu datang dari Tuan Guru dan Ulama Dunia..
Haji Hadi dan Ulama PAS dah berusaha sedaya upaya mainkan sentimen Kaum, Kata Hj Hadi DAP akan memerintah Negara..Lim Kit Siang akan Jadi Perdana Menteri, malah Hj Hadi kata jika Tun jadi PM, satu mala petaka besar untuk negara.. Haji Hadi serang dan hina Wan Azizah.. Serang Tun Mahathir.. Semua Hj Hadi lakukan sebaik mungkin untuk menyelamatkan UMNO..
Ulama PAS dihantar ke bagunan 1MDB, ke bagunan Tabung Haji lalu membersihkan Dosa Dosa rasuah 1MDB dan Penyelewengan kewangan Tabung Haji dengan fatwa "Puas Hati".. Segalanya dilakukan PAS bagi menyelamatkan dan membersihkan imej UMNO..
UMNO pun ada jasa kepada PAS.. UMNO berikan ruang TV dan Akhbar kepada PAS untuk serang DAP..serang PH.. UMNO berikan bantuan kewangan kepada PAS Terengganu dan PAS pusat.. UMNO berikan bantuan jentera Kerajaan seperti IKSIM, ISMA untuk minta ummat Melayu Sokong PAS jika tak mahu sokong UMNO.. Segalanya UMNO telah lakukan..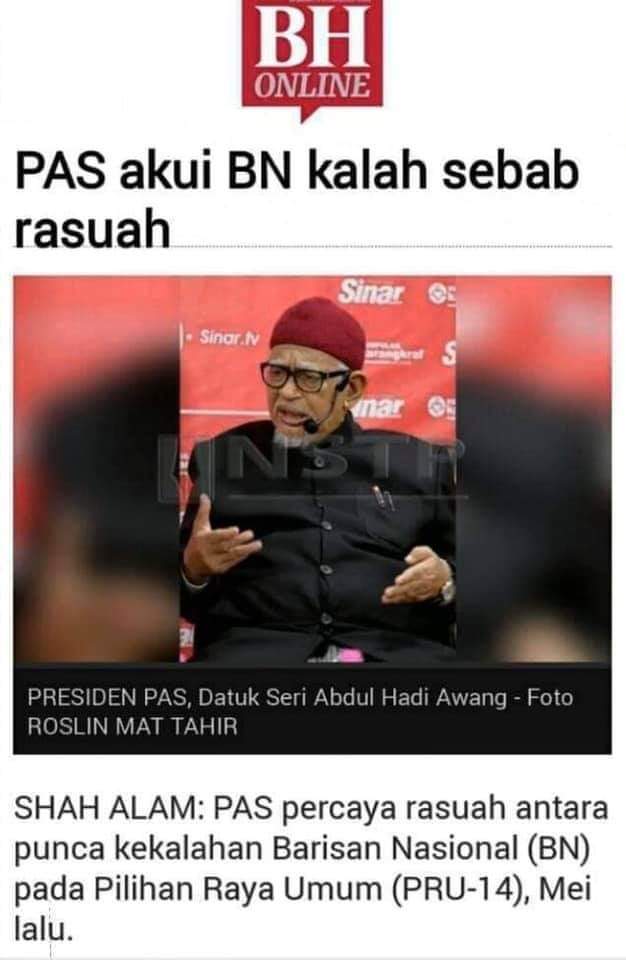 Dah tahu pi sokong depa buat apa???
UMNO juga bantu PAS mainkan sandiwara Pembentangan RUU 355.. Lakonan pembentangan RUU355 di parlimen untuk nampakkan PAS pejuang Islam, dan mahu perlihatkan seolah olah PH penentang Islam..Semua dah dilakukan dengan Baik.. Cuma Allah tak izinkan..
Najib dah Penjarakan Ds Anwar.. dah Batalkan Logo dan lambang parti bersatu..buat PRU pada hari Rabu.. semuanya Allah tak izinkan UMNO untuk kekal..
Bersyukurllah kita rakyat Malaysia...Allah selamatkan kita dari kejahatan kelompok regim Najib dan UMNO, dan kelompok Khawarij dan Takfiri PAS.. - ipohmali
DAP, the victim of his own...
A recent string of developments has almost blown DAP onto the ground. The party has spent more than half a century to lift itself out of opposition to become a component of the ruling coalition, but in less than two years, it now confronts a cruel ruling crisis.
In just two weeks, two of its ethnic Indian state assemblymen have been nabbed by the police for alleged involvement in LTTE activities. Following that, a former party member Hew Kuan Yau came under police probe, his comic book banned.
And now, state assemblyman Ronnie Liu finds himself besieged by enraged PPBM leaders who have demanded that DAP take action against him within a week, and his party has submissively referred him to the disciplinary committee.
As the second largest component of the ruling coalition with six ministers, seven deputy ministers and 42 Members of Parliament, it is downright sad that DAP has been slapped with such a humiliating treatment which it has not previously encountered. Not even in opposition. While these three incidents might be purely coincidental, the way they have popped up successively is by no means accidental.
Ever since day one the tie-up between DAP and Mahathir was built with electoral votes as primary consideration, not ideological similarities. As Hew Kuan Yau has put it, they came together with a common objective of taking down the BN government, or by exploiting the Malays to fight the Malays.
Unfortunately, Mahathir's political wisdom has proven far superior to DAP's. While the Rocket has intended to make use of Mahathir to fight BN, the latter has gone a step faster to take it down first. Mahathir was well aware that this party could help bring him a lot of Chinese and Indian votes, but after the election was over, this party would no longer be of any use to him but would instead become a liability.
In the eyes of majority of Malays, DAP is a Chinese chauvinistic party that is challenging the dominant status of the Malays. And in Malay-majority constituencies, DAP will affect the support rate of Mahathir and his PPBM.
What Mahathir and PPBM need now in order to counter the Umno-PAS challenge is the support of the Malay society to ensure the stability and sustainability of the Mahathir administration. To achieve this goal, there is this absolute need to alienate DAP and draw a clear line between them, also to show that the Pakatan government is not controlled by DAP.
Moreover, for Mahathir to establish his historical status in the Malay society, there is no way he should be seen as being too close to the Rocket, less so being controlled by it. As a matter of fact, Mahathir has taken the pre-emptive step to dominate DAP by offering the party an unprecedented number of cabinet positions, including the very much prized finance portfolio (even though some of the minister's powers have been devolved to the newly created economic affairs ministry).
As a result, DAP will not have any objection even though Mahathirism is resuscitated, or the prime minister is having some secret deals with Umno and PAS. Even the clamorous Malay Dignity Congress is largely tolerated.
DAP's power has come from the local Chinese and Indian communities, but the party has opted to keep mum over a number of issues related to the minorities, including ICERD, the Rome Statute, the Seni Khat issue, UEC recognition and many others.
The punishment meted out to UTAR has broken the hearts of Chinese Malaysians. DAP has opted to brush aside its own political ideologies, while its political attributes have become increasingly obscured. DAP's suppressed reactions have not been well reciprocated by Mahathir and his PPBM. When the time comes, they will still launch their offensives.
Even until this very minute, DAP's frontline leaders remain unresponsive, other than drawing a line between it and Hew Kuan Yau, and referring Ronnie Liu to the party's disciplinary committee. DAP's "success" has stemmed from an exchange of interests with Mahathir, but the party is now forced to pay a hefty price for its arrogance and power hunger that come with that success. The Rocket has unfortunately fallen victim to its own success. - Sin Chew Daily
Jangan benarkan sama sekali coup d'etat...
Alkisah hikayat geng kortel semburit Azmin Ali dan
40 penyamun dari geng penyangak dan lebai penipu...
cheers.