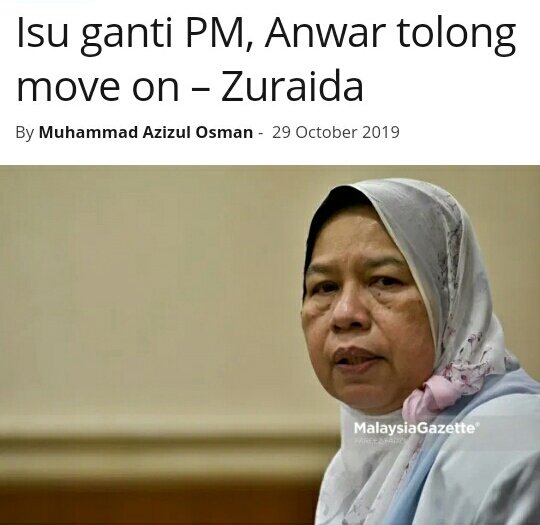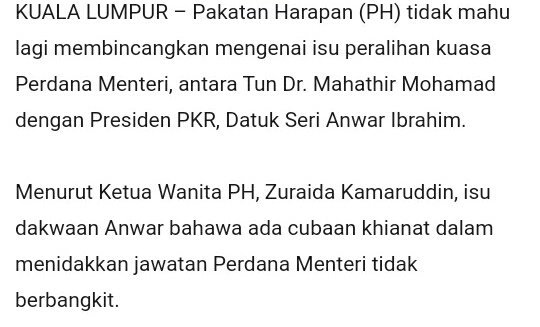 Dear Mak Lampir...
Sudahlah buat Presiden parti sendiri macam musuh.Belajarlah menghormati ketua kamu sedikit. Hentilah sikap biadab. Enough is enough...
Tanpa menamakan siapa, Anwar berkata pengkhianat itu banyak membuat tuduhan yang seolah-olah menunjukkan beliau tidak sabar untuk menjadi Perdana Menteri.
Sementara itu, mengulas tuntutannya berhubung mesyuarat rekonsiliasi, Zuraida yang juga Naib Presiden PKR berkata beliau masih menunggu.
"Saya masih menunggu. Saya menunggu," katanya ringkas.
Anwar pada 17 September menegaskan tidak bersedia dengan tuntutan anggota Parlimen Ampang itu agar mesyuarat rekonsiliasi diadakan antara Presiden PKR itu dan pihak dalam parti itu yang tidak berpuas hati dengannya.
Sebaliknya, kata Anwar, beliau boleh berjumpa dengan mereka dalam banyak mesyuarat biasa PKR yang mereka pulaukan. Tegas beliau, mesyuarat biro politik PKR diadakan setiap Rabu, manakala mesyuarat Majlis Pimpinan Pusat (MPP) parti itu pula diadakan pada setiap bulan dan mereka ada banyak ruang terbuka untuk berjumpa dengannya.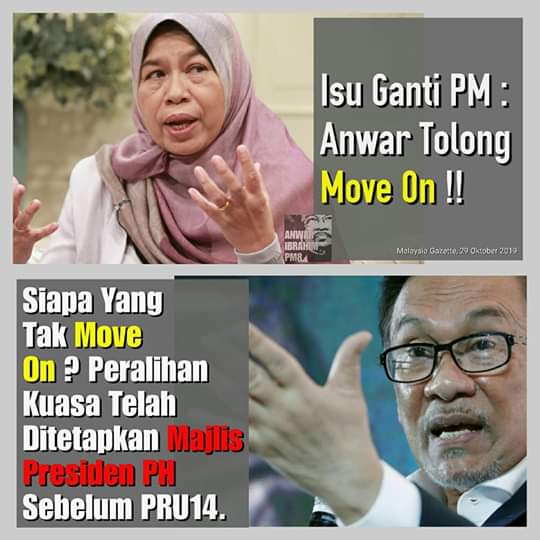 Tidaklah sukar memahami bahawa kata-kata Zuraidah berkenaan "move on" itu sebenarnya lebih ditujukan kepada Anwar berbanding sesiapa yang lain. Selain beliau secara khusus mengulas ucapan Anwar di Konvensyen UMNO Sabah berkenaan isu peralihan kuasa, kebelakangan ini memang terlihat Presiden PKR itu sendiri yang banyak mengulas mengenainya.
Tetapi, ulasan Anwar adalah berdasarkan pertanyaan wartawan atau Ahli-Ahli Parlimen yang ingin tahu dengan lebih jelas berhubung peralihan kuasa yang masih lagi kabur sehingga ini. Seolah-olah dengan kata-kata Zuraidah itu, Anwar sekarang tidak "move on" dan hanya menumpu kepada cita-citanya menjadi Perdana Menteri semata-mata.
Soalnya, sementara Zuraidah menegur Anwar seperti tidak "move on", apakah beliau sendiri sudah "move on"? Kenapa beliau tak habis-habis menunggu mesyuarat rekonsilasisi dengan Anwar, tetapi masih enggan hadir mesyuarat PKR?
Bukankah jika beliau sendiri "move on", beliau sepatutnya terlebih dahulu menunjukkan teladan dengan hdir mesyuarat PKR, baik mesyuarat mingguan biro politik atau mesyuarat bulanan MPP?
Kenapa masih tak "move on" lagi, tapi pandai pula mahu Anwar "move on"? Cehhh….cakap tak serupa bikin betul perempuan ni!!! - ShahbudinHusin
Power transition in 3 years?...
It has been rumored that between two and four PH elected reps may be working with 13 Umno state assemblymen to cast a vote of no confidence against Melaka chief minister Adly Zahari during the next state assembly sitting from November 18 to 26 in order to form a backdoor government.
The PH assemblyman meeting up with state Umno chief Ab Rauf Yusoh and several Umno assemblymen was PPBM state deputy chairman cum state exco member Mohd Rafiq Naizamohideen. PPBM has two seats in the state assembly, and if both assemblymen were to collaborate with Umno, Adly's state government will be toppled and a Malay state government will be formed.
Earlier, it was rumored that former Umno vice president Hishammuddin Hussein and his allies were plotting a new government without DAP and Amanah. And now, with the rumor of a backdoor government in Melaka, speculation is rife whether Amanah will follow the footsteps of a divided PKR, and a DAP that is alleged of promoting communism and terrorism, to become PPBM's next target.
Why is PPBM so keen to topple the chief minister from Amanah? Could it be a form of warning against anyone trying to disrupt Mahathir's plan to serve a full five-year term? Could the Melaka PPBM take the instructions from the party's central leadership?
Amanah deputy president Salahuddin Ayub said recently that his party supported the PH consensus for PKR president Anwar Ibrahim to take over as prime minister within two years. There have been a fair share of eccentric acts from Melaka PPBM in recent days that have largely overlooked the feelings of other PH component parties.
For instance, Mohd Rafiq invited controversial Indian Muslim preacher Zakir Naik to "A Night of Islamic Unity" held at the Melaka Chinese Mosque last month. Meanwhile, Umno's Rim assemblyman Ghazale Muhamad has said Mohd Rafiq met up with Umno representatives to discuss organizing a Melaka Malay dignity congress.
Mohd Rafiq (pix,above)who is also a member of the PPBM supreme council, issued a statement recently to reprimand DAP's central executive committee member Ronnie Liu, arguing that it was necessary for his party to review its political cooperation with DAP.
Adly from Amanah is a moderate chief minister who attended the Buddha bathing ceremony organized by Melaka Tzu Chi. He is also the first Melaka chief minister to attend the school anniversary of Pay Fong Middle School and announce the state government's unconditional recognition of UEC certificate. It is not hard to see the vast ideological differences among PH component parties judging from the conflicts that have surfaced within the Melaka PH.
The Melaka backdoor government farce may have to be momentarily halted in view of the upcoming nomination for Tanjung Piai by-election, as PH is stepping up internal consultation effort to come up with a power transition plan acceptable to all component parties.
Tun Mahathir has agreed to discuss the handover issue through the PH presidential council meeting, while PH leaders have exercised self-restraint. For example, Amanah's communications director cum federal territories minister Khalid Abdul Samad tweeted his protest against the Malay Dignity Congress last Friday, but later tweeted on Sunday to deny that he had "rebuked" Mahathir, emphasizing that he agreed with the prime minister.
In the meantime, Melaka PPBM chief Mohd Redzuan Md Yusof denied that he had received instructions from the party's top leadership to form a new state government with opposition parties. It looks like the "save Mahathir" operation has hit a snag now by not getting the right number of seats, as Umno and PAS have refused to join in.
PAS president Hadi Awang has stressed that his party and Umno want to capture Putrajaya through the "front door", not the back door. Umno president Ahmad Zahid Hamidi has also said Umno and its allies could form a third force which he claims will have 91 seats.
Very obviously Umno is sitting on the fence waiting for the right time for the 91 opposition seats to strike once the ruling coalition is split into pro-Mahathir and pro-Anwar factions. Umno and PAS are reluctant to join PPBM to form a backdoor government because they don't trust Mahathir, taking cue from the fate of DAP.
Sure enough Tun Mahathir is well aware of the fact that he and his party may not go anywhere in the end, as PKR, DAP and Amanah have been insistent on the coalition's pre-election deal while Umno-PAS remain rivals.
Mahathir knows very well that the only way to keep his premiership is to win the support of all three other component parties of PH. That said, the exact handover date is very crucial. Tun Mahathir has said he will unload all his duties only after he has satisfactorily rectified all the mistakes committed by former PM Najib Razak.
With the opposition camp prowling to strike, the three other component parties have no choice but to wait patiently instead of bursting into open fights now. With the compromise from all PH components, the most likely handover time will be three years or probably longer, giving PPBM enough time to expand its political influences.
Even if they manage to momentarily put their differences aside, it will still be difficult to restore long-term stability in the absence of mutual trust. - sinchewdaily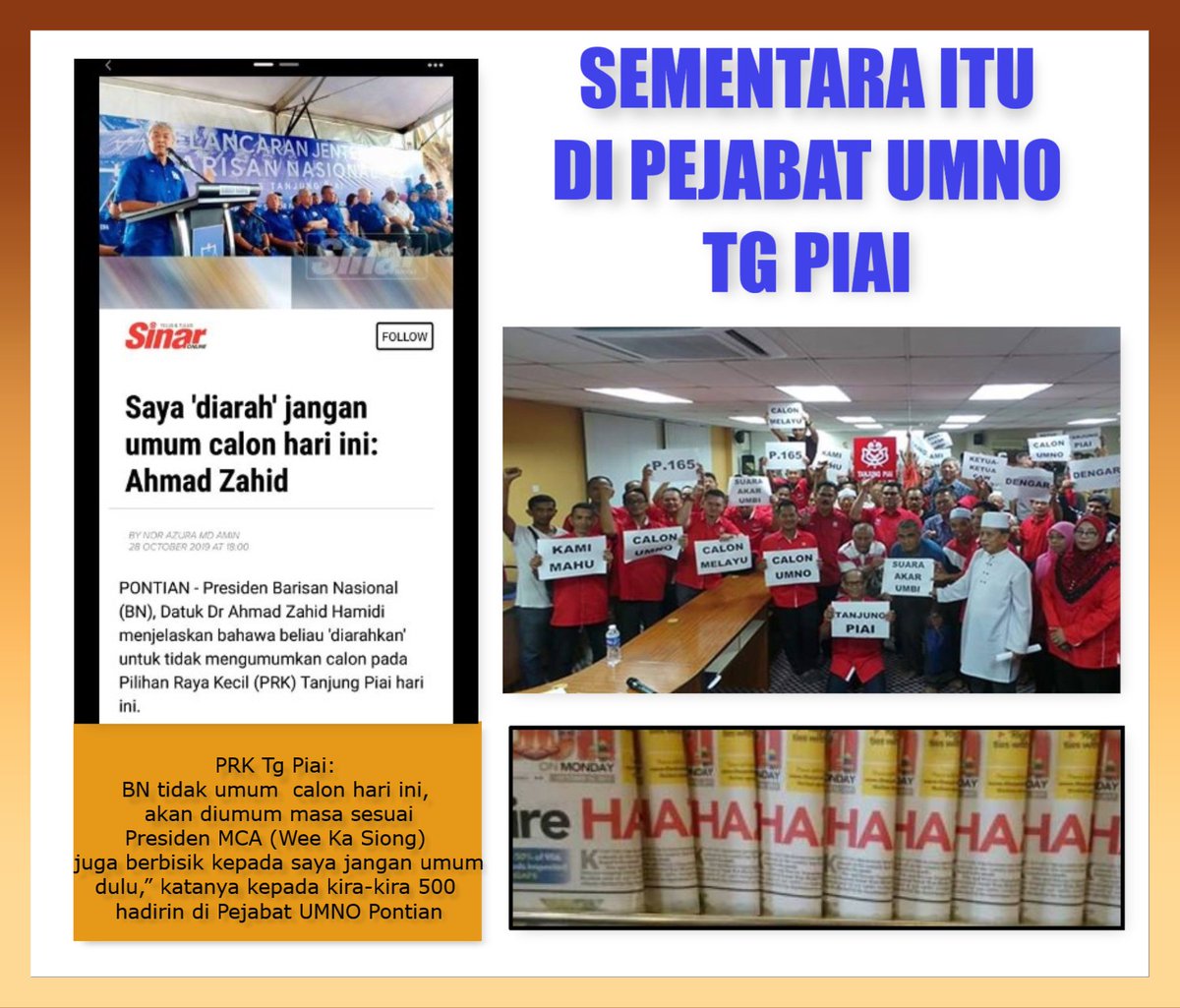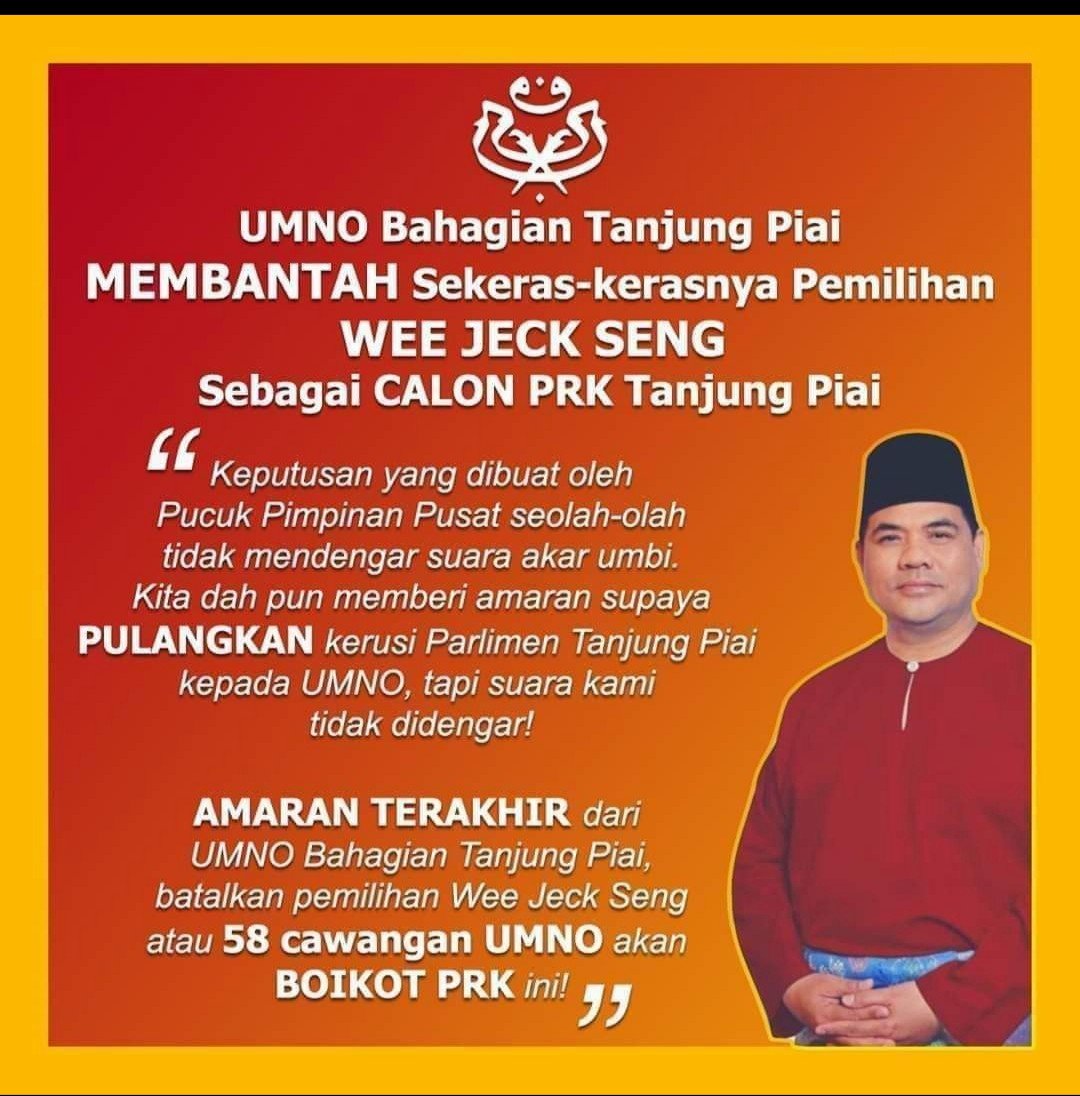 Macam mana pula dengan Najib Razak dan Zahid Hamidi? Depa pun dah 66 tahun
dan tahun depan 67. Betapa sombong dan takaburnya UMNOPAS/BN..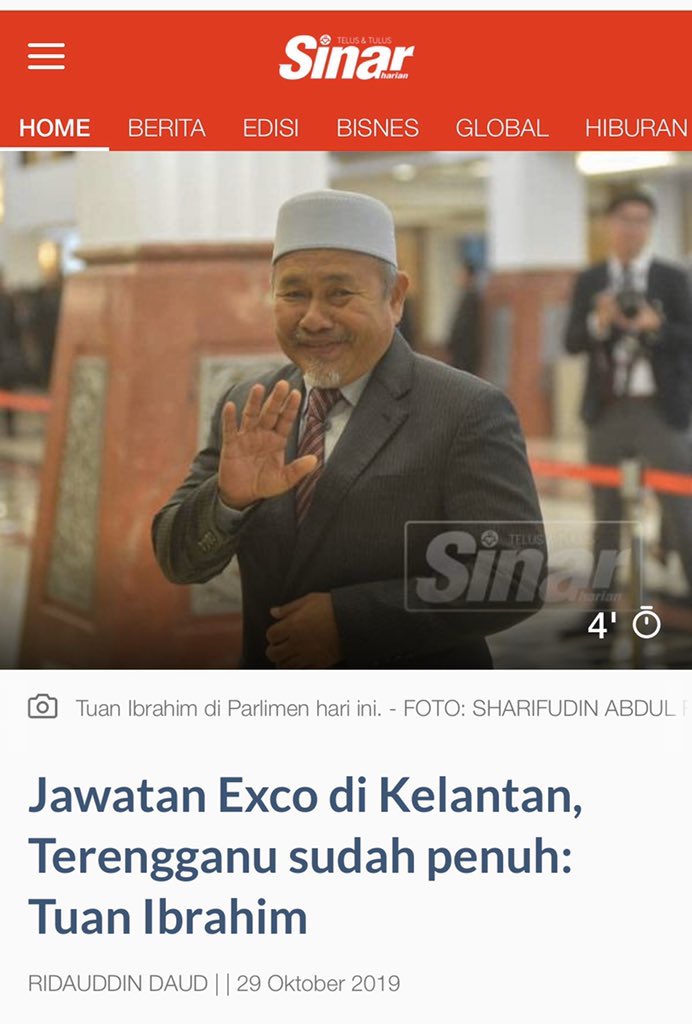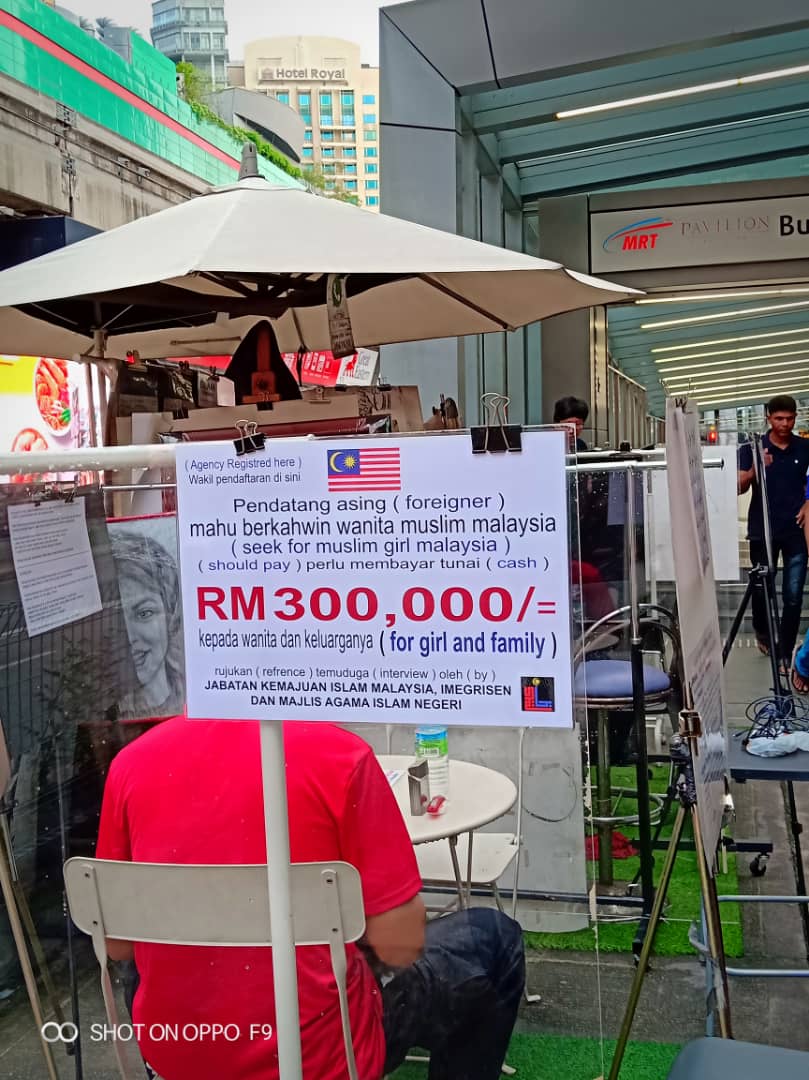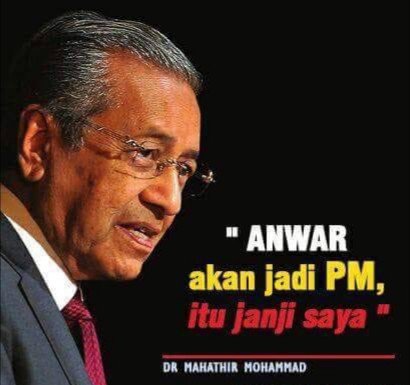 cheers.