'Skandal Tabung Haji' muncul di tengah hangat kita bersembang tentang bagaimana syarikat berpenyakit milik kerajaan, 1MDB; sedang bergelut untuk melunaskan hutangnya yang menggunung.
Nama Tabung Haji dipetik apabila ia didapati telah membeli sebidang tanah Tun Razak Exchange, seluas lebih sedikit daripada separuh padang bola, dengan harga yang luarbiasa mahal. Ini dipercayai telah dilakukan bagi membantu 1MDB melunaskan hutang-hutangnya.
Kebetulan, pengerusi Tabung Haji ketika hal ini terjadi adalah tidak lain, Azeez Rahim; bekas Ahli Parlimen Baling, yang duduk sangat hampir ke tengah lingkaran dalaman mantan perdana menteri merangkap suami kepada Datin Seri Rosmah Mansor.
Lebih menarik lagi, ketika itu; empat orang Ahli Lembaga Pengarah Tabung Haji turut berada dalam lembaga pengarah 1MDB. Empat orang ini harus dihafal nama mereka, iaitu; Datuk Johan Abdullah, Tan Sri Ismee Ismail, Datuk Abdul Samad Alias dan akhir sekali, peminat kasut merah; Tan Sri Irwan Serigar Abdullah.
Skandal Tabung Haji meletup seawal Mei 2015. Dua bulan sebelum skandal 1MDB meletup di akhbar Wall Street Journal dengan segala macam pendedahan, diikuti tindakan undang-undang oleh DOJ tentang wang dari akaun 'Tanore' yang masuk ke akaun peribadi mantan perdana menteri, Datuk Seri Najib.
Najib Razak mengambil masa yang begitu lama untuk bersilat dengan alasan dan justifikasi terhadap duit derma orang kaya Arab yang mulanya tidak wujud, namun kemudian diakui, dan kemudian dikembalikan sebahagiannya. Namun langkah, bunga dan buah Najib Razak ternyata sia-sia belaka.
Setelah Najib Razak dan juak-juaknya tersungkur dalam pilihanraya 9 Mei lalu, Azeez Rahim meletakkan jawatannya sebagai pengerusi Tabung Haji pada 24 haribulan.
26 September, Azeez muncul di mahkamah dengan berpakaian lokap SPRM.
1 Disember, Tabung Haji membuat dua laporan polis terhadap Azeez Rahim, bekas Ketua Pegawai Eksekutif, Tan Sri Ismee Ismail dan Datuk Seri Johan Abdullah. Ya, nama-nama ini kita ada sebut awal tadi.
Bukan sahaja itu, beberapa nama pengurusan kanan lain dipetik termasuk Datuk Adi Azuan (Ketua Pegawai Operasi), Datuk Rozaida Omar (Ketua Pegawai Kewangan), Hazlina Mohd Khalid (Penasihat Undang-Undang) dan Rifina Md Ariff (Pengurus Besar Kanan, Perkhidmatan Korporat Dan Harta Tanah).
2 Disember, media melaporkan bahawa pada tahun 2016; Tabung Haji didakwa memalsukan buku akaunnya. Ini dilakukan untuk memberi ilusi prestasi cemerlang badan tersebut demi mewajarkan dividen 6.25 peratus yang diumumkan menjelang pilihanraya lalu.
Dividen berjumlah RM2.7 bilion dibayar tiga bulan sebelum pilihanraya.
Itu belum campur soal kehilangan RM4 bilion daripada RM64 bilion yang dimasukkan pendeposit ke tabungan rukun Islam kelima itu. Perkara serupa pernah dibangkitkan Rafizi Ramli pada tahun 2016. Berbakul Rafizi kena maki.
Siapa dia 'pendeposit' yang dimaksudkan? Ya, ibu ayah kita di kampung yang menabung lama untuk mengerjakan haji. Hasil berniaga nasi lemak, menoreh getah, ambil upah jaga budak. Dah marah belum? – Roketkini.com
Isn't buying votes something
we know only too well?...
Two election court judgments were meted out in recent days – that of the Rembau state seat in Negeri Sembilan and the Cameron Highlands parliamentary seat in Pahang.
Of the two, I think that the Rembau case is a no-brainer. The returning officer erred big time. Denying entry to a candidate into the nomination centre just because he lacked a so-called piece of paper is wrong, dead wrong. I believe this is the first time such an incident occurred, at least to the best of my knowledge.
From my experience entering nomination centres as a candidate, everything was smooth-sailing as it should be. In the two elections which I participated, the nomination centre was at the Kuching City South building.
The first time, the officer at the entrance did not even bother to check anything. He just waved me and my proposer and seconder in. Earlier, we had to pass by some police officers among the crowd before we reached the main building. The policemen also allowed us to pass without any hassle. Perhaps, Kuching is a small place and we, local politicians, were familiar faces. It was really that simple.
On the second occasion, the sentry at the main door requested to see my papers. I just pulled out my file with my nomination paper and that was it. He ushered me in. No hassle too, nothing. He did not even bother to ask or look for anything from my proposer and seconder.
Well, I suppose 20 years ago, it was more quiet times. There was little or no tension. Elections in Sarawak were orderly and peaceful.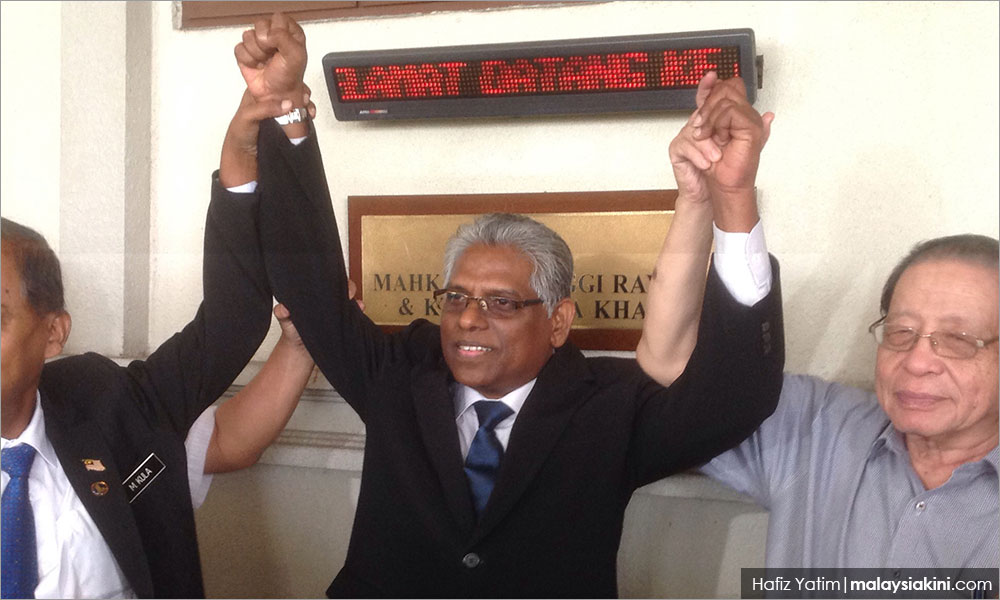 Corrupt practices
On the Cameron Highlands judgment, I was actually very surprised, or should I say puzzled.
On Nov 30, the Election Court in Kuala Lumpur declared the Cameron Highlands parliamentary seat vacant, paving the way for a re-election. Let's recap the judgment.
Justice Azizah Nawawi said DAP candidate M Manogaran (pix,above) proved that there were corrupt practices which led to BN candidate, MIC vice-president C Sivarraajh (pix,below), winning the seat in the May 9 general election.
The judge said with the corrupt practices proven from the testimonies of the witnesses, it was not necessary for the petitioner (Manogaran) to prove how the votes went.
She said it was only necessary to prove that money was given, and this was proven from the testimonies given by the Orang Asli witnesses who came to court.
"It is sufficient to prove money was given, if not by the respondent, then by agents of the respondent," she said.
"Even one of the Orang Asli witnesses testified that he received money but he cannot tell the court who he voted for as his vote is secret," the judge added.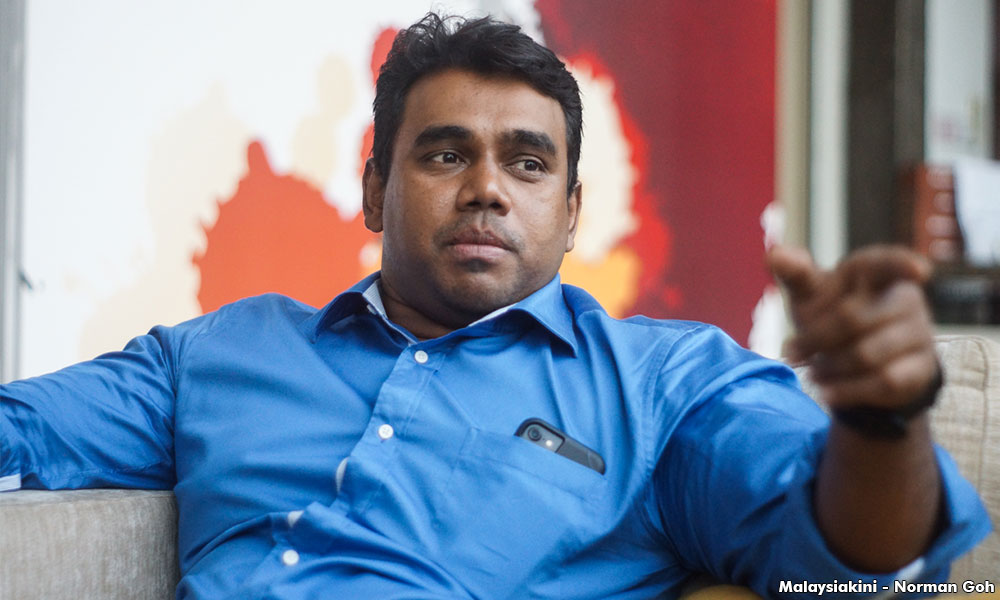 Justice Azizah said in her decision that the petitioner has established beyond reasonable doubt that bribery was proven, in that money was given to voters.
This is what is puzzling. Let's be honest and ask ourselves. Is bribery or corrupt practices something 'abnormal' during elections? Isn't buying votes something we know only too well?
It is true that almost all election candidates or parties are subjected to the temptation of buying votes. Why? Because there are people out there who are prepared to sell their votes, some even for a song. And this is a fact!
Even as a greenhorn candidate making my electoral debut 22 years ago, I had to face this vote-buying temptation.
I remember receiving a call from a man who claimed to be the leader of a group and that he had 150 votes for sale at RM100 each. He sounded genuine and serious, telling me that he would be prepared to meet me to prove that all the voters were registered in the constituency I contested in, including showing me their identity cards.
I politely told him that I do not have that kind of money to buy votes but was prepared to help out with RM10 per head for their bus fare to go out and vote.
Not surprisingly, I did not hear from him after that. He could possibly have been successful peddling his votes to another candidate.
All candidates and political parties are aware that buying votes is not something out of the ordinary. It has become an unwritten accepted practice, although it is legally and morally wrong.
An agent of a candidate who was successful in winning a parliamentary seat last May 9, told me that they paid RM300 for a vote. I thought he was honest enough when he remarked: "It's normal. People approached us and they needed money. RM300 is a lot to some. Do you want to win or not? If so, just pay if you can afford it."
This is the reality. Why do you think Najib (former premier Najib Abdul Razak) needed RM2.6 billion to be banked into his private account in what he later conceded were BN election funds for GE13.
We know only too well who and which party were guilty of buying votes and indulging in bribery and corrupt practices during elections. In fact, all candidates are also guilty in one way or another, even if they had innocently committed an offence under the Election Offences Act.
I could also be adjudged guilty of bribery in offering a RM10 bus fare to voters, without even realising it.
The Cameron Highlands judgment is one which is long overdue. I believe there were similar petitions by defeated candidates in the past but none saw the light of day.
Yes, bribery is wrong and it is a serious offence. It is time for the Election Commission to make it clearer on what constitutes bribery and corrupt practices during the electoral process.
I used to hold a copy of the EC handbook for candidates. I did not see much in there regarding bribery and corrupt practices. Such warnings should be spelt out in detail.
Finally, a little advice to all future candidates: "If you want to be a thief, just make sure you are smart enough to be one. Don't get caught. If you are not that politically savvy, just go in and have a clean fight. Don't even think of other ideas".
Let this Cameron Highlands judgment be a lesson to all aspiring candidates and politicians. - Francis Paul Siah, mk
kementerian pengangkutan...
cheers.