Nampaknya parti agama dan Umno bersungguh untuk mengadakan himpunan menentang ICERD 8 Disember ini. Walaupun kerajaan sudah mengaku kalah untuk tidak laksanakan ICERD, tetapi kedua parti itu tetap berdegil.
Perdana Menteri Dr Mahathir Mohamad sendiri telah mengeluarkan kenyataan menyatakan ICERD yang menimbulkan kontroversi dan kemarahan ramai itu tidak akan dilaksanakan. Pemimpin parti komponen PH lain juga menyatakan perkara sama.
Begitu juga dengan para Mufti juga ikut sama memberi nasihat tidak ada keperluan himpunan itu diadakan. Setakat ini dua Mufti negeri yang berpendapat demikian.
Namun semua kenyataan itu tidak diendahkan. Kenyataan PM, Mufti dan Menteri di buang ke laut sahaja.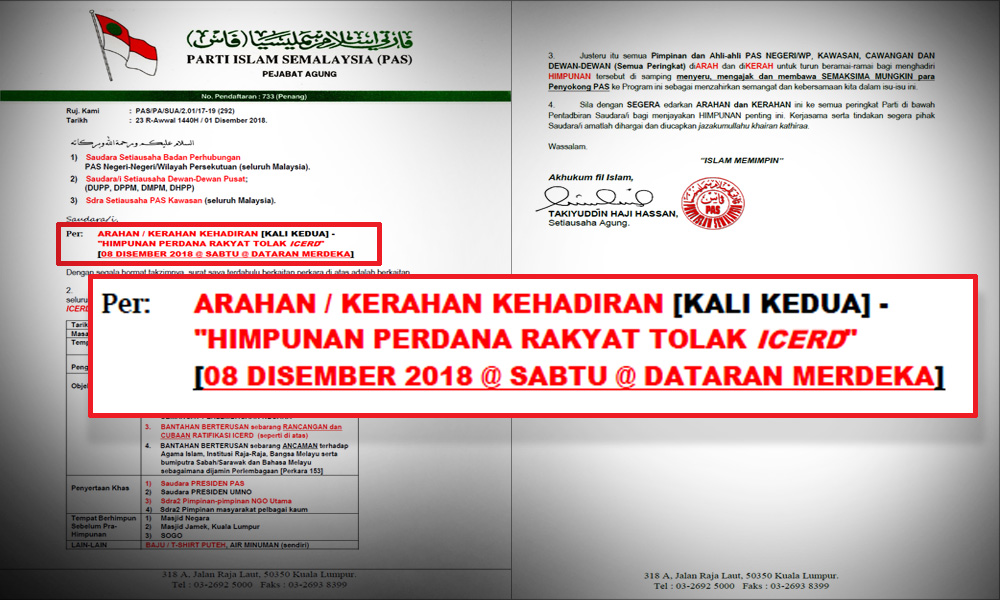 Atas alasan persiapan dan logistik mengadakan himpunan itu sudah disediakan maka ia perlu diadakan juga dengan mengubah maksud himpunan itu sebagai himpunan kesyukuran atas kesediaan kerajaan mengaku kalah.
Keghairah Pas dan Umno itu terserlah apabila majlis-majlis untuk menggoda rakyat agar hadir ke perhimpunan - ceramah pra himpunan ICERD itu terus diadakan di beberapa tempat.
Tampaknya niat kedua parti itu tidak mudah untuk diuruskan. Hanya satu cara yang masih ada untuk memastikan himpunan itu tidak akan berlaku, apabila ia disuara sendiri oleh Pemangkau Yang Dipertua Agong, Raja Nazrin Shah.
Elok Raja Nazrin Shah atas kedudukannya sebagai Pemangku Yang Dipertuan Agong mengeluarkan titah melarang agar himpunan yang ditrancangkan itu dibatalkan. Itu sahaja caranya. - MSO
Himpunan ni satu bisnes. Rugi kalau batal. Tabung tin milo dah standby. Baju dah ditempah. Hotel2 utk para olamak tok pun dah ditempah. Lain la para walaun, mereka tidur kat masjid je. Islam tak suka kerja membazir.
Tabung Haji buat laporan polis terhadap bekas Pengerusi, CEO dan beberapa
pengurusan kanan lain Lembaga Tabung Haji.
1. Datuk Seri Abdul Azeez Abdul Rahim - Pengerusi Tabung Haji
2. Tan Sri Ismee Ismail - CEO
3. Datuk Seri Johan Abdullah - Pengarah Urusan dan Ketua Pegawai Eksekutif
4. Datuk Adi Azuan - Ketua Pegawai Operasi
5. Datuk Rozaida Omar - Ketua Pegawai Kewangan
6. Hazlina Mohd Khalid - Penasihat Undang-Undang
7. Rifina Md Ariff - Pengurus Besar Kanan, Perkhidmatan Korporat Dan Harta Tanah
Lembaga Tabung Haji (Tabung Haji) membuat dua laporan polis berkenaan penyelewengan dana berjumlah RM22 juta untuk tujuan politik dan penjualan 95 peratus pegangan milik anak syarikatnya melibatkan jumlah RM3.8 bilion.
Lebai2 dan walaun2 nak berdemo ICERD ni pasai gerombolan "Cina DAP" ni yang songlap duit Tabung Haji kot? - f/bk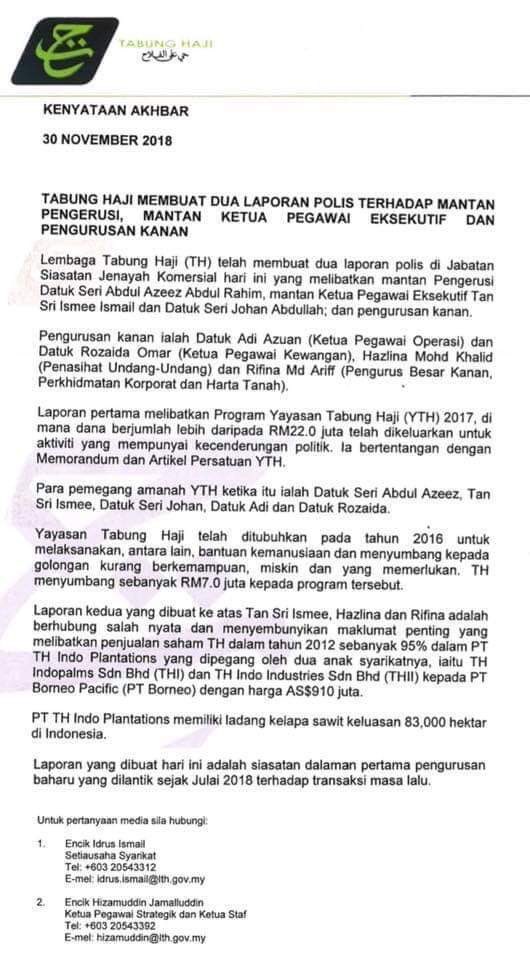 Tabung haji didakwa palsukan buku akaun untuk bayar dividen sebelum PRU14...
Lembaga Tabung Haji didakwa memalsukan buku akaun untuk menunjukkan prestasi yang baik untuk mewajarkan pembayaran dividen 6.25 peratus yang diumumkan menjelang pilihan raya umum (PRU) ke-14 sudah dibuat, lapor Singapura Straits Times.
Laporan itu memetik pegawai kanan yang berkata Tabung Haji "memalsukan akaun tahun lalu untuk menunjukkan bayaran dividen".
Dividen berjumlah RM2.7 bilion - dari keuntungan bersih RM2.8 bilion - dibayar tiga bulan sebelum PRU pada 9 Mei lalu.
Laporan itu juga menyatakan bahawa kerajaan Pakatan Harapan (PH) sedang mempertimbangkan cara untuk menguruskan dana simpanan berkenaan.
Turut dinyatakan bahawa sebanyak RM4 bilion kurang daripada RM64 bilion yang dimasukkan pendeposit.
Dakwaan terbaru itu timbul ketika lembaga pengarah Tabung Haji membuat laporan polis terhadap bekas penerajunya dengan mendakwa RM22 juta telah disalahgunakan untuk tujuan politik.
Untuk rekod, ini bukan kali pertama kebimbangan berhubung dana Tabung Haji timbul.
Pada 2016, pemimpin PKR Rafizi Ramli mendakwa Tabung Haji berdepan kekurangan aset RM3 bilion berbanding jumlah yang didepositkan.
Lembaga Tabung Haji allegedly cooked its books to justify paying a dividend of up to 6.25 percent ahead of the 14th general election, according to a report by Singapore's Straits Times.
The report quoted a senior official as saying that Tabung Haji "faked last year's accounts to justify its dividend payout".
The dividend payout amounting to RM2.7 billion - just shy of its RM2.8 billion net profit - was paid three months before the May 9 general election.
The report added that the new Pakatan Harapan government is mulling over ways to deal with the pilgrimage savings fund.
It stated that the fund's assets is RM4 billion short of the RM64 billion depositors have contributed.
The latest claim came amid the Tabung Haji board lodging police reports against its former leadership, alleging that RM22 million had been misused for political purposes.
This is not the first time concerns about Tabung Haji's shortfall between assets and deposits had been raised.
In 2016, PKR's Rafizi Ramli had claimed that Tabung Haji faced a RM3 billion shortfall in assets compared to deposits.- mk
Ibrahim Ali says too many
Indians in cabinet lineup...
Perkasa president Ibrahim Ali has called for a review on the quota for Indian cabinet members, saying that Prime Minister Dr Mahathir Mohamad's current lineup had "too many (of them)". He said having four ministers and one deputy minister was not in tandem with the fact that Indian Malaysians make up just seven percent of the population in the country.
"Now there are four ministers and a deputy minister (who are Indian Malaysian), so five [...] There are just seven percent Indian (Malaysians), so how can there be four?
"There are so many more Malay leaders in Pakatan Harapan, why can't they elect them?" he said to more than 200 supporters and members of Perkasa's "jihad" rally at Kampung Bharu in Kuala Lumpur today.
The four ministers in the Pakatan Harapan government are Minister in the Minister's Department P Waythamoorthy, Communications and Multimedia Minister Gobind Singh Deo, Human Resources Minister M Kulasegaran, and Water, Land and Natural Resources Minister Dr Xavier Jayakumar. R Sivarasa is the deputy rural development minister.
It was previously stated that the distribution of ministry portfolios was not based on race, but rather on Pakatan Harapan component parties. As it currently stands, PKR has seven cabinet members, DAP (six), Bersatu (six), Amanah (five), Warisan (three) and Hindraf (one).
Open letters
The call by Ibrahim for a review of the quota comes in the wake of Perkasa's demand for the ouster of Waythamoorthy following his criticism of the police in the initial aftermath of the Sri Maha Mariamman temple disturbances in Subang on Monday.
Waythamoorthy, along with the other Indian ministers, had issued a statement critical of the police's early assessment of the melee, when, in the initial confusion, police had claimed that the riot on Monday was caused by two Indian groups.
It was later discovered that the group of men who entered the temple was from another ethnic group. The ministers also criticised the police's alleged delayed action in responding to the melee when temple devotees were allegedly attacked by the second group of men, who were later revealed to have been hired to secure the site for relocation.
Touching on the minister's remarks, Ibrahim claimed that Waythamoorthy's words had encouraged India's politicians to submit open letters to the Malaysian consulate.
"Waythamoorthy made the statement on the riots at the temple... accusing the police.
"I believe his accusations influence racist political parties in India to submit open letters to the Malaysian consulate in India, containing all sorts of allegations [...] This has tarnished the country's name," he said at the rally being held in conjunction with Perkasa's annual general meeting.
He was referring to a memorandum sent by Arjun Sampth, the president of the Hindu right-wing nationalist party Hindu Makkal Katchi from Tamil Nadu in India.
Wisma Putra has since criticised the memorandum as "irresponsible" as it contained inaccurate claims that 200 Islamic terrorists had attacked the temple devotees. He said it could only be a matter of time before Waythamoorthy would be let go.
"If Mahathir is really strict, as I know him to be when he was the fourth prime minister, I want to see how long Mahathir will retain Waythamoorthy.
"Waythamoorthy must be fired."
Ibrahim also warned that the patience of the Malays was running thin over such matters and that Perkasa was ready to "run amok" across the country if needed.
However, he then stated that "running amok" was not to be taken in its literal sense but that any gathering held would be in accordance with the law. - mk
Bagi lebai PAS, masalah utama Dr Samsuri ialah dia tak pakai jubah dan serban. Dan dari segi akademik, Samsuri jauh lebih cerdik dari lebai2. Itu je masalah utamanya. Hak lain tu, lebai reka je. Lebai cukup benci seorang profesional yang lebih cerdik dari mereka, tambah pulak tak pakai jubah serban dalam melakukan tugas seharian....
cheers.