Mukhtar Pas ke 64 yang berlangsung di Terengganu berakhir petang ini. Presiden Pas Abdul Hadi Awang telah menggulung perbahasan sekaligus menutup muktamar tahunan berkenaan.
Saya mengikut sebahagian besar ucapan penggulungan Hadi yang memang dinanti menerusi siaran langsung streaming yang tersekat-sekat. Tentu butir bicaranya yang ditunggu dalam penggulungan itu berhubung isu kerjasama Pas dengan Umno.
Muktamar itu telah membentang usul kerjasama Pas dengan Umno yang meminta ia dimuktamadkan oleh Majlis Syura Ulama (MSU) dan kepimpinan Pas. Dalam kata lain muktamar sudah memberi restu untuk pucuk pimpinannya mencari mekanisme kerjasama itu.
Alhamdulilah apa yang saya hajat dan ingini selama ini mahu melihat Pas bertongkol (berpelukan) dengan Umno jadi kenyataan.
Dalam ucapan penggulungan, yang bagi saya lebih tepat dinamakan khutbah pengukuhan kepada ahli agar menerima kerjasama itu, Hadi banyak membelek kitab lama membaca kisah-kisah dan sejarah di zaman Nabi. Cerita mengenai perdamaian di antara kaum Muhajirin dengan Ansar dan juga kisah perjanjian Hudabiyah yang sangat terkenal itu.
Beliau juga cuba menyuntik falsafah politik bijasana dan matang kepada ahli Pas agar bijak berpolitik serta menerangan politik Islam itu menganjurkan perdamaian yang berkonsepkan kepada pendekatan Islam. Dalam masa sama juga beliau menceritakan macam mana Rasulullah berhadapan dengan musuh dengan lunak, tidak menggunakan pendekatan kasar dan bengis dengan musuh.
Cukup cantik dan saya yakin lebih 1,000 para perwakilan dan pemerhatian di muktamar itu menerima dan menelan apa yang dihulurkan Hadi itu bagaimana menelan air sejuk di kala kehausan di sahara.
Hanya sedikit sahaja ingin saya pertikaikan dengan pendekatan dan kesedaran baharu Pas itu kenapa Abdul Hadi sukar untuk berdamai sama dengan PH? Apakah sikap dan perangai orang PH lebih kejam dan zalim daripada kerajaan BN sebelum ini?
Seharian dua ini Hadi telah menghantarkan isyarat awal sebelum muktamar yang PH lebih dahsayat daripada BN. Syarat itu sudah dapat dibaca apa yang tersudut di hatinya.
Kita boleh setuju dengan pandangan itu, tetapi apakah hakikatnya yang kerjaan PH kini benar-benar lebih teruk, zalim dan kejam daripada kerajaan BN? Apakah dosa atau kekejaman yang telah dilakukan kerajaan PH kepada Pas setelah lebih empat bulan memerintah ini?
Adalah lebih adil dan tepat kalau Pas ingin mengamalkan politik perdamaian, politik sejahteraan dan matang, parti itu juga turut menghulur tangan dan berba'ih sama dengan PH demi negara dan bangsa. - MSO
Anwar's Dubious PD Move...
I first heard the news of a pending Port Dickson Move by Anwar Ibrahim on Monday, September 10. Not giving it much credence, I dismissed it as rumour mongering by one of the many factions within Parti Keadilan Rakyat (People's Justice Party) helmed and founded by former Deputy Prime Minister Datuk Seri Anwar Ibrahim. Why the Port Dickson parliamentary constituency is of significance to me? Here are my reasons:
Foremost, Port Dickson is, by all accounts, a military garrison. The first experimental Royal Malay Regiment Company was started in Port Dickson in 1933. The seaside town has a military bearing to its name. It was in Port Dickson that I got inducted into the army way back in 1968 upon completion of my secondary education. The Recruit Training Centre better known as RTC Port Dickson at the 5th mile Port Dickson-Linggi Road holds sway. It was then just a collection of a few run-down dixon huts (open-air zinc-type barracks) and a sizeable tarred square where trainees were drilled and taught basic military skills. Marching in unison is synonymous with the army and this is a fact.
The Port Dickson parliamentary constituency was renamed Telok Kemang Constituency as part of Najib Razak's grandiose gerrymandering exercise pre-14th General Election (GE14). It was enlarged to include neighbouring kampongs in order to offset the numerically inferior Malay population thus giving the Barisan Nasional candidate a perceived edge over his rivals. But the unexpected happened. This historic defeat of BN and, by extension, UMNO in GE 14 is well documented and will remain etched within living memory. It is a classic clash of titans reminiscent of the biblical David-Goliath duel. After over six decades of a one-party rule, the incumbent was finally brought to its knees.
Now back to the contentious Port Dickson parliamentary constituency. Rear Admiral Dato' Danyal Balagopal Abdullah (Rtd) was picked to contest as Pakatan Harapan's candidate during GE 14. Danyal Balagopal (Danyal) was my college mate, as we were once students at the Malaysian Armed Forces Staff College (MAFSC), Haigate, Kuala Lumpur in 1982. Senior military officers have to undergo this one-year mandatory staff course if they aspire for further promotions up the slippery career ladder. I underwent two such courses, one at Haigate and the other at Sekolah Komando Angkatan Darat Bandung, Indonesia in 1985/1986. The objective was to prepare me for an instructor's post at MAFSC upon my return.
That, unfortunately, did not happen. In 1988 I was sent to command a Ranger battalion at Tambun instead. That was how I landed in Ipoh. But that is another story for yet another episode, hopefully.
Danyal is of my vintage, perhaps a year younger. He has an illustrious career in the Royal Malaysian Navy (RMN) rising through the ranks from a midshipman to a rear admiral (laksamana muda) all within the span of his 36-year service to King and Country. Like most naval officers of yore, he was trained at the Britannia Royal Naval College, better known as Dartmouth, located at the seaside town of Devon, Britain.
Danyal has been active in sports and was a committee member of the Malaysian Olympics Council. He was chef de mission of our national team on a few occasions before and after he retired from service. We keep an active chat (Whatsapp) group consisting of 43 members from the Staff College Class of 1982 and it is administered by a retired naval captain. Our meetings or teh-tarik sessions are held occasionally whenever time permits or when one beckons. Danyal has never missed one so far.
We were pleasantly surprised when he was courted by Rafizi Ramli, the now estranged Vice President of Parti Keadilan Rakyat (PKR) and was offered the Pakatan Harapan's seat in Port Dickson in GE 14. We did not think much about his chances at the poll but gave our tacit approval nonetheless. Some of us, including yours truly, did some very subtle campaigning on his behalf on the ground and on social media. Military veterans lent their support, especially members of the National Patriot's Association led by Brig-Gen Datuk Arshad Raji (Rtd). Some even donated money. Danyal garnered a massive 36,225 votes defeating his BN and Pas rivals, respectively. We were overjoyed. But that is where it ends. When word reached us that he was to vacate his seat to make way for Anwar's return to active politics, we were aghast.
The reaction was mixed. Some were supportive but most were against it. "It's a betrayal of trust," said one retired officer. I took to social media to air my feelings. In response to a Star online article on the move I had categorically stated that the decision by Danyal to vacate his PD seat was orchestrated by some people with vested interest within PKR. Anwar's wife and daughter are active politicians in their own right. Dr Wan Azizah is MP for Pandan while Nurul Izzah is MP for Permatang Pauh. And there are a horde of other serving parliamentarians who are prepared to give up their seats for Anwar. Why pick on Danyal, the only veteran in parliament? Military veterans have lost a voice in the august house.
Granted having Anwar in Danyal's place is good for residents of Port Dickson, as he is the Prime Minister-in-waiting, but is this how a new Malaysia works? We want someone who speaks for us veterans since we have little in common with ordinary Malaysians. We are equally marginalised as any Ahmad, Ah Chong and Muthu. We want to be heard. Bread crumbs and handouts don't mean much to us anymore.
I am certain my good friend and college mate, Danyal Balagopal, has been arm-twisted to vacate his Port Dickson seat "voluntarily". What has been promised him, Heaven knows. Although Danyal had denied complicity in the "charade", military veterans and members of MAFSC Class of 1982 are doubtful whether it was done fairly, transparently and in accordance with democratic ethics.
So brace yourself for a fourth by-election sometimes in late October or early November. A date has yet to be fixed by the Election Commission although it has accepted Danyal's resignation as the Member of Parliament for Port Dickson (Telok Kemang) on Tuesday, September 12.
I rest my case. - Fathol Zaman Bukhari,Ipoh Echo
Monopoli... pihak mana yang monopoli sebenarnya? TM monopoli jalur lebar? Sekurang-kurangnya orang ramai masih boleh subscribe broadband dari Maxis, dari YTL (YES) dan beberapa lagi operator telekomunikasi yang bebas membuat perniagaan..
Monopoli.. TNB monopoli, hanya satunya syarikat tunggal yang membekalkan tenaga elektrik ke seluruh residen, premis dan kilang di Semenanjung Malaysia.. Astro monopoli, apabila saban tahun hak penyiaran EPL hanya diberi kepada mereka... Ini yg saya faham soal monopoli..
Tapi mengapa muktahir ini TM dilihat monopoli? Masih saya ingat, bagaimana TM bergolok bergadai untuk memulakan dan membangunkan infra jalur lebar berasaskan fibre optic ke seluruh negara.. bila dah ready, pelbagai justifikasi keluar termasuklah perihal monopoli TM..- f/bk
Hari tu Tontowi kata bertambah 8k sebulan...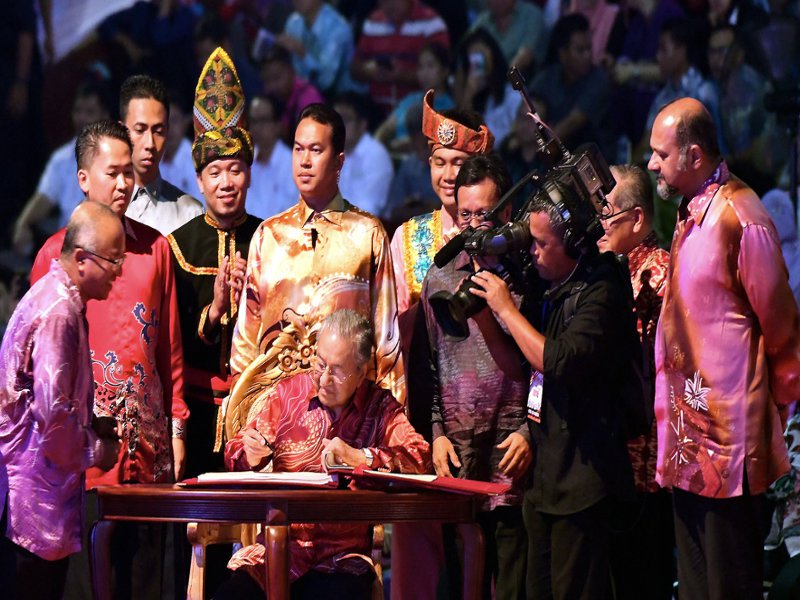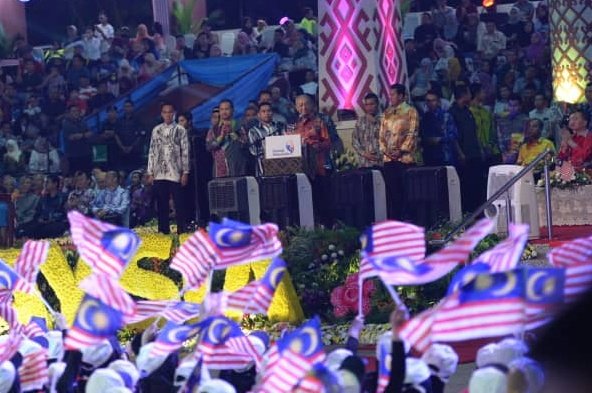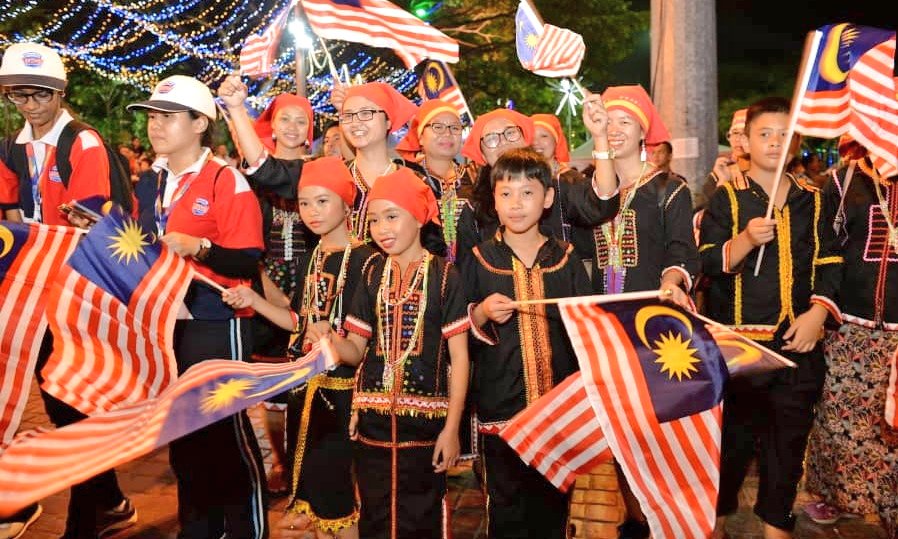 Sambutan Hari Malaysia...
cheers.