Presiden Pas, PM Online perlu melihat diri sendiri di cermin terlebih dahulu sebelum meramalkan lagak persis tok nujum kononnya bahawa Parti Keadilan Rakyat (KEADILAN) akan berpecah selepas pemilihan parti.
Yang berderai hancur berkecai ialah partinya sendiri apabila memutuskan hubungan dengan DAP terlebih dahulu pada 2015 mengakibatkan Pakatan Rakyat berkubur.
Pembuangan setandan 18 pemimpin Pas dalam muktamar tahunan di Kuala Selangor tahun yang sama menyebabkan partinya sendiri terbelah dua apabila mereka menubuhkan Parti Amanah Negara (AMANAH) pada sambutan Hari Malaysia ke-52.
Apa yang dia tidak beritahu ialah Pas sendiri merupakan serpihan daripada Umno apabila keluar dari parti reput itu dan menubuhkan Pas pada 1951.
Janganlah jadikan muktamar di Kuala Terengganu tahun ini medan menyalahkan orang lain sedangkan parti sendiri telah ditolak rakyat dalam PRU 14 apabila hanya memperolehi 18 kerusi parlimen daripada 40 yang disasarkan walaupun berjaya merampas Terengganu dari Umno Barisan Nasional. - f/bk

Pak lebai hanya nampak anak tikus(LGE) dlm rumah,tapi gajah(Najib) yang di depan mata tak kelihatan. - TS


Komen Ustaz Haji Hadi ini seperti cuba mendahului takdir, setakat ini Pakatan Harapan telah merancang, jadi tunggu saja sehingga PRU15, yg mu banyok lebong tu nape plok? Haji pikir kami ada masa untuk sakit kepala mendengar lebong mu yang remeh itu? - Khairudin Ismail


Makin lama aku tgk hj hadi mcm gila talak.. Ingatkan semua yg keluar dari PAS akan tersisih.. Rupanya semua jadi menteri.. Makin gila la hadi ni dok mikir..

- Amir Abidin
"Baru memerintah empat bulan sudah ada masalah, apatah lagi kalau 60 tahun," ...nak bandingkan bayi berusia 4 bulan dgn org tua berumur 60 tahun..agak2 la tok guru...- Mid Ori Bundle

Pas lagi dahshat sampai boleh berkawan dengan parti umno yang merompak harta rakyaat, nasib baik Allah menangkan PH, kalau tidak negara ini tergadai pada China.

- Haziq Haikal
Dr M - Shafee wanted so much to be AG...
Prime Minister Dr Mahathir Mohamad has dismissed allegations that he lobbied for lawyer Muhammad Shafee Abdullah's appointment as the prosecutor for Sodomy II.
"Shafee wanted so much to become attorney-general. He came to see me. He said the AG at the time cannot prosecute (properly)... They will lose the case... He said he can win.
"I said 'if you can win, you go tell Najib (Abdul Razak, the prime minister at the time)'. That time, I was still friendly with Najib," Mahathir told a press conference today.
Last week, Shafee revealed that he had met Mahathir in mid-2013 and the duo had talked about the trial.
According to Shafee, it was Mahathir who did not have confidence in the Attorney-General's Chambers' ability to appeal against the High Court's decision to acquit Anwar Ibrahim on sodomy charges.
Shafee claims Mahathir "insisted" that he be appointed special prosecutor instead, to which Najib eventually agreed.
Shafee successfully secured the prosecution's case at the Court of Appeal and Federal Court level. Anwar was eventually jailed in February 2015.
However, Anwar is still challenging the validity of the Sodomy II trial on the grounds that Najib had paid Shafee RM9.5 million for the job.
Anwar argued that since he and Najib were political rivals, the payment had compromised the trial.
Yesterday, Shafee was charged in court over that very payment, which prosecutors claim originated from dirty money.
Shafee has claimed that the trial was politically motivated.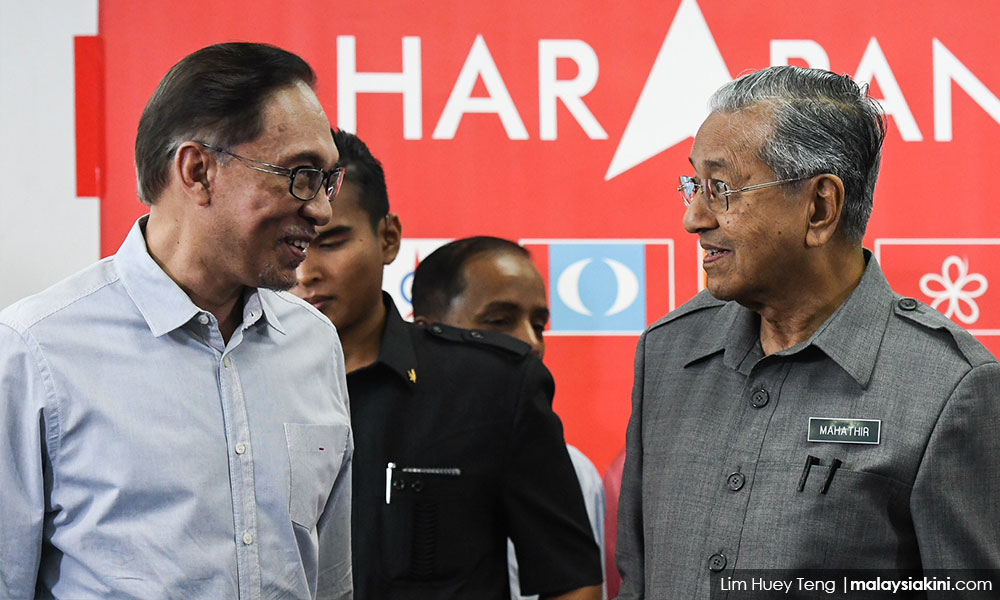 Meanwhile Prime Minister Dr Mahathir Mohamad believed that Anwar Ibrahim will not seek any government position in the near term because his party had made this clear.

"Actually (PKR Secretary-general) Saifuddin Nasution has made a statement that when Anwar wins, not if he wins but when he wins, he will not seek a position in the government.

"He is not asking a minister position in the government. I take it that it is a consent from Anwar that he (Saifuddin) said this," Mahathir said in a press conference at Bersatu headquarters at Petaling Jaya.

He said this when asked whether Anwar will be appointed to a government position if the latter won the upcoming Port Dickson by-election.

Speculation is rife that Anwar will seek to join the executive if he is elected to Parliament once again, since he is Pakatan Harapan's designated sucessor to Mahathir.

Mahathir today reiterated, again, that Anwar will succeed him.

"We already agreed that it is Anwar... I'm not reneging my promise... When? That period is not certain.

"But I am very cautious that I am 93-years-old. In two years time, I'll be 95," he said.

PKR has engineered the Port Dickson by-election by facilitating incumbent MP Danya Balagopal Abdullah's resignation. - mk
Kiki kucing DS Najib bakal didakwa kerana makanannya
dikatakan dibeli menggunakan wang 1MDB.
cheers.