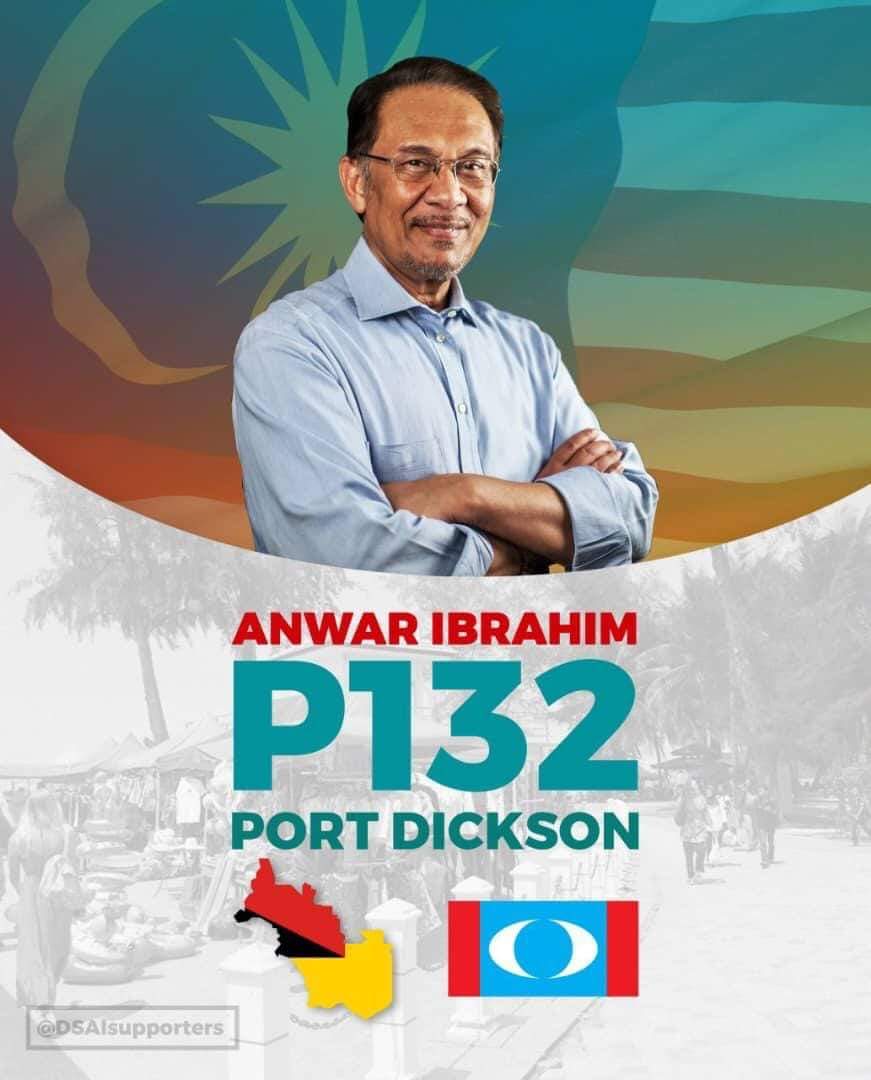 Seperti mana kita sedia maklum kerusi parlimen Port Dickson menjadi pilihan Anwar Ibrahim sebagai pintu beliau memasuki parlimen kemudian menuju ke Puterajaya.
Terima kasih perlu diucapkan kepada Danyal Balagopal Abdullah, menawarkan kerusinya untuk Anwar. Pengorbanan Danyal sangat mahal demi memenuhi sebuah pernantian ramai melihat bagi Anwar jadi PM?
Seperti mana kata Anwar, banyak rakan yang menawarkan kerusi buatnya tetapi dia tertarik untuk memilih Daynal. Kata Anwar dia memilih tawaran daripada rakan yang ikhlas daripada rakan yang bermuka-muka.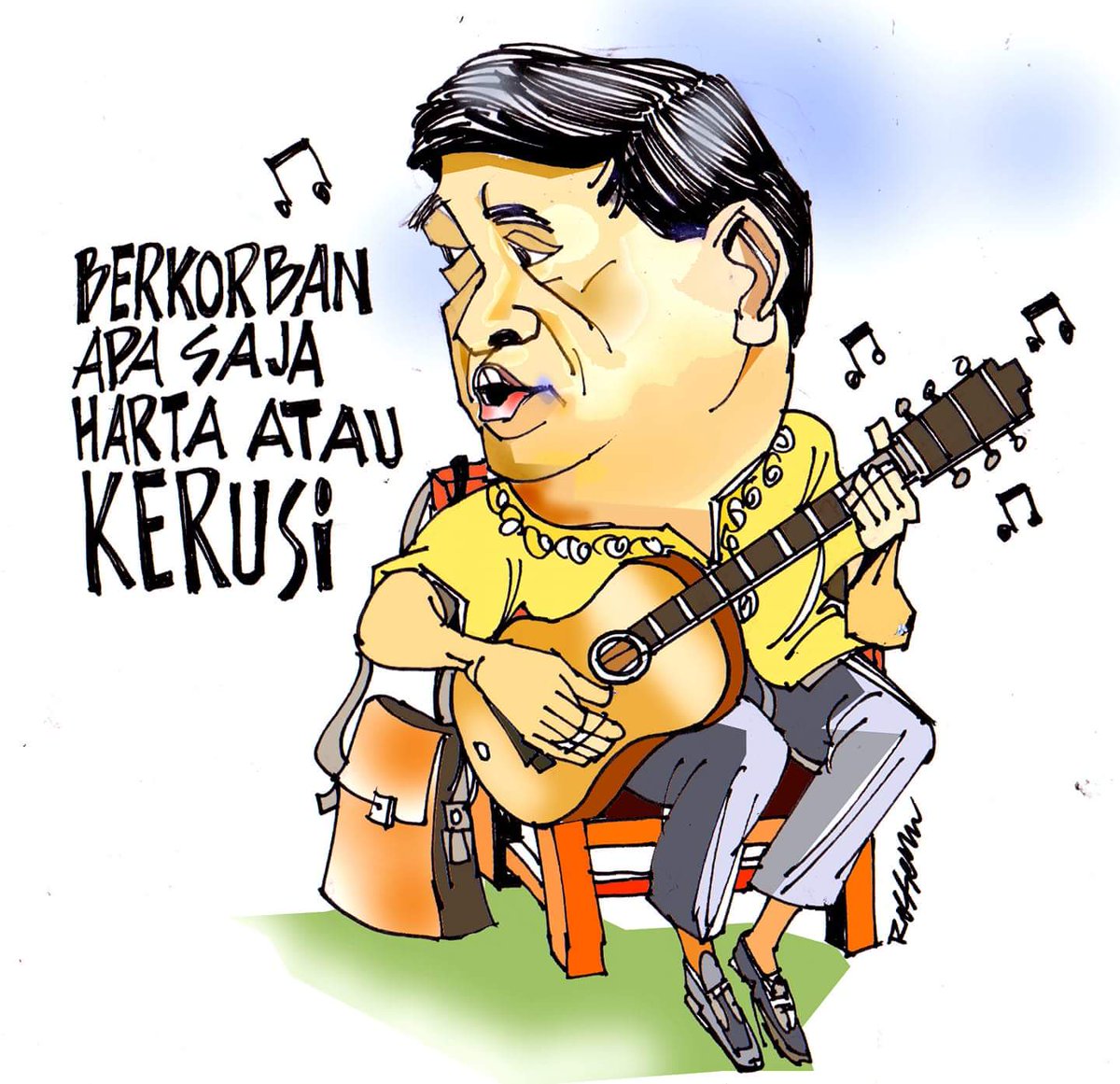 Bagi saya mengapa Port Dickson jadi pilihan mungkin kerana peratus pengundi India tinggi di situ. Peratus India 21.97%, sementara Cina 33.11% manakala Melayu 42.72%. Sekiranya Melayu tidak memberi undi cukup Anwar menang dengan undi India dan Cina sebanyak 55.08%.
Ada kemungkinan Anwar kurang mempercayai Melayu menyebabkan beliau memilih Port Dickson.
InsyaAllah dalam masa seminggu lagi kita akan mengetahui tarikh penamaan calon dan hari mengundi yang akan diputuskan oleh SPR. SRM dijangka akan bermesyuarat paling awal minggu depan untuk memutuskan tarikh-tarikh penting itu.
Saya menjangkakan pengundian akan diadakan awal Oktober. Kalau ini betul bermakna Anwar akan melangkah masuk ke parlimen sehari awal persidangan kedua penggal parlimen ke 14 pada pertengahan Oktober hadapan. Hendaknya tempoh berkempen tidak sepanjang di Pirake Seri Setia dan Balakong.
Apa yang hendak diingatkan pilihan raya itu, segala persiapannya perlulah dilakukan secara bersama parti komponen PH, Bersatu, DAP dan Amanah. Tentunya Anwar dan PH sendiri memerlukan kemenangan besar.
Persoalan timbul apakah BN yang kini bekerjasama dengan Pas akan meletakkan calon daripada MIC untuk menganggu Anwar? Ini kerana semua parti pembangkang Umno, MCA dan Pas masing-masing telah pun merasai bagaimana pahitnya untuk mengalahkan PH dalam Pirake lepas.
Atau sebaik-baiknya untuk tidak menjadikan pilihan raya itu penuh dengan pembaziran, elok kalau Anwar diberikan menang tanpa bertanding. - MSO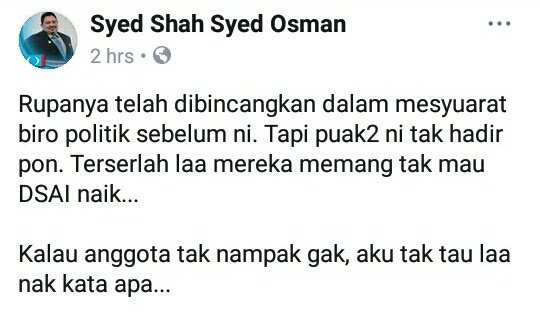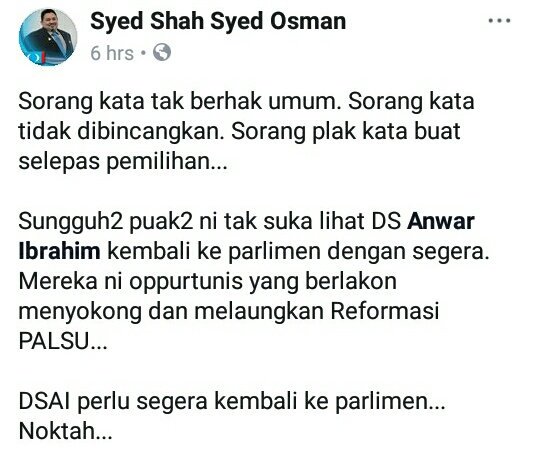 Puak2 yang suka meroyan memang cam nilah style depa...
7 September 2018
Mesyuarat kedua akhir bagi memutuskan kerusi buat Anwar. Geng kongsi gelap dapat menghidu namun tidak mampu berbuat apa-apa. Keputusan sudah dibuat. Cuba halang juga konon selesaikan pemilihan parti dulu baru tumpu kerusi sesuai. Sebenarnya mereka mahu Anwar disusahkan laluannya kembali ke parlimen.
11 September 2018
Geng kongsi gelap hilang sabar kononnya mereka tidak dijemput dalam mesyuarat biro politik tetapi mereka yang tidak mahu hadir. Alasannya mereka sendiri sahaja yang tahu. Laskar upahan dikerah serang di media sosial tetapi sudah terlambat. Tunggu plan seterusnya tidak lama lagi.
Tup...tup... geng kongsi gelap protes begini...
Musuh diluar dan musuh didalam akan berkata2 pelbagai kata2 nista.Yang penting surat perletakan jawatan telah dihantar. Pengesahan YDP Dewan Rakyat dan SPR untuk membuka mesyuarat PRK Port Dickson bila2 saja...
Will 'impatient' Anwar upset the
Pakatan Harapan apple cart?...
Malaysian democracy icon Anwar Ibrahim has announced he will contest the Port Dickson parliamentary seat in the state of Negeri Sembilan in a move that, assuming he is successful, will pave the way for him to take over from Prime Minister Mahathir Mohamad.
The news caps a remarkable turnaround in Anwar's fortunes – it was not until after the general elections in May that he was granted a full royal pardon for his convictions of sodomy and corruption, charges he says were trumped up by political rivals to keep him from power.
But some observers fear the by-election could cause instability within the Pakatan Harapan government, which is still finding its feet following five decades of rule by the Barisan Nasional coalition it toppled.
Anwar had thrown his support behind former foe Mahathir – whom he blames for one of his two stints in jail – in the run-up to the election, in a concerted effort to topple the scandal-tainted Najib Razak. The pair had an understanding that after two years in power Mahathir, now 93, would hand over the reins to Anwar, effectively making him a prime minister in waiting.
On Wednesday, Anwar took a step closer to the top job with the announcement by his People's Justice Party (PKR) central management that Port Dickson incumbent Danyal Balagopal Abdullah (pix,below) would be standing down to make way for him. Having a seat in parliament is a prerequisite for becoming prime minister.
Danyal appears happy enough to stand aside, publicly thanking PKR vice-president Rafizi Ramli for "facilitating" his "offer" to step down, and PKR appears keen to calm any nerves about the move. Its secretary general Saifuddin Nasution repeatedly stressed no time frame had been set for Anwar to take over.
Even so, Anwar's move to re-enter active politics has been criticised by electoral watchdogs and the public, with detractors saying it could destabilise the fledgling government.
Political scientist Wong Chin Huat, of state-funded think tank the Penang Institute, said Anwar's rush to push a by-election was "clearly driven by uncertainty and insecurity".
"Anwar's challenge is how to show his statesmanship … without the haste that may make Mahathir a lame duck. He will need to carve out clearly the division of labour between Mahathir and him from now until 2020. There is no such thing as 'prime minister in waiting on the government backbench'."
Wong said Anwar must be seen "as part of Mahathir's team rather a critic of the government" and he cautioned that Malaysians were experiencing political fatigue after two decades of intense politicking.
Anwar's support, then, appears contingent on presenting himself as a stabilising force rather than a challenger.
"Inevitably, the highlight of his campaign would be if Mahathir were to rally voters for him. That would signal a real reconciliation and confirm the transition pact. But for that to happen, Anwar needs to convince Mahathir and Malaysians of his constructive and complementary roles in the two years of transition," Wong said.
Observers say the Port Dickson by-election will serve as a mini referendum on Anwar's claims to the top job, and he will be playing with fire it he treats it too lightly.
Pollster Ibrahim Suffian, executive director of the Merdeka Centre, said a widespread perception that Anwar was hurrying would only complicate the situation.
"The time frame given for transition was very vague, so now this move to get into parliament this year seems a bit hurried. Doing it while PKR party elections are on the way brings more complexities into intra-party dynamics and adds an element of uncertainty over how the current administration will deal with it once he gets into office."
PKR will be holding elections in November, and there is already squabbling over who will become deputy president, with Rafizi taking on incumbent Azmin Ali, who is also economic affairs minister. The duo have been vocal in criticising each other, with Rafizi questioning Azmin's loyalty and Azmin dismissing "jobless" candidates.
Added Suffian: "This will play into party elections, Anwar is backing Rafizi, and not playing an impartial role, even in his own party. This by-election may be used by Rafizi to boost his campaign … while he takes full credit for facilitating the Port Dickson by-election."
However, PKR secretary general Saifuddin dismissed the suggestion. "There are no camps. There is only Anwar Ibrahim's camp," he said, adding that Anwar had informed Mahathir of his plan, and the leaders of the Pakatan Harapan component parties were all supportive.
What does seem clear is that Anwar doesn't want to wait a day longer than necessary.
But he must avoid crossing Mahathir, his former friend turned foe turned ally, or Malaysia may see a repeat of 1998, when Mahathir (then serving his first stint as prime minister) sacked Anwar as his deputy.
According to a party source, detractors within PKR fear that Anwar's haste to return to the fold – and the instability this would cause – could pave the way for Barisan Nasional to claw its way back to power.
"Anwar is impatient and this shows no signs of diminishing," said the source. "His followers are impatient to become ministers. This means change may be forced ahead of the two-year timeline. Malaysia's finances are in a mess and the government is struggling to establish control of the civil service. Many states are held by wafer-thin hung assemblies. Our political situation is very vulnerable to instability. Given all this, is Anwar capable of governance? It seems he prefers loyalty over quality." - scmp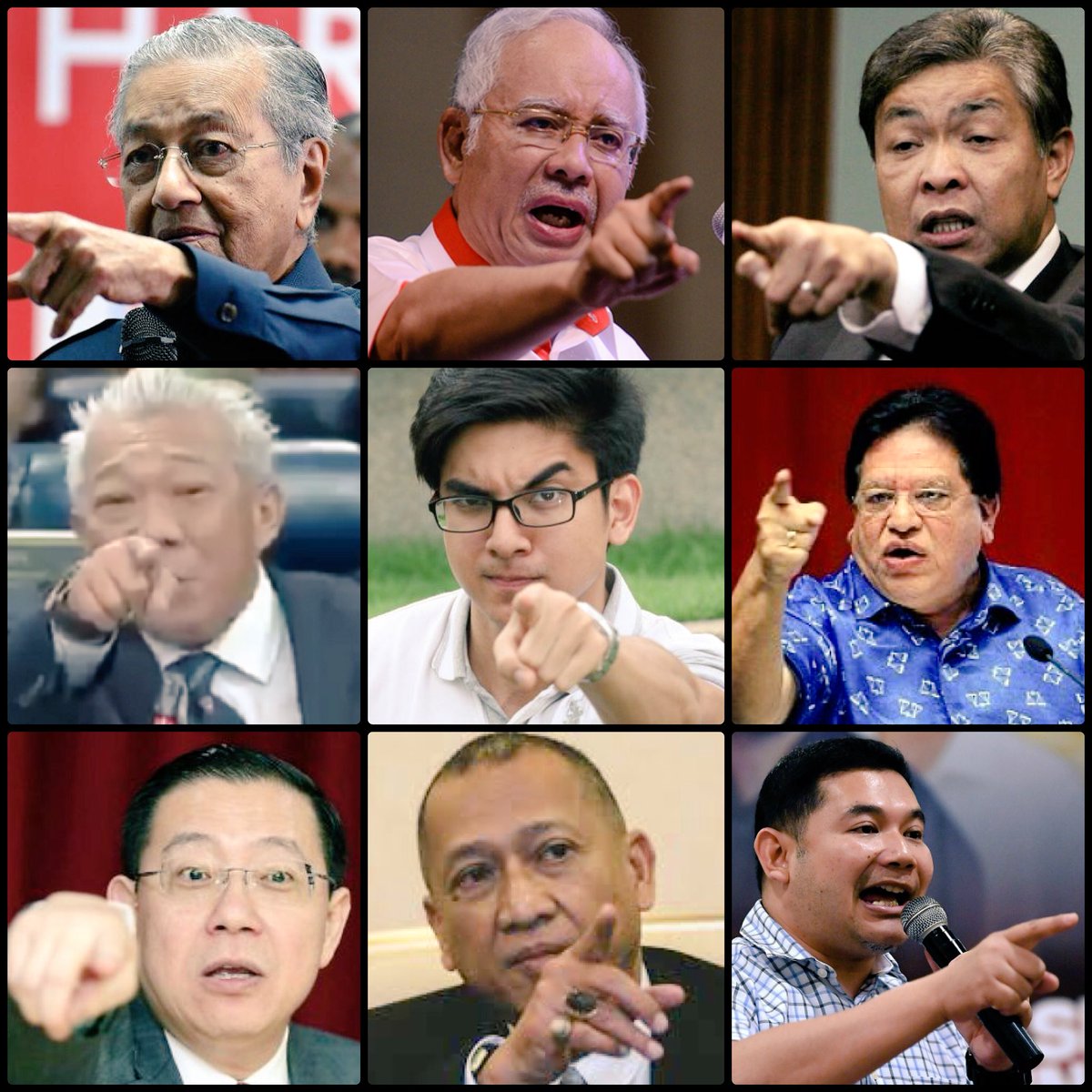 Pointing fingers politicians...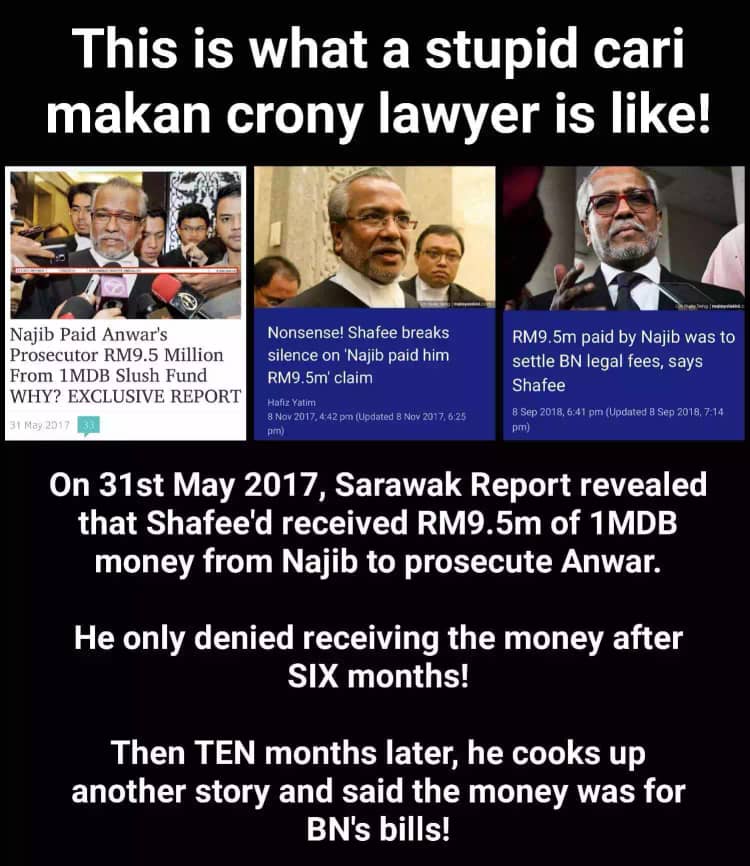 cheers.