Pasir Salak bukan tempat sejarah untuk hidupkan UMNO yang kojol selepas ditolak rakyat pada PRU 14. Tajuddin Rahman tak setaraf Datuk Maharaja Lela yang membunuh Birch. Malah dia juga tak setaraf si Putom, Orang Asli yang bersama Maharaja Lela. Tajuddin ' six million dollar man' pernah disingkir dari UMNO kerana politik wang dulu. Di Parlimen dia bukanlah seorang wakil rakyat yang membela hak rakyat tetapi berlagak seperti gangster tua yang garang suara tapi pocik tenaga.
Sejak Merdeka hingga sekarang Melayu tetap berkuasa. Tapi PM bukan lagi perompak kelas cakrawala dari UMNO. Bahwa rakyat berbilang kaum memberi sokongan hangat kepada Tun Mahathir, bekas PM 22 tahun, dan mantan presiden UMNO, menjadi PM kerana kerajaan PH membuktikan Melayu tidak hilang roh dan semangatnya di bumi bertuah ini. Cuma UMNO yang mengkhianati aspirasi Melayu, Islam dan negara ditendang rakyat selepas 61 tahun berkuasa.
Wahai Tajuddin kamu boleh buat langkah silat pulut, cium tangan Najib dan Rosmah tapi kamu dengan kabilah Najib, maharaja perompak, bekas presiden UMNO, jangan mimpi akan kembali berkuasa lagi. Jemputlah segala bomoh dan pawang buaya dan naga sakti sekali pun UMNO sudah pocik, kulluhum. Tali hayat UMNO sudah hilang dihanyut oleh ombak rakyat , ribut dan taufan rakyat yang benci melihat wajah-wajah sopak, kudis buta, tokak politik UMNO.
Sekali air bah sekali pasir berubah. Melayu sekarang lebih bijak dan punya maruah dan hargadiri yang tidak dimiliki oleh para pemimpin UMNO. Najib yang ditunggangi bininya super rakus, gila kuasa, bawa sial pada UMNO. UMNO bangsatkan Melayu, dan hari ini UMNO ditendang oleh bangsa Melayu dan kaum-kaum lain. Era keangkuhan, kegilaan kuasa, dan koprupsi menggila di era UMNO sudah tamat
Allah memberkati perjuangan Tun Mahathir yg berusia 93 tahun kerana beliau sahaja yang boleh membentuk sejarah gemilang untuk rakyat Malaysia dan negara tercinta. Tempat Najib, bininya dan para koruptor bukan lagi di Putrajaya tetapi di Sg Buloh dan Kajang. Di Sg Buloh Tajuddin, Najib, bomoh Ponorogo dan sebilangan besar mereka yg super korup boleh belajar silat pulut dari Tajuddin kelak., pahlawan tua yg tak setaraf dengan si Putom yang berjuang bersama Datuk Maharaja Lela.
Melayu hari ini mesti berani hadapi cabaran hidup yang cepat berubah. Melayu tidak boleh jadi pengemis mengharapkan BRIM dan dedak gred E dari kerajaan. Kuasai berbagai bidang ilmu penegetahuan, tanam semangat patriotisme, bina keyakinan diri, berpegang teguh pada tali Allah, dan bebaskan minda dari jiwa hamba. Hari ini rakyat berkuasa, bukan parti politik, bukan ulamak, bukan istana. Pahatkan dalam jiwa Melayu bahawa Allah menentukan segala tetapi Melayu mesti berusaha untuk menjadikan mimpi suatu realiti. Allah tak akan mengubah nasib Melayu kalau Melayu sendiri mengubahnya.
Biarlah kabilah mala'aun UMNO menyalak bukit. Bukit tak runtuh. Melayu tak gusar dan tak sedu sebak tanpa pimpinan UMNO. UMNO sudah pocik beb. Hari ini Tun Mahathir kembali menjadi PM kali kedua, dan Melayu khasnya dan rakyat Malaysia berbilang kaum amnya, akan membentuk sejarah gemilang untuk semua bangsa. Kerajaan PH akan pastikan tidak ada suku kaum di bumi bertuah bernama Malaysia ini bangsat, terpinggir dari arus pembangunan dan kejayaan negara. InsyaAllah Allah akan berkati perjuangan Tun Mahathir dan PH. - Yahaya Ismail
May 9 phone call – Anwar reveals
PKR president-elect Anwar Ibrahim has shed more light on his telephone conversation with former premier Najib Abdul Razak on the night the curtain fell on BN and Umno's six decades in power.
In an interview with ThaiPBS, Anwar said Najib had in that conversation persistently asked for some sort of arrangement, but finally fell silent when the PKR leader directed him to Dr Mahathir Mohamad, then the incoming prime minister.
"He was going on and on saying this – there are possibilities of having some sort of arrangement because we (BN) are not satisfied with the results of the election.
"Finally, I said look, I am still technically in prison... This is going to be your last call to me, after this, you are going to deal with Mahathir.
"Then he became a bit quiet for a while," he said.
When Thai PBS interviewer Suthichai Yoon asked if Anwar had slammed the door completely shut on possible cooperation with BN, he said his message to Najib was that he should concede defeat first and that discussions, if any, could come later.
"He did indicate that he was prepared to discuss and negotiate, but I didn't entertain this. Our mandate was very clear, we won a clear majority. (I told him) this (discussion) would come later.
"If you want to, you have to discuss with Mahathir, he kept quiet... nothing," he said.
However, Anwar said despite his advice to Najib to concede defeat, the outgoing prime minister put it off until the next morning.
"He refused (to concede) until the next morning at around 11am, and even then he was a bit combative.
"It was actually due to his plain arrogance that invited this sort of backlash," he said.
Anwar was freed from prison on May 16 after receiving a royal pardon. He had been jailed for sodomy, a charge he claimed was politically motivated.
Mahathir has promised to hand over the reins of power to Anwar within a couple of years.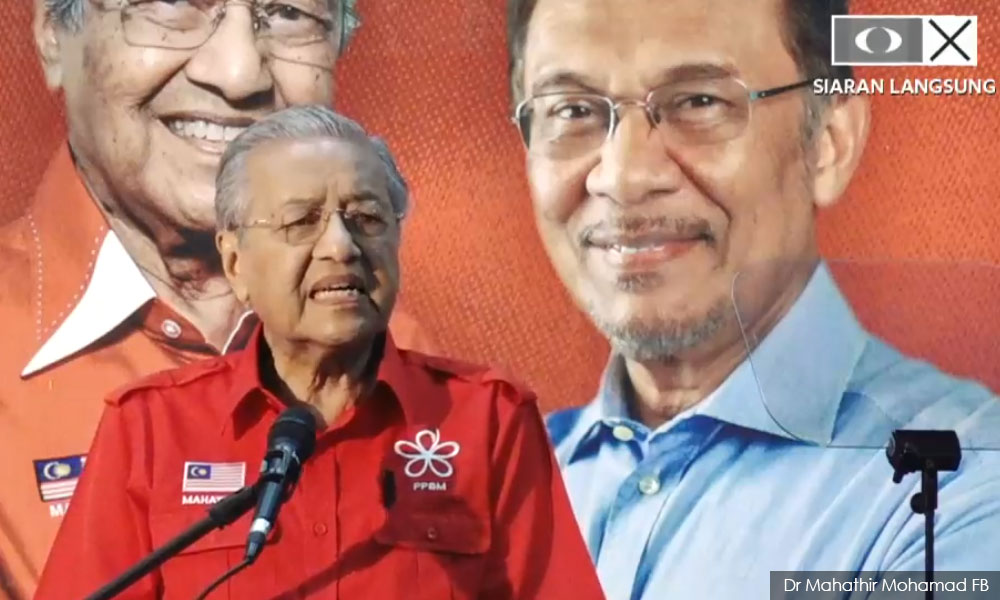 Dr Mahathir Mohamad still complains about how things are being done in Pakatan Harapan, according to PKR president-elect Anwar Ibrahim, but he says he often tells the prime minister that these rules are necessary to keep up with the times.
"Some of these rules, (he asks) 'Why this', 'Why that'... he continues to do that," he said in an interview with ThaiPBS.
Interviewer Suthichai Yoon also asked Anwar if Mahathir cautions him over their differences.
"He did. For example, (he says we are) a bit idealistic, too democratic or too liberal. I said, 'The world has changed, Mr Prime Minister, we are no longer in the 1980s.
"We must have the confidence and trust that we can build (the country back up), but of course it requires strong institutions," he said.
Anwar said he believed that Mahathir had accepted the necessity of reforms after personally witnessing the decline of the country.
"Some people may attribute (these problems) to him, but I would say he could not have imagined that it would have got to this extent."
Mahathir served as the fourth prime minister from 1981 to 2003.
He returned as the seventh prime minister after the May 9 general election following a successful alliance with then-opposition pact Pakatan Harapan, which included Anwar's PKR.
In Mahathir's first stint as prime minister, he sacked Anwar as his deputy in 1998, and had him jailed due to disagreements over the running of the country.
Mahathir was also accused of being a dictator by his critics in the past, due to his jailing of his political opponents.
'Not impressed at first, but I am now'
Anwar told ThaiPBS that he was amenable to an alliance with Mahathir when the latter first approached him with an olive branch, but was not too impressed.
"But I saw how hard he worked, how difficult it was for him.
"In the first few rallies, every speaker before him would say how Mahathir had imprisoned them, or (had them) assaulted... he had to swallow these things.
"Until he end of the (14th general election) campaign, he was there nightly. He was very tough. I think people do give him credit, and I do too," he said.
Anwar added that Mahathir himself suffered by siding with the then-opposition under the administration of Najib Abdul Razak.
Now, Anwar believes he has a "good" relationship with his former nemesis.
"I don't meet him that often, but we have private exchanges once every fornight. I have long chats with him."
These chats, Anwar said, are on policy matters and issues affecting the country.
Asked how he was preparing to take over from Mahathir in the future, Anwar said he is being kept abreast on the country's affairs with the former's blessing.
"The prime minister has been kind. He has allowed the ministers to brief me and talk to me," he said. - mk
Panggilan telefon 9 Mei: Anwar dedah Najib terkedu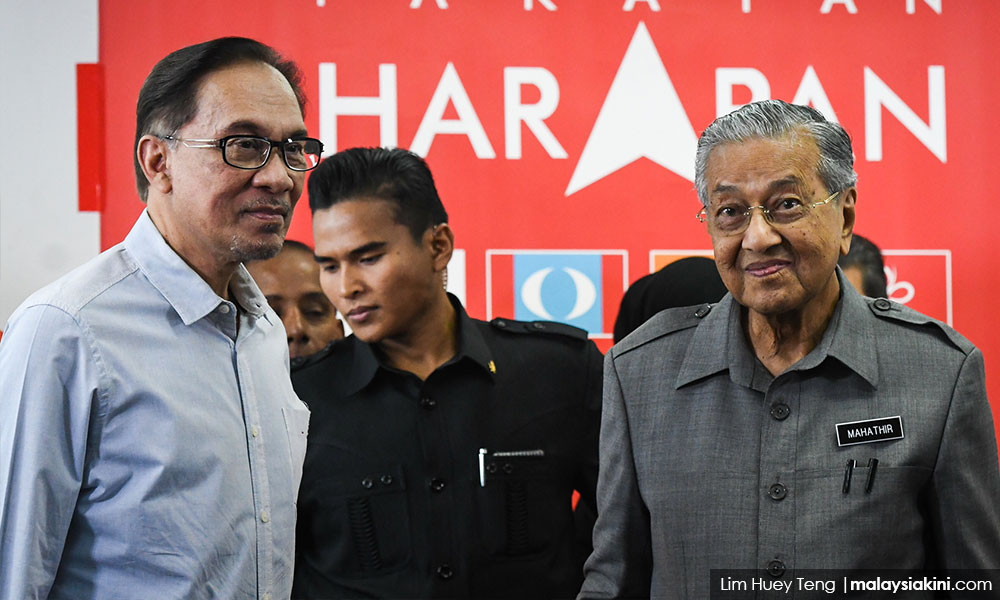 Anwar,Dr M's denials of rift a case of déjà vu...
Two decades have passed since Dr Mahathir Mohamad and his former heir apparent-turned-nemesis Anwar Ibrahim locked horns, giving birth to the Reformasi movement.
Now, the pair finds themselves in a similar situation, where Mahathir is prime minister again and Anwar his supposed successor.
And just like in 1998, speculations of a rift have surfaced and the two have denied this.
For former Umno lawmaker Tawfik Ismail, the son of former deputy prime minister Dr Ismail Abdul Rahman, it is a case of déjà vu.
"Listening to sort of what is denied (now), it is almost like listening to what Anwar and Mahathir said many, many years ago.
"I support you, you support me, then the next day, you know, one is killed (politically)," he told reporters at the launch of the book Anatomy of an Electoral Tsunami in Kuala Lumpur this afternoon.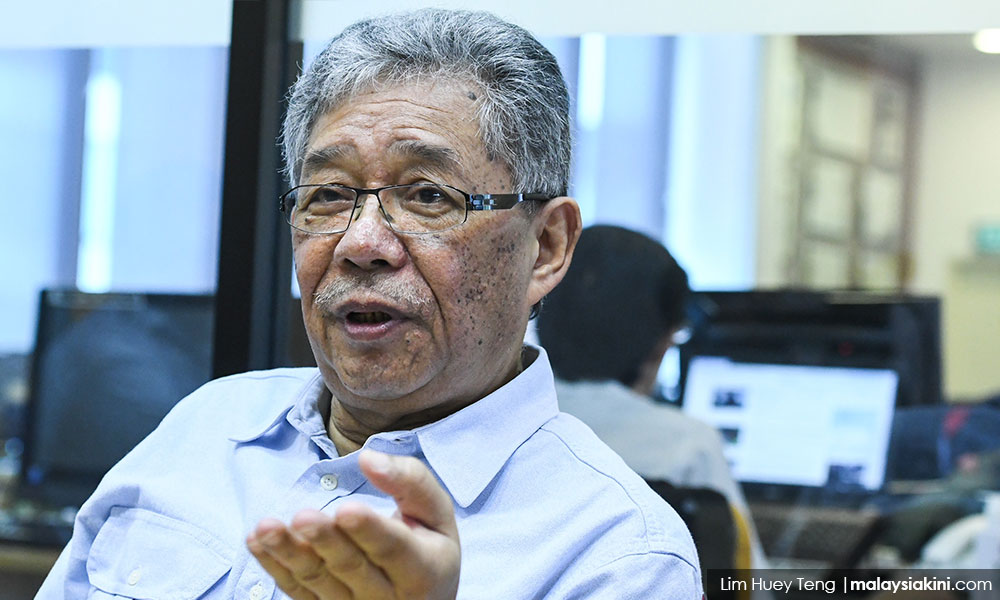 Tawfik (photo) noted that Mahathir does not have the best track record in choosing successors, but now his new coalition Pakatan Harapan has picked Anwar.
"His successor is now named by the Harapan council as Anwar. Can he live with it? Literally, can he live with it?" he questioned.
Tawfik pointed out that all those whom Mahathir had named as his successor failed to become prime minister or were later removed, such as Musa Hitam, Ghafar Baba, Abdullah Ahmad Badawi and Najib Abdul Razak.
"So now he is trying to come back but he has got no friends left. He is 93 (years old), all his friends have died," he added.
Tawfik also claimed that many of the issues and problems in 2018 had lingered from Mahathir's previous administration from 1981 to 2003.
He said the younger generation might not remember or be aware of this, and therefore must learn about what transpired in the past.
The former MP urged the youth to take everything Mahathir says with a pinch of salt.
"I don't know if any of you remember that, but people that lost quite a lot still remember," he added. - mk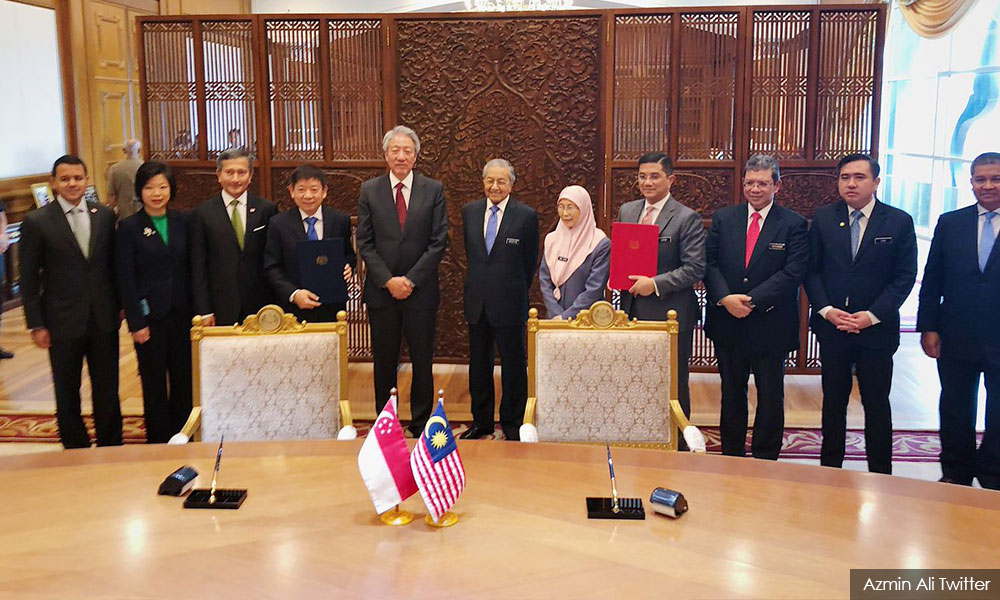 HSR ditangguh, k'jaan bayar kos RM45 juta

Najib create HSR tu,atas alasan makap harga untuk tutup hutang lain.Macam gali lubang tutup lubang lah,buat personel loan 100k,50k joli,lagi 30k utk bayar komitmen,20k byr hutang..Pastu create lagi projek lagi.Modus operandi macam scammer MLM.

- Afdal Hamid Now that the project has been deferred for two years, Malaysia must make full use of this precious

interim to undertake and complete a comprehensive economic and financial feasibility study including cost/benefit analysis, taking into account the full economic spin-off contribution to our economy. It is only after such study that we would be in a position to make a rational and definitive decision as to whether we should proceed with the project. We have made enough fool of ourselves in the past by swinging back and forth on our changing positions on this project using differing rationale, including the shocking variation in project costs from RM55 billion (under Najib's government) to the current RM110 billion. Such irresponsible decision-making for such a gigantic project reflects poorly on Malaysia's political leadership. Time to get down to serious work. No more politicking please.

- Kim Quek

In Nov 2015, the NFCorp chairman (Shahrizat's husband) was acquitted in a case involving RM49.7 million after the prosecution withdrew the charges.
Was MACC shocked?
Was there an outcry by UMNO?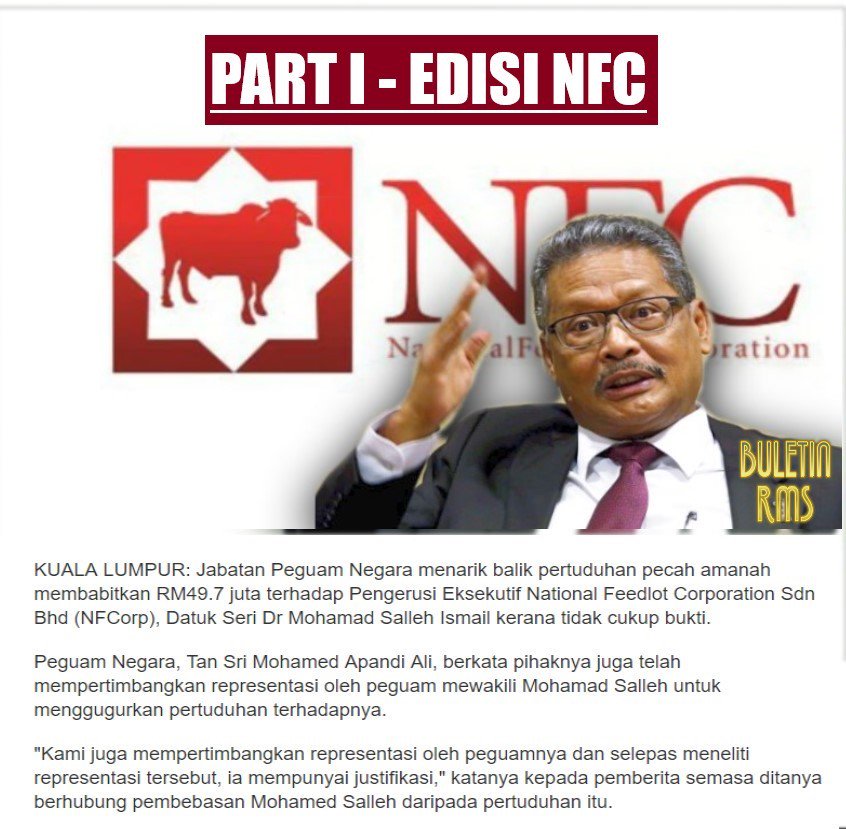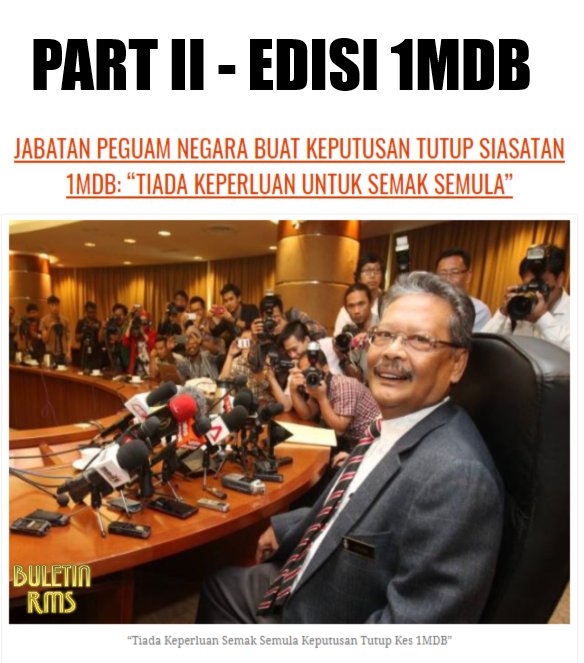 Bila ex-AG tutup kes 1MDB, penyokong perompak bergumbira
khasnya
Najib,walaupun rakyat TERKEJUT..
Did PAS asked for a parliamentary white paper?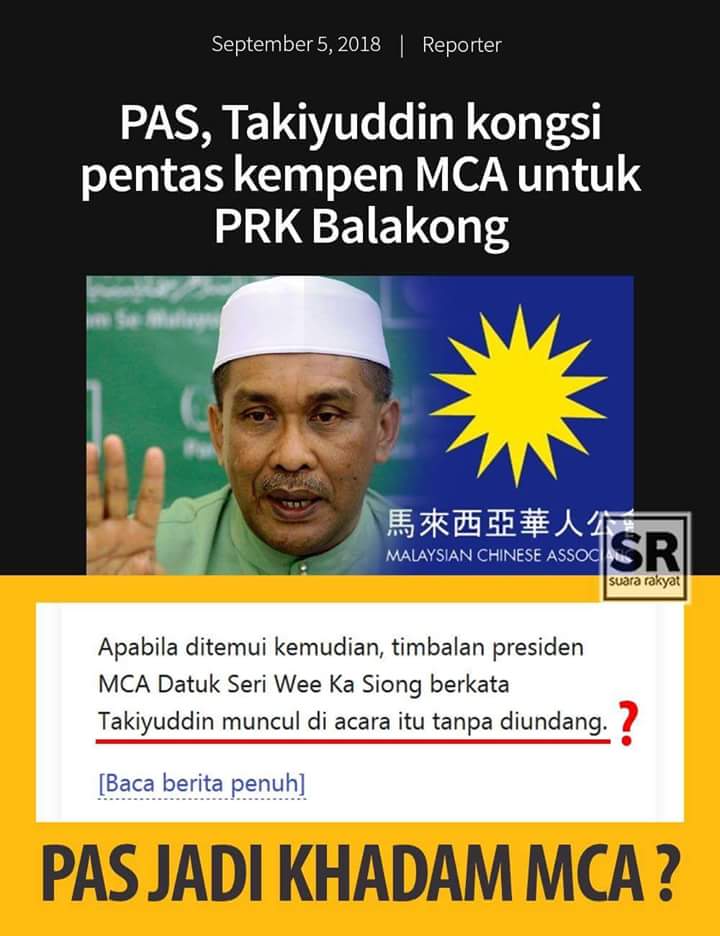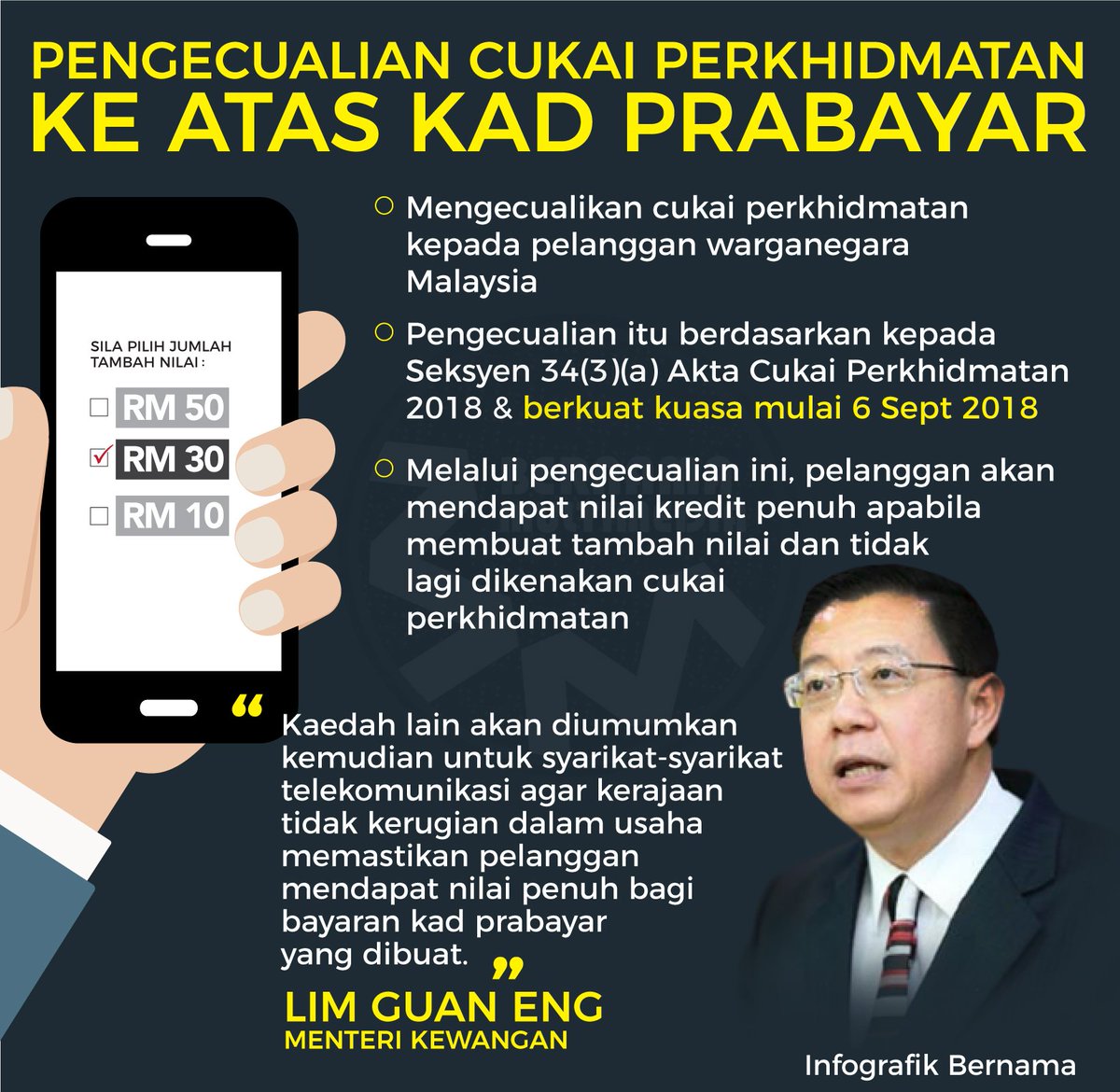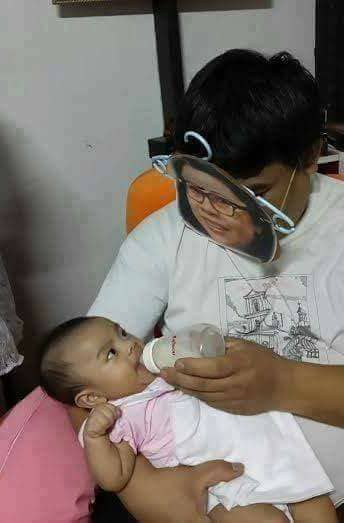 Cara UMNO menipu...
cheers.