Kesian saya membaca kesediaan Zahid Hamidi yang bersedia membawa Umno untuk menubuhkan kerajaan perpaduan dengan mana-mana parti dalam Pakatan Harapan. Kata Zahid gabungan itu tidak ditetapkan tempoh masa, tetapi lagi cepat lagi bagus.
Nampak sangat Putera Ponorogo ini terdesak. Kalau iya pun terdesak takkan lah hendak dilacurkan Umno begitu rendah sekali. Lupakah Umno itu parti keramat yang anda agungkan sebelum ini.
Apakah kerana hendak menyelamatkan diri, sanggup didagang Umno sampai ke tahap itu. Cara Zahid mempermainkan Umno itu boleh membikin ahli Umno lain marah kepadanya. Satu kesilapan besar ahli Umno ialah apabila mengundi Zahid jadi presiden baru-baru ini.
Kalau sudah tidak ada idea dan kredibiliti, elok Zahid melepaskan jawatan presiden Umno dan serahkan kepada mereka lebih berwibawa. Kalau tidak kepada Khairy Jamaluddin mungkin Hishamuddin Hussein boleh memangkunya.
Umno dikalahkan ditangan Najib kemudian jangan ia hancur ditangan Zahid. - MSO
PH has no interest in solidarity government with UMNO
Dalam soksek-soksek macam-macam cerita dan kemungkinan berlaku "bingkas" politik, Dr Mahathir dilaporkan mengulangi ikrar yang Anwar akan jadi perdana menteri. DrMahathir mengatakan dia akan melepaskan jawatan itu sepert dikonsensus bila sampai masanya.
Katanya dua tahun, mungkin lebih mungkin kurang. Saya yakin kalau Anwar tenang, ia boleh jadi kurang.
Harap kenyatan Dr Mahathir itu diakui dan diakuri oleh semua orang. Dr Mahathir membuat pernyataan (ketegasan) itu mungkin ekoran adanya soksek-soksek yang kurang enak didengar ke belakangan ini. Cerita bawah tikar, dalam gelap ini tidak diketahui umum, tetapi ia sudah menghiris telinga orang yang mendengarnya.
Macam-macam. Kononnya Anwar menggunakan kuasa lain untuk menekan Dr Mahathir agar segera turun. Langkah beliau bertanding di Port Dickson adalah sebagai penandanya. Dan disamping itu ada tindakan lain, yang di luar pengetahuan Anwar pula.
Kenyataan buruk Abdullah Sani terhadap Dr Mahathir juga diambil sebagai bahan bukti mentah untuk melungyaikan Dr Mahathir dengan Anwar.
Lim Kit Siang pula menyatakan yang keyakinannya Anwar akan mengambil alih jawatan PM daripada Dr M dengan baik. Justeru beliau menyeru agar PH diperkukuhkan. Mungkin Kit Siang juga terhidu perancangan yang sedang berjalan yang boleh melemahkan hatta menghancurkan PH.
Anwar sepatutnya tidak merestui apa-apa usaha jalan belakang untuknya menjadi PM. Beliau jangan percaya kepada mana-mana golongan yang mahu menjadikan dia sebagai keldai untuk melintasi sahara atau buaya bagi digunakan untuk menyeberangi sungai.
Saya selalu memberi mesej kepada Anwar usah gopoh usah gaduh, usah terburu-buru, tidak akan lari gunung dikejar, hilang kabus nampaklah ia. Secara peribadi saya mahu melihat Anwar mengangkat sumpah sebagai PM.
Dan Dr Mahadir sebenarnya bukan kabus melindungi gunung, yang menjadi kabus ialah orang2 bernafsu dan tidak sabar mahu memperalatkan Anwar untuk kepentingan mereka. Mereka kini bersedia dengan berbagai proposal projek. Awasi mereka kerana mereka adalah racun. - MSO
Hentikan adu domba hubungan saya dan PM.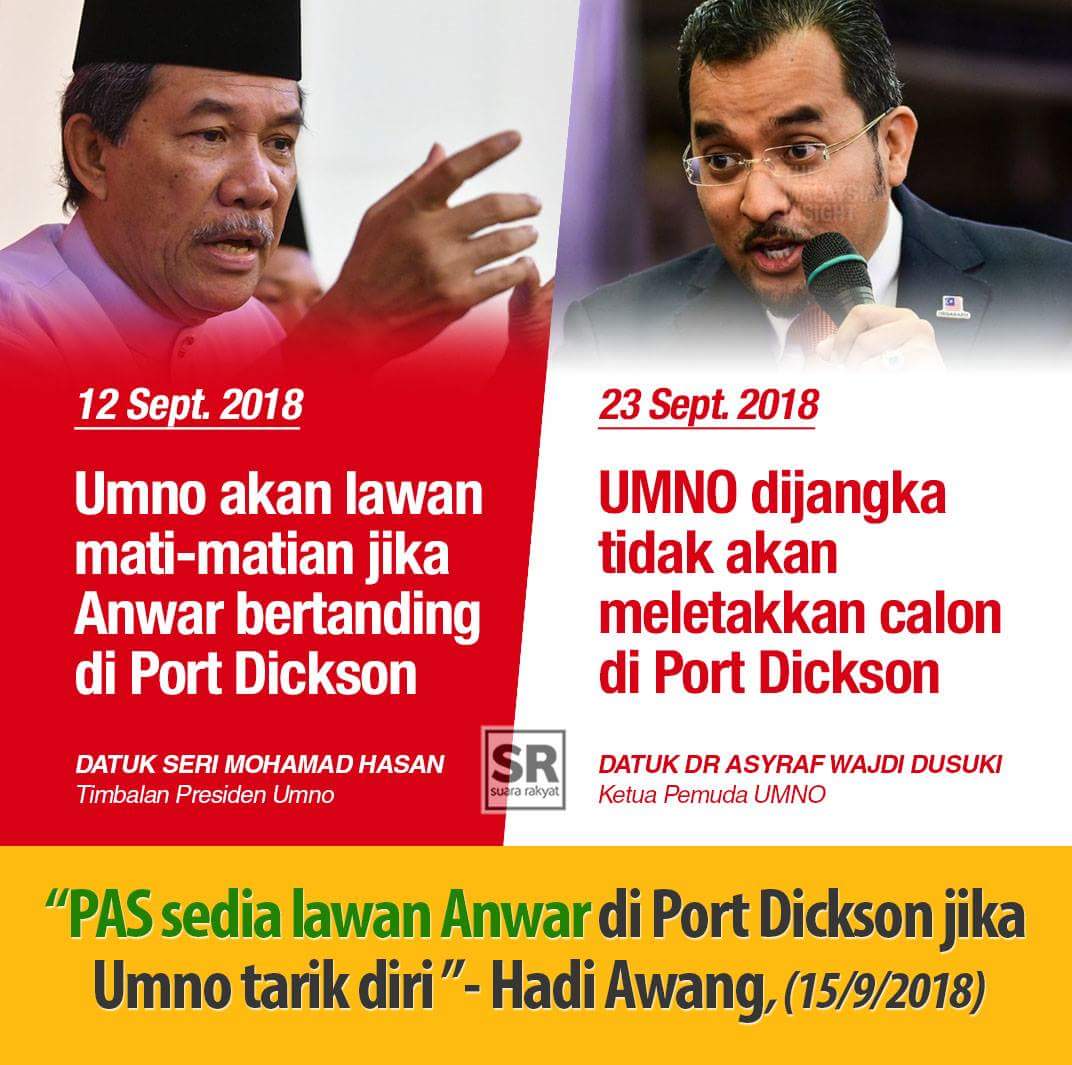 BN has announced not to contest in Port Dickson by-election. Ahmad Zahid explained it was to protest a by-election created specifically to fulfill the wish of a single individual.
Which sounds a little weird.
If you don't agree to your rival creating a by-election, the right thing to do is to get the voters to say "no" together to such a trick, not to pull out from the race so that the rival gets his way.
I think Ahmad Zahid's reason sounds more like an excuse than anything else.
No-contest is very much an embarrassing thing for BN, a former ruling coalition and now the largest opposition front.
Not contesting in the by-election means BN is giving up an opportunity in political participation.
Where this is concerned, BN should pick up a lesson from Parti Rakyat Malaysia, PRM, a tiny outfit unknown to nine out of ten Malaysian voters.
Winning a seat is as difficult as keeping the deposit. That said, the party insists to take part in an election to proclaim its political philosophy.
The raison d'être of any party lies with its poliitcal philosophy which is not to be kept neatly at home but conveyed to the masses through participation in an election.
Stevie Chan Keng Leong, an independent, vows to challenge Anwar Ibrahim because he wants to tell Anwar it is undemocratic to create a by-election even though many will see him as a fool.
BN/Umno may have their hidden reasons not to challenge Anwar, which they find it very inconvenient to tell the world.
Or perhaps Anwar is not even their biggest enemy in the current highly intricate political environment. Instead of facing off with Anwar, why not avert a heads-on clash and do him a special favor?
Let's look back at what former minister Mohamed Nazri said recently.
He said Umno should not contest in Port Dickson, and he even offered to campaign for Anwar in PD.
Nazri found himself become a target of public wrath in Umno, and deputy president Mohamad Hasan vowed that Umno would go all out to fight Anwar in PD.
Though not a mainstream figure in Umno, Nazri with his decades of experience in government knows how to survive in poliitcs.
He said campaigning for Anwar was the best way for Umno to return to Putrajaya.
"To be the government again, we need to work with PKR. We need to show a friendly gesture and let Anwar win in the by-election."
I dare say Nazi is not alone; many in Umno will think likewise.
To many Umno politicians, a leader can come and go, and anyone can become a leader if this goes well with people's interests.
They pledged loyalty to Najib in the past, and follow wherever Ahmad Zahid takes them today. Who knows they may turn to Anwar or even Mahathir tomorrow?
There are no eternal leaders, or enemies, in politics. - mysinchew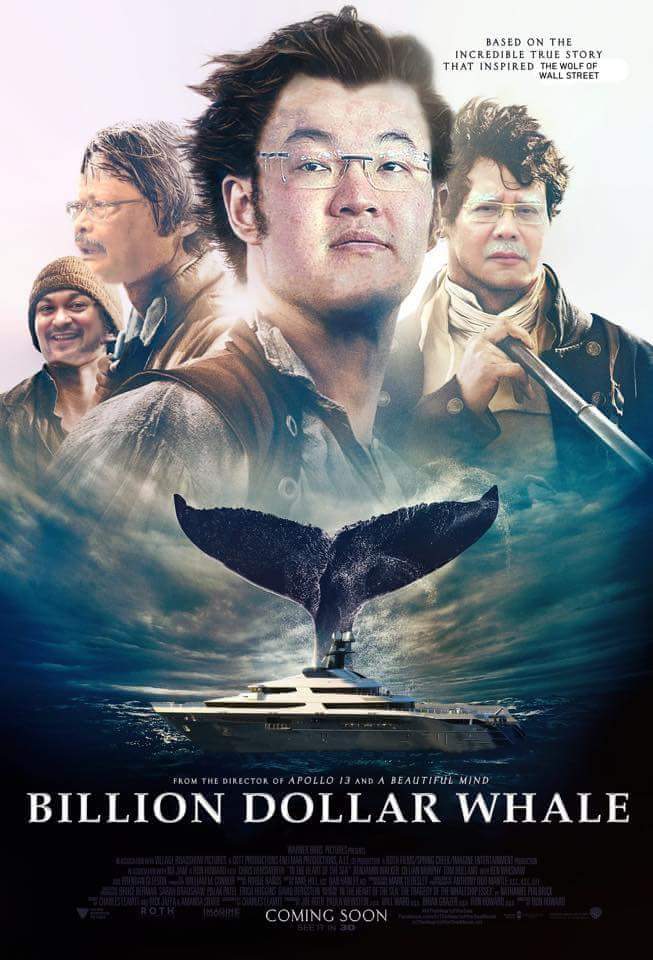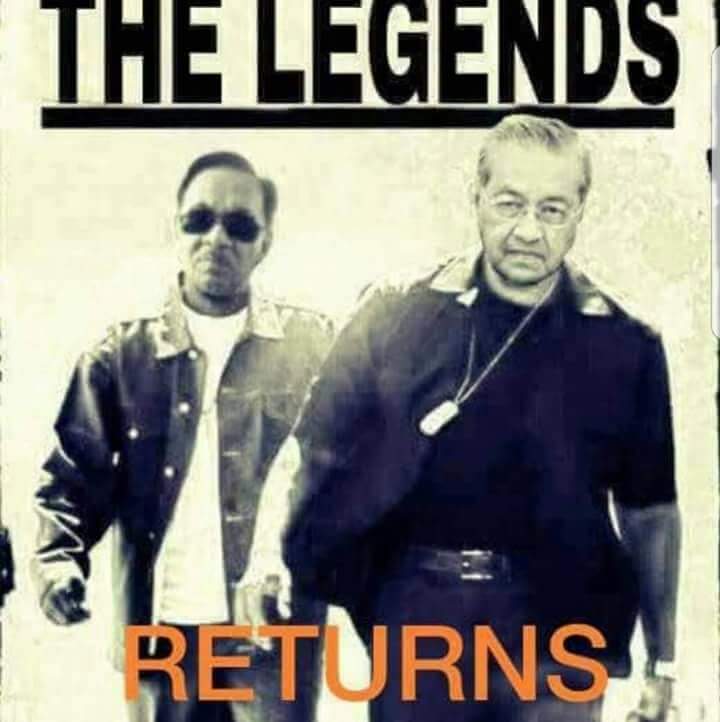 cheers.