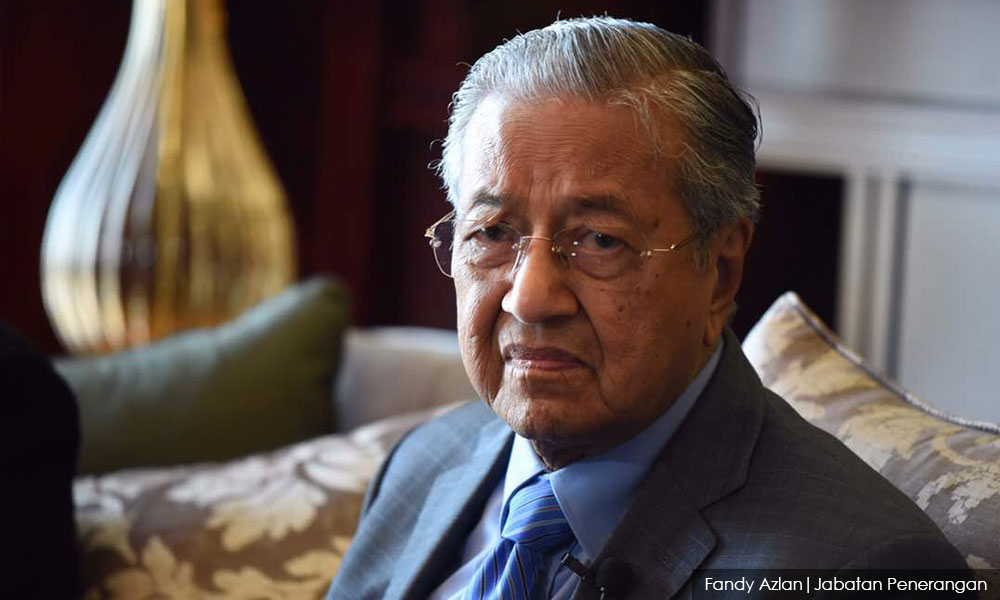 Dr.M : How stupid can Najib be...
Prime Minister Dr Mahathir Mohamad has bestowed an unflattering title on his predecessor Najib Abdul Razak's administration with regard to contracts for mega projects with Chinese firms.
According to him, the nation has never witnessed such foolishness in negotiating contracts.
"Such stupidity has never been seen in the history of Malaysia," he said.
Mahathir was speaking at a press conference in Beijing where he is on an official visit to renegotiate the terms for the East Coast Rail Link (ECRL) and two gas pipeline projects by Suria Strategic Energy Resources (SSER).
The prime minister confirmed that the Chinese government had "understood" when he explained that Putrajaya was deferring the ECRL and SSER projects because the country could not afford them.
The amount of compensation for both had yet to be worked out but he expected it to be "quite substantial".
"We must find a way to exit this project (ECRL) and at the lowest cost possible, (and) we will have to pay compensation.
"But this is our own people's stupidity. We can't blame the Chinese for that," he added.
Mahathir further criticised Najib for agreeing to contracts like the SSER, where money was paid based on a timeline rather than progressive work completion milestones.
"I have never heard of a contract where you pay on time without work (being) done. Normally, we pay according to the work done. What kind of stupidity is this?" he questioned.
RM500m to compensate postponing HSR
China had previously expressed keen interest on the Kuala Lumpur-Singapore High-Speed Rail (HSR) but Putrajaya is also looking at postponing that project.
Today, Mahathir described the HSR as "unnecessary" and said the government must yet again be prepared to fork out large sums in compensation.
"Well, if we have to pay compensation, we have to pay.
"This is the stupidity of the negotiations before. Why (would) you enter into such agreements (where) you pay a huge compensation if you don't go ahead? There must be exit clauses in all agreements, and the exit clauses must be fair to both parties.
"But if we (can't) solve it, we will have to pay huge sums of money for the HSR. We have negotiated but if we fail to do it, the compensation is more than half a billion ringgit (RM500 million)," he said.
Mahathir elaborated that the HSR was not needed because it would not significantly cut short travel time between Kuala Lumpur and Singapore, unlike similar rail projects around the world.
"For an HSR, you need a long distance and then, you will save time. (For example) if you can travel for three hours (now) when before that you had to take eight hours, then there is a saving of five hours.
"But if you travel from Singapore to Kuala Lumpur and save 15 minutes (but) you have to pay a lot of money, you will be very stupid," he said. - mk
Rundingan kontrak Najib dengan China 'paling bodoh'
Jom ke Seri Setia.Raikan perkawinan kami...
cheers.