Dewan Rakyat terus dicemari dengan penggunaan perkataan kesat, hari ini oleh Datuk Bung Moktar Radin (BN-Kinabantangan) pula.
Wakil rakyat lantang itu hari ini naik angin dan menghamburkan kata-kata carutan dalam bahasa Inggeris, selepas diusik sama ada beliau ada pergi ke kasino.
Bung pada mulanya mencelah ketika Khairy Jamaluddin (BN-Rembau) membahaskan isu pemansuhan cukai barangan dan perkhidmatan (GST).
Willie Mongin (HARAPAN-Puncak Borneo) kemudian bangun bertanya:
"Pergi kasinokah Kinabatangan?"
Ia merujuk kepada gambar tular berkaitan di media sosial.
Bung naik angin dan menjawab:
"Apa ini? Biadab! Ini kurang ajar, tarik balik. Ini biadab. Memang kurang ajar. YB tak layak duduk sini. Samseng. What you want. You mau gaduh dengan saya?
Thomas Su (HARAPAN-Kampar) kemudian bangun berkata Puncak Borneo cuma bertanya soalan.
Ia menyebabkan Bung membalas dengan terus mencarut dua kali dalam Dewan.
Kata kesat Bung Moktar mendapat reaksi ramai Anggota Parlimen PH yang mahu Timbalan Yang Dipertua Dewan Rakyat Datuk Mohd Rashid Hasnon menghalau Bung Moktar keluar dari dewan.
Bagaimanapun, Datuk Seri Ronald Kiandee (BN-Beluran) yang juga bekas Timbalan Yang Dipertua Dewan Rakyat mencelah berkata Willie telah melanggar Perkara 36 (9) Peraturan-peraturan Majlis Mesyuarat Dewan Rakyat, yang menyebut bahawa dalam apa-apa perbahasan, sifat dan kelakuan seorang Anggota Parlimen tidak boleh disebut.
Su Keong Siong (PH-Kampar) kemudian bangun mencelah berkata Bung Moktar tidak perlu marah sekiranya beliau tidak buat perkara yang telah disebut Willie.
Mohd Rashid kemudian menangguhkan sesi pagi sidang dewan sebelum meminta Bung Moktar menarik balik perkataan berkenaan selepas sidang dewan bersambung semula pada 2.30 petang.
Bung Moktar akur dengan arahan itu. - mk
Keluarga Shahrizat Jalil masih berhutang RM249 juta kpd. rakyat Malaysia...
Syarikat National Feedlot Corp Sdn Bhd (NFCorp) masih menanggung hutang sebanyak RM248.9 juta kepada kerajaan.
Daripada jumlah itu, RM4.3 juta adalah faedah atas kelewatan pembayaran.
Menteri Kewangan, Lim Guan Eng memberitahu Dewan Rakyat bahawa hutang pokok yang belum dibayar ialah RM224.8 juta manakala faedah daripada jumlah itu sebanyak RM19.8 juta.
Mohon agar Kubang Kerian cepat-cepat adakan pertemuan dengan keluarga Shahrizat Jalil supaya kenyataan berpuas hati atas penjelasan mereka dapat dilakukan sebagaimana yang dibuat terhadap Arul Kanda Kandasamy terhadap skandal 1MDB.
FAKTA
HUTANG POKOK : RM224.8 juta
FAEDAH : RM19.8 juta
FAEDAH SEBAB LAMBAT BAYAR : RM4.3 juta
JUMLAH BESAR : RM248.9 juta
Mahathir Cleverly Brings Home $250 Million "Equanimity" Yacht Before Fugitive Jho Low Claims It...
Equanimity has entered Malaysian waters after a short journey from Batam, Malaysia. The luxury yacht belonging to ex-PM Najib Razak's partner-in-crime Jho Low was reportedly escorted from Batam by the Malaysian marine police vessel KPD Setia. Both vessels were anchored about two nautical miles off the coast of Pengerang in Johor, as of 6pm.
The Equanimity, valued at least US$250 million (RM1 billion), which among others fitted with a helicopter landing pad, an on-board gymnasium, a cinema, a massage room, an experiential shower and a plunge pool, was among some assets being sought by the U.S.-DOJ in its investigation over money laundering involving 1MDB (1Malaysia Development Bhd).
The seized superyacht is expected to arrive in Port Klang as early as 10.45am Tuesday (7 August). Already, Prime Minister Mahathir Mohamad is super excited and happy that the yacht is now in the government's possession. He immediately thanked Indonesian President "Jokowi" Joko Widodo for his assistance and cooperation in handing over the billion-ringgit yacht to Malaysian authorities.
Now, we know what Mahathir did when he visited Indonesia in June. The Malaysian prime minister made a personal request to Indonesia for the hand over of the yacht to Malaysia. Not only did President Jokowi agreed to hand over the Equanimity, he had also gladly instructed his boys to search and arrest fugitive Jamal Yunos and hand him over to Malaysia too.
Billionaire Jho Low (fullname: Low Taek Jho) was freaking furious after learning the secret deal between Indonesia and Malaysia. He, however, is believed to have bought the US$250 million yacht using money stolen from 1MDB. Mr. Low has never expected the Indonesian authorities would hand over his favourite yacht to Malaysia so easily.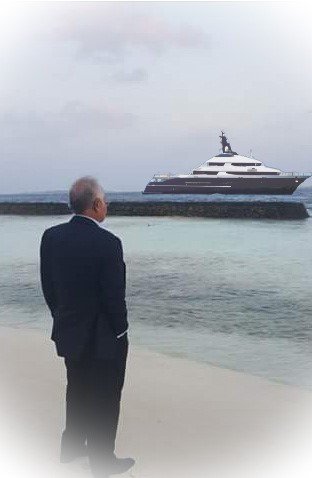 Jho Low's lawyers instantly went ballistic, claiming that the Malaysian government's seizure of the yacht Equanimity is illegal, and that the confiscation of the luxury vessel – which they said is owned by Equanimity (Cayman) Ltd – broke an Indonesian law and court decision, besides breaching recent United States court orders.
But that's precisely how the old but cunning Mahathir outsmarted the young thief. Like a fox quietly stalking before pouncing on its prey, the 93-year-old prime minister made the surprise move to check-mate Jho Low. Anyone who claims ownership of the yacht Equanimity and wants to recover it must first show proof of purchase – declared Mahathir Mohamad.
Mahathir has no interest playing the long game in court just to prove the ownership of the Equanimity when every Tom, Dick and Harry knew the yacht was bought with Malaysian taxpayers' money. Hence, he said in a video posted in his Facebook page – "We believe that the yacht belongs to Malaysians as it was bought by money stolen by 1MDB …"
Low's lawyers pointed out that the U.S. Department of Justice (DoJ) has argued that it must have possession of Equanimity to ensure that the asset retains its value pending a court hearing that can determine the final ownership and the rights of all parties involved. But that's precisely the problem – the U.S.-DoJ almost lost the yacht back to Jho Low due to technical reasons.
The U.S.-DOJ had lodged a civil forfeiture suit against the US$250 million vessel on June 15 last year as part of a series of 30 civil forfeiture suits aimed at seizing properties that were purported to be the proceeds of misappropriation of 1MDB funds that had been channelled through the U.S. financial system. It also claimed that the Equanimity is owned by Jho Low through a series of intermediaries.
On Feb 28 this year, Indonesian authorities boarded and seized the vessel at the U.S.-DOJ's request. However, the South Jakarta District Court ruled that the seizure was invalid because the U.S.-DOJ's mutual legal assistance request was channelled directly to the Indonesian police, whereas Indonesian law requires the MLA request to be made through the Ministry of Law and Human Rights.
As a result, the U.S.-DOJ's Office of International Affairs was forced to re-submit a request for mutual legal assistance (MLA) to the Indonesian Ministry of Law and Human Rights on April 19. In July, the Indonesian authorities again boarded and seized the superyacht Equanimity after the previous seizure conducted in February was declared null and void on technical grounds.
Like it or not, the U.S.-DoJ may lose its claims over the vessel before the yacht could sail for America because they are unfamiliar with the messy Indonesian law. The Equanimity's registered owner, obviously on behalf of actual owner Jho Low, has been trying to challenge the seizure on "procedural grounds", while a case was also filed in the U.S. courts to determine its ownership.
There's another huge problem with letting the U.S. authorities manage the claims of the yacht. The U.S. isn't interested in throwing crooks into prison. America is notorious for making deals with white-collar criminals. Yes, they are more interested in settlement than putting crooks behind bars as can be seen in the case of Najib's stepson – Riza Aziz.
In March this year, the producer behind the 2013 film – "The Wolf of Wall Street" – Red Granite Pictures, co-founded by the ex-Malaysian prime minister's stepson, agreed to pay the U.S. government US$60 million to settle a civil lawsuit which sought to seize assets allegedly bought with money stolen from a Malaysian state fund, 1MDB.
Essentially, Riza Aziz admitted to stealing the money but the U.S. authorities were happy to a fine of just US$60 million. In the same breath, even after the U.S.-DoJ successfully brought back the US$250 million superyacht Equanimity to the U.S., there's no guarantee that the Yankees won't make a deal or settlement with Jho Low. After all, this is just a civil lawsuit.
However, now that the new Mahathir government is taking over the yacht, it's a different ball-game altogether. The old man has already thrown the challenge – prove it to own it. It's hard to imagine how Jho Low's lawyers could play the fool with Malaysian legal system when the entire nation is on the hunt for the notorious Jho Low.
True, the way Mahathir took away the yacht from Indonesian and the U.S. is quite controversial. But it was also the cleverest manoeuvre. Jho Low's lawyers are panicked, judging from their whining and bitching about Mahathir's so-called "illegal" act. Well, they have to prove that fast because the Finance Ministry plans to sell the yacht to the highest bidder. - ft
cheers.