1. Sekarang saya boleh dedahkan beberapa perkara penting yang saya rahsiakan selama ini susulan peletakan jawatan YB Menteri Pendidikan Dr. Maszlee Malik semalam.
2. Ramai yang bertanya bagaimana saya boleh kembali menulis dan menegur dasar-dasar kerajaan selepas diarahkan untuk tidak lagi menulis isu politik yang sensitif pada tahun lepas.
3. Jika ada yang masih ingat, saya diberi arahan sedemikian selepas menegur tindakan kerajaan Pakatan dalam isu penjualan aset negara secara besar-besaran tanpa digantikan dengan sebarang pelaburan pembelian aset baru yang kredibel (hingga ke hari ini).
4. Selama ini saya mengambil pendirian untuk tidak mengampu atau memuji-muji kerajaan Pakatan sama sekali kerana pertimbangan konflik kepentingan – terutama sekali Dr. Maszlee Malik kerana beliau adalah dikira sebagai merangkap 'bos' saya selaku Pensyarah Universiti Kebangsaan Malaysia (UKM).
5. Sebaliknya, saya memilih untuk menegur kerajaan dengan tegas – dengan harapan supaya kepentingan Islam, negara, dan rakyat dipelihara semaksimum yang mungkin oleh para Menteri dan seluruh ahli Kabinet – termasuklah Dr. Maszlee sendiri.
6. Tentulah saya tidak sangka selepas 10 tahun berkhidmat di UKM akhirnya saya dikenakan larangan sedemikian rupa – hanya semata-mata kerana tekanan oleh segelintir 'Penasihat' yang cukup berpengaruh. Saya tidak akan lupa bagaimana para Ulama seperti Dato Seri Tuan Ibrahim Tuan Man dan Ustaz Idris Ahmad dari Parti Islam Se-Malaysia (PAS) tampil membela saya ketika itu.
7. Namun begitu, arahan larangan ke atas saya daripada menulis isu politik yang sensitif itu kemudiannya telah terbatal dengan pendirian Dr. Maszlee Malik yang menegaskan kebebasan kami para ahli akademik.
8. Malah, Dr. Maszlee ketika itu menegaskan tentang usaha beliau dan Kementerian Pendidikan untuk melaksanakan pindaan terhadap Akta Badan-badan Berkanun (Tatatertib dan Surcaj) 2000 – Akta 605.
9. Di sebalik tekanan daripada 'Penasihat' tertentu, beliau tetap mempertahankan saya – bahkan hingga ke dalam Mesyuarat Kabinet.
10. Dr. Maszlee juga bersama-sama pentadbiran UKM telah bertindak untuk memastikan bahawa saya tidak dikenakan sebarang tindakan semata-mata kerana teguran saya ketika itu.
11. Jasa Dr. Maszlee ini – dengan doa sokongan rakan-rakan dan para ulama seperti Dato Seri Tuan Ibrahim Tuan Man dan Ustaz Idris Ahmad – telah membolehkan saya untuk kembali menulis dengan kritis tentang isu-isu politik semasa – sesuai dengan posisi saya sebagai Pensyarah Program Sains Politik.
12. Berkenaan isu terkini, saya juga dihujani pertanyaan yang tidak henti-henti sejak semalam tentang keputusan Dr. Maszlee Malik memulangkan semula jawatan Menteri Pendidikan selepas dinasihati YAB Perdana Menteri Tun Dr. Mahathir Mohamad.
13. Keputusan ini tentulah mengejutkan dan mengecewakan jutaan pelajar, guru, dan ibu bapa di seluruh negara kerana faktanya jelas bahawa Dr. Maszlee Malik merupakan Menteri yang terbaik dalam kerajaan hari ini.
14. Data dan fakta jelas menunjukkan bahawa dasar-dasar yang diperkenalkan oleh Dr. Maszlee benar-benar memberi impak langsung kepada golongan berpendapatan pertengahan dan rendah, menyediakan anak-anak kita untuk persaingan di pentas global pada masa hadapan, di samping tegas dalam isu Melayu-Islam sebagai teras pembangunan negara bangsa kita.
15. Anak-anak kita dilengkapi kemahiran belajar 'coding' dan 'programming', tiada lagi pemisahan ekstrem aliran Sains dan Sastera, pemerkasaan sekolah agama dan tahfiz, TVET, berpeluang untuk menikmati sarapan percuma, penyamarataan peluang kepada anak-anak B40, pembebasan tekanan murid darjah 1 hingga 3 daripada peperiksaan, dan sebagainya.
16. Itu belum lagi keringanan beban para guru seperti penghapusan pengisian kehadiran manual dan pertukaran guru secara suka sama suka. Semua ini beliau lakukan dalam keadaan terpaksa berhadapan dengan tekanan ekstremis yang berpengaruh di dalam dan di luar kerajaan.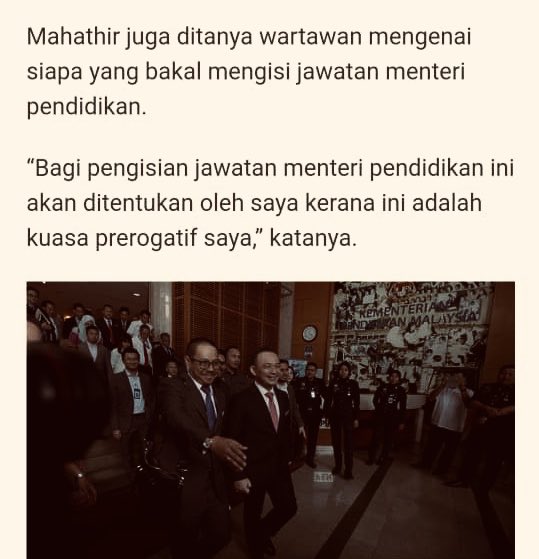 17. Tentulah ramai yang mempersoalkan mengapa Dr. Maszlee Malik yang 'dinasihati' (baca: dipecat) oleh Tun Mahathir? Bukankah ada ramai lagi menteri lain yang jauh lebih buruk dari segi pencapaian berbanding beliau?
18. Dan mengapa pula beliau akur menuruti 'nasihat' Tun Mahathir itu? Mengapa Dr. Maszlee tetap setia dengan 'Ayahanda Tun' dan 'Parti Bersatu'? Mengapa tidak beliau melawan, pertahankan kedudukan selaku Menteri Pendidikan dan lancarkan gerakan 'Reformasi' seperti mana Datuk Seri Anwar Ibrahim lakukan dahulu?
19. Jawapannya tidak lain tidak bukan: kerana kuasa politik. Tun Mahathir tidak perlukan seorang Menteri Pendidikan yang tidak mampu untuk dikawal. Dr. Maszlee bebas daripada sebarang prestasi buruk ketika memegang jawatan apatah lagi rekod anasir rasuah mahu pun salah laku – sekali gus menjadikan beliau tidak mudah dikawal.
20. Akibatnya, Dr. Maszlee tidak mudah tunduk pada desakan rakan Pakatan yang tidak berkongsi aspirasi beliau dan juga orientasi Melayu-Islam. Contohnya seperti dalam isu Jawi mahu pun dalam isu kontrak projek 1Bestarinet dari YTL Communications yang berjumlah keseluruhan RM4 bilion yang ditukar kepada Telekom Malaysia Berhad, Celcom Axiata Berhad, dan Maxis Broadband Sdn Bhd. Kesemua isu ini disebut sendiri oleh Dr. Maszlee ketika sidang media khas semalam.
21. Dr. Maszlee juga jelas berusaha menempatkan rakan-rakan beliau dari IKRAM – yang juga meski pun layak dari segi kepakaran – ke posisi yang strategik untuk jangka panjang. Langkah sebegini menimbulkan kebimbangan yang amat sangat kepada para 'hulubalang' parti Bersatu yang bukan IKRAM.
22. Tambahan pula, langkah ini menimbulkan kecurigaan dari segi kesetiaan Dr. Maszlee kepada Tun Mahathir – adakah beliau akan menyokong Tun Mahathir atau Datuk Seri Anwar Ibrahim jika pertembungan meletus kembali antara dua seteru lama itu? Dalam keadaan Dr. Maszlee tiada tekanan rekod rasuah dan berimej Islamik, kemungkinan beliau tidak akan terikat untuk memberi sokongan kepada Tun Mahathir dan berpotensi untuk menyokong peralihan kuasa kepada Datuk Seri Anwar Ibrahim.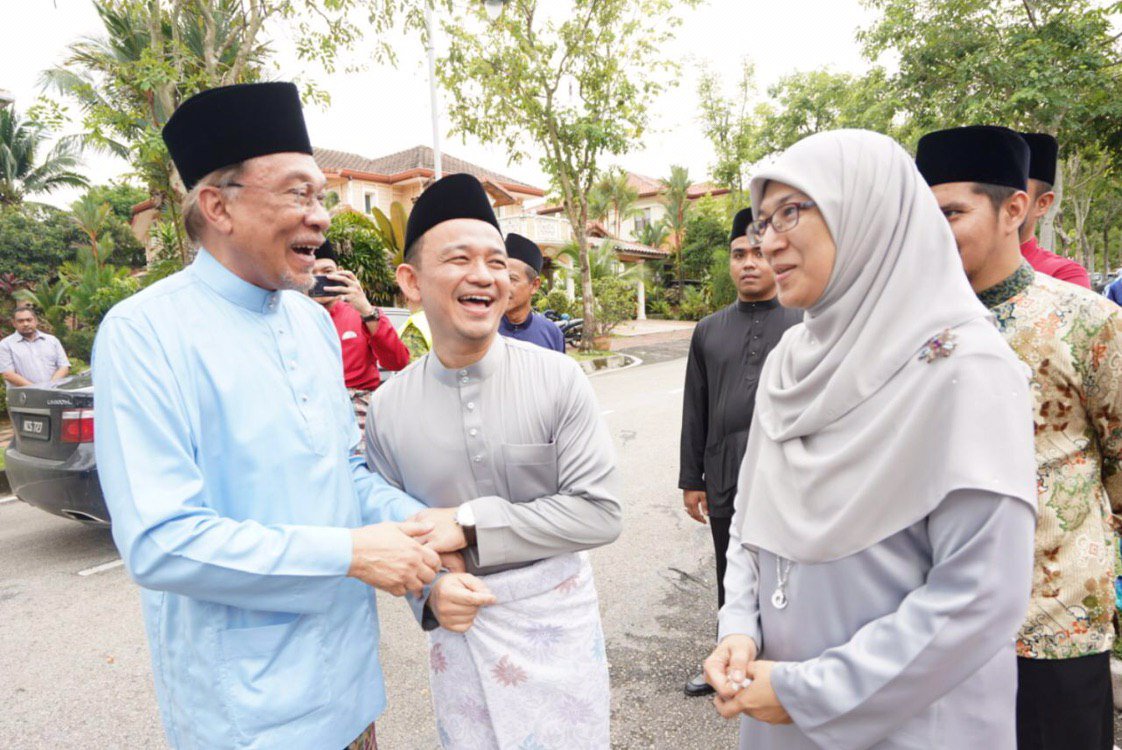 23. Pada sisi yang lain, Kementerian Pendidikan merupakan kementerian yang memiliki peruntukan kewangan yang terbesar – Dr. Maszlee boleh diganti oleh Tun Mahathir dengan mana-mana pemimpin Bersatu bekas ahli UMNO.
24. Langkah ini akan memberi isyarat 'menarik' kepada ahli-ahli Parlimen UMNO-BN sekiranya mereka bersedia untuk memberi sokongan kepada Tun Mahathir dalam pertembungan dengan Datuk Seri Anwar Ibrahim nanti.
25. Sasaran utama isyarat ini pastilah kepada 21 ahli Parlimen UMNO-BN yang menghadiri pertemuan sulit bersama Datuk Seri Azmin Ali di kediaman beliau tahun lalu. Begitu juga buat para ahli parlimen PKR yang tidak semestinya setia dengan Datuk Seri Anwar Ibrahim.
26. Begitu juga tindakan Tun Mahathir ini memberi isyarat bahawa beliau tidak teragak-agak untuk memecat mana-mana ahli kabinet saat ini yang tidak setia dengan beliau.
27. Pastinya, sebagai seorang manusia biasa, Dr. Maszlee Malik tidak maksum. Namun begitu, tugas yang telah beliau laksanakan benar-benar memberi impak yang positif buat berjuta warga pendidik di seluruh negara sepanjang 600 hari yang lalu. Terima kasih Dr. Maszlee.
Semoga Allah peliharakan Dr. Maszlee Malik sekeluarga. Semoga Allah peliharakan sistem pendidikan kita. Semoga Allah peliharakan kestabilan politik negara kita. - Abdul Muein Abadi (
Pensyarah Program Sains Politik UKM)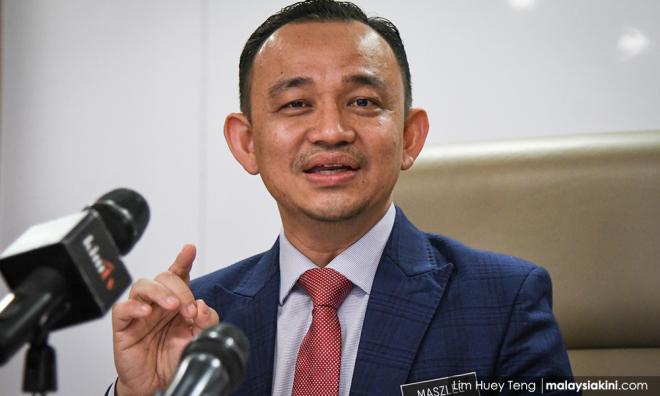 After being asked to resign,Maszlee
now
understands Hang Tuah's feelings...
Former education minister Maszlee Malik said he finally understands the feelings of the legendary warrior Hang Tuah after being asked to step down from the position.
Maszlee (above) was heard saying so to several individuals at a dining table in a 57-second clip uploaded on Twitter by a user known as @azmyklanajaya.
'When I received a letter from Tun (Prime Minister Dr Mahathir Mohamad) asking me to resign, at that time, I told myself: now I know the feelings of Hang Tuah.
Maszlee samakan dirinya seperti Hang Tuah yang dipecat Sultan
"It means, Hang Tuah did not see what was happening, he (only) saw the opportunity given by the king.
"If the king did not give him the opportunity, he wouldn't have the chance to defend Malacca, to fight the pirates, to offer his service, isn't it?"
According to the chronicles of Hang Tuah, Sultan Mansur Shah sentenced him to death for treason, but the Malacca bendahara had rescued and hid him in a remote region of Malacca.
Maszlee resigned on Jan 2 on the advice of the prime minister.
Commenting on a leaked letter penned by Mahathir himself which asked Maszlee to resign, the 94-year-old premier said his request was not because Maszlee had done a lot of mistakes, but because of other reasons.
"I'm not saying that he does everything wrong. There are some things which he does which are right, but because of these other reasons, I felt it is necessary for him to resign and he agreed, and so he resigned," Mahathir said today.
In the clip, Maszlee also shared on how the king felt without the presence of Hang Tuah when the latter's companion Hang Jebat ran amok after purportedly learning that Hang Tuah was sentenced to death.
"During the time when Hang Jebat ran amok, the king said 'if only Hang Tuah was here'. (So) the bendahara went to look for Hang Tuah," he said.- mk
Maszlee: Eh, baru aku faham perasaan Hang Tuah
Tales from No Ordinary Jho...
Fellow Malaysians,
Six years ago, you wouldn't have known how to pronounce my name. Today, it is on the lips of almost every one of yours. I don't blame anyone but the media because journalists have made me out to be a crook. There has been a concerted effort to destroy me and my vast business empire.
I was not and still am No Ordinary Jho (pun intended). In my twenties, I was already walking the corridors of power – dining and wining heads of states and enough money to impress and mesmerise them and especially their wives.
But that kind of power, fame and money has its pitfalls. Some of them view me differently, although the wives fall back on me for their other requirements like jewellery and handbags and their regular Botox treatments.
News organisations, especially The Wall Street Journal, The Edge and Malaysiakini (more on these later), have made me out to be a villain – which is far from the truth. Actually, I am a fixer who can fix anything and everything if the price is right.
I have been successful – very successful and past records will attest to my uncanny ability to orchestrate anything in any part of the world. Records will show that I failed only once. One person whom I could not buy was Australian model and actress Miranda Kerr (photo), who showed me two fingers despite a few millions worth of jewellery. Whoever said that diamonds are a girl's best friend?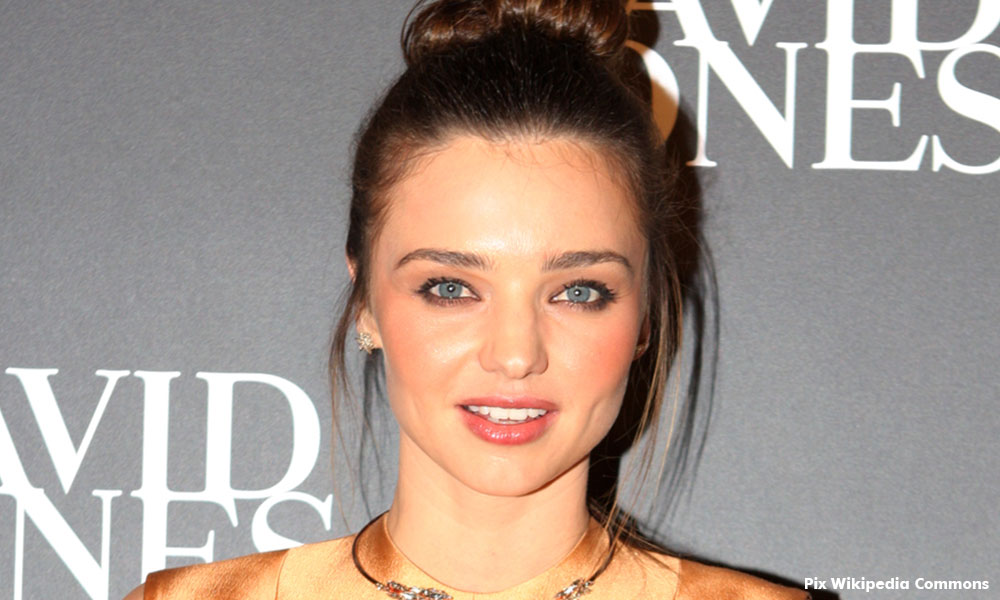 Otherwise, I have fixed everything. From putting and extracting "confessions" at the Bangkok Hilton and arranging interviews with prisoners to cloning companies and milking billions.
I have done them all. The golf escapades and for the US president to be told: "I am here to help you make America great again!" Google my name if you want to know more about my achievements.
But certainly, I am not guilty of being the mastermind behind the global multi-billion-dollar 1MDB scam. I was just an intercessor or Mr Fixit, who helped make the deals and made some legitimate money for myself.
While others, including my close friends, associates and even leaders of countries have had their hands caught in the cookie jar, my hands are clean.
To call me a "mastermind" is a misnomer of sorts. Like Adnan Kashoggi and the lot, we were mere commission agents, but if we pocketed more than the deal itself, you have to credit our business acumen and our negotiating skills.
I am aware that in court proceedings, I have been painted by lawyers as the man who orchestrated the entire scam. I was accused of paying off managers and directors so that I could carry on stealing.
In business, compensating those who help in deals is a common practice. I am very generous when it comes to this. I have even rewarded journalists who have helped me in re-building my image. It is no secret. Look at the lifestyles of some who have always understood my motives.
I must confess that I have taken children and friends of politicians to casinos and strip-joints and occasionally thrown in a painting or two to maintain good relationships. What's wrong with this?
Sometimes, friends make a big purchase to placate their wives, knowing that there's not enough in the account to cover the purchase. When their credit cards are not honoured, they make SOS calls to me.
What am I supposed to do? If I tell them "sorry", it is the end of my business relationship. Therefore, I always offer a little help, calling contacts and moving money from one account to another.
The Malaysian media refers to me as a fugitive, but there are some who still call me Mr Low or Mr Jho because I have not been convicted and I am staying away because I can't get a fair trial.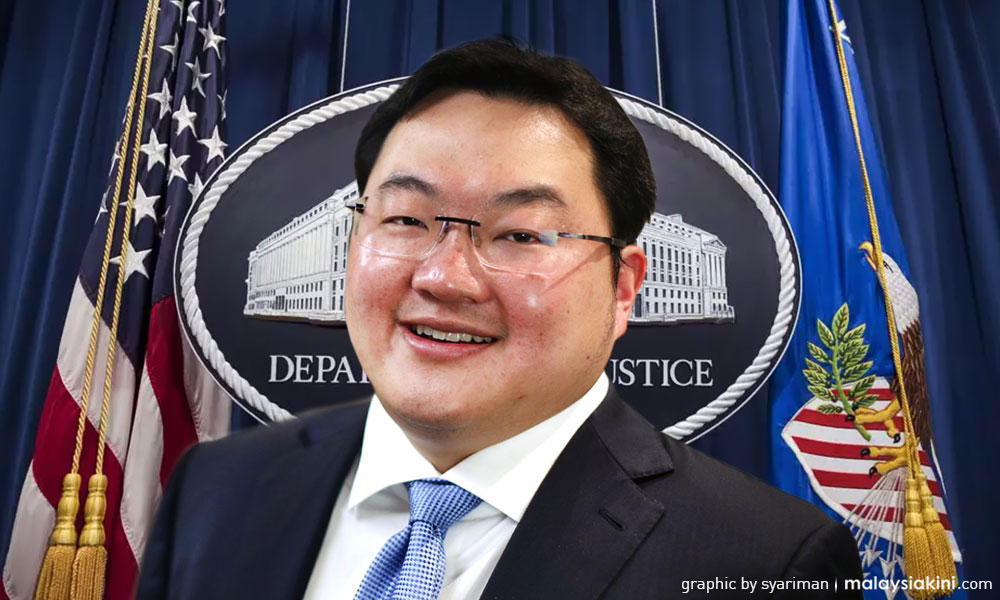 Do you remember that I have already kau tim (settled) with the US Department of Justice? Everyone wants to know what I settled for US$1 billion if I was innocent. It's a simple business rule, lah. If you have thirty to forty, just give away one, lah. It is just throwing a bone to the dog so that it does not bother you anymore. In return for that one, you possibly could get another fifty! Ask all the Chinese towkays who line up with briefcases in ministerial offices.
My lawyers are now in talks with the DOJ to drop all remaining charges and there are encouraging signs, but no one would believe me. That also I can kau tim.
So my PR agency helped repair the damage to my reputation with a series of activities. I can't tell you how much (it cost me an arm and a leg). There was no itemised billing, but how much they paid, and to whom, are none of my business.
Let me reiterate that I am no thief but a middleman. If businessmen and politicians are greedy stupid (gullible would be the wrong word), why then blame me for their follies? Like Caesar's wife, I am above all suspicions.
Low Taek Jho Esquire
Leader of the Free World
Lead advocate of the rule of law
Philanthropist
Protector of the down-trodden
Voice of the unprotected - R Nsdeswaran,mk
TeamNgokNgek tunjuk bangang lagi.Kau cakap jer kau rasmi atas kapasiti kau tu menteri KPKT. Tapi kan #ngek, balai siap julai 2018. Kau rasmi Januari 2020. Apesal kau lambat rasmikan ngek? Pasal #PRKKimanis ke? Jangan tunjuk kebodohan...- f/bk
cheers.