There have been more than ten names for possible education minister candidates. Among the names that I have:
The older generation candidates include the prime minister himself doubling as education minister, the PM-in-waiting Anwar Ibrahim, veteran Rafidah Aziz and former cabinet minister Mustapa Mohamed. The new generation candidates include everyone's favourite Nurul Izzah and PTPTN chairman Wan Saiful Wan Jan.
The professional candidates include renowned economist Jomo Kwame Sundaram and former UKM vice-chancellor Dr Mohd Sham Mohd Sani, both recommended by Malaysian Academic Movement (Gerak).
As for internal portfolio swap, we have incumbent economic affairs minister Azmin Ali, foreign minister Saifuddin Abdullah, deputy foreign minister Marzuki Yahya, and Kedah menteri besar Mukhriz Mahathir.
The list can go on and on, but the probability of majority of these names is near zero. The name of the actual candidate is securely locked in a secret chamber inside the prime minister's head.
So long as Mahathir keeps his mouth zipped, no one will know who the guy is. And going by his customary way of doing things, he doesn't have to discuss anything with anyone nor listen to anyone's view.
No one can foretell the old man's decision, because he has always acted, and thought, out of the ordinary! However, if you were to put on his thinking cap, perhaps you may get a very near, or even exact, answer, based on his logic thinking.
Now, following the old man's logic thinking...
1.
Why Maszlee Malik had to resign.
The answer definitely is not because of Jawi. If the old man is not happy with the way the Jawi issue is being handled, he can always intervene in his capacity as prime minister. Moreover, he will never give Maszlee the axe just to please the local Chinese community.
There are two more substantial reasons: Firstly, Maszlee lacks political mastery and has given rise to issues and troubles and hence the ruling coalition's declining support rating.
Secondly, Maszlee's school network contracts and free student breakfast scheme respectively involve the distribution of business and intra-party interests.
In view of his failed prior appointment, Mahathir's next education minister has to be one with political experience and mastery, not to mention total submission to the chief commander and not to have any clash with existing vested interests.
While Maszlee Malik is obedient enough, the old man needs to put another more obedient man in his place. These two requirements easily eliminate Anwar's family and the professionals.
2.
The new education minister must have PPBM background.
At such an advanced age of 94, Mahathir is not sure for how long more he can stay in power. As such, any decision he makes has to be for short term, not long term interests.
He must make sure his PPBM will remain dominant (it doesn't matter whether the government is under PH or not). The education minister is one of the two most powerful men in PPBM's government after the prime minister, the other being home minster. There is no way Mahathir will surrender this prized position to a different party at the disadvantage of his own.
This precondition makes all non-PPBM candidates irrelevant. With that, we only have three names left: Mustapa, Mukhriz and Mahathir himself.
3.
The old man's ultimate goal.
Mahathir's ultimate goal is to have all the powers in his grip. This is an unchanging belief of a die-hard Machiavellian.
He must fulfil his ultimate goals for the nation and himself during the remaining days he still has the powers with him. To him, these two things are parallel. Other than himself, he feels uneasy to hand over the powers and country to an outsider.
Of course, he cannot stay in power forever. His most favourite successor must be someone closest to him and most trusted by him. To be a Malaysian prime minister, one has to cross the education threshold. All our past PMs, with the only exception of Tunku Abdul Rahman, were once education ministers.
Mukhriz will miss a precious opportunity if he doesn't cross the education threshold now, and next year's PPBM elections will put him in the party's core leadership, paving the way for much bigger thing ahead. Because of this factor, Mustapa's chance is almost non-existent now.
Sure enough the PM himself is fully qualified for the post, but he has very limited time and stamina to deal with the additional job duty.
In the end, there is only one name left in the list. Mukhriz Mahathir. - Tay Tian Yan,
Sin Chew Daily
Debaran menanti pengumuman Dr.M
Katanya Dr Mahathir tulis surat mempunyai 17 perenggan meminta Maszlee Malik letak jawatan. Mahathir boleh sound direct kepada Maszlee supaya bekas menteri itu berundur, tetapi dia tidak berbuat begitu.
Idea dan cara Dr Mahathir boleh duplicated untuk meminta beliau melakukan perkara sama. Rakyat boleh pakat tulis surat cukup satu perenggan seorang sahaja mohon dia juga meletak jawatan.- mso
Sekali tembak dua yang kena...
Kata Ketua Siasatan Jenayah Huzir Mohamed pihak polis dan AG akan buat kenyataan bersama berhubung status siasatan video lucah Haziq dan dua kes yang lain dalam masa terdekat. Dah lebih sekaki berjanji.
Yang timbul dahuu kes video lucah kenapa nak diumum sekali dengan kes lain? Kenapa nak dirawa dan dikapuh sekali, nak jimat masakah atau ada motif tertentu?
Cara begini nampak pak leh tak professional dan cara beginilah yang disebut oleh Abduk Hamid Bador sebagai membuang masa polis.- mso
Baca berita tadi PDRM dah terima laporan siasatan video seks dari US.. Dan menunggu masa dan laporan peguam negara untuk tindakan lajut... menjelang tahun baru 2020 baru baru ni..ada sahabat dalam PH sendiri tanya, mana janji PDRM nak dedah laporan sebelum hujung tahun...
Secara prinsipnya.. Walaupun aku antara orang yang menentang Azmin dan Kartel dia.. dalam isu videoseks ni aku tetap berpegang kepada pendirian.. samada betul atau tidak video itu Azmin, tulen atau tidak video itu.. dalam prinsip jinayah Islam semua pertuduhan itu perlu ditolak.. tidak perlu kepada siasatan, tidak perlu kepada pendakwaan..
Dalam Islam..Cukup Azmin menafikan tuduhan.. Maksiat yg dilakukan secara tertutup..Aib sesama muslim mesti ditutup..melainkan melibatkan kes rogol atau cabul.. benar atau tidak itu urusan Allah.. - Ipohmali
Kisah Kleptokrat Malang...
Saya dah explain dulu yang modus operandi Najib masuk mahkamah ialah cuba melengah-lengah proses mahkamah sebab dia sebenarnya sudah tiada wild card lagi untuk selamatkan diri dari penjara. Kalau perbicaraan dapat drag sampai PRU15 dan BN menang, peluang dia lepas masih ada ( in his wildest dream) .So dari tangan kena gigit anjing, mata sakit dan yang terbaharu ialah bila dia minta kebenaran mahkamah untuk panggil pakar dari Australia untuk kenal pasti tulisan dia sendiri. Ya tuan-tuan, punya dah tersepit, tulisan tangan sendiri pun tak kenal.
Kiranya Shafie Dolah ingat dia dah smart dah tu dapat buah baru untuk lengah2 perbicaraan. Tapi DPP lagi smart. Saya sampai tergelak baca yang Timbalan Pendakwa Raya (DPP), Datuk V Sithambaram membuat permohonan untuk memecat kredibiliti saksi (Najib) di bawah Seksyen 145 (1) dan Seksyen 155 (c) Akta Keterangan, selepas mempersoalkan saksi mengenai percanggahan yang berkaitan dengan beberapa minit mesyuarat dokumen Menteri Kewangan Inc (MoF Inc), yang Najib berkata dia telah tandatangani.
TLDR, Najib bagi statement yang bercanggah(contradict) dekat MACC dan di dalam mahkamah
Time kat MACC, Najib menyatakan bahawa beliau telah melihat dokumen-dokumen sebelum dan bahawa dia adalah orang yang menandatangani dokumen itu.
Semasa Laporan SPRM dia mengaku tandatangan dia

tapi dlm mahkamah dia tak mengaku...


Pada bulan Disember di mahkamah semasa pemeriksaan balas oleh Peguam Negara Tan Sri Tommy Thomas, Najib memberi keterangan bahawa beliau mungkin telah menandatangani minit mesyuarat pemegang saham MoF Inc untuk memasukkan Artikel 117 termasuk dalam memorandum dan artikel persatuan SRC. Walau bagaimanapun, apabila ditanya lagi oleh Sithambaram kemudian, bekas perdana menteri itu berkata dia tidak pasti sama ada dia menandatanganinya dan nak panggil pakar untuk sah kan tandatangannya
Ini beza bersumpah di dalam mahkamah dan bersumpah dalam Masjid. Sumpah dalam Masjid menipu pun tak kena penjara. Tapi serves him right, ni bahana menjual nama Allah, terus Allah fast track kan hukuman penjara.
Kalau permohanan DPP berjaya dan Najib di anggap sebagai saksi yang tak boleh di percayai, Najib boleh di denda atau di penjara, I would pray to Allah for the latter.


Sepandai-pandai tupai melompat, akhirnya jatuh ke tanah juga

Sepandai-pandai Pie memutar, akhirnya Najib tersungkur juga.




"Jika saya berdusta, maka laknat Allah SWT atas diri saya dan jika saya benar, maka mereka yang memfitnah saya dan tidak bertaubat akan dilaknat oleh Allah SWT di dunia dan akhirat."

- Najib A.Razak
Kita berdoa moga permintaan Najib untuk di segerakan pembalasan di makbulkan oleh Allah SWT. - Mohd Mukhlis Mohd Sharif

This is not acceptable ! Guess what Transport Minister Anthony Loke found out on his first spot check of the year.But he can't do it alone he said, he's tasked CEOs of GLCs to put in place a culture of maintenance, strive for better service to commuters in 2020 and beyond..-f/bk






Betapa bangganya guru tok promosikan buku yg dia karang sendiri. Buku setebal tiga muka surat itu pasti akan menjadi rebutan sedunia ibarat "sotong panas" jualannya. Buat walaun, guru tok kata wajib beli buku ini...- f/bk
Selaku PM (Perdana memteri Marang), guru tok amat sibuk. Hari ini dia buat lawatan kerja iaitu lawatan resmi ke Sabah utk berkempen di PRK Kimanis. Guru tok meninjau pasaran samada di Kimanis boleh atau tidak agama dijual. Guru tok cadangnya nak jual hudud kat Sabah. Kalau calon amno menang, kita akan buat hudud... - f/bk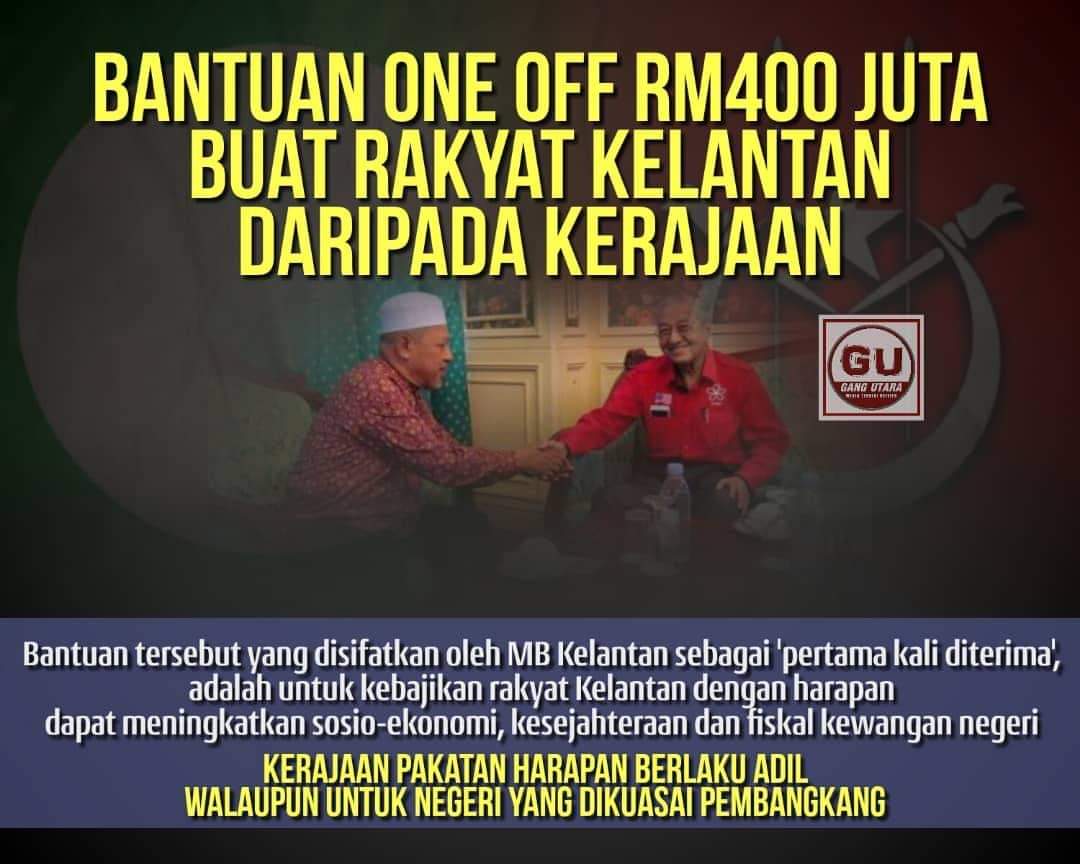 cheers.