Latheefa Koya, the first female Chief Commissioner of MACC (Malaysian Anti-Corruption Commission), was appointed by the "Yang di-Pertuan Agong (King)" on the advice of the Prime Minister of Malaysia. It would be the biggest joke of the century if 93-year-old PM Mahathir Mohamad goes back to the king and tell him that Latheefa needs to be replaced.
Not only will the old man loses face for making a massive U-turn, all the component parties of the ruling Pakatan Harapan coalition government – PPBM, PKR, DAP and Amanah – will be humiliated by the opposition. Has PM-in-waiting Anwar Ibrahim's minions ever considered the consequences of prolonging the issue to the extent of creating a crisis, even after Mahathir said his decision is final?
If Mahathir appoints someone from DAP, he would be slammed as a puppet of the ethnic Chinese. If Mahathir appoints someone from his own party, PPBM, he would be condemned as a power-crazy dictator. Forget about Amanah as the party has too much on its own plate. So, Mahathir has no choice but to appoint someone from Anwar's party – PKR.
The problem with PKR is that the party itself is split into two factions – "Team Anwar Ibrahim" and "Team Azmin Ali". Mahathir cannot appoint a heavyweight from either team for obvious reason. So PKR Vice-President Rafizi Ramli, as suggested by Anwar's supporters, was out of the picture. It would be like ex-PM Najib Razak appoints his cousin Hishammuddin Hussein as MACC Chief.
Of course, Mahathir can appoint someone from within the MACC, but none of their efficiency was up to the prime minister's expectation, not to mention the suspicion that some of them were Najib's moles or UMNO sympathisers. An outsider like Ambiga Sreenevasan, a prominent Malaysian lawyer and human rights advocate, is a good choice but too bad she's an ethnic Indian.
Anwar Ibrahim and Azmin Ali
Mahathir needed someone with strong character, loose-cannon even, to bring express results and possibly fear into the MACC. The premier was not looking for a snake oil salesman. He needed an executioner, a terrible salesman who knows very little about the art of apple-polishing. Obviously, successful politicians with certain rankings were bad candidates.
Latheefa is perhaps the biggest loose cannon money can buy from PKR. In fact, she is no stranger to controversy. She does not mince her words during arguments and refuses to kowtow to powerful corruptors. Even her big boss Anwar Ibrahim, supposedly the next prime minister, was not spared from her criticism. In fact, as a politician in PKR, she's quite a loser. Her life isn't in politics.
Get real, there's no such thing as a true political independent person. Even a hawker in the night market is biased toward a certain political party or ideology. But her biggest critics, as it turned out, did not come from the opposition parties, but from within her own (former) PKR party. To be precise, it was Anwar's faction which has been condemned Latheefa because she was aligned to Azmin.
On paper, it seems Anwar Ibrahim's boys and girls were incredibly upset that PM Mahathir didn't go through the Parliamentary Select Committee on the selection and appointment of Latheefa as the new MACC chief. Actually, they knew that the committee was a toothless tiger. Former Federal Court Judge Gopal Sri Ram has clarified that the committee has no role in key public appointments.
To empower the Parliamentary Select Committee with a set of new fangs, constitutional amendments are required, without which the prime minister can legally, constitutionally and unilaterally appoints whoever he likes. In truth, after a year, nobody fights hard enough so that the MACC will report directly to Parliament rather than to the PM – until Latheefa was announced as the anti-graft chief.
Anwar's minions were not fighting because Latheefa possessed dubious credentials, nor were they fighting because Mahathir deliberately kept them in the dark over the appointment. After all, it was the same Anwar who created chaos last year when he unilaterally appointed Rafizi Ramli as PKR vice-president – arguing it was his prerogative as party president to do so.
Latheefa Koya, Chief Commissioner of MACC
The boys and girls of Anwar knew the appointment of Latheefa is a done deal. What they were fighting is to create a perception that should anyone from Anwar's camp is to be investigated by the MACC later, it's because Latheefa is bias against the PM-in-waiting, not because Anwar's people are dirty or corrupt. That's actually a clever tactical move to create "special immunity".
Yes, it was nothing but a political game and a pre-emptive strike to warn MACC Chief Commissioner Latheefa, and PM Mahathir for that matter, that she must think twice before going ballistic against Anwar's team. Of course, Anwar's boys have nothing to fear if they are clean. But if the MACC investigates them one day, they would certainly accuse Latheefa of doing the dirty job on behalf of Azmin.
From the beginning, Mahathir knew that the appointment of Latheefa would be a political hot potato. Being Mahathir, he decisively and unconventionally did it anyway, without seeking consultation with the Cabinet members. After the calls and petitions demanding Latheefa's resignation, the pressure is on the new MACC chief to deliver results – fast – to prove the critics wrong.
Opposition parties say to prove her impartiality and independence, Latheefa should investigate DAP chief and Finance Minister Lim Guan Eng over his so-called bungalow scandal and Penang Undersea Tunnel scandal. Mr Lim was acquitted of corruption charges over the purchase of a bungalow allegedly below the market value. We (*yawn*) had published here on why the bungalow scandal was a non-issue from the start.
As for the tunnel scandal, former Penang Barisan Nasional chief Teng Chang Yeow had retracted on May 6 (last month) his allegations against Lim Guan Eng over the scandal. Likewise, the New Straits Times Press, a mouthpiece of Barisan, had to pay RM130,000 in damages and also published an apology over articles that Lim was involved in corruption.
Phang Li Koon and Shamsuddin Hayroni
That alone speaks volumes that there were no scandals against the DAP. Besides, if Lim Guan Eng was dirty, the regime of Najib would have had sent the then-opposition figure to prison a long time ago. Formerly Chief Minister of Penang, Lim bought the bungalow back in 2008. Are you saying the MACC, under the thumb of ex-PM Najib, could not find any wrongdoing during those 10 years?
Some also said Sarawak former Chief Minister Abdul Taib Mahmud should be investigated and charged, if Latheefa is indeed worth her salt. Exactly why didn't the previous Barisan government charged the Sarawak Godfather when he was the chief minister from 1981 to 2014? Yes, even Najib Razak refused to charge Taib Mahmud when the former was the powerful prime minister.
Of course, many argue that Latheefa should investigate her new boss – PM Mahathir Mohamad – to prove that she is unbiased, unprejudiced, non-partisan, and non-discriminatory and whatnot. They wanted the new MACC chief to do the impossible mission of throwing Taib Mahmud and Mahathir Mohamad into the prison – a mission which none from the previous government and MACC could do.
Investigate Taib and Mahathir is one thing. To prove that they had committed corruption is another thing altogether. If Mahathir had been as stupid as Najib, as in leaving the money trail to the stealing RM42 million of SRC International money and RM2.6 billion of 1MDB funds, don't you think Najib would have had arrested and jailed his mentor-turned-nemesis years ago?
Newly retired MACC Chief Shukri Abdull said the commission under his leadership had arrested nearly 1,300 people, including 30 VVIP politicians or "big fish", 13 top management officers, 30 chief executives of government-linked companies and private firms, and 137 professionals. Sadly, the people were unaware or did not feel such glory achievements.
Abdul Taib Mahmud and PM Mahathir Mohamad
The people are only aware of the arrests of former PM Najib Razak and wife Rosmah Mansor, Deputy PM Ahmad Zahid Hamidi, ex-Federal Territory Minister Tengku Adnan, Tabung Haji ex-chairman Abdul Azeez Abdul Rahim, Felcra ex-chairman Bung Moktar and ex-Sabah Chief Minister Musa Aman. Even then, all of them walk away scot-free while waiting for their trials.
How about well-known crooks involved in scandals like Shahrizat Jalil's "Cowgate" scandal or Hishammuddin Hussein's abuse of power in "land swaps" and contract to build the Setiawangsa-Pantai Expressway (SPE) at a cost of RM3.738 billion? How about the dubious deals awarded to UMNO warlord Tajuddin Abdul Rahman – nicknamed "Six Million Dollar Man"?
How about other dirty UMNO warlords like Ismail Sabri Yaakob, Mahdzir Khalid, Noh Omar, Azalina Othman, Ahmad Maslan, Anifah Aman, Annuar Musa, Pandikar Aman Mulia, Salleh Keruak, Nazri Abdul Aziz, Shahidan Kassim, Mohd Johari Baharum, Nawawi Ahmad, Jamil Khir Baharom, Rahman Dahlan, Mohd Ali Rustam, Rahim Thamby Chik, Ahmad Shabery Cheek and Reezal Merican and the list goes on?
How about an investigation into the embezzlement of more than RM107 million in public funds that occurred under the former Youth and Sports Minister Khairy Jamaluddin? Heck, why was there no action against former Attorney General Apandi Ali or former Election Commission chairman Mohd Hashim Abdullah or former Inspector-General of Police Khalid Abu Bakar?
Yes, Latheefa did not need to look too far in the past to catch big fish. UMNO is the biggest pool where all the big sharks are still swimming – very worriedly. And they are trapped after their stunning defeat in the last May general election. To prove her worth, it appears more UMNO crooks could be hauled, charged and jailed. That's why none of the big shark had opened their big mouth slamming Latheefa's appointment. - FT
Video lucah apa pula disebar...
Video intim apa pula yang beredar sekarang ini? Apakah masih ada lagi cara dan tektik jahat untuk mengucar kacirkan negara ini? Tidak habis-habis nampak fitnah menggunakan video tersebar di negara ini. Cukuplah apa yang berlaku sebelum ini jangan ditambah isu baru.
Kerajaan PH sedang begerak ke dapan untuk membela rakyat. Penyebaran apa jua video yang bersifat peribadi begitu tidak wajar disebarkan, apa lagi ia adalah fitnah.
Dr Mahathir Mohamad hendaknya jangan mengambil pot dengan apa disebarkan itu. Belajarlah daripada pengalaman lalu. Seharusnya semua pihak kena kecam penyebaran video seperti dilaporkan itu.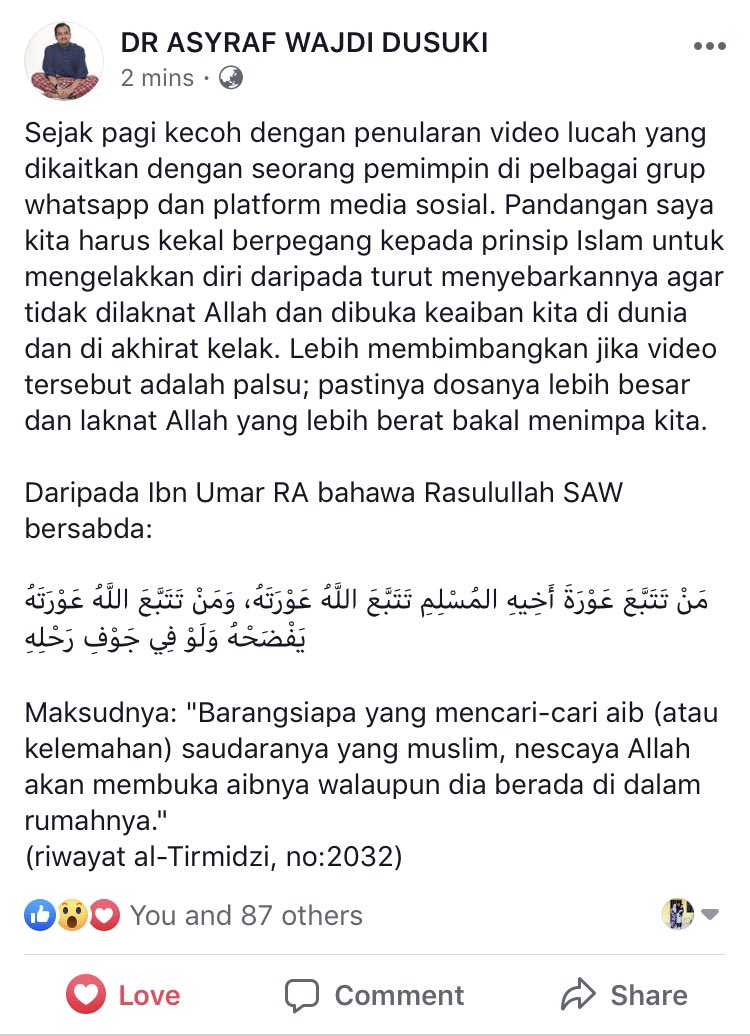 Ketua Pemuda Umno Asyraf Wajdi Dusuki nampaknya mendahului ketua-ketua pemuda parti-parti lain dan termasuk juga para Mufti dan pemimpin NGO Islam dalam memberi reaksi kepada penyebaran video lucah yang dikaitkan dengan seorang menteri.
Asyraf menasihatkan agar tidak disebarkan video berkenaan kerana ia bercanggah dengan prinsip Islam dan dimurkai Allah. Apa lagi kalau video itu palsu katanya ia mengundang dosa besar.
Sebenarnya kalau pun video berkenaan benar sekalipun penyebarannya dianggap tidak bermoral dan bertentangan dengan prinsip Islam kerana Islam melarang mendedahkan keaiban orang lain secara melampau. - mso
Di M'sia setiap tahun ada video lucah babit kanan pemimpin besar.
Tengok gambar badan pun tahu copy paste.
Pasal transaction yg kononnya di kaitkan dengan Azmin Ali. Tak pernah nampak bank slip di mana:
1. Hanya nama penerima yg diboldkan.
2. Jika tiada signature, kena ada kat bawah tu 'This is generate bla bla bla', no signature required.
3.Slip tu hanya diprint atas tractor paper je.
4.Alamat bank pun takde.
5.Nama berterabur, setahu saya ia base betul2 pada acc holder. Nama penerima tu font nya lain dari tulisan2 yang lain.
6.Kenapa ada huruf kecil pulak di tengah2 huruf besar? Tang nama penerima pulak tu! - f/bk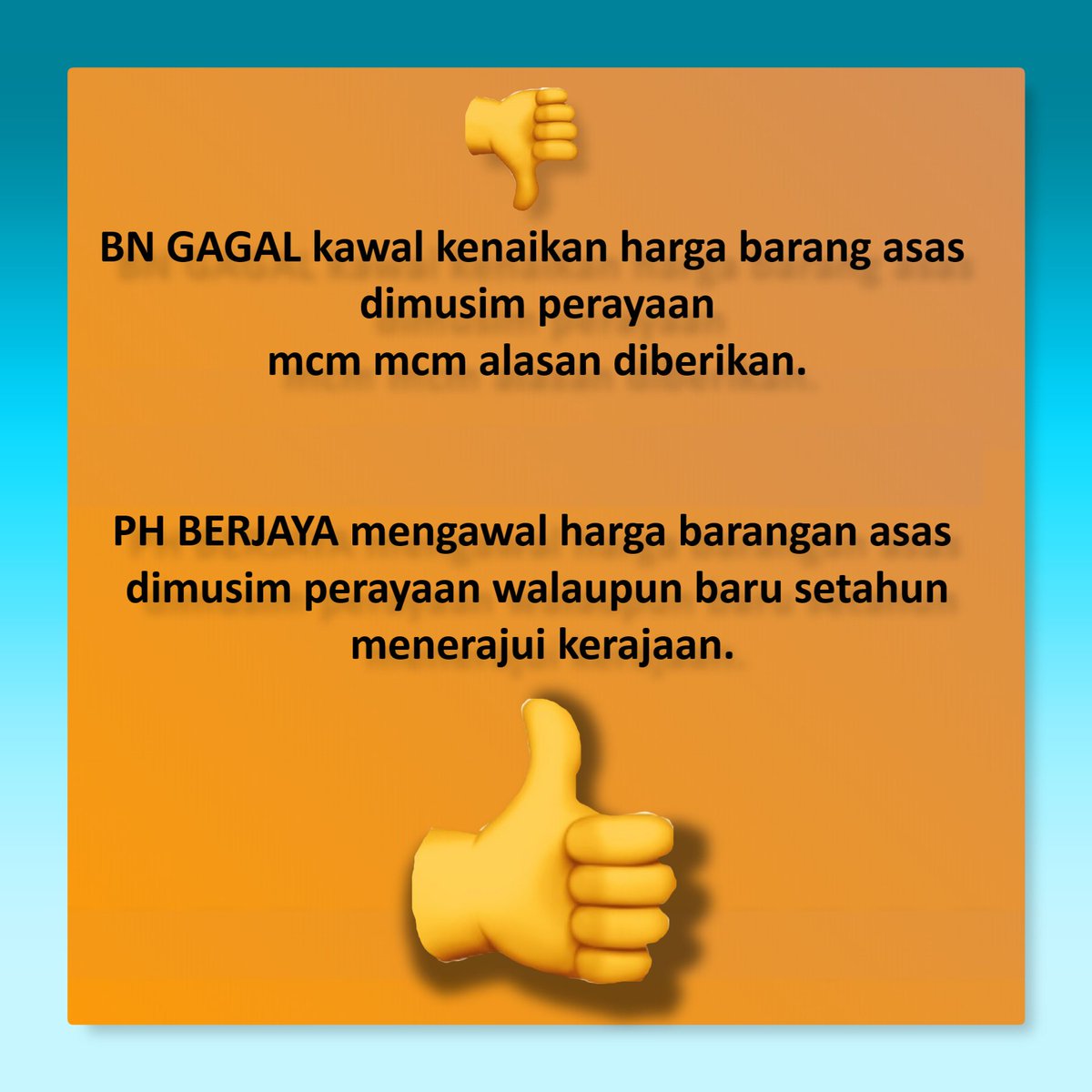 cheers.