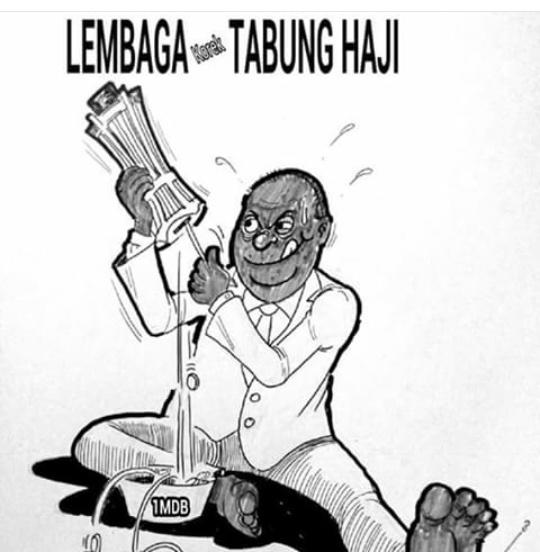 Our country is never short of scandals. The scandals come in varying sizes and shapes or more appropriately, intensity, depending on the amount of money and the people involved.
If the police's estimate of the much-touted anti-ICERD rally at Dataran Merdeka Kuala Lumpur on Saturday, December 8, 2018, was the yardstick, then there were only 55,000 gullible Malay followers of UMNO and PAS leaders. However, if you CONSIDER Zahid Hamidi's claim of 500,000 participants, then there were half a million ignorant Malays who still think UMNO and PAS are their saviours.
There are some four million UMNO Malays and two million PAS Malays who, till today, could neither think straight nor objectively what is wrong and what is right. By virtue that they are also Muslims, by religion, it's also logical to say six million Malay-Muslims have been conned or taken for a ride, by their leaders – former UMNO President Najib Razak and PAS President Hadi Awang.
One Malay institution after another is being robbed, plundered or scammed by the same Malay leaders who, supposedly, were to protect them. Their ignorance or perhaps, stupidity, was so glaring that even Tun Mahathir's granddaughter, Melia Serena Mukhriz, took to Instagram to express her disgust and disdain with the anti-ICERD rally goers.
After the mismanagement and plundering at MARA and Felda, the one scandal that should have shocked the Malay-Muslim diaspora, but didn't for some inexplicable reasons, was none other than the Tabung Haji (pilgrims fund) fiasco. Like 1MDB the Tabung Haji scandal is too complicated to the Malay-Muslims, so much so that many do not have the faintest idea what is going on.
A friend of mine insisted that since Tabung Haji was paying its annual dividends to depositors there was no reason why it should go belly-up. In spite of me unravelling the truth, he dismissed the whole thing as a figment of my imagination. My attempts at explaining the truth failed miserably so after a while I gave up completely.
It was just the tip of the iceberg, the pilgrims' fund was engaged in a Ponzi scheme perpetrated by the very people entrusted to safeguard it. There are more similar jaw-dropping scandals involving EPF, PNB, LTAT, KWAP and what not.
Tabung Haji was in financial trouble after the new government exposed it gave returns for deposits as high as 8.25 per cent. The figure is simply staggering. No financial institution worth its salt would ever think of doing such a thing unless its motive was to cheat.
Apparently, Tabung Haji's dividends distribution from 2013 to 2017 ranged from 6.25 per cent up to 8.25 per cent – a period when Najib Razak was finance minister cum prime minister of the country. Imagine, fixed deposit was pro-rated at about 3 per cent. The too-good-to-be-true dividends attracted an annual deposit growth at the rate of 10.6 per cent between 2011 and 2017.
The unbelievable dividend returns from Tabung Haji, supposedly set up to help Muslims fulfil their hajj, were so attractive that one smart depositor invested more than RM190 million in the fund. The fortunate guy would have made a cool RM15.7 million for doing nothing in the year when it yielded 8.35 per cent of dividend. There was no cap to the amount one could deposit. It was a Ponzi scheme by any definition.
This was what was reveal­ed – a high concentration of depositors amounting to 1.3 per cent (117,000 of them) contributed to 50 per cent of the fund's total deposits. What this means is if the small number of powerful and rich depositors pull out, the scheme would definitely collapse. It would have been like the legendary Pak Man Telo of Taiping in the 1990s whose financial empire came crashing down when he was apprehended for running a Ponzi scheme. Even I lost some money, small though the sum.
Overstated profits, under-stated value of assets, an unbalanced profile of depositors and questionable transactions were all uncovered in the review of the financial position of Tabung Haji. A report prepared by government-appointed accounting firm PricewaterhouseCoopers to audit the financial position for 2017 has unveiled more juicy stories.
Tabung Haji had incurred some RM10.2 billion in losses of its domestic and international equities as at end 2018. Its liabilities outstripped assets by RM9 billion. The gap between assets and liabilities is RM9 billion. If the RM9 billion hole is not covered, no dividends distribution is possible not just for 2018 but also in the coming years.
I tried explaining this to my brethren, hardly any of them appreciate the seriousness of the problem. - Fathol Zaman Bukhari,Ipoh Echo
Just how much are FGV directors getting that made the controlling shareholders unhappy?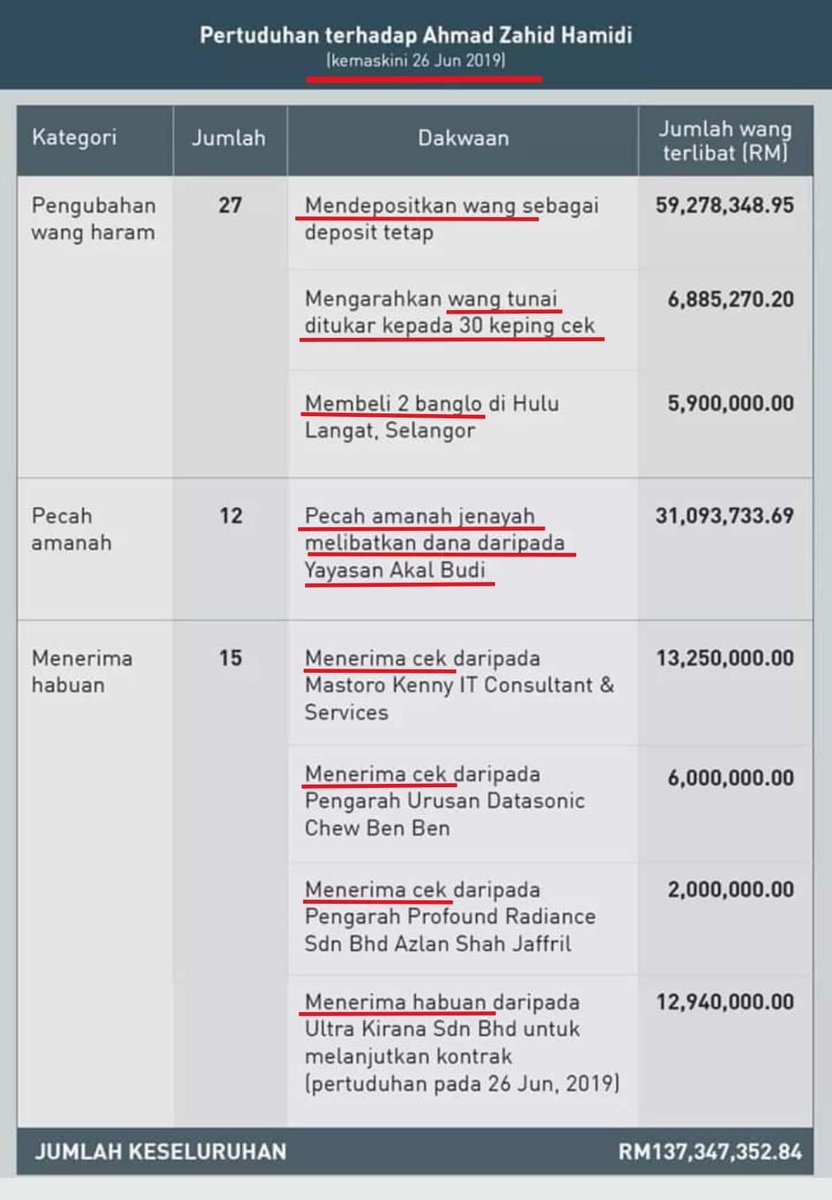 "Bekas timbalan perdana menteri Zahid Hamidi menghadapi 33 pertuduhan menerima rasuah sebanyak RM42.7 juta daripada Ultra Kirana Sdn Bhd di Mahkamah Sesyen Shah Alam pagi ini.
Dalam 26 pertuduhan di bawah Seksyen 16 (a) (B) Akta SPRM 2009, Zahid dituduh menerima wang daripada Ultra Kirana sebagai dorongan baginya untuk melanjutkan kontrak syarikat itu dengan Kementerian Dalam Negeri untuk menjalankan sistem visa luar negara melalui Pusat Sehenti (OSC) di China dan Sistem Visa Dalam Talian (VLN)."
Macam mana Wak Jawa nak explain dalam Mahkamah kenapa dia dapat sampai berpuluh² juta jumlahnya daripada 1 syarikat sahaja dari Oktober tahun 2014 sammpailah April 2017?
Cuma nanti kena explain kat dalam Mahkamah semasa perbicaraan, KE-NA-PA dia terima berpuluh² juta daripada syarikat Ultra Kirana itu. Untuk apa ? - f/bk
Depa terharu dengaq tok lebai nyanyi lagu UMNOnajib 🎵🎶🎶
Syarat baru untuk jadi ahli PAShadi. WAJIB hafal lagu UMNOnajib ...
😆😆😆
cheers.