UMNO thug Lokman "The Lobak-Man"
could be jailed for 2 years...
He is called the "Lobak-Man (Carrot-Man)" by critics for a reason. Unlike Ant-Man, a fictional superhero in comic books published by Marvel Comics, this Lobak-Man is a real super-dumb character in the political world hatched after Khairy Jamaluddin slammed his colleague Lokman Noor Adam for having "IQ of a carrot". And people on social media appear to be celebrating the arrest of the Lobak-Man.
After a year of wrecking havoc challenging the police and beating students, despite his political party UMNO having lost power for the first time in 61 years, Mr. Lokman was arrested by the police on Thursday (June 13). This is perhaps the first time an UMNO mobster like Lokman is arrested for real – without the usual catch-and-coffee session little drama with the police.
For over a year under the new Pakatan Harapan coalition government, people were disgusted that UMNO gangsters like Papagomo, Azwanddin and Lokman continued enjoying special privileges from the Royal Malaysia Police under the previous leadership of Inspector-General of Police (IGP) Mohamad Fuzi Harun – one of 17,000 political appointees under the old Najib regime.
Perhaps Lokman – former PM Najib's strongest supporter and loudest cheerleader – had forgotten that the country has a new sheriff since May 1, 2019. With newly crowned IGP Abdul Hamid Bador taking over the police force, thuggery doesn't look like a menu that UMNO thugs could order anymore. And Lokman learned the hard way that his usual "police protection" has disappeared.
Apparently Lokman thought he was still as powerful as during the Najib administration when a police team went to his home in Kajang Hillpark 2, Taman Teknologi Kajang to search his house yesterday around 6:45pm. The police had gone over to his house in the course of a probe under Section 504 of the Penal Code for intentional insult with intent to provoke a breach of the peace.
Selangor Criminal Investigation Department (CID) chief Senior Assistant Commissioner Fadzil Ahmat said – "During the search, Lokman was instructed to hand over his phone for inspection but he refused to cooperate. He also shouted at the officers who were on duty." Hours before his arrest, Lokman had sent a text message to news media claiming police had seized two of his cell phones and raided his house.
"I lodged a police report against those involved in the sex acts in the video and those who circulated the video. I was called up by federal police of the special investigations unit to have my statement recorded, but they want to confiscate both my cell phones and search my house. This is really the law of the jungle," – said Lokman, in reference to the sex video involving Economic Affairs Minister Azmin Ali.
It is believed that Lokman's lighting fast response to the release of the sex video clip has aroused a lot of interest – and suspicion – that the loyal Najib follower was somehow involved or in ownership of the explosive video. At best, Lokman was responsible for the distribution of the video clip. At worst, the Lobak-Man was involved in the manufacturing of the sex video, of which its authentication is still unknown.
UM Student Protest Crooked Najib
Attacked by Lokman and UMNO Gangsters 2
Either way, Lokman should have surrendered his phones, even that of his wife's, for inspection and allowed the police to search his house, if indeed he was as clean as a whistle. Instead, he insulted the police with abusive language. Gobalakrishnan, a former MP and ex-PKR vice president who was with Lokman, was also detained for berating police officers with vulgarities.
Both men, Lokman and Gobalakrishnan, were then taken to the Kajang district police headquarters for investigation under Section 186 of the Penal Code for obstructing a public servant in discharging his functions. Lokman, who is also UMNO supreme council member, was released on police bail today at around 7am after the police completed their investigations.
But Lokman has very little reason to celebrate even after his release. The dumb Lobak-Man could be looking at jail sentence – under Section 186 of the Penal Code, it carries a maximum of two years' imprisonment or a RM10,000 fine or both upon conviction. Penal Code Section 504, on the other hand, could see Lokman jailed for up to 2 years or with fine or with both. - FT
Azmin Ali: "I only know Haziq Aziz from afar". But this less than 30cm...
🤣🤣🤣🤣🤣🤣
Kalau video itu tulen, Azmin patut letak jawatan... dan hukum dia menurut undang-undang mahkamah syariah.
Kalau video itu palsu, sengaja dibuat-buat, diedit, (teknologi sekarang boleh buat belaka, nak buat video Kameel Abuya pakai bikini berjemur tepi pantai pun boleh), mesti siasat siapa dalang yang mengatur rancangan jahat ini... Ini lebih jijik dari kesalahan meliwat itu sendiri.
Kalau video itu palsu, ini mesti kerja orang politik.... Orang itu mesti letak jawatan, dan hukum dia menurut undang-undang.
Bagi saya Azmin sudah buat apa yang patut... Kita tunggu saja lah hasil siasatan.
Soal sikap Azmin yang mencurigakan, tidak segera buat report polis, kenapa orang lain yang report, kenapa Azmin cakap begitu begini, siap dengan lapuran pakar forensik media sosial yang siasat dan kaji kedudukan katil dan susunan bantal dalam hotel di Sandakan itu; tenang dulu.
Azmin itu orang besar... Kalau ikut hierarki dalam kepimpinan negara, Azmin mungkin di nombor 5 atau 6... Dan tidak mustahil kalau suatu hari nanti dia akan jadi orang nombor 1.... Dengan kedudukannya itu, katakanlah, tiba-tiba datang satu fitnah yang yang kotor, tuduhan yang bukan-bukan dan tak masuk akal sama sekali, apa yang patut dia buat...?
Saya ni, orang kecik, tok bomoh botak je, dan saya pernah difitnah yang bukan-bukan yang tak masuk akal sama-sekali, dituduh buat benda yang saya sendiri pun tak pernah terfikir tentang itu, jangankan nak buat, terfikir pun tidak.... Apa patut saya buat...? Saya diam je lah, buat tak tahu, kalau saya layan sepatah je, saya sama-sama jadi bodoh.
Kita tak tahu video itu tulen atau tidak... Bukan tak tahu, tapi belum tahu... Sama-sama belum tahu... Yang tahu hanya Azmin saja.... Dan saya rasa tak perlu desak Azmin letak jawatan lah, segera buat lapuran polis lah, sumpah laknat lah, sebab kita tidak berada di kedudukan dia.
Kita tunggu saja lah, benda pun baru timbul berapa hari.... Jangan cepat-cepat jatuh hukum, dan jangan cepat-cepat membela Azmin.... Lambat-laun kita akan tahu juga... Sabar lah.
Kalau semua benda nak suruh menteri buat ikut kepala kita, baik kita je jadi menteri. - f/bk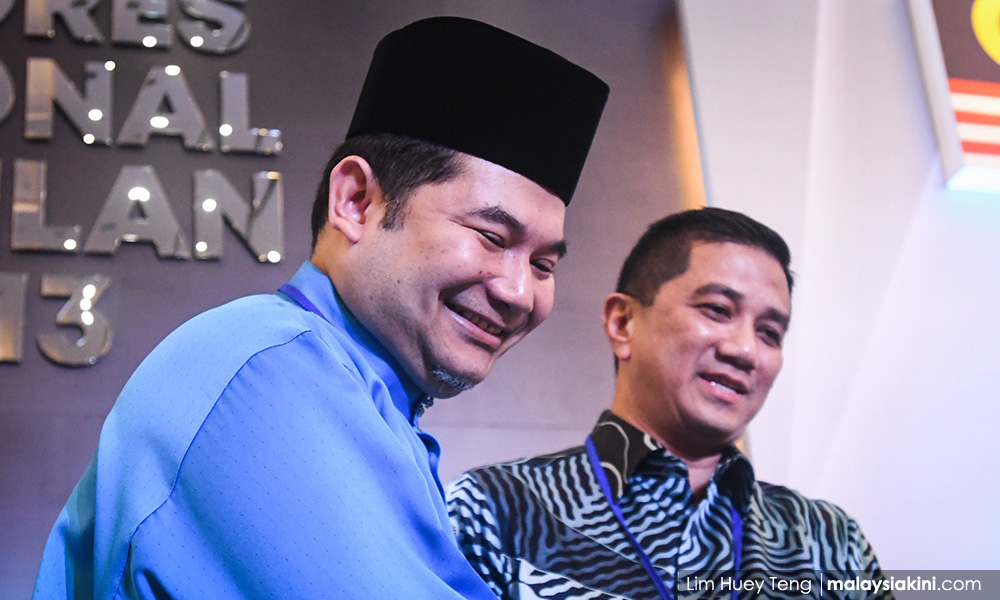 Jangan libatkan saya dengan isu video, kata Rafizi
Jika kematian 14 orang asli adalah jangkitan penyakit biasa seperti didakwa lebai penipu, kenapa polis isytihar sebagai zon merah? Mohd. Amar ni doktor pakar atau doktor pakar kaki kencing?
Ilmu Mekaknik geng Pak Lebai...
cheers.